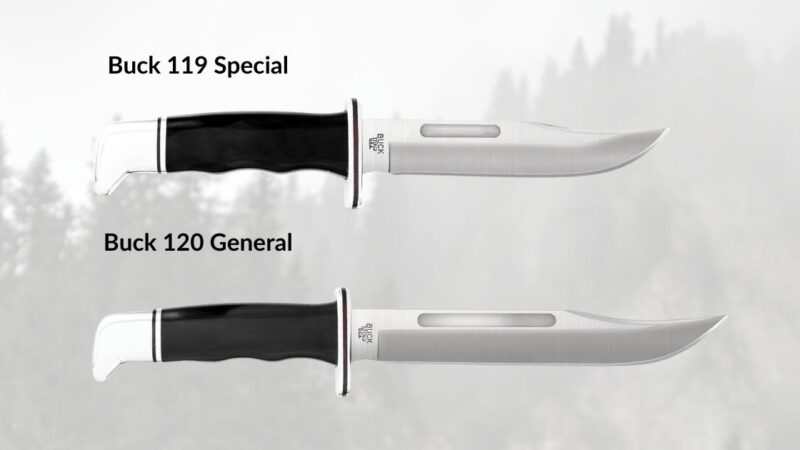 Thinking about buying the Buck 119 or the Buck 120? This article will help you with a concise explanation of the differences & similarities of the Buck 119 vs 120 to help you make the right buying decision.
Here's the short version if you're looking for a tl;dr. Both knives are sound choices from a reliable brand.
The Buck 119 is Buck's most popular knife, for a good reason. If you want a traditional, reliable 6″ hunting knife for a great price, you can't go wrong. This will more commonly be the sensible choice. It's also cheaper.
Let's get into the details.
What's the difference between the Buck 119 and Buck 120?
The biggest difference between these knives is the blade length and weight.
The 119 Special has a blade length of 6″, an overall length of 10 1/2″, and a weight of 7.5oz. In comparison, the 120 General has a longer blade length of 7 3/8″, an overall length of 12″, and a weight of 8.3oz.
The 120 is considerably longer, as you can see here side by side:

Screenshot credit to Bushcraft Devotion
For most people, the 119 is the perfect length for a hunting knife, and that is reflected in it's popularity. If you enjoy something a little bigger though, the 120 is a beautiful strong knife which will do a great job.
Overall, the the 119 will appeal to more people. The 120 has it's place, but only if you personally enjoy having that larger size. For cleaning & field dressing, the 120 will be too big to be comfortable for most folks.
The last difference is price. At the time of writing, the 120 costs around $40 more compared to the 119, accounting for the extra size and weight.
119 Special & 120 General Specs Side-By-Side
| | | |
| --- | --- | --- |
| | Buck 119 | Buck 120 |
| | | |
| Overall Length (") | 10 1/2″ | 12″ |
| Blade Length (") | 6″ | 7 3/8″ |
| Weight (Oz) | 7.5oz | 8.3oz |
| Blade Thickness (") | 0.175″ | 0.175" |
| Blade shape | Clip point | Clip point |
| Steel | 420HC | 420HC |
Similarities shared by the 119 & 120
These two knives share a lot in common.
Both use the same 420HC steel
Both have the same black phenolic handle & handguard
Sheaths are almost identical (other than length)
Blade thickness is the same (0.175″)
Same black & silver design
Both use a clip point blade shape
It really does just boil down to price, size, and weight.
More about the Buck 119
As mentioned, the 119 is one of Buck's most popular knives ever. In fact, it is second only to the legendary 110 folding hunter in terms of search demand these days.
It's no wonder why. The 119 is just a really nice, USA-made, well-built knife. It's ideal for camping, fishing, hunting, and all kinds of other outdoor activities. It looks nice, performs great, and is very reasonably priced.
It has been the same for decades, because there's really no need to change it. Some people like larger, smaller, shorter, heavier, or whatever — for which there's alternative model options (including the 120).
Pretty much the only complaint I can think of relating to the 119 (relevant for the 120 too), is that the phenolic handles aren't the most slip-resistant in the wet. Compared to something like micarta or g10, anyway.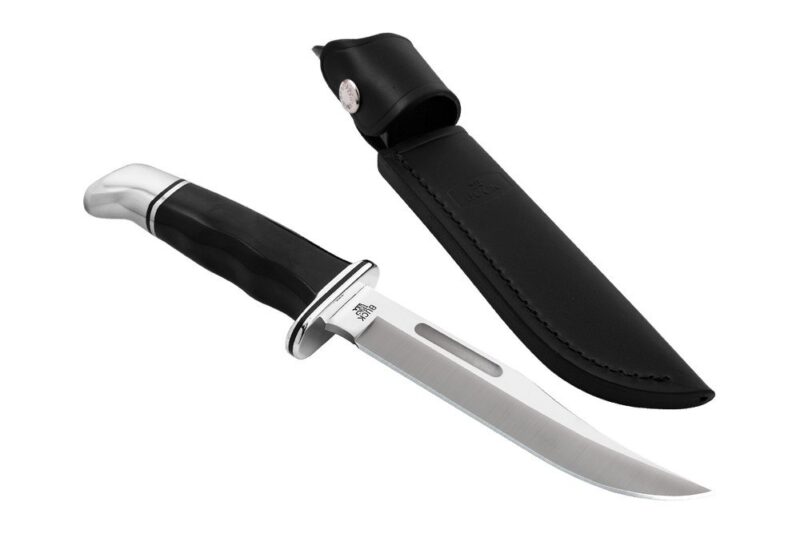 More about the Buck 120
The 120 has actually been around since the 1960s.
After so many people commented that the blade was simply too long, it was discontinued, being replaced by the more versatile 6″ 119 model.
For a time, it became hard to come by a second-hand 120 model.
Later though, it was re-released for those who still do want either a larger hunting knife, or simply a nice looking knife for collection or display. Today, you can simply order them from Buck's website, and even add custom engraving.
The 120 was famously used by Ghostface in the Scream film series, and other films including Friday 13th due to it's iconic traditional appearance and long blade.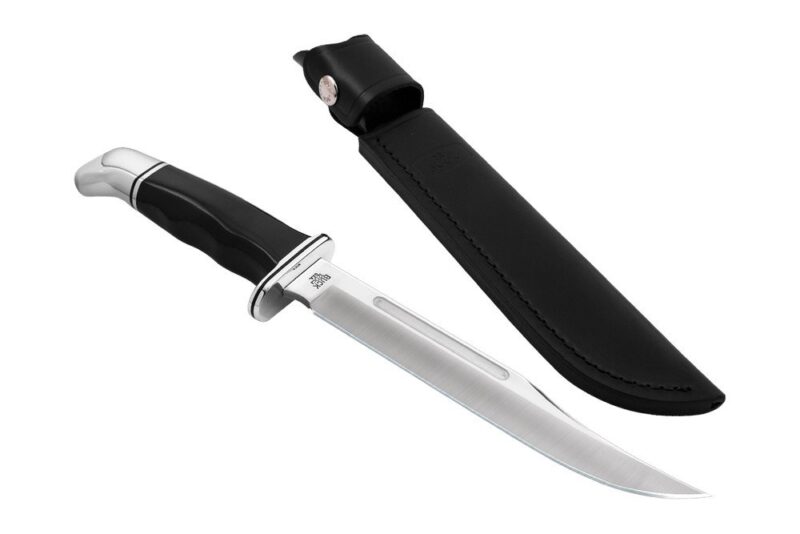 Can't decide? Here's one other alternative: Ontario Rat-7
If you can't quite decide between the 119 and 120, here's one other idea to consider.
The Ontario Rat-7 falls in-between the 119 and 120 in terms of price. It's around $8-10 more than the 119, but comfortably cheaper than the 120.
It's blade length is shorter than both, coming in at 5″, which is perfectly suitable for almost any hunting task, while the fixed-blade full-tang build is still tough enough for bushcraft too.
The micarta handle is gripper than the phenolic, which solves that potential downside.
It also offers a different appearance, if you enjoy the black/tan look over the black/silver more 'traditional' appearance that Buck offer.
Lastly, consider that this knife uses 1095 carbon steel, vs. the 420HC that Buck are using for the 119 and 120. In practice, that means the steel is tougher/harder, has a similar ease of sharpening, but has worse corrosion resistance. Meaning you'll have to take a bit more care to avoid rust.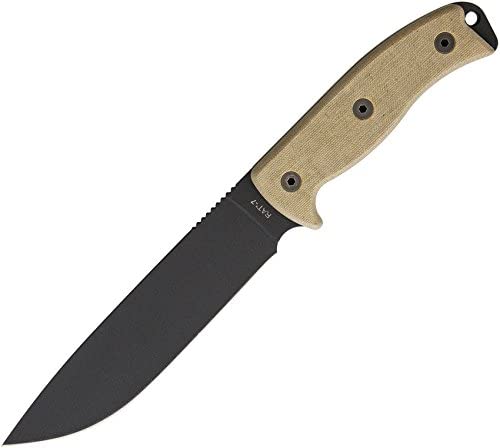 Final Thoughts on the Buck 119 vs 120
We hope you found this article about the relative merits of the Buck 119 vs 120 useful. In most cases, the 119 will be the more desirable option.
It's more versatile overall, and the 6″ blade is really about as long as most hunters would care to go.
7 3/8″ starts to become a little harder to control for fine tasks like cleaning & skinning game.
That being said, if a larger hunting knife suits you, then the 120 is a fine choice indeed from a fantastic USA brand.
Either way, I hope you find what you're looking for!