When heading outdoors or into a survival situation, having a large, fixed blade knife on your belt will keep you going no matter what's thrown at you! There's a ton of great brands out there, but when you're shopping for good quality around the 6-7″ blade length, two knives in particular rise to the top!
You've guessed it – those two knives are the ESEE-6 and the BK7. Both knives represent some of the best blades you can get at this size with die-hard fans on in either camp advocating for one over the other. Here, we take a closer look at the ESEE-6 vs KA-BAR BK7.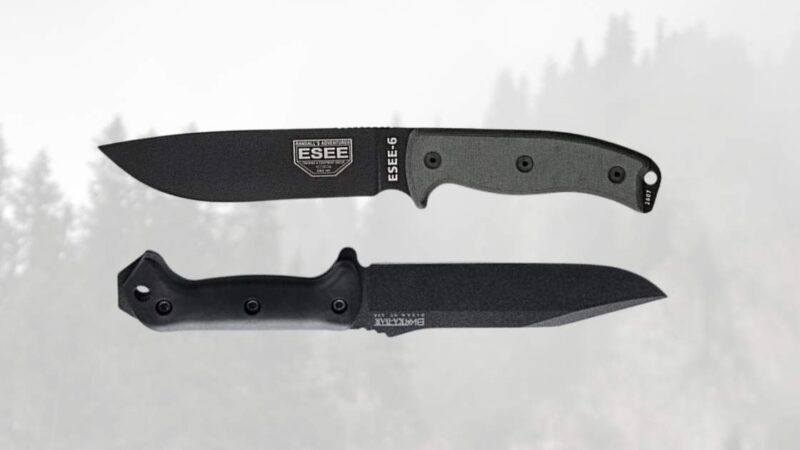 We're going to take an impartial look at both knives to try and answer the question once are for all – which knife is better, the ESEE-6 or the BK7?
Both ranges have a number of models, so we're going to directly compare the standard ESEE Knives 6P Fixed Blade Knife & the KA-BAR BKR7-BRK Combat Utility models.
Haven't got time for a full review? Here's the short version:
Now, let's get started with the full review!
ESEE-6 vs BK7 – Key Comparisons
In some ways it's suprising that these knives get put side-by-side as often as they do. With the ESEE-6 designed as an outdoors/survival knife and the BK7 a traditional combat/utility knife, both have their differences. Let's look at their key comparisons.
ESEE-6 Overview
Let's start with the ESEE. As the smaller of the two knives, the ESEE-6 comes in at 11.75″. Of that overall size, 6.50″ sits with the blade but only 5.75″ of that is raw cutting edge. Combined with the 12oz weight and high quality Linen Micarta handle, for a big knife it's well proportioned and doesn't feel onerous in the hand.
A 0.188″ blade thickness also ensures the blade stays slender enough to slice well, with the textured black coating over the 1095 Carbon Steel offering great blade durability.
Reviewers like the ESEE-6 simply because it combines size and usability perfectly, with those who want a bigger knife, without the additional weight and clunkiness, taking the knife with them wherever they go!
BK7 Overview
The BK7 is the equivalent to an ESEE-6 that has hit the gym for a few months! It's a whole inch larger at 12.75″ overall, with much of that additional length going straight to the 7″ blade!
Naturally this gives the knife a different profile to the ESEE-6, making it a more 'blade heavy' piece and thus slightly more suited to robust outdoor tasks. When you combine this with the 1095 Cro-Van steel and the heavier 12.9oz overall weight, the BK7 is a knife you can feel in the hand!
Reviewers like the BK7 mainly because it outchops everything else in the market thanks to that additional size and weight. Whilst the knife comes with a Grivory handle, many opt to change it out, which is simple enough to do, and offers an enhanced level of comfort in the hand to keep you going all day!
"The ESEE-6 may not be the best chopper, but is a great all rounder…. the BK7 is my choice for chopping, without a doubt.
Both knives come highly recommended and really come down to personal preference on size and weight. If you're looking for a large knife that retains balance and dexterity, go for the ESEE-6. If you need some more brute force, the BK7 will be the knife for you!
That's the high level overview of the ESEE-6 vs BK7, but let's break it down in a bit more detail.
Side-By-Side Specs – ESEE-6 vs BK7
ESEE Knives 6P
Fixed Blade Knife
KA-BAR BKR7-BRK
Combat Utility Knife
Overall Length (")
11.75
12.75
Blade Length (")
6.50
7.0
Weight (Oz)
12.0
12.9
Blade Thickness (")
0.188
0.188
Blade Type
Drop Point
Clip Point
Best For
All rounder – slicing and light chopping
Heavy duty – batoning and chopping
Steel
1095 Carbon, 55-57 Rc
1095 Cro-Van steel
Sheath
Polymer Molded
Polymer Molded
Manufactured
Made in the USA
Made in the USA
The ESEE-6 is one of the larger knives in the standard ESEE range and given it's shape, size and style is very much your typical, large scale survival knife. It's hugely popular within the 6″+ range and benefits from the trusted brand quality that comes from ESEE.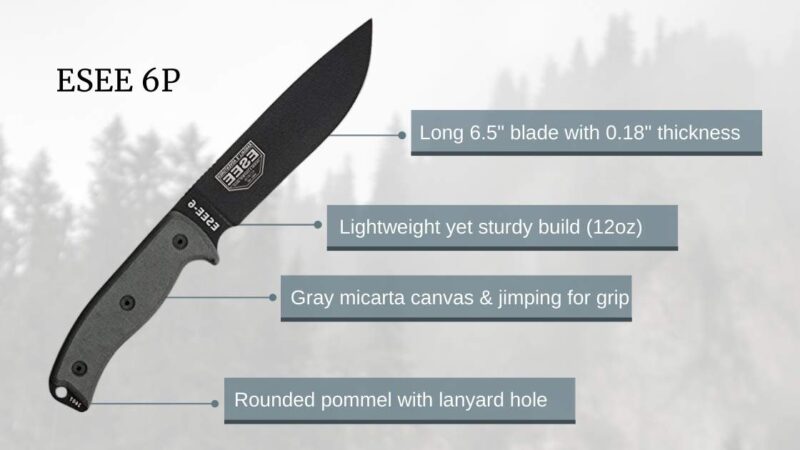 Overall the knife comes in at a fairly sizeable 11.75″ with 6.50″ of that within the blade. Many reviewers love that blade-to-handle distribution as it gives the knife a great balance in the hand. 5.75″ of that is purely for cutting with the 0.75″ choil taking up a fairly large chunk of the blade estate. Whilst some may find this choil size a bit of a wate, it aligns with the standard ESEE DNA.
At 0.188″ blade thickness and a weight of just 12oz, the ESEE-6 still maintains a great dexterity with many people still able to utilise the knife for intricate tasks such as slicing. The Linen Micarta handle feels great in the hand ensuring you can use this knife all day long!
As we've come to expect with ESEE the build quality is top notch. The 1095 Carbon Steel blade is covered in a black textured powder coating which not only looks great but offers additional protection against the elements.
For carrying, the ESEE-6 includes a durable olive drab molded polymer carry sheath with removable clip. There's also the opportunity to purchase an additional MOLLE mounting system if that suits your carry setup better.
All ESEE knives are made in the USA and come with a 100% unconditional lifetime guarantee. If your ESEE knife should ever break, they will repair or replace it at anytime.
Price wise you'll find an ESEE-6 sitting anywhere around the $125 mark. Whilst ESEE knives are often seen as more expensive across the board, you really do get what you pay for and with the ESEE-6 you're getting a fantastic piece of kit!
If you need a large fixed blade knife which still feels light and flexible in the hand, the ESEE-6 is a great choice – there's a reason buyers in the price range always consider the ESEE-6, that's because it's just a great all round survival knife!
KA-BAR are one of the most respected and renowned knife brands in the USA. Their knives really are the best of the best and have been the knives of choice for the Marine Corp and US Navy since the mid 1940's.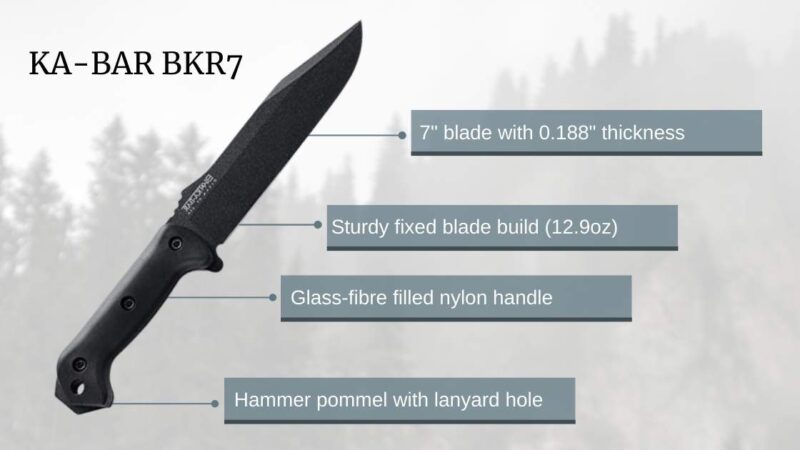 The BK7 is one of the stand out models in the KA-BAR range, it's a big, sturdy and versatile combat knife that can handle pretty much anything that's thrown at it. That's why it's such a popular choice in the 6″+ category.
At 12.75″ long, 7″ of which is blade, and at a weight of 12.9oz, the BK7 is a knife which you know you'll have in your hand. That blade-to-handle ratio makes this a blade heavy knife that really packs a punch and will be the perfect ally for those robust, heavy duty tasks.
That blade is further enhanced by its 1095 Cro-Van steel construction alongside a thick Grivory handle. It's all completed with a MOLLE compatible polymer moulded sheath, making it great to carry both on the belt and in the hand.
Every Ka-Bar knife is warranted to be free of defects in material and workmanship for the life of the owner. You have complete peace of mind they will repair or replace any defected knife!
Lastly, it's worth calling out one key consideration. By design, the BK7 is a combat/utility knife. Whilst this doesn't mean it's not great in survival situations, it's worth being aware of to align with your expectations, especially when considering the handle design and overall size!
BK7's can be found online at around the $100 mark with many retailers offering discounts or sale options that will bring the price below $95. At that price, especially for a knife of this size, you're getting a great deal!
The BK7 is a strong and durable 7″ knife that many many reviewers recommend. It's especially great if you're undertaking robust tasks such as chopping and batoning thanks to the additional size and weight.
Stuck between the ESEE-6 and the BK7? Here's an alternative which might be the perfect middle ground at a bargain price! It comes from Ontario, another trusted and well made knife brand from the USA, and is called the RAT-7.
Specs wise it sits right in the middle of the ESEE-6 and the BK7 in a number of categories:
Overall Length 12.25″ (ESEE-6 11.75″, BK7 12.75″)
Blade Length 7″ (ESEE-6 6.50″, BK7 7″)
Weight 12.6oz (ESEE-6 12oz, BK7 12.9oz)
Blade Tickness 0.188″ (ESEE-6 0.188″, BK7 0.188″)
The knife is super durable utilising the same black coated 1095 carbon steel blade that we saw with the ESEE-6. When it comes to mounting, it comes with a convenient MOLLE compatible Nylon Sheath complete with belt loop adjustment.
Where this knife becomes an even better alternative is with it's price. At around $75, the RAT-7 is significantly cheaper than both the ESEE-6 and the BK7. Reviewers do note that the 'you get what you pay for' mantra is true here though – the RAT-7 doesn't have quite the same level of high quality finish as the other knives but still does a great job day-to-day.
So if you can't decide between the ESEE-6 and the BK7, or the price of either is a little too high, the RAT-7 from Ontario offers a great middle ground in terms of specs and definitely can't be beaten on price!
Summary – ESEE-6 vs BK7
In this article, we reviewed the ESEE-6 vs BK7 by KA-BAR. Both the ESEE-6 and BK7 are great choices for a big, fixed blade survival knife that will stand up to the vast majority of tasks!
When chosing between them, it's going to be the size and usability that counts, with the overall length, weight and blade thickness the defining factor between the two.
If you're looking for a slightly smaller, lighter and more nimble knife that's a great all rounder for light chopping and slicing, we'd recommend you look at the ESEE-6. If you need something that's a little more heavy duty, feels bigger in the hand and can chop or baton well, the BK7 is likely the knife for you!
We'll finish up with a quote from a knife fan on a popular forum when asked their opinion on picking up an ESEE-6 or BK7:
"The ESEE-6 may not be the best chopper, but is a great all rounder…. the BK7 is my choice for chopping, without a doubt.
Related reading: ESEE-5 vs ESEE-6