Whether you're a professional chef or not, having a quality knife is vital in the kitchen. It makes cooking a lot easier because you don't have to struggle too much with preparing your meals. Imagine cutting through your ingredients at a snail's pace. Who wants that? Today, we'll review what we have found to be the best chef knives under $100.
6 Picks For The Best Chef Knife Under $100
Top choices at a glance
Have you ever wanted to cook so badly, only to be put-off by the quality of your knife?
You've already pictured it in your head. Slicing through your ingredients and cooking them to perfection.
But your dull knives stop you from being the chef you want to be. At least even just in your home!
You can't cut through your vegetable, you end up ruining the premium meat you just bought, and end up with other kinds of disaster!
For us, we don't want any of that happening to you. Instead, we want you to create the perfect dishes for you to enjoy!
There's a variety of chef's knives out there that're less than $100! This is something both amateurs and professionals watch out for.
Who says you have to spend a fortune? You don't have to break your bank to create the perfect cooking scenario in your head.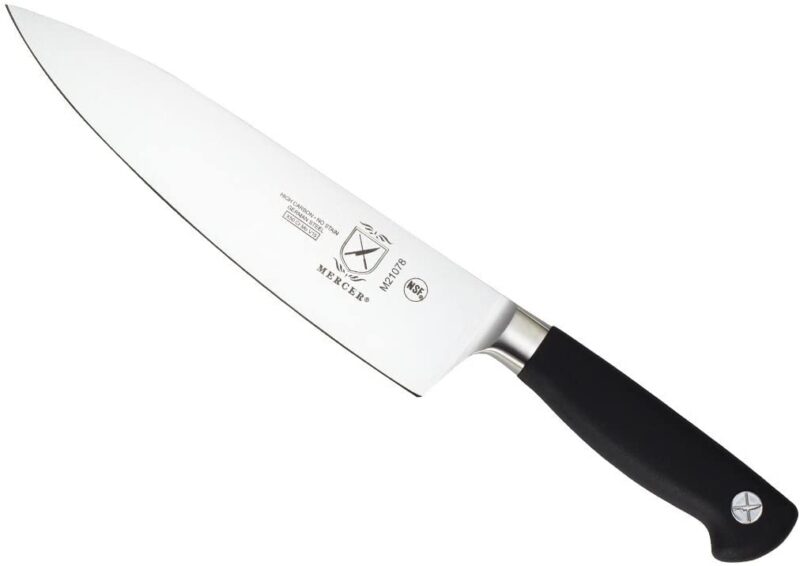 Key Takeaways
8-inch knife
Made in Japan
Very sharp blade
Price
You'll never go wrong with the Miyabi brand.
They've been around for a long time, and they're known for making one of the best quality knives!
You'll be delighted to discover that their 8-inch chef knife is under $100!
We have to admit, it's not the cheapest out there. But it's a pretty sweet deal considering the size and quality of the knife.
Instead of buying a 6-inch knife, you're better off with this one in most cases. It's flexible to use for all kinds of jobs, great quality, and won't break your bank.
Quality and Craftsmanship
You might think it's pricier than most knives out there, but think of how much quality and craftsmanship was involved in the process!
The knife comes straight from Japan, assuring you the quality of a handcrafted steel blade.
If you're looking for an excellent steel sharp blade knife, the Miyabi Morimoto will deliver. It's not just sharp, but very sharp!
A small warning to beginner cooks out there though. Be careful when using this knife. Hold the handle and keep your fingers away from the blade as much as possible.
You don't want to cut yourself with the blade unnecessarily.
As a precaution, make sure to hold the handle firmly. Cut your ingredients using a non-slip board, so it doesn't move around or slip.
Why go for other chef knives when you can have the best in your kitchen, right?
Is the Miyabi Morimoto for You?
Definitely! For a price that won't break your budget, this knife is meant to be in your kitchen.
It's perfect for both beginners and professional cooks. You won't have a hard time preparing your ingredients, and it can save a lot of time! It will also make your whole cooking experience a lot easier and simpler. Enjoy what you love doing without the hassle. When it comes to the best chef knife under $100, give the Miyabi Morimoto a close look.
Pros
Well-known Japanese knife brand
Made from high carbon German steel
Thin sharp blades
Cons
Not ideal for cutting around bones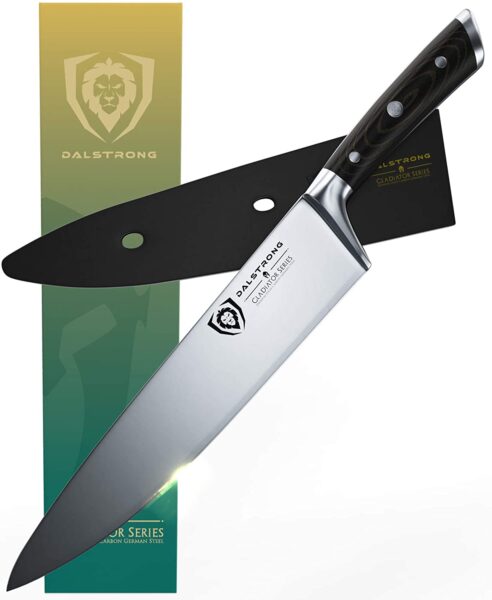 Key Takeaways
Award-winning design
Impressive craftsmanship
Offers 100% money-back guarantee
Price
Who would've thought that you could get one of the best 10-inch chef's knives for such a bargain? The price is a steal for the size & quality!
The Dalstrong chef knife series boasts of having an award-winning design, and we don't have any doubts about it.
Overall, their chef knife has a lot of visual appeals thanks to its different design elements.
However, the real beauty lies in the first time you feel the knife. At first touch, you already know that the blade is made with excellent quality.
For a knife that offers an award-winning look and best performance, the price is a giveaway.
If you're looking for a shorter knife, you'll be happy to know that Dalstrong have several options to choose from.
They offer chef knives as short as 5 inches for a relatively reasonable price.
If their 10-inch knife is too large for you, you'll have an excellent alternative to fall back on.
Quality and Craftsmanship
Any knife in the Dalstrong Gladiator series is a solid purchase.
All of their chef's knives are engineered very well, with 56+ Rockwell hardness and razor-sharp blades.
Because of the high-carbon German stainless steel blade, you can cut through even the toughest ingredients like root vegetables easily.
Dalstrong's Gladiator chef knife has a full tang triple-riveted handle to keep the blade still and sturdy.
The brand offers a 100% money-back guarantee, which speaks volumes. You can feel confident when ordering anything from Dalstrong.
Is the Dalstrong Gladiator Chef Knife for You?
One word, three letters: yes! Safe to say, the Dalstrong Gladiator chef knife is suitable for just about everyone. It's a fantastic all-rounded.
Even if you're looking for a knife shorter than 10 inches, Dalstrong offers various sizes at an affordable price level.
Its impressive German stainless steel blades, award-winning design, and price are a big win for us.
This is your knife! Chef after chef can't seem to help but fall in love with this one. In terms of the best chef under $100, this is an excellent affordable choice.
Pros
Large, quality 10″ German stainless steel blade
Comes with a sheath to store
Variety of sizes to choose from
Cons
Relative new kid on the block, founded in 2012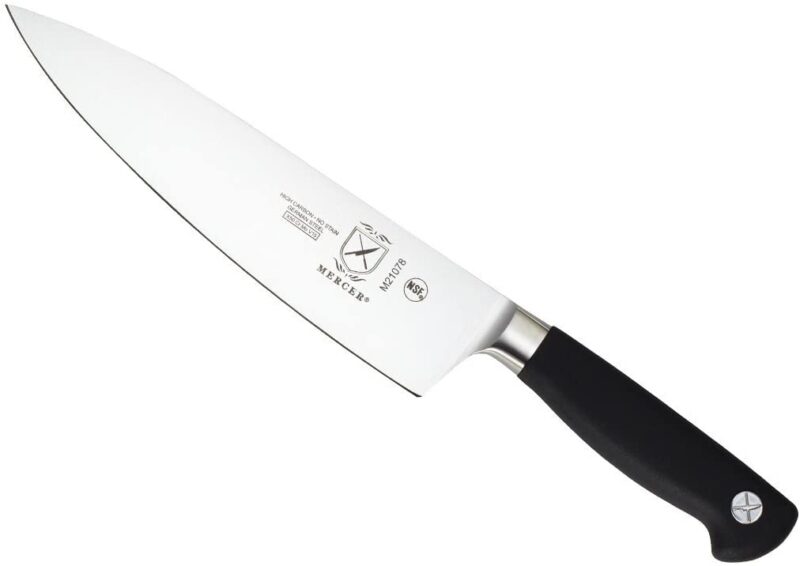 Key Takeaways
8-inch blade
High carbon German steel
(Limited) lifetime warranty
Price
If you're trying to stick to a budget, this Mercer chef knife is a great option. Very popular, too.
It has a Santoprene handle, which although I generally prefer Pakkawood, is pretty good. It makes for a fairly comfortable non-slip grip, even when wet.
Quality and Craftsmanship
Quality-wise, for the price point, this knife is excellent. Take a minute to read some Amazon reviews and see for yourself what people are saying.
The V15 steel from Soligen, Germany will resist rust, corrosion and discoloring.
The blade is sharp enough for most home cooks. Although admittedly, not as sharp as the blades previously mentioned above.
If you have any apprehension about buying this knife, you'll be happy to know that it comes with a (limited) lifetime warranty. Why 'limited'? You can read Mercer's warranty here. The short version: it doesn't cover misuse (e.g. putting it in a dishwasher, trying to cut something dense like glass) or customary wear & tear over time.
Is the Mercer Genesis Chef Knife for You?
If the Dalstrong Gladiator wasn't for you, but you're still looking for one of the best chef knives under $100 without breaking your bank, then go for this knife.
Quality is great for the price, and there's even a lifetime warranty for you to enjoy.
Pros
Comfortable non-slip handle
V15 high carbon German steel
Great price to quality ratio
Cons
Not as sharp as the Dalstrong / Miyabi
Slightly softer steel
No sheath

Key Takeaways
Made in Japan
Durable molybdenum steel material
Pakkawood handle
Price
For less than $100, the MAC Hollow Edge is a pretty sweet deal. The blade is lightweight, sharp, and thin. What more could you ask for in a knife?
Although, some professionals out there see a drawback to this knife. It's not a fully forged knife.
Others would prefer a forged knife, especially for the price.
Although it's a matter of preference, it shouldn't be a cause of concern for most home chefs out there. Stamped knives are noticeably lighter.
In the end, the choice is yours to make. And this chef's knife is a perfectly good choice if you don't mind a stamped knife, or if you're looking for something lighter weight.
Quality and Craftsmanship
It shouldn't come as a surprise that this knife is made from Japan as well. Where else would you get great quality knives? (Well, other than Germany).
The razor-sharp blades are thin, so it's pretty versatile to use. The body is also lightweight, despite being 8 inches long.
In the unlikely case you aren't happy with this knife, the company offers a 25-year warranty. It's not lifetime like some others, but it's pretty great.
Is the MAC Hollow Edge for You?
If you're someone who spends a lot of time in the kitchen, this chef knife is your perfect companion. It's even perfect for cooks who have smaller hands!
It's a perfect size, and the sharp blades make it easy for you to prepare your ingredients.
Our choice for the best chef knife under $100 for those who don't mind a stamped knife, and for chefs with smaller hands.
Pros
Hollow and non-stick blade
Lightweight and very sharp
Comes with a 25-year warranty
Cons
Not a fully forged blade – stamped blade

Key Takeaways
8-inch knife
Handcrafted in Japan
Unique Japanese handle design
Price
When we talk of world-class chef knives, Shun is a familiar and go-to brand by most professionals.
To date, they remain to be one of the most famous world-class knife makers out there.
Surprisingly, you can in fact own an 8-inch chef knife from Shun for <$100. Like the others mentioned here, it's among the best chef knives under 100 you can get today.
However, note that it's one of the lower-end chef knives Shun offers because of the price.
Nevertheless, it looks nice and performs very well for the price.
Quality and Craftsmanship
Despite being a lower-end knife (by Shun standards), the knife and blade are good! It's not quite as impressive as their Shun Classic & Premier ranges, but you get what you pay for.
Made with high-quality materials and crafted in Japan, it's plenty enough for the needs of most.
The stainless steel blade provides enough sharpness to cut through anything. The handle is comfortable on the hand, thanks to its design.
The 8-inch size is average, so handling the knife won't be trouble even for people with smaller hands.
If there's one thing you should watch out for, it's the maintenance. Make sure to only hand-wash the knife so it maintains its sharpness.
Is the Shun Sora 8″ Chef Knife for You?
Shun are a highly, highly recommendable brand in the knife world. The Shun Sora knife gives you the chance to own one for a great price, so it's a good opportunity to add a great piece to your chef knives collection.
You can never go wrong choosing a well-known knife brand because they sure know what they're doing.
Even if you're just starting in the kitchen, it's safe to say this chef knife is good to help you get started.
It's sharp enough to get the job done, although it falls just a little short compared to some of the best chef knives under 100 that we already mentioned above.
Pros
Offers a lifetime warranty
Made in Japan
Layered steel blade
Cons
Some have found the blade a little brittle

Key Takeaways
Curved bolster
Sigma forge knife
Provides great precision and comfort
Price
We promised that we'd give you the best chef knives under $100, and we don't have any intentions of breaking that.
After all, this J.A Henckels 8-inch German steel knife is still under $100. Though, it's definitely in the expensive range relative to the other products we're mentioning.
If you think the shorter knives are any cheaper, it isn't the same for this brand. Their 6-inch chef knife costs an extra ~$30 at the time of writing.
That's out of our budget for today. And safe to say, the 8-inch knife can get the job done anyway.
Quality and Craftsmanship
We're now back to Germany! This 8-inch knife is made and manufactured there.
You're guaranteed that the materials are of high quality, so you have nothing to worry about.
The whole blade is fully forged and even ice-hardened! Impressive.
You won't expect the stainless steel to rust anytime soon as well.
The handle is easy to grip, comfortable even. If you're spending long hours in the kitchen with this knife, you shouldn't have any problem.
Is the Zwilling J.A Henckels Chef Knife for You?
We're not going to lie. All things considered, the Henckels chef knife is a little bit hard to recommend here. Considering its price, we'll say you're better off choosing a different knife.
It's not terrible, by any means. It's a perfect size; the handle and blade are pretty decent. Not bad! It's simply the case that there are better alternatives out there for the same price.
Pros
Durable German steel blades
Offers lifetime warranty
Sigma forged blade
Cons
A little pricey for what you get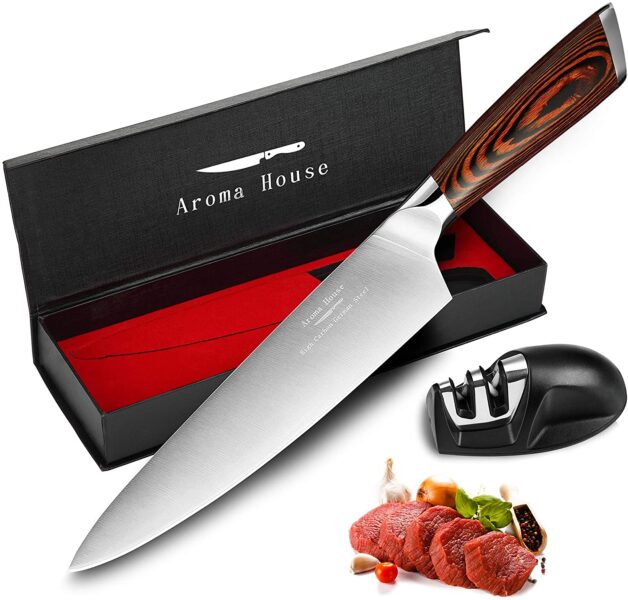 Key Takeaways
Comes with a knife sharpener
Perfect for left or right-handed people
Stainless steel end-cap
Price
Hold on to your seats because the Aroma House 8-inch knife is the cheapest one in this article by far. Clearly it's no Dalstrong or Shun, but for its price, we aren't at all surprised that people give this knife as a gift.
The whole knife product comes in a beautiful box, with a free knife sharpener included. That's pretty awesome, and it's valuable for a beginner chef to start learning how to look after a knife.
Quality and Craftsmanship
You can perform regular tasks like cut meat and vegetables with this steel knife.
The blade is also pretty sharp, and the grip is easy to handle. More or less, it's perfect for any type of use!
What we love about this knife is its Pakkawood handle, which isn't super common still at this price point. It provides a very comfortable grip, so you can comfortably hold and balance your knife.
Overall, we can say that this knife is pretty decent and reliable around the kitchen, especially if you're just starting!
Is the Aroma House 8 inch Knife for you?
If you're an amateur cook, we recommend this knife for you. It's pretty affordable and comfortable to use.
You can master your way through cooking without worrying about your knife too much.
It's pretty versatile, so you shouldn't have any problem using it to cut your meat or vegetables!
Essentially, it gets the job done! You can focus on learning how to cook and familiarizing yourself with your kitchen. A solid choice for the best chefs knife under $100 for amateur chefs.
Pros
Beautiful design and balance
Full tang construction
Pakkawood handle
Cons
Essential Features of a Chef Knife
Before you head to the store and purchase the first chef knife you find, stop. You don't want to waste your money with a chef knife that doesn't perform well.
To help you make your choice, we've listed some of the essential features you need to watch out for when choosing the best chef knives to use in the kitchen!
Balance and Clearance
If you have big hands, you might have a hard time moving your knife up and down. This is especially true if your knife has a very small clearance.
Every time you chop something, your hand keeps hitting the chopping board! We don't want any of that.
It could be that the blade of your knife is too big, or the handle is just too short.
You can easily avoid this and find a knife that has a full tang. You'll notice later on that your knife comfortable to use!
Most importantly, you want to make sure that the full tang is attached to the handle of your knife.
It provides better durability, strength, and control!
Blade Size
A common rookie mistake is choosing the first knife they see in the market.
They don't check the other parts of the knife! Is it a full tang knife? Is the blade the right size? How about the handle?
Mainly, one of the leading causes for concern is choosing a knife with the wrong blade size.
How can you enjoy using your knife if the blade doesn't match the ingredient your cutting?
You can have as many knives you want in the kitchen. If it doesn't cut for you at the end of the day, they're all useless.
Some of the best chef knives under $100 come in different sizes. It can range from 5 to 10 inches. It's entirely up to you!
Whatever the case, we recommend choosing a chef knife that provides the perfect length for you.
Make sure it's comfortable to use, and you can efficiently work your way around with it in the kitchen.
Brand
There's no doubt you'll find a lot of products out there that claim to be the best chef knife under 100.
This may sound enticing, but don't check-out just yet.
Sometimes, it pays to know whether the products sold come from a reliable brand or not.
Generally, we recommend buying a chef knife from a reliable brand. You know that it's made with high-quality materials, and it delivers what it promises.
Many of the reputable products you'll find today have been around the industry for years! They've most likely mastered the art of making a high-quality chef knife.
You won't have to second guess whether their product is good; their reputations and guarantees speak for themselves.
Durability
A chef knife can be made of different materials: German steel, high carbon, chromium, vanadium, and more.
Whenever you're faced with choosing what knife to pick, go for one that's made with durable material.
Some materials resist stain and rust from forming, keeping your steel blade clean all the time. Some knives tend to be hard, which tends to be more brittle and susceptible to chipping.
In most cases, you'd also want to go for a knife with a full tang. That way, the blade is attached to the handle, so you don't have to worry about it going loose.
Grip
You'll be using your knife a lot. Once you're accustomed to using it, you'll start noticing how strong the grip is.
It plays an essential role in terms of giving you comfort and safety. Some knives make use of a comfortable non-slip handle so that you can chop up your ingredients with ease.
Often, your hand size can also play an essential role in determining the handle grip.
For example, people with big hands prefer a handle with a thicker grip. For people with small hands, this might be a hazard.
Heft
Hold your knife and move it around. Up, down, forward, and back. Does it feel comfortable? Is it heavy?
Typically, you'd want to choose a heavy blade when you plan to cut vegetables or meat.
The only problem with is that it's tiring on your hands later on. This is especially true if you do a lot of cooking.
You can choose a lighter blade, which tends to be very nimble and flexible! But, some don't feel too satisfied with the performance.
The choice is up to you!
Appearance
Some people really value how a knife looks. Us included.
Who doesn't love a knife that looks slick and sharp? The non-slip handle, curvy body, and steel sharp blade is enough to get you excited to cook!
Most stainless steel knives look sleek because of the color, which is why some people go for them.
So, whenever you're faced with a choice, which of the products do you see yourself flashing in the kitchen?
Price
In this review, we stuck with a budget of less than $100. Nevertheless, we made sure we gave you only the best chef knives to choose from, even for its price point.
If you plan to stretch your budget a little bit, or maybe even cut it down, you want to make sure to end up with the best knife for the price.
Get the most out of your money, even if they're not that expensive.
Typically, we don't recommend getting a drastically cheap chef knife. Sure they get the job done maybe a few times. But they're not worth your time later on.
The blades start to dull and stain. You'll waste your precious time sharpening your knife and trying to remove your stains in the future.
We don't want that for you. Imagine how much time you'll spend to maintain it over and over again!
Our Top Picks
Before we go, we'd love to share our top two picks in our Best Chef Knife under $100 Review: the Dalstrong Gladiator Series and the Miyabi Chef knife.
Runner Up: Dalstrong Gladiator Series
You can never go wrong when you choose a chef knife from the Dalstrong Gladiator series. They provide the best chef knife under $100 thanks to the variety of their products!
We love how stunning the design looks, thanks to the sophisticated technology they used to manufacture their knives!
High-quality materials molded to perfection, what more should you look for?
Triple-riveted, stainless steel, full tang handle knife. That's all you need to remember. We can confidently say that this chef knife is one of the best that provides excellent value for money.
Top Pick: Miyabi Chef Knife
Hands down, we'll have to award the title of best chef knife under $100 to the Miyabi Morimoto. Although it's priced relatively high, it's a triple-riveted knife you'll never regret.
Its performance outranks some of the knives that even cost more than $100! You also don't have to worry about this knife being underwhelming. The blades are sharp, and the handle is comfortable to grip.
Read More >>> Santoku vs Chef's Knife
Conclusion
We hope you enjoyed our review of the best chef knife under $100! Nothing is stopping you now from being your very best in the kitchen.
You can chop your ingredients without going crazy over your dull blade. You'd thank yourself later on!
Feel free to leave a comment below and share which of the best chef knife under $100 you enjoyed! We'd love to hear from you.
Don't also forget to share this article with your friends. Who knows, you might pull them out from their kitchen nightmare.