If you've been to KnivesAdvisor before, you'll know we're big fans of ESEE. Founded by Jeff Randall and Mike Perrin in the late 90's, the pair were tired of outdoor equipment that didn't cut the mustard. And so they set up on their own to create high quality outdoor essentials at a bargain price.
Whilst they manufacture a lot of different products, it's their knives they are known for. They have a really wide range, covering fixed and foldable knives, knives for survival or tactical situations. As well as a great range of everyday carry knives. And that's where we're focused today. Here, we discuss and compare the ESEE-3 vs ESEE-4. Let's get started.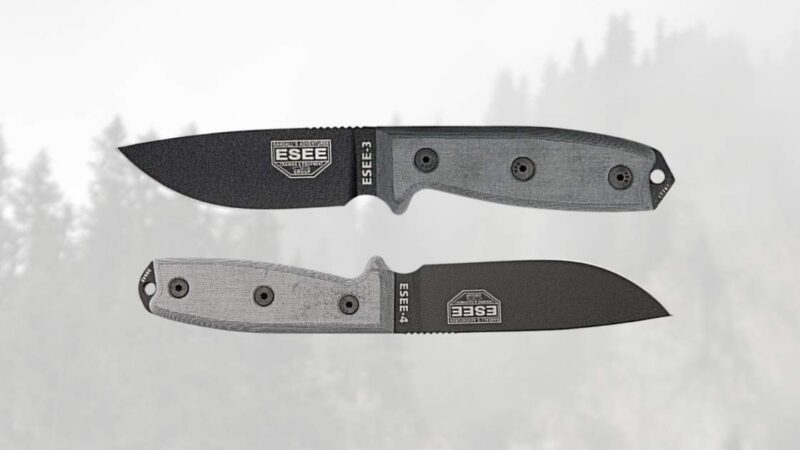 Specifically in that EDC range, two of their most popular models are the ESEE-3 and the ESEE-4. These two get put head-to-head quite alot, mainly because they look so similar and, at least on the surface, have a fairly similar use!
We're going to try and answer the question once and for all. Which is better, the ESEE-3 or the ESEE-4?
Both ranges have a number of models, so we're going to directly compare the standard ESEE-3P & ESEE-4P models.
Haven't got time for a full review? Here's the short version:
If you need a nimble EDC knife which combines toughness and a thin blade that's perfect for cutting, shoot for the ESEE-3.
If you're likely to come across more heavy duty tasks day-to-day, you might be better suited with the added muscle of the ESEE-4.
Now, let's get started with the full review!
ESEE-3 vs ESEE-4 – Key Comparisons
It's really easy to see why these knives get put alongside each other so often given how closely aligned they are. But, if you look at the knives a little closer, and specifically look at the blades, you'll soon find that one may suit your needs better than the other.
ESEE-3 Overview
Let's start with the ESEE-3. With an overall length of 8.31″, 3.88″ of which belongs to the blade, the ESEE-3 is slap bang in the middle of the everyday carry knife category. It's a fairly light knife too at only 5.3oz but still packs a punch thanks to the 1095 High Carbon Steel blade and Micarta or G10 handles.
Where the ESEE-3 shines is in this profile of it's blade. At just 0.125″ thick, this is a thin blade that's just perfect for precision cutting and slicing. Naturally a lighter and thinner blade also gives the bonus of added dexterity, meaning you can have this in the hand all day without fatigue.
ESEE-4 Overview
On the other hand, the ESEE-4 packs a little bit more of a punch. At 9.0″ long and sporting a 4.5″ blade, it's not only larger than the ESEE-3, but the distribution of the knife is different, with the ESEE-4 perfect for those that like a 'blade-heavy' tool.
It's also heavier at 8oz and has a much thicker 0.188″ blade, making it more suited to heftier outdoor tasks such as batoning and wood cutting. The ESEE-4 features the same 1095 High Carbon Steel blade and the same Micarta or G10 handle options as the ESEE-3. So in that regard, they're dead equal.
"The ESEE-3 is great, slices like a champ, but the handle is just barely enough for me. The ESEE-4 is much more of a tank, but not as good a slicer."
Both knives come highly recommended and benefit from ESEE's reuptation of supreme build quality. It really comes down to two things.
1 – Do you like your knives to feel smaller or bigger in the hand? And…

2 – What do you need the knife for? Everyday cutting and slicing or tasks that require a bit more power?
For either question, if it's the former, you'll be heading for the ESEE-3, if it's the latter the ESEE-4 is the knife for you!
That's the high level overview, but let's break it down in a bit more detail.
Side-By-Side Specs – ESEE-3 vs ESEE-4
| | | |
| --- | --- | --- |
| | ESEE Knives 3P Fixed Blade Knife | ESEE Knives 4P Fixed Blade Knife |
| | | |
| Overall Length (") | 8.31 | 9.0 |
| Blade Length (") | 3.88 | 4.50 |
| Weight (Oz) | 5.2 | 8 |
| Blade Thickness (") | 0.125 | 0.188 |
| Blade Type | Drop Point | Drop Point |
| Best For | Finer slicing and cutting tasks of an EDC | More robust and heavy duty EDC duties |
| Steel | 1095 Carbon, 55-57 Rc | 1095 Carbon, 55-57 Rc |
| Sheath | Polymer Molded | Polymer Molded |
| Manufactured | Made in the USA | Made in the USA |
The ESEE-3 is part of the standard ESEE range. While knives we've reviewed before, such as ESEE-5 & ESEE-6, are survival knives, the ESSE-3 is wholeheartedly an everyday carry knife.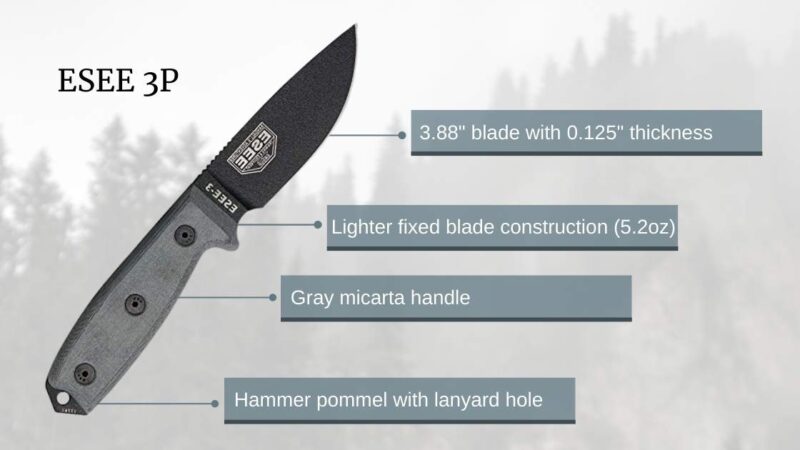 With an overall size of 8.31″ it's also a fairly small knife, with the blade following an equally small ratio at only 3.88″. The knife appeals to those who like a smaller knife and for those who want a knife that is light. This model comes in at just 5.2oz.
At only 0.125″ thick, it's a knife that's just made for fine cutting. Many people who review this knife comment on how easy it is to do basic tasks such as rope cutting, meat slicing or carving.
This simplicity is also thanks to the steel of the knife. In this instance, ESEE opt for 1095 High Carbon Steel with a really slick black textured powder coating.
The knife has a removeable handle and ships natively with either a Micarta or G10 option. It also comes complete with a molded sheath and clip plate, with additional MOLLE backs also available.
All ESEE knives are made in the USA and come with a 100% unconditional lifetime guarantee. If your ESEE knife should ever break, they will repair or replace it at anytime.
Pricewise you'll find an ESEE-3 anywhere around the $110 mark. But keep an eye out for the many sales that bring the price down to around $100.
The ESEE-3 really is the perfect small all day carry knife. If you like a light and easy to use knife with an ultra-thin blade, why would you look anywhere else?
In many ways, you can view the ESEE-4 as the big brother to the ESEE-3. It's still right in everyday carry territory but packs a little more punch thanks to it's larger profile.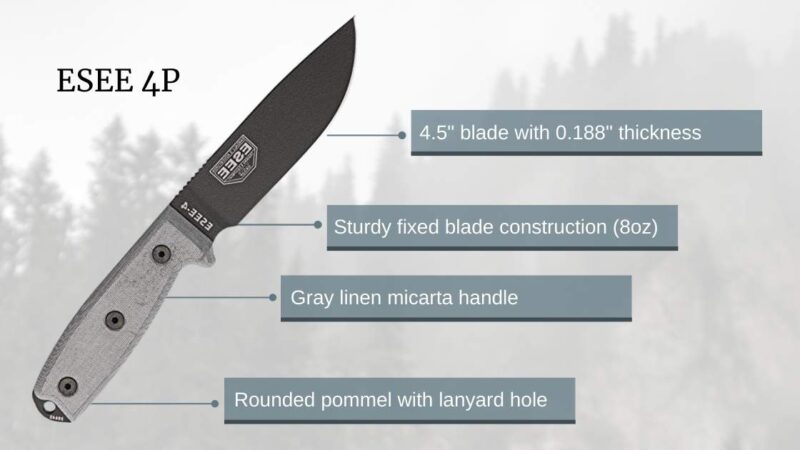 The ESEE-4 is built for some of those heavier duty, day-to-day tasks. At 9″ long and with 4.5″ of that sitting in the blade, it's not just a bigger knife. The weight distributes more into the blade thanks to that 50/50 blade-to-handle ratio.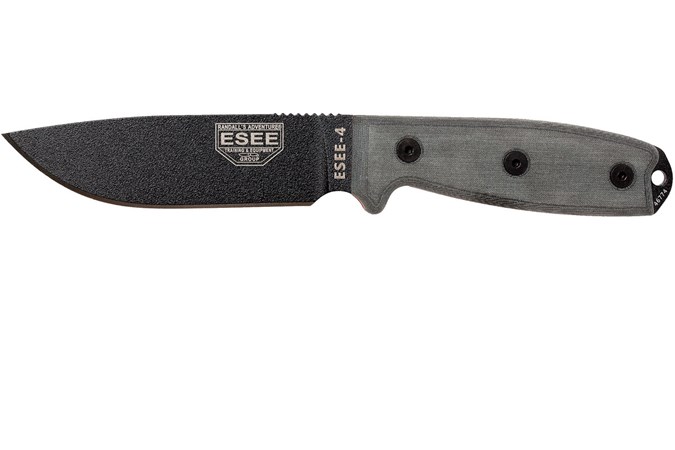 Where the ESEE-4 really seperates itself from the ESEE-3 is in the blade thickness and weight. At a much thicker 0.188″ and weighing nearly 3oz more at 8oz, the ESEE-4 is a chunkier knife all round – hence our big brother analogy.
These specs make the ESEE-4 perfect for taking on some of those more heavy duty tasks. Reviewers use this knife for woodcutting, batoning and well, anything else you can think to throw at it.
Just like the ESEE-3, the ESEE-4 utilizes that black textured, 1095 High Carbon Steel. It also comes with a molded sheath and offers removeable handle options in both Micarta and G10 styles. It's also got that ESSE guarantee too – so there's not much to chose between the knives in those areas.
When comparing the pricing of the ESEE-3 vs ESEE-4, the ESEE-4 sits are a near identical price to the ESEE-3, with the knife coming in anywhere around $100 depending on the retailer.
The ESEE-4 is going to be your go to carry knife if you need something with slightly more power. It's a longer, thicker and heavier knife and will be the perfect companion for any robust tasks you may encounter day-to-day.
When it comes to everyday carry knives, many people don't go for a fixed blade. That's because even when they're small, they just aren't small enough. If that sounds like you, maybe this ESEE alternative might catch your eye!
The ESSE Izula II is a 6.75″, ultra lightweight fixed blade knife that's perfect as a concealed everyday carry. The overall blade length is tiny at 2.63″. And when combined with its 3.2oz weight, it's a knife you could use all day without any fatigue!
It combines the same high quality 1095 High Carbon Steel we've seen in both the ESEE-3 & ESEE-4 with a removable Micarta handle.
The Izuala II also comes with a molded sheath and clip plate with optional extras for MOLLE mounting also available. Like with all ESEE knives it is of course made in the USA and comes with that lifetime warranty.
At an MSRP of around $80, it's also a lot cheaper than both the ESEE-3 and ESEE-4, so offers lots of benefits if you're looking for a small EDC.
So if the ESEE-3 is still looking too big for you, why not check out the ESEE Izuala II as it might be the everyday knife you need for those light day-to-day chores.
Read More >>> ESEE-3 vs ESEE Izula III: Which EDC Should You Buy?
Summary – ESEE-3 vs ESEE-4
Both the ESEE-3 and ESEE-4 are great choices for an everyday knife that will keep you going whatever life throws at you.
When choosing between the ESEE-3 vs ESEE-4, it's going to be the size that counts. The overall length, weight and blade thickness are the defining factors between two knives that are otherwise very similar.
If you need something that's smaller in the hand, lighter and has a thinner cutting blade, the ESEE-3 is the perfect everyday carry knife. But if you're likely to come across some chunkier day-to-day tasks, such as woodcutting, the ESEE-4 will give you the extra punch you need.
We'll finish up with a quote from a knife fan on a popular forum when asked their opinion on picking up an ESEE-3 or ESEE-4:
"The ESEE-3 is great – slices like a champ, but the handle is just barely enough for me. The ESEE-4 is much more of a tank, but not as good a slicer."