Many people can get away with a store-bought budget knife. But investing in high-quality and well-made Japanese knives can provide more benefits than you would think. Shun offers an immense range of exceptional knives. In this article, we provide a detailed Shun knives review – including the Classic, Premier, and others.
Shun Knives Review: Classic vs Premier vs Others
For our Shun knives review, we'll take a look at each of Shun's popular knife ranges. If you're looking to buy a set, here's my advice: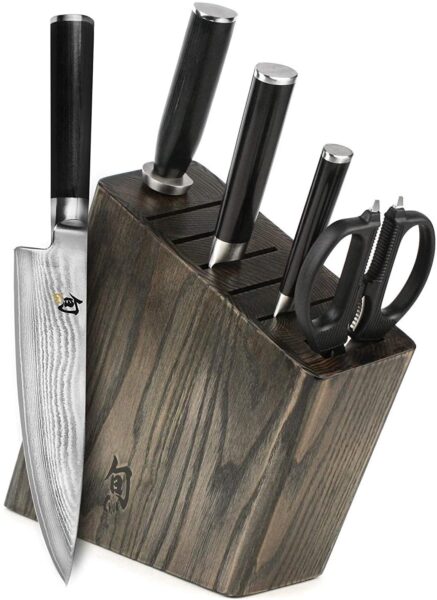 Features
VG-Max steel
34 Layer Damascus steel construction
Classic designed Pakkawood handle
Intricate Damascus Shun hammered finish
Our Shun knives review starts off with the Shun Classic. This series of knives is a staple amongst the Shun line of knives. Are you looking for classic Japanese construction with adherence to traditional aesthetics? If so, the Shun Classic series might be right up your alley.
The Blade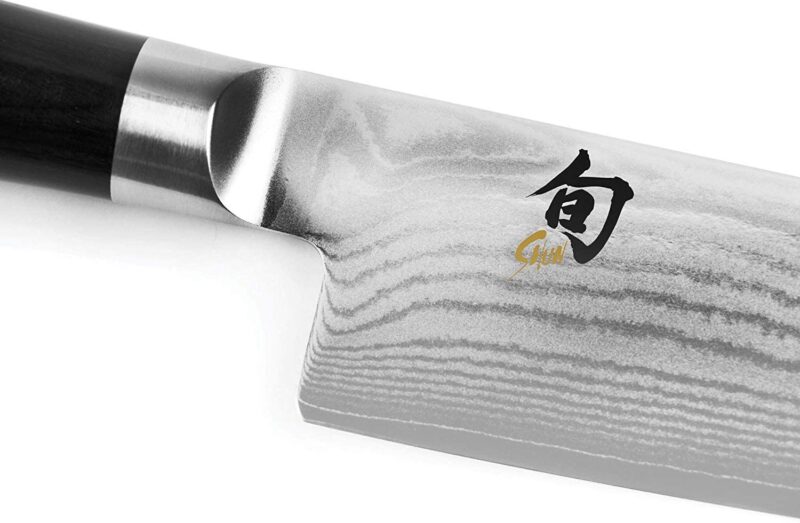 The primary steel used for this knife line is the VG-Max high-carbon steel. This is the newest iteration of the popular VG-10 series of steel made better through enhanced chromium and carbon blade composition.
The Shun Classic constructs each knife with 34 layers of Damascus folded steel, finishing it with an intricate Damascus hammered finish.
This layered construction and material treatment give these knives superior durability and edge retention. It also remains fairly corrosion-resistant for easy maintenance.
If you have a knife that's handmade with the waves of a traditional Damascus finishing, you know that the artisans took great care in giving you a well-crafted knife.
The Handle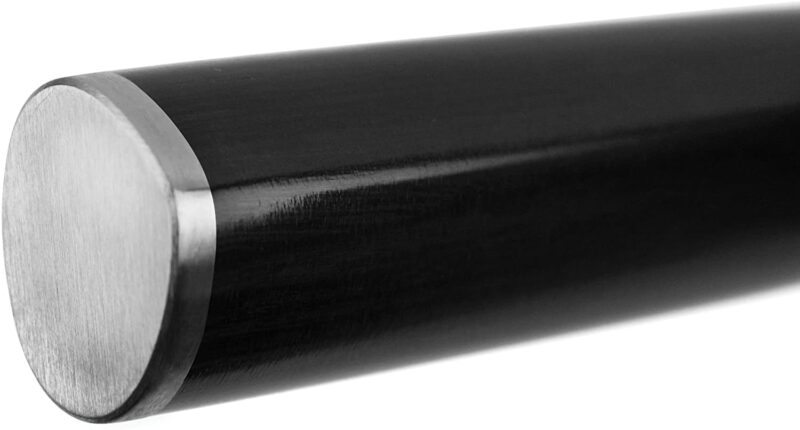 The handle is made of Shun Pakkawood, a strong composition of layered wood material and resin. This allows the knife to retain the natural look of wood that traditionalists love while having modern durability and usability in the kitchen.
The handle uses a rounded mold to accommodate neutral grips and adhere to a traditional Japanese design. Its handle is beset in each end by the same steel used in the knife. This provides a polished hilt and pommel for durability and aesthetic design.
Additionally, this knife is constructed with a full tang handle, meaning the entire knife surrounds the body for even eight distribution and balanced cutting when in use.
If you had to go for a Shun, the Shun Classic series is a master-class in its own right and the best choice for cooks looking for the right amount of tradition mixed with a unique design.
Additional Notes
The Shun Classic series has recently undergone a reinvention through a different variant, the Shun Classic Blonde series.
The series provides you with all the aspects you've loved from the Shun Classic series but with a handle that comes in a natural wooden tone.
If you already own a Shun Classic knife but want something with a bit more raw design, picking a Shun knife from their Classic Blonde collection might be a solid move.
Pros:
The Shun enhanced blade material makes carbon steel corrosion resistant
Water-resistant and well-designed handle
Cons: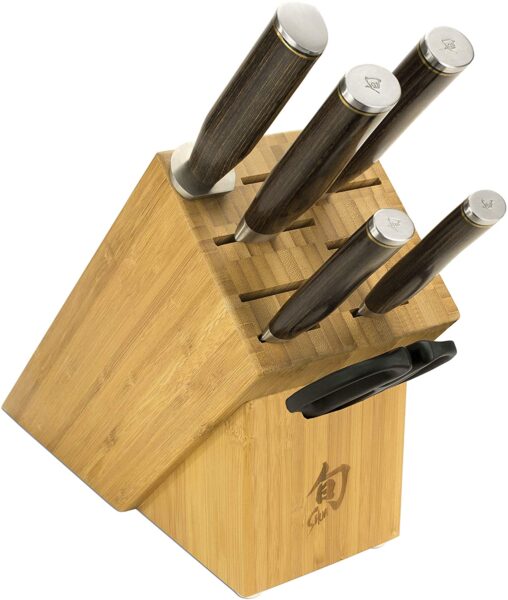 Features
VG-Max steel
68 Layer Damascus Steel
Walnut Pakkawood handle
Unique, high-quality Tsumiche hammered finish
Next up on our Shun knives review is their Premier series. Shun's Premier Knives series gives you an upgraded knife experience in both design and performance.
The Blade

The Shun Premier series uses a combination of the VG-Max steel as its main cutting core. It also uses 68 micro-layers of intricate Damascus steel around it for strength and protection.
The Damascus steel finishing used in the Premier series differs from the commonly seen Damascus-type finishing. It uses Shun's unique Tsumiche hammered finishing for the Damascus layers. This georgeous finish provides a unique tactile touch, unlike most smooth bladed knives.
This Tsumiche knife finishing isn't just for aesthetic purposes either as it helps food release while cutting due to its uneven textured surface. Not only does your blade look unique, but it ends up slicing better too.
The Handle

The Shun Premier series uses the Shun Pakkawood as a specialty Walnut wood composite. This provides a dark wooden color while lending some of the strength properties and moisture resistance that makes walnut an excellent choice for furniture and heavy-duty tools.
Handcrafted and designed with premium performance in mind, the Shun Premier line of knives will impress both in design and in performance.
Pros:
Unique walnut Pakkawood handle
Sharp and aesthetic blades
Cons:
Debatable as to whether the additional price is worth it compared to the classic



The third stop on our Shun knives review are Shun's Dual Core knives. While you can't easily pick up a full set of Dual Core knives on Amazon, let's talk about the line in general.
Features
VG 10 & VG 2 steel
71 Alternating layer construction
Pakkawood Grip
Herringbone designed finishing
Wooden Japanese Sheathe included
The Shun Dual Core knife series is a premium collection of knives.
Shun Knives' two unique high-carbon chromium enhanced sheets of steel, the VG 10 and the VG 2, make up the blade's body. Both give each knife a cutting edge sharpness and durability.
Since these knives are a little pricier, you'd probably like to know whether they're worth it.
For this Shun knives review, here is my opinion: only if you value a) the prestige of the Shun brand, and b) the impressive aesthetics. For actual performance in the kitchen, I'd argue there are better picks for value-for-money. Nevertheless, let's continue.
The Blade
As mentioned above, these knives are constructed with two types of high-quality stainless steels, each folded into each other 71 times in an alternating fashion.
The blades remain thin and light while retaining the same durability you can expect from a Shun knife. Additionally, the steels wear down at different speeds due to the different steel compositions giving you micro-serrations as you use the knife over time.
The Handle
The material the Dual Core series uses is their reliable Pakkawood scales, molded in a traditional octagon shape for a bit more tactical design when in use. You may prefer the rounded edges when holding on to this knife for a slightly assisted grip.
Knives in this collection make use of a "rabbet tang." This tang, also known as a push tang, ensures your knife's tang is inserted deep enough into the handle for better stability and durability.
Shun derives this technique from how traditional samurai swords are commonly constructed.
Additional Notes
This knife also comes with the Shun custom-crafted wooden Japanese sheathe, made from a light-colored wood that contrasts beautifully with its dark ebony polished wood grip.
The Dual Core series is probably one of the most innovative designs to come out of Shun knives. If you find yourself interested in how far high-quality steel construction can go, then the Dual Core knife series is for you.
Pros:
Highly durable blade due to Shun dual steel core construction
High-quality Shun wooden sheathe protects the blade when not in use
Unique Shun herringbone metal hammered finish
Cons:
Expensive. Your money might go further elsewhere.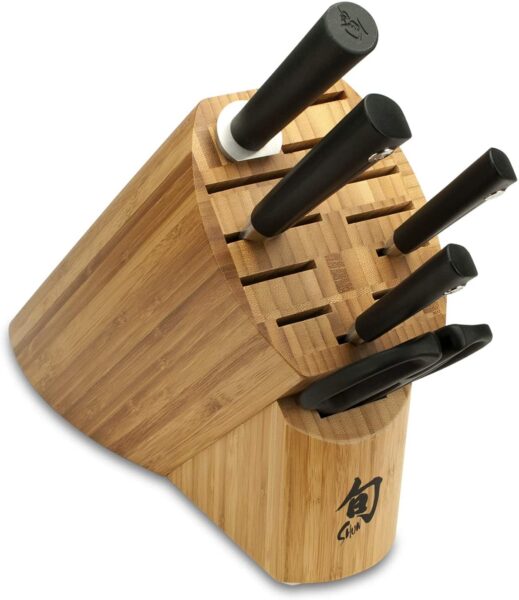 This is Shun's cheapest line of blades.
Features
VG10 steel
Layered 420J stainless steel
Textured TPE Handle (Plastic/Rubber Combination)
Shun logo imprinted in stainless steel
You may want to explore options that won't necessarily break the bank for those just beginning to develop an interest in investing in higher quality knives.
This is where the Shun Sora collection shines, especially with its entry-level prices.
The Blade
Despite being the most affordable knife line within Shun's catalog of exceptional knives, the Shun Sora series doesn't slack when it comes to performance.
It uses the hardy VG-10 cutting core that ensures razor-sharp cutting and exceptional durability.
Layered on top of this cutting core is the 420J stainless steel sheets. These Japanese crafted stainless steel composites have high levels of chromium and carbon. As a result, it gives each knife the edge and stain-resistance you need for everyday use.
As reliable as knives go, the Shun Sora Chef's knife offers an easy to maintain knife while retaining much of the cutting power and accuracy expected from the other Shun collections.
The Handle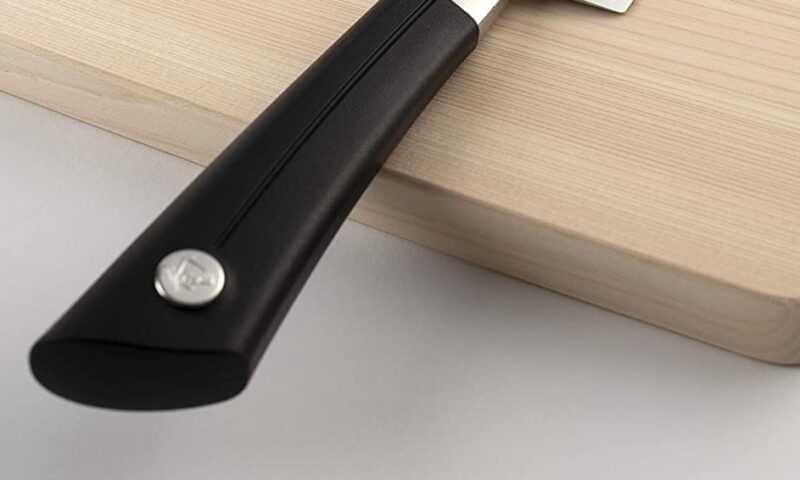 Shun Sora knives use a composite of plastic and rubber or TPE to create its durability and sleek black handle finish. These handles are perfect for beginners to experienced cooks as it's no-fuss design gives a great grip while in use.
For an added design touch, Shun included an embossed emblem on the hilt area of the handle. This gives your knife a unique touch when sitting side-by-side with your other kitchen knives.
You don't need to worry about its durability as a knife either. While not technically "full tang," the knife encompasses almost 90% of the knife tang, giving you exceptional balance and stability when cooking.
If you're on a minimal budget but want to see what higher end knives have to offer, the Shun Sora knife series is the choice for you.
Pros:
Affordable compared to other similar chef's knives
Stainless steel layer makes it easy to clean and maintain
TPE is useful for those looking for more grip
Cons:
Lacks some of the premium features found in other Shun Knives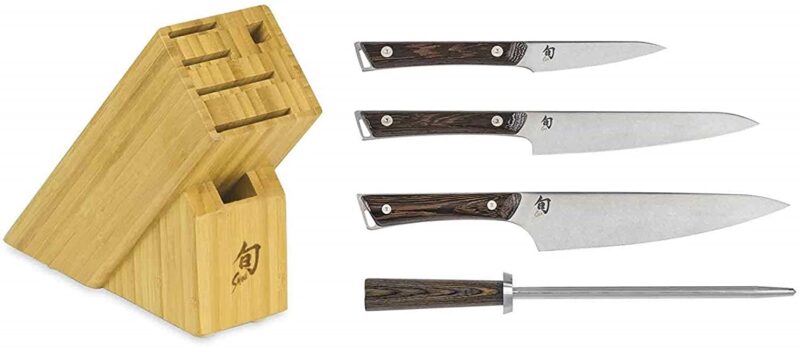 Features
AUS10A blade
Solid single layer construction
Shun Pakkawood riveted scales
Our Shun knives review wraps up with the exceptional, but straightforward Kanso series. Some cooks enjoy a more rugged sense when they cook. Fewer frills and unnecessary distractions, just a focus on the food and the art of preparation. Shun had these types of cooks in mind when they created the Kanso line of knives.
The Blade
Shun Kanso knives use a single layer steel construction, differing from the multi-layered steel construction that Shun's other knife lines use.
This single steel construction is nothing to scoff at as it uses high-quality AUS10A high-carbon steel to build its razor-sharp blade.
This is the same type of steel you will find in most survival and outdoor knives. It remains hardy and retains its cutting edge for a far longer period of time.
The Handle
Unlike Shun's other knives, the Kanso series uses two Pakkawood scales riveted onto the full tang of the knife proper.
This ensures you grip onto the entirety of the knife while preparing your ingredients. Ultimately this provides better balance and control over the blade.
Tagayasan, or wood handle, is known as "iron sword wood" due to how durable it is while remaining dense and designed for the discerning chef.
The Kanso series of knives easily fits into most chef's kitchen with its no-nonsense design and sturdy performance. Are you a chef who enjoys more unrefined motifs in life? If so, you may enjoy what these knives have to offer.
Pros:
Sturdy single steel construction
Full tang with Pakkawood handle scales
Cons:
Simple design might be nice for some. But others may prefer something more aesthetic like the Premier series
A Quick Overview on Shun Knives
To wrap up our Shun knives review, let's take a quick look at what makes these Japanese knives so special. Not every knife is made in the same way. This is something that Shun knives have been keen to prove since its inception around 111 years ago.
Their home base Seki City has been known as the center for Japanese knives since the 13th century, and the Kai Corporation (which Shun knives is created under) aims to keep that knife tradition alive.
Shun primarily focuses on high-end handcrafted culinary knives. They use some of the most premium materials matched with the most refined crafting techniques. As a result, each knife is brought out to its best with each new iteration.
The name "Shun" itself is derived from the Japanese word of the same, meaning "perfect moment," commonly used for when something is "at its best time."
Shun knives offer a wide array of Japanese knives, offering a paring knife, a utility knife, a chef's knife, and more to the discerning cook.
Shun knives personifies this by focusing on even the smallest detail in each knife crafted from their company in their traditional Japanese style.
Steel Used
As you may have seen above, Shun knives use a variety of steels, from the VG-Max found in the Shun Classic collection to the AUS10A found in the Shun Kanso series.
Shun also ensures a razor-sharp cutting edge through a specialized 16-degree grind found on each side of the knife blade.
For a quick overview, you can see below for a quick look into each steel used in each knife Shun creates.
AUS10A
This is a high-carbon stainless steel that retains a good corrosion resistance due to the increased chromium content that came in during its forging. Typically found in survival and outdoor gear, you're guaranteed a good long-use out of a knife that's made from this edge.
VG10/VG2
The VG 10 is similar to high-carbon steel that uses an increased amount of vanadium to keep a razor edge while maintaining the specific angle of grind that Shun knives are known for.
It's known to be tough, stain-resistant, and fairly long-lasting when it comes to how long its edge holds.
The VG2 is a similar knife used specifically for the Shun Dual Core series. This usage of two sheets of steel in alternating layers gives the knife longer wear on use as each sheet wears at a different rate.
VG-MAX
VG-Max is a knife steel that Shun knives is known for, using it in both Shun Classic and Shun Premier Series knives.
It's the latest in the "VG" Series and uses more carbon to improve strength. It's an overall great option to any level chef due to its improved durability and ease of maintenance.
Warranty
An important part of any Shun knives review is a discussion about warranty. Know that Shun knives offers a limited lifetime warranty for their products. If you find that your knife has had a manufacturing defect at any time, feel free to send it to Shun for inspection. They will send you a new one if your knife was not made up to par with their standard.
Simply register your Shun knife at their website and rest assured that whatever knife you have will come with the Shun guarantee.
Sharpening Services
Shun sets itself apart with a unique service that other brands would find crazy to offer. Shun promises that as long as you own a Shun knife, you can send it back to them at any time to have it sharpened back to how it was on the day you got it.
The deal is as straightforward as that.
Buy your knife from an authorized Shun knife retailer, and you can send it their way and have them sharpen it to Shun's specific angle-degree.
If you live in the area, you can even drop by and have these retailers sharpen your knives while you wait (up to two at a time).
Simply pay for the shipping and processing, and you can find your knife as sharp as day 1 in no time.
How Do You Properly Take Care of a Knife?
Nothing lasts forever, but with great care, most things can last almost as long. Even Shun Knives recommends regular maintenance and care for your knives to last as long as possible.
Owning and investing in a good array of knives necessitates you to take the proper steps to maintain them as well.
Sharpening and Honing
One of the most common complaints people have with cheaper knives is that they lose their sharpness after prolonged usage.
This can lead to ruined ingredients, or at worse, injury due to slippage when cutting. Proper maintenance is key to keeping your knives sharp and ready for use.
Ensuring proper edge retention is usually split into two main care methods: a Sharpening Stone and a Honing Steel.
Sharpening Stone
Sharpening stones, or whetstones, are blocks of stone with indiscriminate levels of grade, meaning how coarse or how smooth they are, depending entirely on your need for sharpening.
Sharpening keeps the edge sharp by microscopically removing small bits of metal to grind the edge to a finer point. As a result, proper training is a prerequisite to sharpening well.
You will need to start by getting an appropriate whetstone and dousing it with water. Once sufficiently wet, you'll need to start at the coarse side of the whetstone, holding your knife at a specific degree angle and drag it gently on that side.
Once you've finished the coarse side, move to the other side of the whetstone, which usually has a "finer" side. Repeat this process every few months to maintain proper edge retention.
Honing Steel
A honing steel/rod is something you probably have seen in your kitchen or your parent's kitchen but never learned how to use it.
Put simply, a honing steel bends your knife's edge to a straighter position to ensure edge retention in your newly sharpened knife.
You may have seen people in movies just sliding their knives up and down a honing steel, and while this isn't necessarily wrong, it's best to point the top of the steel towards your work surface.
While holding the grip firmly, slide your knife up and down at a 15-degree angle to bend the steel edge towards a straight position.
Cleaning
Now that we've covered how to maintain a knife over a period of usage, it's time to learn how to continually clean and protect your knives adequately. This comes in two forms, Cleaning, and Knife Oil.
Cleaning/Drying
When cleaning your knife, take extra care when using any abrasive sponges, as this may damage the metal. It's best to use the soft part of the sponge, or even better, the softest abrasive level sponge you have when taking care of tough stains.
Always use mild dish soap, and if possible warm water to make sure you remove any impurities. After washing, make sure to thoroughly dry your knife as any remaining water may leave water spots.
If anything, just remember to wash gently and dry thoroughly. Furthermore, don't use the dishwasher for these knives.
Knife Oil
If you want to go the extra mile, especially if you have a carbon steel knife, it's best to apply knife oil after every use.
Oil helps maintain your blade's purity and defends it against rust and corrosion. Most mineral grade oils can be used, but you may want to explore if the brand you're looking at has knife oil in stock.
Storage
You'll want to ensure that your sharpened and oiled knives are protected from the elements when not in use.
This is where sheathes, knife racks, and knife blocks come in handy. These three accessories protect your knives, as well as organize them for home use or travel.
Sheathes/Guards
Though you may think only professional chefs need sheathes, home cooks also benefit significantly from the protection they give.
These sheaths come in wood, leather, or heavy-duty canvas and should be able to avoid getting snagged by the blade properly.
Most well-made knives have accompanying knife guards, and you may also buy one separately as long as it fits your knife's general shape.
Some knife sheathes come as bags, too, so you're able to store multiple knives in one container, useful for traveling or keeping kitchen tools compactly organized.
Magnetic Racks
You may have seen these at your favorite sushi restaurant, but a magnetic knife rack is handy at home as well.
It functions as a magnetic strip you place along your wall, in varying lengths. You simply attach your knives magnetically to organize them and keep them away from your other appliances.
Keep in mind that this means your knives are being lifted by magnetic force only, and you should keep this knife area away from small children or pets as they can still knock it down and cause damage and/or injury.
Knife Blocks
A knife block is probably one of the most common ways to keep kitchen knives organized and protected. A knife block generally serves two purposes: protection (similar to a sheath or guard), as well as organization.
You can keep several types of knives on a single knife block, while other versions of these come with additional slots for other kitchen tools such as sheers or graters.
In general, you'll want to pick a knife block that is made of high-quality wood to keep your knives safe and sharp.
Final Words
Picking a knife is a worthwhile investment whether you are a professional cook or simply enjoy cooking at home with your family.
Among many different kitchen knives, Shun Knives would be one of the best go-to knives for the highest quality craftmanship. Hopefully, our Shun knives review was useful in your search for a new Japanese knife set.
Their line-up of knives is not only impressive but varied enough that you can find a knife to suit almost any need whether that be a Gyuto, Santoku, Nakiri, or Paring knife. Overall, a Shun knife if properly cared for would make an excellent investment.