It's a good idea to start investing in the best possible bushcraft knife when adventuring outdoors. If you're new to the hobby, you may not want to spend a great deal of money on different hobby tools, but a knife is one of the more important ones. And, a good one will last a really long time!
Luckily for you, we collated this list looking at the best bushcraft knife under $100, so you can choose some of the most reliable bushcraft tools on a budget.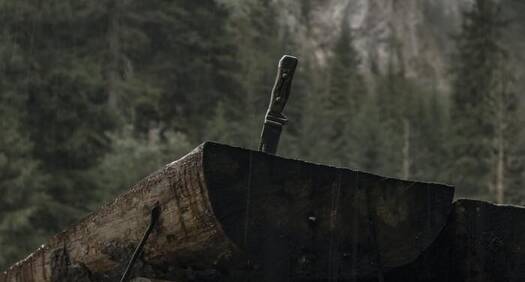 Our 9 Picks for Best Bushcraft Knife Under 100
At a glance: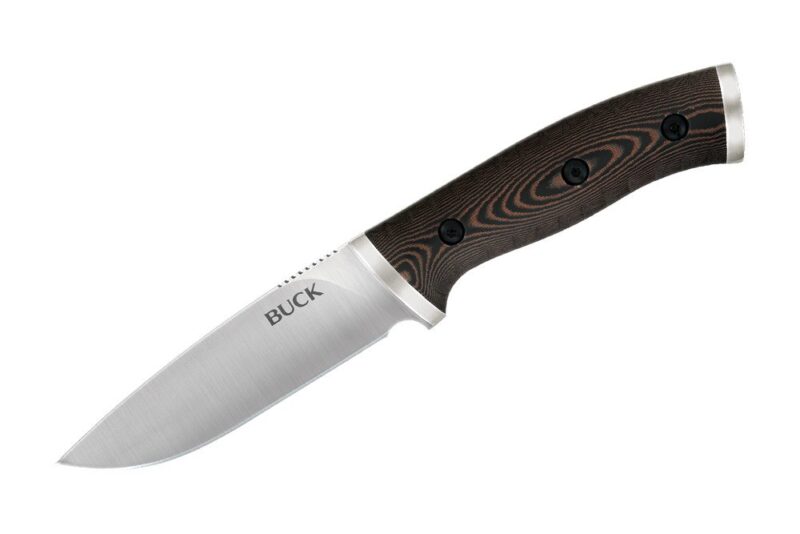 Features
420HC Heat-treated stainless steel blade
4 5/8-inch drop point blade
Contoured Micarta handle
Injection-molded nylon sheath with firestarter Rod
Buck has had experience in knife-craft for over 100 years now, so you can count on them to know how best to make a high-quality entry-level bushcraft knife.
It uses a 420HC stainless steel blade, which has been heat-treated to Buck's signature specifications. This means that this fixed blade knife retains its edge longer, is easier to sharpen, and even has some of the best corrosion-resistance to boot.
The knife's fixed blade comes in at a total length of roughly 4 5/8-inches and comes to a drop tip point.
This knife blade gives the body a thicker edge and better control, best for withstanding survival fieldwork over a prolonged period of use.
Beyond the blade, the knife is full tang and uses a contoured Micarta handle, molded to a neutral silhouette with a slight curve and finger grooves near the knife guard.
The Buck Selkirk comes with a heavy-duty injection-molded nylon sheath, which also has an integrated slot for the included fire starter rod. This has detachable belt clips that allow you to reposition your knife on your belt in several different ways.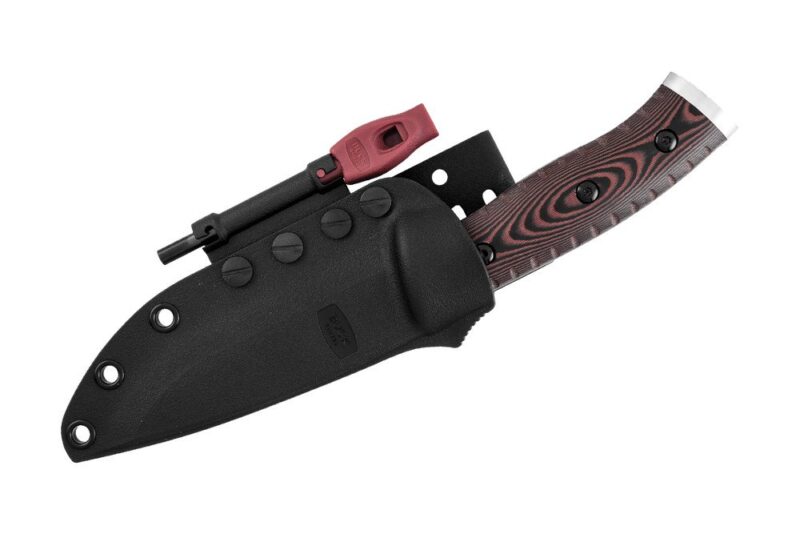 This knife remains one of the most reliable, straightforward, and versatile knives to enter the market. If you want the best bushcraft knife under 100, then the Buck Selkirk is your best bet.
Pros:
Specialty heat-treated blade lasts longer
Molded Micarta feels natural on the hand
Lifetime guarantee from Buck
Made in the USA
Cons:
Belt Clip might be a bit difficult to adjust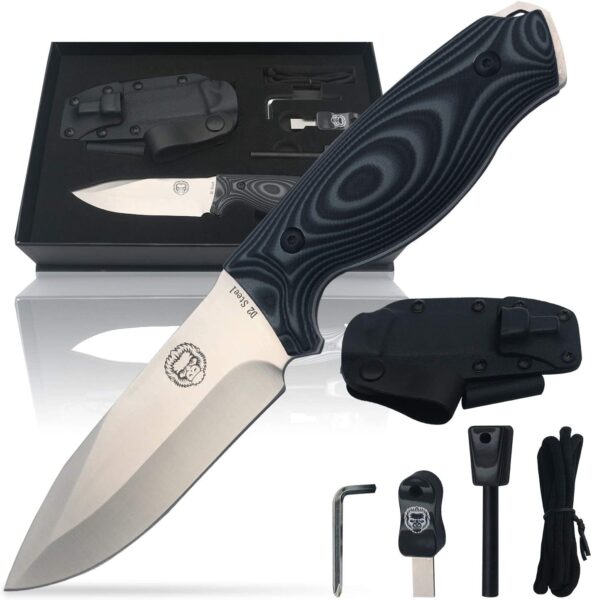 Features
D2 steel tool blade
4-inch drop point blade
G10 fiber handle
Kydex sheath with a fire starter kit
Coming in a little pricier than the Selkirk, but with extra value added, is Holtzman's take on a complete camping/bushcraft knife set up. The Gorilla Survival knife set is just about all you can ask for in a reliable quality bushcraft knife and more.
First off, it uses reliable industrial carbon steel known as D2 tool steel, which has an additional chromium component for added corrosion resistance. This keeps the knife blade sharp and tough while lessening the need for regular maintenance.
The 4-inch drop point blade helps keep precision knife work under control as you have a fine point sloping down for detail work.
The drop point blade is best suited for bushcraft jobs due to its thickness and reliable sharpness. You can normally find drop point blades utilized by some of the best bushcraft knives out in the market.
The handle is made of a fiberglass composite called G10, a material you regularly find within plenty of military-issued gear. This hardy material is then shaped to a comfortable ergonomic grip and designed to mimic the look of neatly polished dark wood.
The knife blade is also full tang, which will please those looking for the best durability in knives as some of the best high-quality outdoor knives often come in this full piece construction.
The knife comes with a Kydex sheath that holds the additional fire starter kit in place as well. If you're willing to pay a little extra nearing 100 USD, the Holtzman Gorilla Survival knife is our choice for the best bushcraft knife for value.
Pros:
Includes a firestarter kit in Kydex sheath
High carbon steel
Sturdy G10 fiberglass scales
Cons:
May rust quicker if not properly maintained
Higher-end of the budget spectrum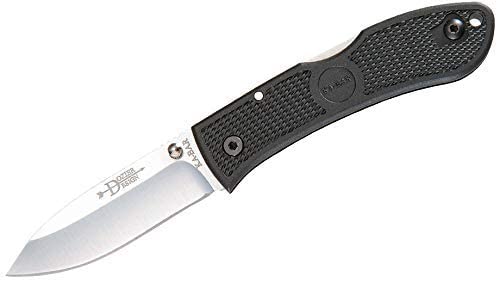 Features
AUS8 stainless steel
Folding 3-inch drop point blade
Zytel handle with pocket clip
Ka-Bar may be a familiar brand to those of you who enjoy the military-style knife, as their Ka-Bar USMC issue knife remains to be one of the most popular high-quality knives to collect today. Certainly a great bushcraft knives under $100.
Ka-Bar released their Dozier folding knife designed by their longtime collaborator Bob Dozier for the more compact and budget-minded users.
Using the best AUS8 stainless steel, this knife meets the standard toughness often sought out in bushcraft knives for their hardiness and ease of sharpening.
Interestingly enough, this knife is one of the few foldable knives available to handle the bushcraft work needed when camping. It contains a knob near the blade hilt so you can easily use and retract the blade with just one hand.
The knife uses a tough nylon-resin composite, Zytel, for its handle. The handle is molded with a textured diamond pattern for better grip and includes a built-in belt clip for easy compact carrying.
Though this knife doesn't use the tougher fixed blade like the other knives on this list, you may want to consider it a handy companion tool to some of your tougher workhorse gear.
The Ka-Bar Dozier takes this spot as the best bushcraft knife for those on a budget.
Pros:
Best bushcraft budget-friendly outdoor knife
Compact with belt clip
Durable AUS8 stainless steel blade
Cons:
Not full tang
Not fixed blade
No sheath included

Features
Victorinox Swiss stainless steel blade
3-inch drop point blade
Molded Micarta Handle
Kydex sheath, Tek-Lok compatible
You're probably familiar with Victorinox, the swiss manufacturers of some of the best multi-tool knives out there. You may not know that their talents extend to bushcraft knives as well, as shown here in their Outdoor Master Knife.
This Victorinox bushcraft rendition uses its trademark Swiss stainless steel blade, which keeps the knife sharp and corrosion-resistant, something you definitely want to have when doing bushcraft tasks out in the elements.
The knife blade comes in at around 3 inches, making it highly controllable with its drop point blade. It also comes with its beautifully designed Micarta handle molded in a neutral shape to accommodate a wide variety of grip styles.
The Outdoor Master is also full tang, which gives the knife reliable durability out in the field and comes with its own Kydex sheath. This sheath is compatible with the popular Tek-Lok system, ensuring it will fit in the carry of most gear you happen to be wearing.
If you have enjoyed Victorinox's products in the past, it's easy to see how the Outdoor Master finds a place amongst some of the best bushcraft knives.
Pros:
Reliable Victorinox Swiss stainless steel knife blade
Neutral shaped Micarta scales
Cons:
Pricier at approx. 80 USD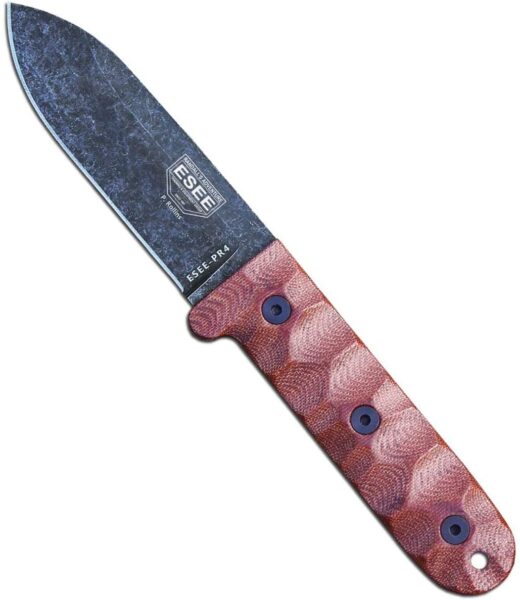 Features
High carbon 1095 steel
4 1/8-inch drop point blade
Sculpted Micarta handle
Tough leather sheath
ESEE has been in the game for survival and wilderness gears for around 40 years now.
Their knives are trusted to be the best by some of the most demanding survivalists out there, so if you were to consider a bushcraft knife, you could definitely bet on their PR4 Fixed Blade Survival knife.
The knife uses a great high-quality 1095 carbon steel knife blade, which means that, while it is prone to rust and corrosion, it is much tougher and retains its edge longer than other knives with a stainless steel blade.
It also utilizes a decently sized full tang 4-inch drop point blade mounted on unique sculpted Micarta scales.
The handle looks familiar to a grooved climbing wall and assists in giving you a very tactile grip while in use. The scales are also replaceable if you feel the need to change them.
Included with the ESEE PR4 is a heavy-duty leather sheath for carrying and protecting the blade. It's a rugged mid-size bushcraft knife that will be able to take what jobs you throw at it and one of the best bushcraft knives under $100.
Pros:
Tough carbon steel knife blade
Unique Micarta handle
Cons:
Features
3CR13 stainless steel
5-inch drop point blade
Pakkawood handle with internal compartment
Woven nylon sheath
Quality knives are easier to find now that some brands focus more on the best materials rather than marketing or branding.
A good example of this comes from Elk Ridge, a relatively quiet brand that offers the best quality knives at lower prices.
The Elk Ridge ER-555 uses a sturdy 3CR13 stainless steel blade, which keeps its edge for a long time while being corrosion-resistant and easy to sharpen. The knife also uses a sharp drop point blade, which keeps the edge thick and the tip maneuverable for woodworking.
The handle uses a well-made Pakkawood, a hardwood laminate, which keeps a traditional look to the knife without sacrificing durability.
Rivets secure the two Pakkawood scales on the full tang, which reveal a secret compartment that holds the included fire starter kit and sharpening stone when removed.
The Elk Ridge ER-555 may look simple and straightforward, but a closer inspection of the blade and the construction will show that the knife is more than meets the eye.
From all of these features, the Elk Ridge ER-555 Bushcraft knife stands amongst some of the best bushcraft knives out there for under $100.
Pros:
Sturdy stainless steel blade
Pakkawood has a hidden compartment
Cons:
Flimsy sheath
Slightly large overall length of 10.5 inches

Features
Cobalt Grey Cerakote coated 5160 Spring Steel
4 1/2-inch drop point blade
Natural canvas Micarta handle
Genuine leather sheath
Just because Buck is known for their traditional design and experience doesn't mean they can't innovate on a knife or blade in their own way.
Their 104 Compadre bushcraft knife is a great example of user experience to match innovation in some of today's bushcraft gear.
The 104 Compadre uses a special blade characterized by two main features, the 5160 spring steel blade and the cobalt grey Cerakote coating.
The 5160 spring steel is a great composite knife steel that uses a high carbon level with chromium for both hardiness and corrosion-resistance.
The Cerakote coating is a ceramic film coating applied to a variety of heavy-duty tools. This helps the 104 Compadre's knife blade resist corrosion and stains even more and gives the blade body some tactile features.
The 4 1/2-inch drop point blade extends well through the handle and ends in natural canvas Micarta scales. Neutral in shape, the handle can accommodate different grip positions for better stability.
To protect your knife while you carry it, it comes with a black leather sheath ensuring ample protection while matching the rugged silhouette of the knife.
Lightweight and direct to the point, the 104 Compadre can cover you if you're looking for something innovative but in-line with traditional bushcraft knife designs. An excellent bushcraft knife under $100 without compromising on quality.
Pros:
Unique coated blade
Better resistant to corrosion
Tactile Micarta canvas scales
Cons: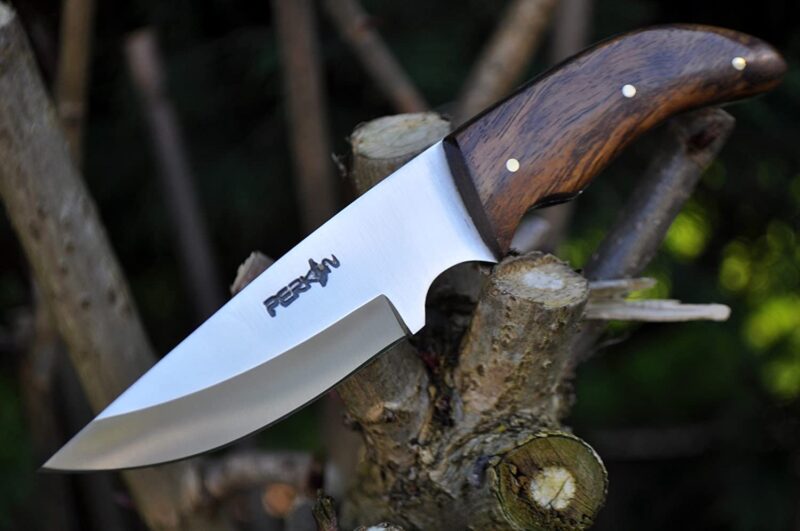 Features
420C Stainless steel
4 5/16-inch drop point blade
Walnut wood handle
Leather sheath included
Knowing where your knife is crafted is key to see how well it will perform. For Perkin, they take pride in their handmade knives being based in the UK as a testament to their quality.
The Perkin Handmade Bushcraft knife comes in a thick 420C stainless steel blade, which is stainless steel with additional levels of carbon for added knife blade toughness.
The blade itself comes at roughly 4 inches in length with a drop point tip for added thickness and cutting accuracy.
The handle is a great feature of this knife, coming in a unique polished walnut with the scales riveted to the full tang body of the knife. The entire body is also curved slightly, giving the knife a slight arc to ease cutting and shaving.
Included to protect the knife blade is a thick, high-quality leather knife sheath. The generous allowance of the belt loop enables you to use it with various packs and belts.
Reliable and proudly UK-based, Perkin assures you the best bushcraft knife you can find under 100 USD.
Pros:
Handmade thick stainless steel knife
Walnut scales
Cons:
Curved knife style may not be for everyone

Features
Morakniv high carbon black steel
4 1/3-inch drop point blade
Molded Nylon Grip
MOLLE system holster
Morakniv is probably one of the oldest names in the knife market with around 400 years of making knives. As such, you can trust their knowledge on how to make a good, reliable bushcraft knife.
The Blackblade is their signature take on a bushcraft knife, using a combination of high carbon steel and a DLC coating, or Diamond-like Carbon coating. This coating, made from the blasted carbon particles, creates a tough exterior that resists corrosion and stains.
The Blackblade has a blade length of 4 inches, a good length for most bushcraft jobs. In total, its overall length comes at 9-inches, which makes it comfortable enough to bring around when combined with your other camping gear.
The knife has a relatively simple nylon handle with several holes for cords or rope when necessary.
This functionality is further increased with their MOLLE system nylon sheath, which allows it to be fastened to belts, packs, and even vehicles, ensuring ease of access regardless of your loadout.
Simple, sleek, and reliable, Morakniv continues to pour their long-standing experience into each blade they make. A top choice for best bushcraft knife under $100.
Pros;
Tough carbon-coated steel
Versatile MOLLE holster
Cons:
Knife blade needs more regular maintenance
What is a Bushcraft Knife?
There is a lot of overlap between survival knives and bushcraft knives. While both are used in outdoor scenarios, you can view a quality bushcraft knife as a reliable whittling knife.
The Bushcraft knife is generally smaller in design at an average of 3-5 inches total knife blade length. The bushcraft knife is often meant to be a companion to your other tools on the field, such as a hatchet and hunting knife.
It's a good reminder to yourself that no one knife can do every job, so it's best to prepare yourself with the tools best suited for your individual loadout and needs.
Important Material Notes
You generally want to stick with high-quality knife steels like carbon steel or higher-end stainless steel for your bushcraft knife. The common materials you should look for then are:
420C, 440C, 440A stainless steels
AUS8 stainless steel
1095 High carbon steel
VG-1, VG-10 composite steels
S30V, S90V, S110V steel
2 Tool steel
Of course, there are many more blade steel materials beyond what was written above. Rest assured, some of the best knives are made from what was listed, and you can rely on them to give you a long-lasting edge and a fair amount of corrosion-resistance.
Read More >>> Best Gerber Alternatives for Survival & Bushcraft
Conclusion
Looking for the best bushcraft knife under $100? Hopefully we've narrowed the list in the article. When looking for the best bushcraft companion tool, keep a close eye on the materials that each knife uses. Some knives may look nice, but it's the knife blade steel and overall performance that matters most in the field.
At the very least, you won't need to break the bank when investing in better bushcraft gear.
Whatever knife you end up choosing on this list won't let you down as long as you trust in your personal preferences and stick to the features you'll need the most when out on the field.