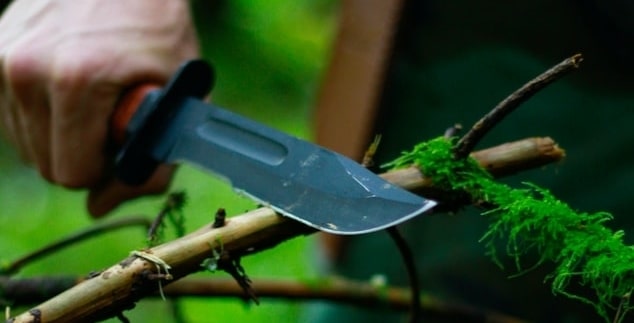 By far, one of the most important tools for the budding outdoorsman would be the survival knife. And if that survival knife can include a built-in firestarter, then – even better!
Before we get started, here's some very quick tips on what to look for in a survival knife. This is general advice, feel free to take it or not depending on what you specifically want to do with your knife.
✅ Fixed blade not folding blade. A fixed blade is much sturdier and reliable. For a survival knife, speed & safety are important.
✅ Look for a medium length blade. 4-7 inches is good general guidance.
✅ Look for a solid, comfortable handle that isn't flimsy, hollow, and won't slip as soon as it gets wet. Bonus point if the handle can double as a hammer.
Below we'll take a look at the best survival knives that have firestarters, and what makes them some of the best knives to have out in the field.
Our 6 Picks For The Best Survival Knife With Firestarter
At a glance: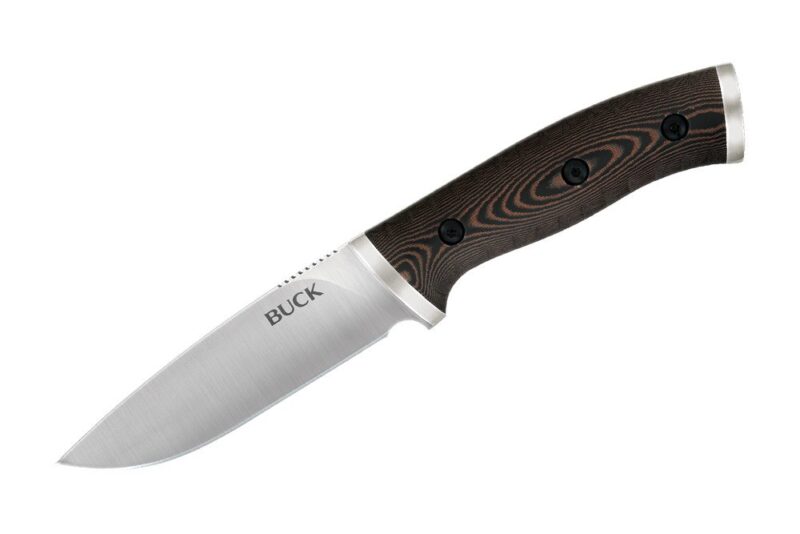 Features
420HC stainless steel blade
4 5/8-inch drop point tip
Contoured Micarta Handle
Injection-molded nylon sheath with firestarter Rod
What Makes It Great
Buck has been making the best survival knives for over 100 years now, so you can guarantee that it will be sharp, sturdy, and reliable when they make a survival knife.
The 863 Selkirk survival series is one of the best designs to come out from Buck with its fairly straightforward construction and integrated firestarter kit.
It uses a 420HC stainless steel blade, which has been heat-treated to Buck's signature specifications. This means that this fixed blade knife retains its edge longer, is easier to sharpen, and even has some of the best corrosion-resistance to boot.
The knife's blade comes in at a total length of roughly 4 5/8-inches and comes to a drop tip point. This knife tip gives the blade a thicker edge and is best for withstanding more survival fieldwork over a prolonged period of use.
Because of how the knife tip is shaped, you're also given much more control over how the tip of the blade is moved, giving you much more freedom for precision knife work such as wood detailing or even field dressing.
Beyond the blade, the knife uses a contoured Micarta handle, molded to a neutral silhouette with finger grooves near the knife guard and pommel. The flat steel pommel at the end can be used as an improvised hammer as well.
The knife also comes with the benefit of being full tang, so rest assured this survival knife can take a beating when you use it.
As for the fire starter, the Buck Selkirk comes with an integrated slot for the included firestarter rod on the injection-molded nylon sheath. This has detachable belt clips that allow you to reposition your knife on your belt in several different ways.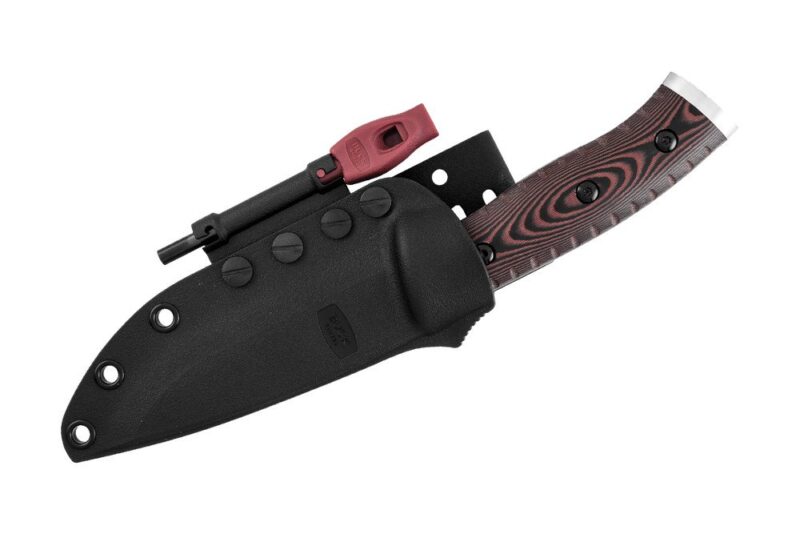 Is the Buck 863 Selkirk for You?
Additionally, since you're buying from Buck, you're also entitled to their Lifetime Guarantee program, which offers a replacement service for defects as well as a repair service fee if you need the blade to be fixed up after long use.
Even more, Buck offers a 50% discount on their standard knives if the blade you have is beyond repair. It's easy to see why the Buck 863 Selkirk finds itself as the best survival knife on our list with all these features.
Pros:
Specialty heat-treated blade lasts longer
Molded Micarta handle feels natural on the hand
Lifetime guarantee from Buck
Rear bolt can be used as a hammer in a pinch
Sheath included
Cons:
Belt clip might be a bit difficult to adjust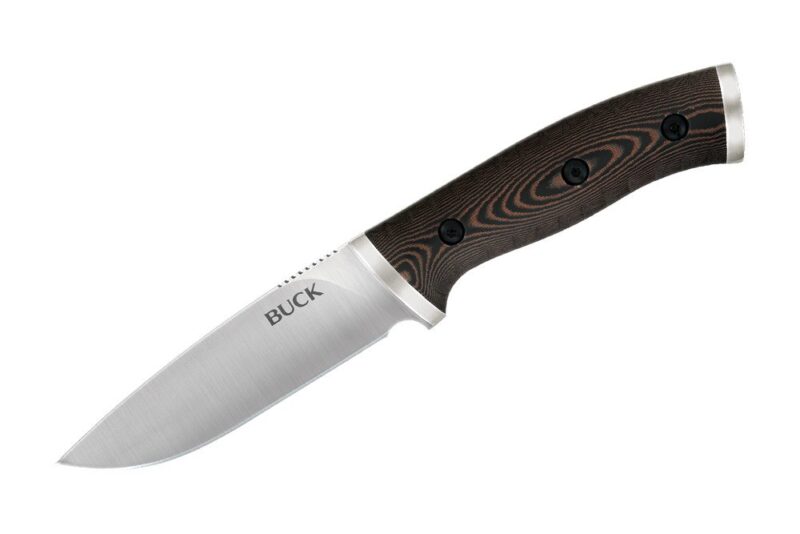 Features:
440A stainless steel
4 3/4-inch drop serrated point blade
Ergonomic rubber-coated handle with steel pommel
Nylon sheath with plastic molding, firestarter rod, and diamond sharpener
What Makes It Great
Even if you're barely interested in survival-craft, then the name Bear Grylls should ring a bell. On the other hand, Gerber may be more familiar for outdoor enthusiasts as they have been making knives since 1939.
Their Geber Bear Grylls Ultimate Knife blade uses a 440A high carbon stainless steel blade with a matte finishing to ensure the blade keeps its edge for a long time while being relatively easy to resharpen.
It's also corrosion-resistant, which should help reduce the need for regular knife maintenance.
The blade also comes in at 4 3/4-inches in length drop point tip, making it as durable and precise as other similar end tip knives. What's interesting with this knife is that half the edge has low-frequency serrated teeth, which should help cut rope or other fibrous materials.
Its handle comes ergonomically shaped and rubber-coated to accommodate the forefinger and the rest of the hand while keeping a fairly neutral hand grip.
The handle also features a steel pommel that can be used as a hammer and ends with an attached emergency whistle.
The nylon sheath is also another unique feature of the knife, as it comes with a molded hardshell cover for the knife as well as holdings for the firestarter rod.
Integrated into this hardshell mold is a diamond sharpener so you can keep your knife blade razor-sharp while you're out and about.
Behind the fabric is a little safety pocket, which is also meant to hold a basic survival guide in case of emergencies.
Is the Gerber Ultimate Knife for You?
It shows that Gerber wanted to do the name of "Grylls" proud by having a knife that can live up to the survival legacy that the man has.
If you enjoy the branding as well as additional premium features, then the Gerber Bear Grylls Ultimate Survival Knife with firestarter might be for you.
Pros:
Integrated sharpener keeps knife blade well-maintained
Half serrated blade useful in many situations
Sturdy rubberized ergonomic grip
Cons:
Steel is average amongst mid-tier survival knives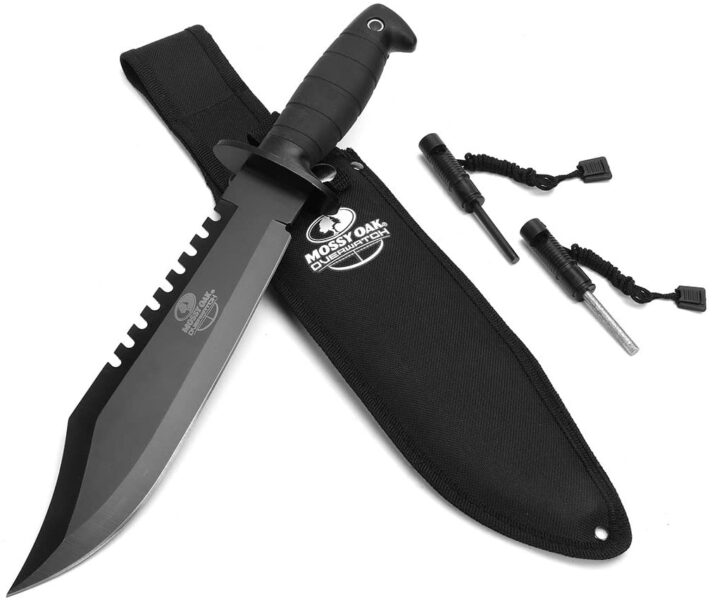 Features
440C black anodized stainless steel
10-inch clip point blade
Traditional military rubber handle
Nylon Sheath with Sharpener & Firestarter
What Makes It Great
If you want to start investing in sturdy survival tools but don't necessarily have the funds to buy something expensive for a casual adventure trip, enter the Mossy Oak Survival Knife.
Not only does this knife look the part of being a rugged survival knife, but it also has the materials to back it up.
The Mossy Oak knife uses a 440C stainless steel blade, commonly known as standard stainless steel but with an increased amount of carbon for additional toughness and edge retention.
The blade is also coated in black anodized oxide, meaning that the blade is covered with a material that helps resist corrosion and protects it from environmental damage. It also makes it look much more menacing as a result.
The clip point blade is a massive 10-inches in length, with the knife finishing at 15-inches overall. A bit large for a knife, but that may be something you're looking for, especially as this knife looks similar to the popular KA-BAR army knives.
The handle uses several layers of rubber around the body, which helps grip during difficult weather situations (the last thing you want is a slippery knife, after all).
Though it has to be noted that the knife is not full tang, which may affect some of you who are looking for that manufacturing durability.
Nevertheless, the knife is sturdy enough to handle most jobs and comes with a woven nylon sheath. Included in the cover is one small firestarter rod for fire starting and a knife honing rod where you can realign your knife's edge on the go.
Note that the case has no integrated holster for the firestarter and honing steel, so it is best to keep these on your person when you go out.
Is Mossy Oak for You?
Despite coming at a reasonable price, the Mossy Oak Survival Knife ticks all the boxes when it comes to what a sturdy knife should be out on the field.
If you're not too prickly on the details, the Mossy Oak Survival Knife should have you covered.
Pros:
Best survival knife budget-wise
Coated stainless steel blade adds durability to the knife
Rubber handle keeps grip steady
Cons:
The knife isn't full tang
The handle material is plastic composite
The sheath is a bit flimsy compared to others
No container for fire rod and honing steel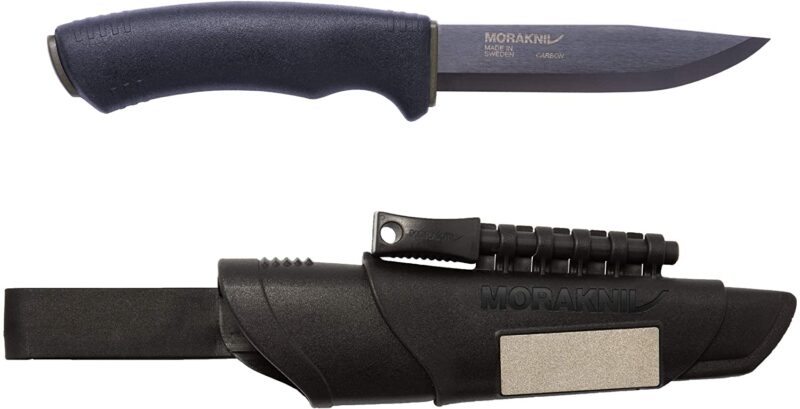 Features:
Black coated high carbon steel
4 1/3-inch drop point blade
Ergonomic TPE Rubber Handle
High-grade plastic sheath with firestarter rod and diamond sharpener
What Makes It Great
This list wouldn't be complete without a Mora. Morakniv is probably one of the oldest players in the knife market, having started in Sweden around 400 years ago. That time frame carries with it a multitude of learnings and experiences that many brands simply do not have.
The Morakniv Bushcraft Carbon Steel Survival knife with fire starter is one of their most popular and best-made blades available now. The blade uses carbon steel, which gives it a much stronger and longer-lasting blade edge.
Morakniv has then coated the knife in a black anodized oxide layer to keep it resistant to survival environmental damage.
The blade edge also uses a Scandinavian Grind, which keeps the knife thick and durable for the best stability when in use, ideal for survival knives out there.
Morakniv has outfitted their bushcraft knife with a TPE Rubber molding around in order to keep the handle non-slip and ergonomic when held. The knife isn't full tang, but the tang itself does extend 3/4 into the handle, giving it almost as much durability and stability as its full tang counterparts.
The sheath is made of high-grade plastic to keep your knife blade safe when not in use and has an integrated diamond sharpener as well as the prerequisite firestarter rod.
Is Morakniv Bushcraft for You?
The blade itself is very sleek, almost all black. The overall design, as well as Morakniv's experience in survival tool knife-craft, gives this survival knife one of the best inherent reasons to buy for your next trip.
Pros:
High carbon knife is sharper and tougher than stainless steel
Scandinavian edge grind keeps blade thick and durable
TPE rubber molded handle useful for grip
Integrated sharpener useful for regular maintenance
Cons:
Not full tang
The blade requires more regular maintenance than others in this price bracket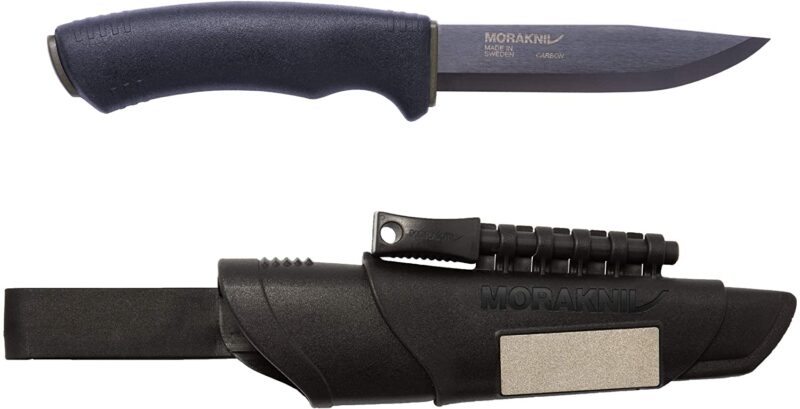 Features:
440 stainless steel
4-inch drop point blade
Rubber handle with steel pommel
High-grade plastic sheath with firestarter rod, knife sharpener, and cord cutter
What Makes It Great
StatGear has been operating since 2010 and has specialized with survival and rescue tools in these past 10 years. Their Surviv-All Survival Knife is a culmination of their recent innovation and experience in being in this field.
StatGear's Surviv-All Survival knife uses a standard 4-inch 440 stainless steel blade that comes to a razor-sharp drop tip point. This keeps the blade sharp and easy to maintain.
The handle has a molded rubber texture for a better grip and ends in a steel pommel when the need arises for a hammer. With the knife being full tang, you can bet on this knife to handle what you throw at it.
However, what sets it apart is the sheath, which includes not only a fire rod and a sharpener but also a cord cutter and integrated paracord.
The cord-cutter is seen on the hilt of the protective cover for minor cutting needs, while the paracord acts as an additional clip for the knife.
Is Statgear Surviv-All for You?
If you want something a bit more modern with the performance to match, StatGear should have you covered.
Pros:
The sheath has an included cord-cutter
Full tang construction
Cons:
Blade metal is unremarkable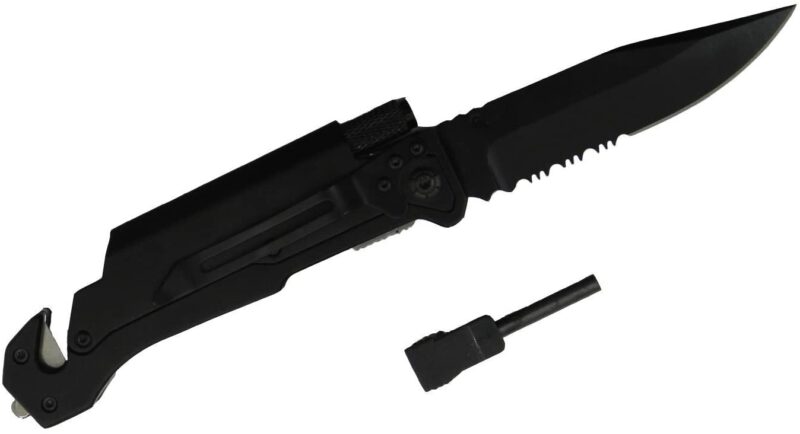 Features:
420 stainless steel
4-inch serrated clip point blade
5-in-1 multi-tool
Nylon weave case
If you're still looking for a folding knife, then here's a noteworthy mid-range pick.
What Makes It Great
The more modern we explore the world of outdoor gear, the more compact they get while retaining more features. This is evident in Survivor Tech's 5-in-1 Folding Survival Knife, which attempts to include more utility in an already versatile knife.
The blade uses a standard 420 stainless steel, which comes to an interesting 4-inch clip point tip. The clip point blade, usually reserved for hunting knives, proves useful when cutting and slicing with its thinner edge.
What sets this knife apart is the fact it's foldable. The blade retracts to the handle via a spring mechanism, keeping it compact and easy to use with one hand.
It's the rest of the body that really gives this knife its "survival" edge, as it contains 4 additional separate tools: the firestarter rod, a cord cutter, a waterproof flashlight, as well as a window breaker.
Including the knife blade, this makes it 5 tools you can have in one compact everyday carry.
Is Survivor Tech for You?
The sheath is a basic nylon carrying pouch. While not as advanced as the knife itself, it gets the job done to carry and protect your knife. Take the Survivor Tech 5-in-1 to keep yourself secure if ever you hit an emergency spot.
Pros:
5-in-1 functionality covers many tasks
Compactness makes it easy to carry
Cons:
Not full tang; folding mechanism makes knife hinge weak
Not as sturdy as other fixed blade knives
What is a Fire Starter Kit?
Note: A firestarter kit usually needs a fire striker and an included material to strike against, which in most cases would be ferrocerium or a "Ferro rod."
With survival knives, you usually strike the spine (dull part) of the knife against these rods to generate sparks. This creates fire when used in conjunction with dry kindling, as well as a little magnesium.
Magnesium is useful when attempting to create fire this way as burning magnesium shavings can create white-hot particles that can act as your firestarter. What's useful is the ability to use these fire starter kits even if the rods are wet.
Take caution when using a fire starter kit as while it can create some nice sparks, combining it with magnesium and dry leaves can create a very large fire very quickly. Survival knives are serious tools and shouldn't be played with lightly.
How to Pick a Good Survival Knife?
Picking the best survival knife can be a trick, but the best advice we can give for a new shopper is to always look at the materials, especially when shopping for the best survival knife with firestarter.
This means looking at the blade metal, blade shape, as well as handle composition, as these can make all the difference.
Full tang, fixed blade knife, and included firestarter are all examples of terms you would find in some of the best survival knives. This ensures that you have a heavy-duty survival knife blade by your side when you need it the most.
Final Words
We hope this list helped you choose what the best survival knife with firestarter would be for you.
A simple stainless steel survival knife is best for most occasions, as a sturdy blade and a firestarter can take you far in the field.
But there are times where you might want more from survival knives, so you can explore some of the more innovative options if you need more utility by your side. In any case, you can't go wrong with the survival knives here.