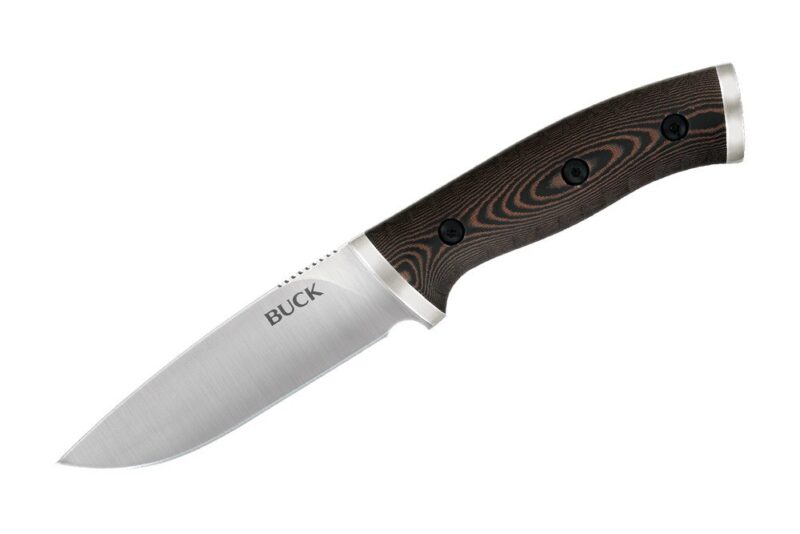 Not everyone is an adept hunter or outdoorsman. Some people just enjoy the occasional hunting or camping trip with friends and family. Still, that doesn't mean they shouldn't be well equipped to do so. But where would you even start if you had little to no experience in picking gear?
Luckily Buck has your back with one of their most straightforward knives, the Buck Selkirk.
The Buck 863 Selkirk is a survival knife from knife manufacturers Buck Knives. Starting way back in 1902, they've had ample experience developing different blades to suit different needs.
The Selkirk itself comes with 4 options: as a fixed blade knife, a folding knife, and with smaller options of both. It uses the standard Buck 420HC Steel that Buck is known for. Many parts of this knife are meant to be multipurpose, from the blade down to the pommel.
At the time of writing, the fixed blade knives were out of stock
Yet with all the things that the Selkirk can do, it remains one of the most straightforward and direct knives available from Buck, making it beginner-friendly and a great way to gear up on any trip.
Note: we recently named the Selkirk our #1 best survival knife with a firestarter
Things to Consider About Your Knife
Even if you're just starting out in the outdoors, it's always good to do so well equipped. This means having the right clothing, right camping gear, and of course, the right knife.
Choosing a knife can be tricky, but we like to categorize outdoor knives into two categories: Hunting Knives and Survival Knives.
As the name implies, hunting knives are primarily used for field dressing your game during a hunt. Their blades are usually thin and focused on their ability to slice, skin, and even de-gut.
Survival knives, like our 863 Selkirk here, are more utilitarian in approach. They're meant to be used in various tasks, from wood carving, fire starting, and if it comes to it, defending oneself. Their blades are sturdier and slightly more long-lasting to endure the punishment from multi-use in the field.
Choosing the right knife, then, boils down to a matter of what you're going to be using it for.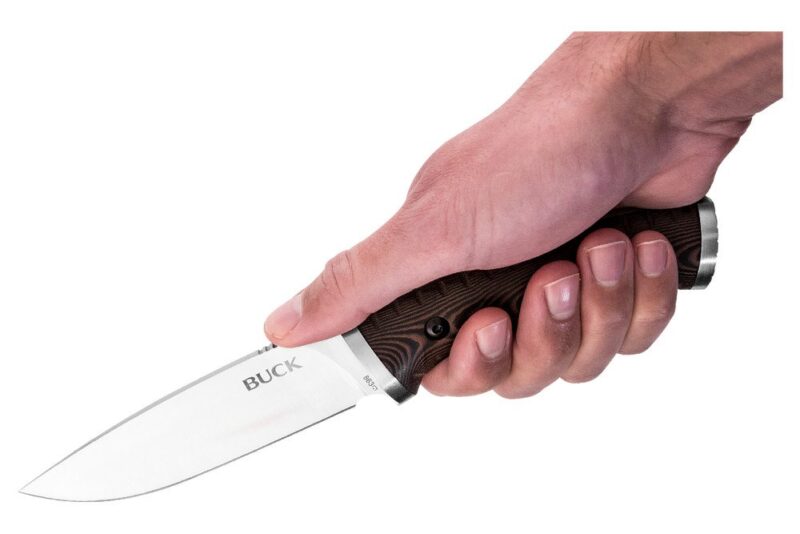 Buck 863 Selkirk Review: Features & Specs
The Buck Selkirk is a useful mid-duty knife that can take care of numerous camp and field functions when necessary. It's durable, mid-sized, and appropriately priced that most people can get their hands on and use it without issues.
Whatever need you may have for outdoors, the Buck Selkirk will probably be able to lend some help in one way or another. Its features include:
420HC Stainless Steel
4 5/8-inch Drop Point Blade
Contoured Micarta Handle
Integrated Fire Striker
Molded Nylon Sheath
420HC Stainless Steel
The Selkirk uses the standard 420HC Stainless Steel that many similar mid-market knives use. Now, if that starts worrying you, stop right there, as Buck improves on this through their signature heat-treatment method, which not only improves durability but provides stain and corrosion resistance as well.
Edge retention with this steel shouldn't be an issue, and you can expect to go a long way more before having to sharpen the blade. When it starts to dull, you can rest easy knowing that sharpening the 420HC is easy due to the metal's durability.
The blade is also "satin finished," meaning that the blade was sanded thoroughly to showcase its fine bevel and give off a matte shine.
4 5/8-inch Drop Point Blade
More onto the knife proper, the Selkirk keeps things relatively simple with a fixed blade length of 4 5/8 inches and features a drop point knife tip. Its overall length comes just shy of 10 inches at 9 1/2 inches long.
The drop point blade gives the knife a thicker edge than other common knives, letting it withstand more uses and giving it overall better durability out in the field. The tip drops slightly, starting at the edge of the knife spine, and focuses on a specific point, giving the knife much better precision when using the tip.
Combining a relatively safe knife length and accurate tip can make certain jobs like feathering and woodworking much easier than using clip point knives or other variants.
Contoured Micarta Handle
The beautiful contoured Micarta handle is molded to accommodate a natural ergonomic grip while keeping much of the knife construction seamless.
Micarta itself is a durable resin composite made up of multiple layers of durable cloth and paper materials. This ensures high-quality durability while giving the knife a nice textured wooden finish.
The Selkirk features a small bolster that melds into the handle, which finishes towards a flat steel pommel.
Now, this pommel itself is another feature of the Selkirk, as it can be used as an improvised hammer when needed on the campsite, for say, tent poles or light woodwork.
The blade is also "full tang," meaning the knife tang extends from the blade all the way past the end of the handle and joins with the pommel. This gives the knife much more durability when using it in different high-impact situations, such as hacking or slicing.
Integrated Fire Striker
An interesting feature with the Buck Selkirk is the fire striker integration on the spine near the knife's bolster. This rigid area of the knife can be used in conjunction with a ferrocerium rod or ferro rod for short.
Don't play with this part just to create some sparks as its fire-starting capability is pretty efficient for what it is. Always use this, and the entire knife, in fact, with caution.
Molded Nylon Sheath
You can't just be running in the woods with a bare knife. You'll take your (or someone else's') eye out.
Obviously, with any good knife set up, this includes a molded nylon sheath to not only act as a carrier for your knife but to protect it when not in use.
The sheath itself is also pretty modular through the multiple placements you can put the belt clip on. You can change the way it attaches to your belt in terms of height and orientation.
For example, you can customize the sheath in a way to accommodate a quick draw vertical orientation if that suits you. You can also change it to use a horizontal method of sheathing, and you can place it on your back to easily reach the handle.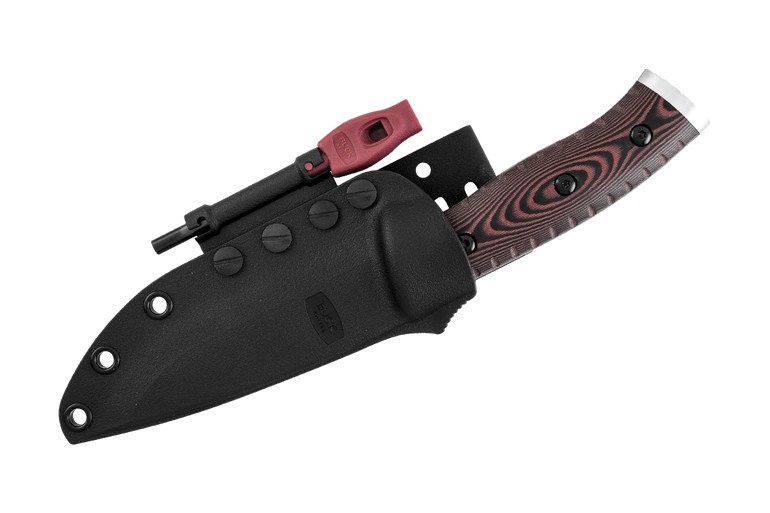 Additional Features
What's a Buck knife without included additional features to help you along the way? Below are some features of the 863 Selkirk that don't necessarily apply to the knife's quality but benefit you all the same.
Includes Ferrocerium Striker with Whistle
As mentioned above, the Buck Selkirk features an integrated fire striker that works with a ferro rod. So, what use will this be if you didn't have a ferro rod in the first place? The Selkirk has you covered as it comes with its own separate ferro rod that even has an emergency whistle built-in.
Selkirk may be a straightforward knife, but it takes survival as seriously as the edge on its blade.
Buck Lifetime Warranty
Included with this knife is Buck's forever guarantee, which ensures that if you've received your knife with any manufacturing defects, your knife will be replaced with the correct quality one.
But let's say you've been using this knife for a while and accidentally chipped it on accident. You then have the option to simply send it back and pay a fee to have it repaired good as new.
What if the damage is irreparable, you say? Then Buck offers a 50% discount on any of their other products so you can be sure you'll never be without a good sidekick for the outdoors.
How Does It Compare?
What's a good review without a little comparison? Let's see how the 863 Selkirk lines up against two of Buck's other popular survival knives, 104 Compadre and the 656 Large Pursuit.
863 vs. 104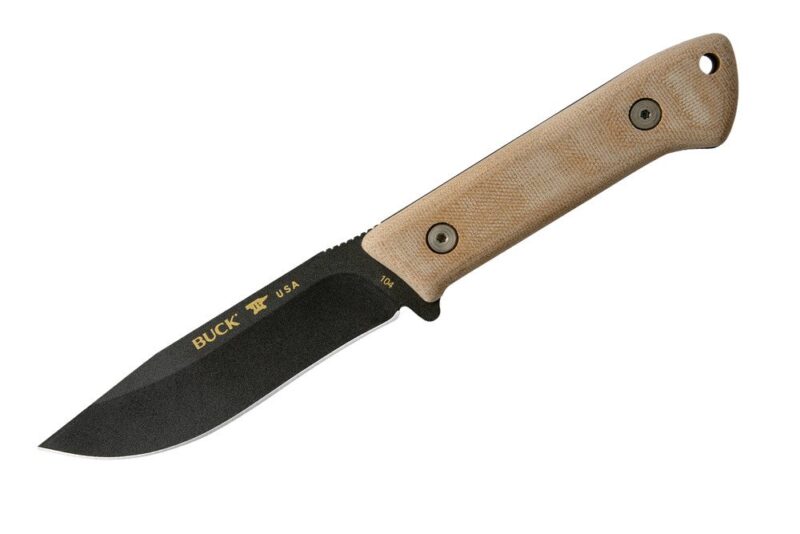 The 104 Compadre is a slimmer knife and uses a different blade metal altogether. It uses a cobalt-coated 5160 spring steel metal alloy, which helps resist corrosion and gives the blade a black silhouette.
While both use a Micarta handle, the handle on the 104 is more neutral in design in comparison to the contoured Selkirk handle.
While some campers may enjoy a more default looking knife, you may find yourself missing the natural curve and versatile pommel that the Buck Selkirk had.
863 vs. 656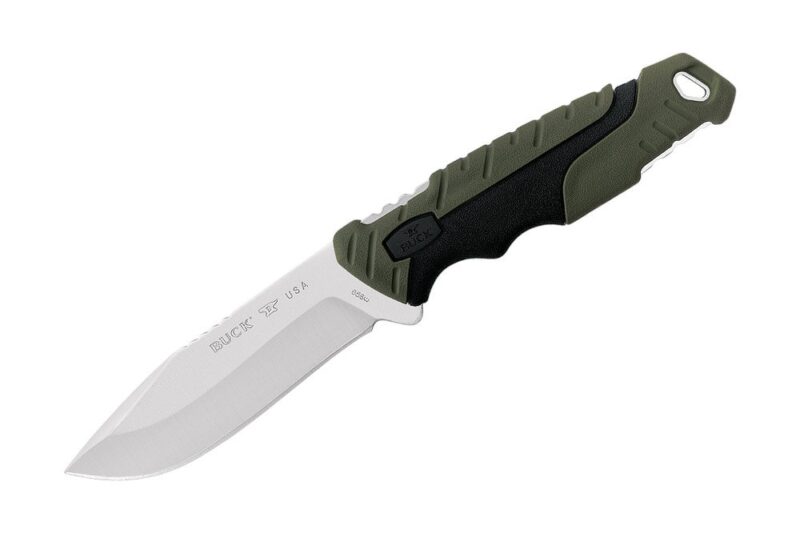 Similarly to our Selkirk, the 656 Large Pursuit sizes at around 4 inches in blade length and 9 inches in overall length. Like the 863 Selkirk, this knife uses the 420HC stainless steel heat-treated by Buck.
What's different, then is everything else. Firstly, the 656 acts more like a hybrid between a survival knife and a hunting knife.
While this sounds interesting at first, it has its drawbacks; namely, it isn't full tang and won't meet the same stability that the 863 has.
Another major difference is the handle. While the 863 opts for a molded Micarta, the 656 uses a nylon-rubber composite, adding to the tactical feel of the 656 but losing the wide finger grooves that the Selkirk had.
Conclusion
In the end, what you choose to use on your trips depends largely on your personal preferences. But it does help that the Buck 863 Selkirk does away with any unnecessary features and sticks to what is really needed when outdoors: a stable and reliable knife.
We can give this Buck a review, but go try this out for yourself, and you'll see why we highly recommend this knife for experienced and beginner outdoorsmen alike.