When you think about high-quality kitchen knives, your mind might go directly to long-standing market brands. These are groups that have been in the market almost as long as kitchen knives have been used.
However, this kind of thinking discounts the quality and novelty a newer brand can give. Dalstrong takes all the learnings from these brands and improves upon it, entering the market at an attractive price for the quality it provides.
Take a look at the different Dalstrong Knives and how Dalstrong offers innovation mixed with traditional design.
7 Best Dalstrong Knives Review
Top choices at a glance:
Also mentioned in this article:
In this article, we'll run through some of the top choices from different Dalstrong series'. Here we've looked across Dalstrong's full price range and picked some of the best: nakiri, chef's, santoku, bread, and more knife types. Enjoy!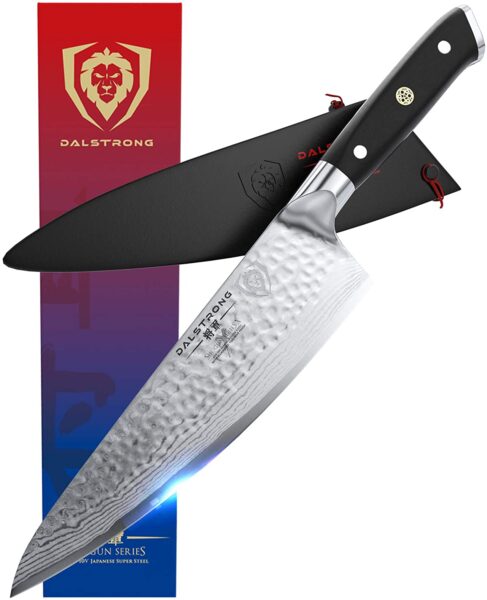 Features:
Japanese AUS-10V Heat Treated Steel
Damascus blade hammer finishing
G10 Fiberglass Resin Handle
PerfectFit Dalstrong Sheathe
If you had to pick a Dalstrong Knife to start with, you can't go wrong with the Dalstrong Shogun Series 8-inch Chef's Knife.
The Dalstrong Shogun Chef's Knife is constructed with multiple layers of quality Japanese AUS-10V Steel, a strong and durable Japanese metal that can resist sharpening damage and is stain-resistant.
Compared to the standard stainless steel, this steel remains sharper for longer while retaining its corrosion resistance.
An easy to use everyday knife, the edge also comes with a curved belly, making mincing smaller ingredients much easier.
The design is unique and is finished with a hammered Damascus finishing. Its handle is made out of a composite fiberglass resin, titled G10 Fiberglass, which is a durable and temperature stable material perfect for various uses around the kitchen while ensuring a comfortable grip.
The Shogun Chef's Knife brings in the quality of the highest calibre to an entry-price point you can manage. Whether it's slicing, cutting, or mincing, the Shogun Chef's Knife has got you covered.
Pros:
Curved belly makes mincing ingredients easier
Treated Japanese Carbon steel blade retains sharpness while being stain resistant
Resin handle is durable and long-lasting
Cons:
Slightly more curved than traditional chef's knives may take some getting used to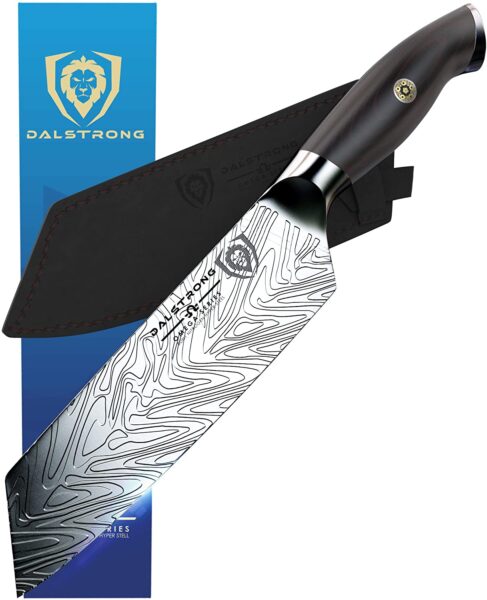 Features
American BD1N-VX Nitrogen Treated Steel
"LiquiMetal" Blade grooving
G10 Fiberglass Resin Handle
PerfectFit PU Leather Dalstrong Sheathe
The Santoku knife is the eastern counterpart of the western chef's knife. Characterized by its lighter and more balanced frame, the Santoku knife is perfect for people looking for a different type of everyday knife.
The Omega Series 7-inch Santoku knife is Dalstrong's version of high quality and truly unique kitchen knife that offers razor-sharp cutting with its American BD1N-VX Nitrogen treated steel, which keeps its blade hard and corrosion-resistant.
Its slightly shorter length also gives it more control over other 8-inch Chef's Knives.
Its "LiquiMetal" grooving extends from the knife's bolster towards the tip and reduces drag while increasing cutting efficiency. If you want to invest in something unique yet keeps to a specific aesthetic, the Omega series Santoku might be the best for you.
Pros:
"LiquiMetal" grooving reduces drag and increases efficiency
The shorter length allows more cutting control
Nitrogen treated steel keeps blade stain resistant
Cons:
A straighter edge may make "rocking" your knife difficult.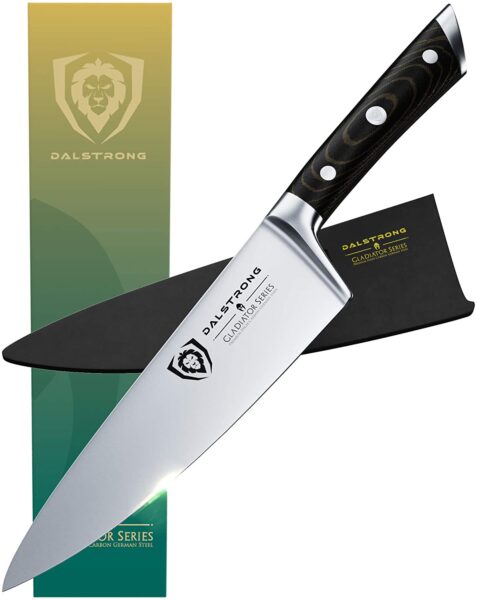 Features
Thyssenkrupp High Carbon treated German steel
Emblem engraved handle rivets
G10 Fiberglass Resin Handle
PerfectFit Dalstrong Sheathe
If you're in the market to try one of these exquisite knives without having to break the bank, then Dalstrong Gladiator 8-inch Chef's Knife is the Dalstrong knife for you.
The Gladiator Series Chef's knife provides premium materials at an affordable price.
The knife remains sharp throughout long periods because of its quality treated Thyssenkrupp carbon treated steel, a German steel that remains hard but malleable enough to resist brittleness.
The Dalstrong G10 fiberglass handle ensures good durability and grip. Combined with its full tang construction, the Dalstrong Gladiator series Chef's Knife will surely last through everyday usage while remaining as sturdy as ever.
Simple in design and execution, the Dalstrong Gladiator series Chef's Knife can deliver so much more than its price tag lets on.
Pros:
Cheapest line of chef's knives from Dalstrong
Treated blade metal is resistant to stain and corrosion
The classic design keeps the knife familiar
Cons:
The plain design may leave you wanting more uniqueness with your knife
Not quite as sharp as the Shogun series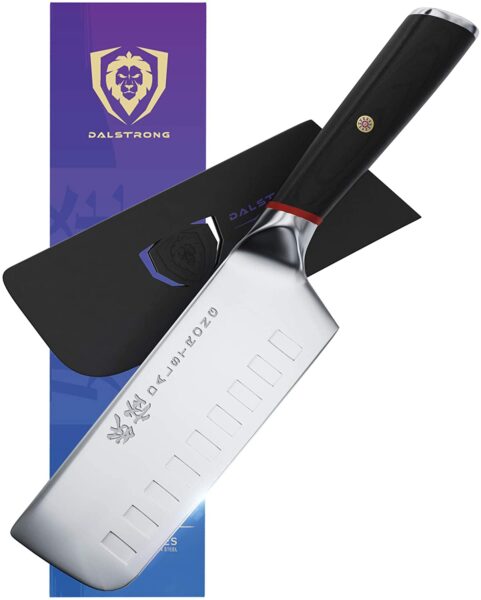 Features
Flat, rectangular Nakiri blade
Japanese AUS-8 Carbon Treated Steel
Spanish Crafted Black Pakkawood handle
Grooved Blade
Phantom Series Blade Sheathe
Some jobs are better suited for specific knives, and when it comes to hard and oddly shaped vegetables, you'll want the Phantom Series 6-inch Nakiri Knife by your side.
This Dalstrong Nakiri's flat rectangular blade is best suited for making long vertical cuts along tough to handle root vegetables and greens.
It's wide enough to make continuing chops when dicing. The grooves found on the blade's side also help keep food from sticking while using the knife.
The Phantom Series Blade Sheathe is a special item that comes specifically with the knives in this collection.
The sheathe comes lined with a soft velvet surface to keep your blade from scratching, while the scabbard itself wraps locks around the knife to keep it from slipping out.
The Pakkawood handle is a premium grip affixed to some of the finest knives available, and you can have it too with this polished handle found in the Dalstrong Nakiri. If you want a high-quality specialty knife, this Nakiri might be the knife for you.
Pros:
Nakiri type blade perfect for cutting vegetables
Grooves keep food from sticking while cutting
Premium sheathe and handle improve the quality of the knife
Cons:
May be difficult to use for people who aren't used to the shape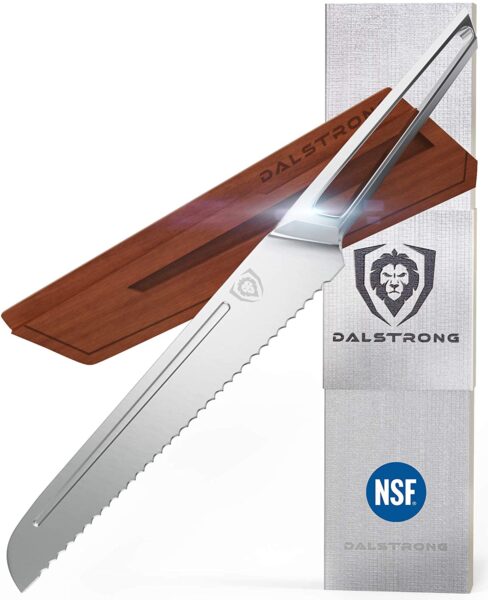 Features
Thyssenkrupp High Carbon treated German steel
Single steel body construction
Low-frequency serrated teeth
Unique Dalstrong scabbard with magnetic enclosure
Tougher, rustic breads are one of the more underrated problems to encounter in the kitchen. Through these thick crust loaves of bread, you can easily ruin your knives by trying to cut the crumb, eventually dulling the edge of your knife.
Rest assured, you won't encounter such problems with the Crusader Series 8-inch Bread knife.
Made out of Thyssenkrupp German steel, this knife also features a low-frequency series of serrated teeth for efficient crust breaking.
The Crusader series Bread Knife also has a unique feature in that its entire body is made from a single piece of steel. The blade body extends from the tip, eventually forming a handle at the butt, which is hollowed out for a minimalist design.
The Crusader series also comes with its unique specific wooden scabbard; a special sheathe that magnetically keeps the blade in it to ensure the knife doesn't slip out and stays safe.
Pros:
The scabbard is unique and one of a kind amongst Dalstrong knives
Serrated teeth stay sharp for long due to treated steel
Cons:
Use is limited to bread and other tough grain foods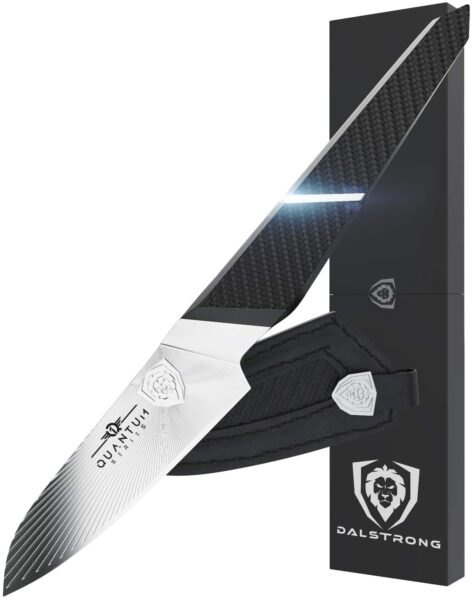 Features:
American BD1N-VX Nitrogen Treated Steel
Unique "Nova" groove finishing
Unique Dalstrong Dragonskin handle
Short, agile 4-inch blade
Versatility is essential in the kitchen, and sometimes the large chef's knife just won't cut smaller items.
This is where the Quantum 1 series 4-inch Paring Knife can shine. A paring knife is as useful as any other knife you have in the kitchen, from detail jobs like peeling and trimming to specific preparations such as deveining.
The Quantum 1 series Paring knife is constructed from the sturdy BD1N-VX American steel, keeping the edge hard but not brittle, a feature especially useful when peeling coarse vegetable skin and hard roots.
The Dalstrong Dragonskin handle is a premium feature of the Quantum 1 series.
The Dragonskin handle is a composite of the Dalstrong G10 fiberglass resin and additional carbon fiber properties, keeping the handle light but durable as well.
Lastly, the "Nova" grooves allow you to do all this cutting with less drag and more efficiency. If agility in the kitchen is what you're looking for, then the Quantum 1 series 4-inch Paring Knife is a must-have for your kitchen knife arsenal.
Pros:
Short, agile blade makes it easy to handle small ingredients and detail tasks
The handle is light yet durable due to additional carbon fiber properties
"Nova" groove is well designed and useful in reducing food drag
Cons:
Best left to smaller preparations as the thin and narrow blade will be difficult with larger ingredients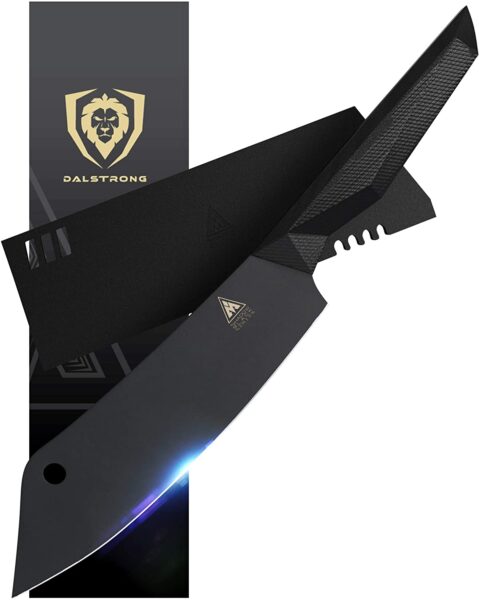 Features
Specialty high carbon 7CR17MOV-X Steel
Blade coated with black non-reflective titanium-nitride
Unique molded G10 Fiberglass Resin Handle
Unique cleaver/knife hybrid
Jump into the deep end of knife innovation by purchasing one of the most unique Dalstrong knives, the Shadow Black series 8-inch Cleaver Chef Knife Hybrid.
As the knife's name suggests, this Dalstrong piece combines two popular knives, the cleaver, and the chef's knife, into one menacing looking knife.
With the cleaver's wide curve and the chef's knife's balance, this knife will be one of your most versatile in the kitchen.
The Dalstrong Shadow Black Cleaver Chef Knife hybrid is also made from a high carbon 7CR17MOV-X Steel, making it naturally tough and stain-resistant.
It is also coated in a unique black titanium-nitride component, improving this knife's natural toughness and adding a small degree of non-stickiness for easier cutting.
Pros:
Hybrid qualities combine two knives into one piece
High-grade steel and coating creates an extra durable, stain-resistant knife similar to stainless steel knives
The unique all-black look sets it apart as a one-of-a-kind Dalstrong knife
Cons:
The unorthodox shape may confuse users used to traditional knives
The Differences Between the Dalstrong Series
The Gladiator Series
The Dalstrong Gladiator feels like a combination of classic German knife construction and elegant Japanese aesthetics.
This familiar line of knives also consists of their most varied knife types, ranging from cleavers to utility knives and even carving and paring knives.
These knives are made of high carbon German steel. The blades are also chromium treated to ensure it remains stain resistant. The knives' handles are made from the Dalstrong G10 Fiberglass resin for durability.
These knives also come in an impressive 18-piece knife set, titled their "Dalstrong Colossal Knife Set," which comes with its very own walnut knife block for easy organization and knife protection.
The Shogun Series
The Dalstrong Shogun series is more like Japanese knives amongst the different Dalstrong knives.
The majority of the styles come in different specialty variants, such as the Japanese Kiritsuke and Nakiri knives. The Shogun series sports the second most styles by number amongst the Dalstrong catalog.
The knives' handles also feature the same Dalstrong high-quality G10 resin handle for durability and include the customary knife guard.
The Omega Series
Dalstrong starts departing from the norm with their Omega knives series. These knives are characterized by their high-quality BD1N-VX Nitrogen Treated Steel forged in the USA.
The Omega knives series feels like a step toward the future when it comes to knife design, especially with its nitrogen-cooled blade adorned with a unique "LiquiMetal" finishing to help along with the glide when cutting and slicing ingredients.
The knives' leather sheathes match perfectly with their G10 black fiberglass resin handle, keeping it as durable and long-lasting as the rest of the Dalstrong line of knives.
The Phantom Series
If the Dalstrong Omega knives series is a step towards innovation, the Dalstrong Phantom knives series is a step towards tradition.
Inspired by design from classic Japanese knives, this collection uses the fairly new Japanese AUS-10V high carbon treated steel, and a Pakkawood handle crafted in Spain and hand polished for a perfect grip.
Its variants include several cleavers and carvers, as well as Nakiri knives, which are extremely useful for a variety of different vegetables with its wide body and straight edge.
Real collectors can also peak at their 6-piece knife set collection, which comes with a magnetic block to hold your knives firmly in place.
The Crusader Series
The Dalstrong Crusader series has to have its most experimental designs yet. Crafted with precision German steel, what sets the Crusader knives apart is their single steel construction.
The Crusader knives don't have a resin or wood handle but are shaped in steel and hollowed out for a minimalist approach to their design.
Each blade has a specialized magnetic wooden scabbard to protect the blade when not in use. Two knife sets are also available, an 18-piece knife set and an 8-piece knife set, all coming with their respective knife blocks.
The Quantum 1 Series
Dalstrong's Quantum 1 knives go further into the future with their hyper tech-focused design.
Using American forged steel, the Quantum 1 series sets itself apart through its handle: the Dalstrong Dragonskin, a composite of carbon fiber and resin that keeps your grip comfortable but stable.
Another unique feature is its "Nova Prime" blade finishing, which looks like several diagonal grooves extending from the knife's bolster towards the tip.
This beautiful design isn't only pleasing to the eye but reduces drag and increases cutting efficiency among their knives. Dalstrong's Quantum 1 series proves that your knives can be improved in more ways than just one.
The Shadow Black Series
Optimum tech lovers with a penchant for the darker sides of life will enjoy the Dalstrong Shadow Black series.
Made from premium 7CR17MOV-X carbon steel, the Dalstrong Shadow Black knives are also coated with a black, non-reflective titanium nitride material, which adds corrosion resistance and non-stick properties to an already tough blade.
These knives also use a non-slip textured military-grade resin to add comfort and durability so that you can use these knives with ease regardless of your experience in the kitchen.
If you're looking for something truly different, try the Shadow Black knives from Dalstrong.
Keeping your Dalstrong Knife Sharp
Knives are usually as good as how you take care of them.
While Dalstrong knives guarantee quality and sharpness over a long period of use, sooner or later, you'll need to consider investing in some knife care paraphernalia as well as how to care for it before and after each use.
Storage
Your kitchen knives take a beating if you leave them bare with all your other kitchen tools. It's highly recommended that you invest in some decent protection for your blade when not in use.
Luckily Dalstrong includes the appropriate knife sheathe with each knife purchase and even includes knife blocks if you decide to purchase any one of their knife sets.
For the traveling cook with multiple knives, you may also want to consider investing in a good knife bag, which Dalstrong also offers as part of their knife accessories available.
These bags are specialized with different heavy-duty materials to ensure that your knives stay sharp and protected when taking them on-the-go.
Sharpening
After several months of use, you can expect some of your knives not to retain its original sharpness.
While Dalstrong steel does last a while, any kitchen knives owner should maintain their knives properly through Sharpening and Honing.
Sharpening
When sharpening your knife, you will want to invest in a good quality whetstone, a specialized stone block that has different grades of grit on each side (usually one side is the "coarse" side, while another is the "fine" side).
To use the whetstone, properly wet the stone prior to use and have a non-slip surface to work on.
You'll need to position your knife to a specific degree (depending on the knife model and type) and either push forward or pull back to slowly remove small parts of metal to re-sharpen the knife's edge.
Sharpening knives take practice, and if you're looking to invest, Dalstrong offers several types of whetstones, which all include a guide for use.
Honing
Whetstones aren't the only way to keep your knives sharp. A good honing steel realigns your knife's edge to ensure that the blade remains straight while cutting.
A honing steel is used by holding the steel either upright or downward toward your working station.
Afterward, gently slide your knife up and down in a locomotive motion at a specific degree similar to your whetstone sharpening. Honing steels don't remove metal like whetstones but rather bends it to realign the edge better.
Both knife maintenance techniques are indispensable in keeping your knives in constant top performing shape.
Final Words
Dalstrong knives have proven that just because they're relatively new to the market, they can also create some of the most stunning knives.
Their collection is wide and varied, ensuring that whatever you may be looking for, you can find it amongst their catalog. With Dalstrong also coming in at entry-level prices, these knives may just be your next partner in the kitchen.
If you're in the market for a German knife, you might want to also read our Dalstrong vs Wusthof comparison.