Fresh ingredients, experience, and unique recipes are key elements to cooking an excellent dish. However, there's one "ingredient" that's missing from this picture: a good chef's knife.
Even with fresh ingredients and a great recipe, it's impossible to create a dish without a knife. In the case of chopping meat or vegetables, you need the right cleaver. And if you're reading this article, more specifically, you're probably looking for the right Japanese cleaver!
We've carefully researched the best cleavers in the market today, and narrowed it down to 5 of the best Japanese cleavers. Let's go.
5 Best Japanese Cleavers
Top choices at a glance:

The Shun Classic 6-inch Japanese meat cleaver is one of the few meat cleavers you can use for any given situation, from chopping large bones or breaking down a whole chicken.
Thanks to its AUS8A stainless steel blade material, Shun is unlike most options in the market.
Due to the enhanced thickness of the blade, this allows it to handle larger chunks of meat that other cleavers would struggle with.
Even better, Shun's VG-MAX cutting core uses "super steel" for extreme hardness, enabling Shun's knives to have enhanced and longer-lasting blade edge retention.
The VG-MAX core also provides stain and corrosion-resistance, making the Shun 6-inch meat cleaver easily one of the most reliable meat cleavers today.
Blade qualities aside, the Shun 6-inch Japanese meat cleaver comes with a Pakkawood handle, which is responsible for giving the Shun 6-inch meat cleaver its comfortable, secure grip.
Additionally, the Pakkawood handle is exceptionally durable, waterproof, and bacteria-resistant.
Pros
Excellent blade sharpness
Cuts through joints, bones, meat, and chicken easily
Versatile
Ergonomic and secure grip
Trusted quality
High number of positive reviews
Offers free sharpening
Great warranty coverage
Cons

Priced a little lower than the Shun Classic, this Global cleaver is arguably better value for money.
If you're looking for a Japanese meat cleaver that suits both professional and home chefs well, the Global 6.5-inch meat cleaver is an excellent choice.
The stainless steel Japanese meat cleaver is designed by Komin Yamada [R], who is well-known for his iconic knife designs.
What makes the Global 6.5-inch Japanese meat cleaver the best value pick is the Cromova 18 steel composition, which combines vanadium, molybdenum, and chromium for enhanced hardness, durability, and performance.
With Global's signature straight edge, it adds sharpness to the blade and enables you to butcher and cut through meat and bones with ease.
It's worth noting that Global's meat cleavers retain their edge considerably longer than most meat cleavers or knives in the market.
Overall, the Global 6.5-inch Japanese meat cleaver provides a balance of weight and quality.
Compared to most Japanese meat cleavers, Global offers a lightweight feel that adds usability and reduces hand fatigue for any user.
Pros
Lightweight
Easy to use
Retains its edge longer than most meat cleavers
Cromova 18 steel enhances durability and hardness
Good price value
Cons
Not corrosion-resistant
Not as sharp as the Shun Classic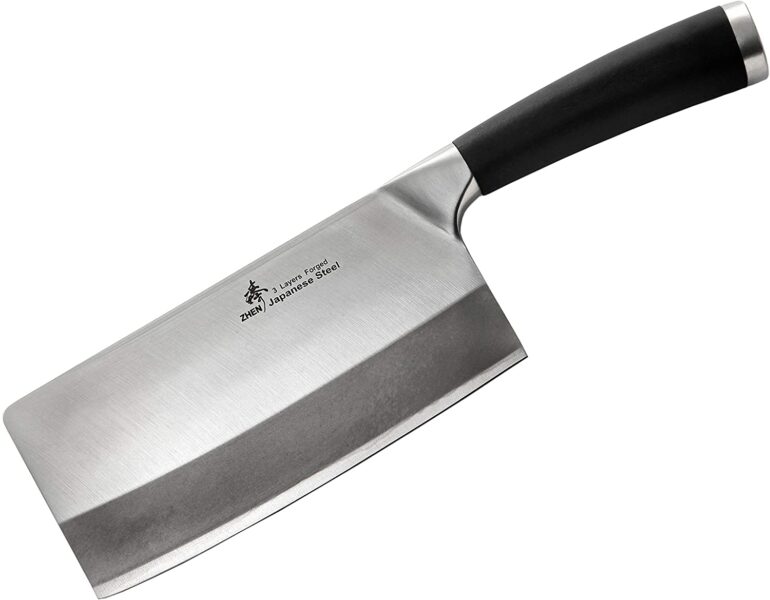 Considering the VG-10 3-layer forged Japanese stainless steel cutting core, the Zhen Japanese 6.5-inch meat cleaver priced so low is a steal you wouldn't want to miss. It's one of the best Japanese cleavers in its price category.
The blade is exceptionally sharp and requires minimal effort to cut through poultry, meat, fruits, and vegetables. Its HRC rating of 60 – 62 [R] also reveals how hard and durable this meat cleaver is.
Pair that with Zhen's latest technology & enduring Japanese knife techniques, and you get excellent edge retention, incredible durability and strength, and stain-resistance.
Furthermore, its full tang handle uses soft Thermo rubber, making the Zhen Japanese meat cleaver handle easy to clean, non-slip, waterproof, and bacteria-resistant.
Pros
Highly affordable
Incredible durability
Great edge retention
Stain-resistant
Non-slip handle provides a comfortable, secure grip
Cons
Primarily made for vegetables
Probably won't cut through thick bones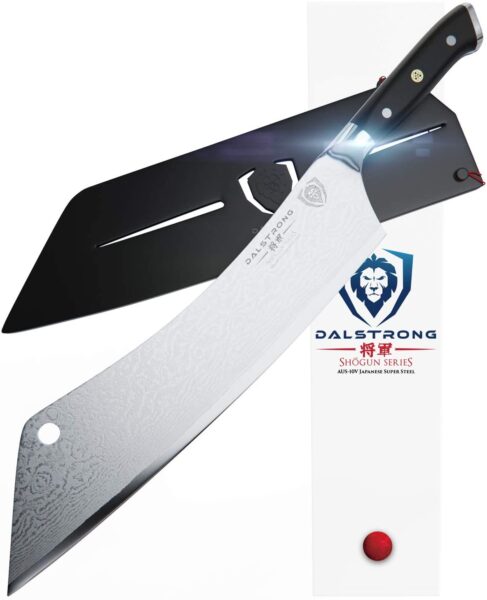 In the case of Dalstrong's "The Crixus" meat cleaver, it's more than what you see.
We have to admit the Dalstrong meat cleaver looks unbelievably cool. That's probably because the extra long 12-inch Japanese meat cleaver is actually a hybrid design between a knife and cleaver.
As a result, it's one of the few meat cleavers that can perform a whole variety of tasks with minimal effort. That includes chopping through all sorts of meat, such as beef, fish, pork, poultry, vegetables, and even wild game.
The Dalstrong 12-inch meat cleaver can handle heavy-duty kitchen tasks and break down protein rather effortlessly.
This is due to its 3-step Honbazuke method, which gives the blade an 8 – 12-degree angle for extreme sharpness. Coupled with the nitrogen cooling process, this enhances the hardness, flexibility, and corrosion resistance of the blade.
Last but not least, the G-10 handle is military grade and provides incredible hand control and comfort, along with lifelong durability.
In case you experience any defects, Dalstrong also offers a money-back guarantee and lifetime warranty.
Pros
Extreme sharpness & hardness
Lifelong durability
Excellent hand control & grip
Extra long
Money-back guarantee
Lifetime warranty
Can handle all sorts of meat, fruit, and vegetables
Cons
The length might be too long for some users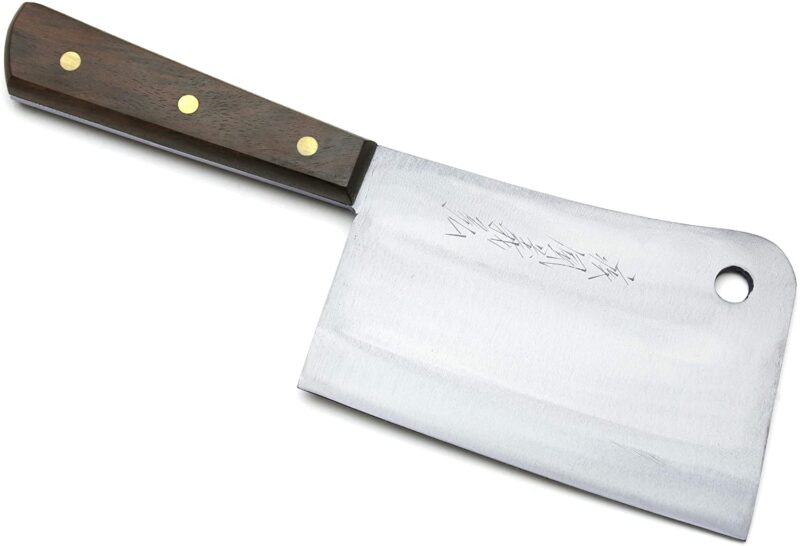 We know high carbon white steel #2 sounds fancy, but let's dive a bit more into why it's a prized gem among knives.
The carbon white steel #2 is what gives this knife its razor-sharp edge, allowing you to make delicate, fine, and exact cuts that most knives aren't capable of doing.
With its mid-range hardness rating of 61 – 62 HRC, Yoshihiro is a powerhouse meat cleaver capable of easily chopping through joints and bones.
Paired with its rosewood Western-style handle that extends to the full tang of the knife, one can expect this meat cleaver to be seamless to use.
Yoshihiro is one of the few cleavers you can use on a daily basis without having to worry about tackling heavy-duty jobs like separating the ribs, cutting through large chunks of meat or poultry.
It also works well as a vegetable cleaver and can even break down hearty root vegetables.
There are a couple of downsides, however.
Its heavy-duty performance as a meat cleaver may be impeccable, but it's also quite heavy. If it's your first time using a meat cleaver, this won't feel as user-friendly.
Pros
Excellent edge retention
Great sharpness
Cuts through large bones and joints easily
Ergonomic handle
Cons:
Heavy
Not stain-resistant
Expensive
How to Choose the Best Japanese Cleavers
Choosing the best Japanese cleaver depends on three essential factors:
Full tang construction for stability, strength, and balance
Handles that are durable, non-slip, and comfortable to use
Forged carbon steel blades with durable edges
Essentially, there are two parts you should pay attention to when buying a Japanese cleaver: the handle and blade.
Handle
The tang serves as the core of your cleaver's handle and is responsible for giving your cleaver its durability, strength, and balance.
If you go for partial tang knives, this makes it top heavy and could lead to cracks over prolonged use.
It also helps to go for a Pakkawood or Staminawood handle, although Pakkawood is easier to find. The best handles use wood or molded rubber incorporated with hard resins.
This gives your handle a secure grip and is more durable and sanitary. Plastic, steel, and rosewood are adequate options; however, plastic and steel tend to be slippery, and rosewood requires strict maintenance.
Blade
Although cleavers in general handle tough and somewhat messy jobs, that doesn't mean you should just pick the most durable.
Take note. You'll be cutting meat, poultry, bone, and joints most of the time, which means you also need to factor in sharpness and hardness.
Forged carbon stainless steel cleavers are your best option. This will give you enough power to cut through joints & bones, adequate strength to resist wear and tear, and sharp enough to chop meat without damaging it.
Japanese Meat vs. Vegetable Cleavers
Vegetable cleavers, also known as Chuka Bocho, use thinner blades and high-end steel to tackle light jobs in the kitchen and slice through thin meat proteins.
Vegetable cleavers are excellent for mincing, dicing, and chopping vegetables and maybe a few thin bones in chicken or meat; however, using a vegetable cleaver for heavy-duty tasks will undoubtedly break your vegetable knife.
Although, a Chinese-style Chuka Bocho is easier to find than Japanese types. That being said, it's not worth the price you pay to use a Chuka Bocho when cutting through thick proteins in meat or bones.
On the other hand, a Japanese meat cleaver offers thicker, more robust blades capable of handling tougher jobs and easily de-bones meat, poultry, and hearty root vegetables.
A Japanese cleaver also has a large surface area. Crushing something like ginger requires barely any effort, and handling tough-skinned vegetables like squash are no match for a Japanese cleaver.
Whether it's a new kitchen knife or cleaver you're looking to buy, make sure to ask yourself what you need it for first. Don't go for a Chuka Bocho if you plan to cut or de-bone meat frequently.
That being said, they're still adequate knives for chopping and mincing meat without bones.
Conclusion
We hope this review helped you choose the best Japanese cleaver! Feel free to share your thoughts below!