For those who haven't come across them before, Gerber are an all-American manufacturer of knives and multi-tools based in Portland, Oregon. Gerber knives are known for being ultra-hardy and versatile knives, perfect for any survival or tactical need.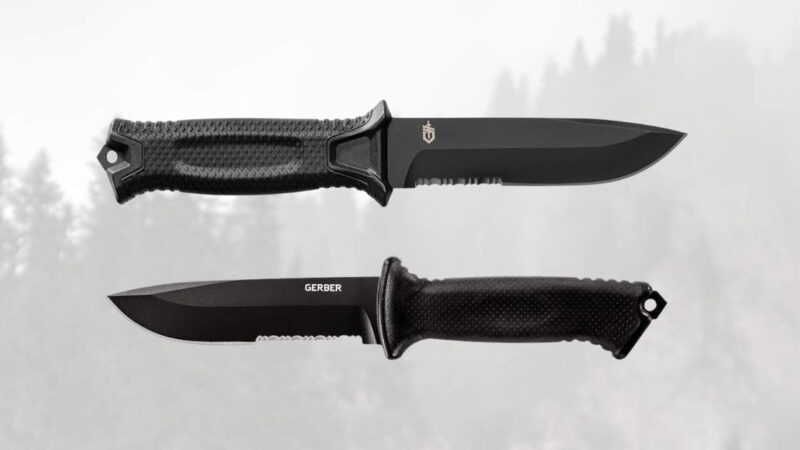 When exploring the Gerber brand, it's sometimes hard to know which knife to go for given the breadth of their many ranges. In this article, we're going to be putting two of the best known Gerber models up against each other – The Gerber StrongArm vs Gerber Prodigy.
Both knives are incredibly similar, not just in their designs but also in their specs and capabilities as an outdoor companion. But we hope by the end of this comparison, you'll know which Gerber knife is right for you!
For complete clarity, we're going to be comparing the latest models of the Gerber StrongArm Fixed Blade Knife and the Gerber Prodigy Survival Knife, both with a serrated edge!
Haven't got time for a full review? Here's the short version:
Both knives are solid, and similar in blade, weight, and length
The Gerber StrongArm is a slight upgrade overall, at a slightly higher price. The biggest difference is an extremely solid grip.
The Gerber Prodigy is a solid all-rounder tactical knife that comes in at a slightly lower price.
Now, let's get started with the full review!
Gerber StrongArm vs Gerber Prodigy – Key Comparisons
To the untrained eye, both knives look pretty much identical. But when you look a little deeper, both have some key differences which make them perfectly suited for different buyers.
The StrongArm is a very good all round knife which can be relied upon in any terrain at any time. This is mainly due to its build quality with the full tang 420HC blade, FRN reinforced nylon handle and ceramic coating all coming together to create a premium feeling Gerber knife.
The Prodigy also holds its ground well and is equally as capable as many fixed blade knives you'll find anywhere in the knife market. It features a very similar feature set to the StrongArm, with versatility in it's sheath carrying system another great bonus.
Size wise the knives are also incredibly similar, with the StrongArm the slightly larger knife but only by around 0.2″. Despite its slightly smaller size the Prodigy is actually the heavier of the two knives, but again it's a very minor difference (only 0.17oz).
Both knives are USA-made with Gerber offering a 25 year warranty on materials and manufacturing defects, so you know whichever knife you go for you're in safe hands!
"The StrongArm is a great knife. The rubber handle is really grippy even in the rain…..I love my Gerber Prodigy, no hate just cutty-cutty for me.
For most people the decision will come down to design or just personal preference. The StrongArm's handle looks slightly more exciting, with many reviewers commenting on how great it feels in the hand. Whilst the Prodigy may not be as stylish, at around $15 cheaper, it potentially represents better value for money than the StrongArm.
That's the high level, but let's break each knife down in a bit more detail!
Side-By-Side Specs – Gerber StrongArm vs Gerber Prodigy
| | | |
| --- | --- | --- |
| | Gerber StrongArm Fixed Blade Knife | Gerber Prodigy Survival Knife |
| | | |
| Overall Length | 9.88″ | 9.72″ |
| Weight | 7.2oz | 7.2oz |
| Blade Thickness | 0.187″ | 0.189″ |
| Blade Type | Drop Point | Drop Point |
| Best For | All round combat/survival knife | Versatile combat knife on a budget |
| Steel | 420HC | 420HC |
| Sheath | Black Plastic | Black Plastic |
| Manufactured | Made in the USA | Made in the USA |
First things first.
The StrongArm's diamond texture grip separates it from the Prodigy. When so many other things (e.g. blade length, weight) are similar, this is important. When it comes to grip, the StrongArm is an upgrade vs the Prodigy.
Here's more info:
Ask anyone with knowledge of Gerber knives and you can guarantee they will recommend the StrongArm as a standout model in their range. It's a fantastic all rounder which can be taken anywhere from the desert to the arctic and perform admirably.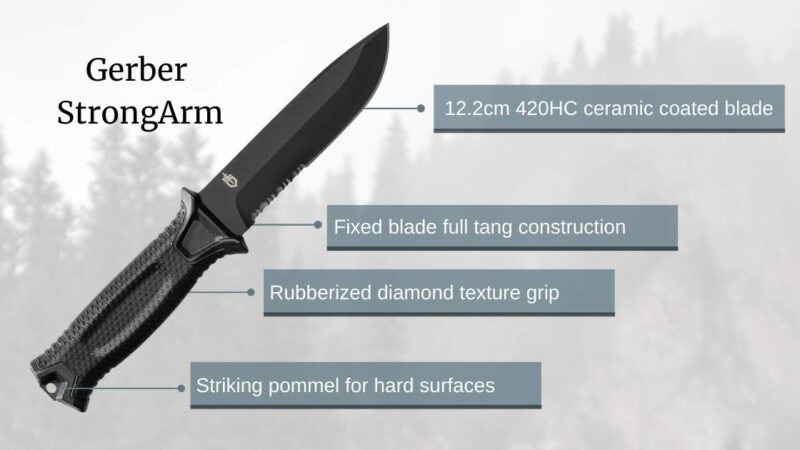 The StrongArm is a fixed blade knife coming in at an overall size of 25.1cm. Of this size, the blade length sits at 12.7cm and the handle at 12.5cm to give the knife a really great balance. The knife is equipped with a 4.75mm, 420 HC Steel blade which is a good standard for a knife at this price point.
As a full tang knife, the blade is stable and with the mix of the drop point blade style and the slight serration, you have a knife that can do it all!
The handle is made from FRN (glass reinforced nylon) coated in a rubber overmould which is styled with a diamond patterning.
The knife comes with a plastic sheath which can be MOLLE or belt mounted to suit your personal carry style. The knife is finished off with a really nice black ceramic coating, helping it to avoid rusting and succumbing the user to blinding reflections in bright light.
Gerber are proud to say that all StrongArm models are made in the USA at their factory in Portland, Oregon. All knives comes with a 25 year guarentee, further showing Gerber's dedication to high performance.
Gerber Prodigy Survival Knife – Detailed View
The Gerber Prodigy is based on an incredibly popular classic by Gerber, the Gerber LMF II model. The main difference is that the Prodigy is slightly smaller than it's iconic bigger brother whilst keeping all the charecteristics which made it so sought after.
With an overall size of 24.7cm breaking down to a 12.2cm and 12.7cm blade to handle ratio, much like the StrongArm is has a great balance. It has a similar blade profile at 4.8mm of 420 HC Steel and offers stability thanks to its full tang construction.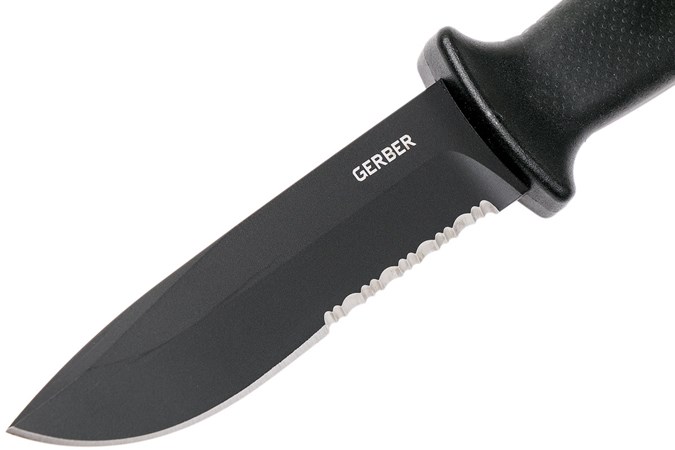 The key difference with this knife is in the handle. Not necessarily in it's construction, which follows the same FRN and rubber overmould combination, but in the design style. The Prodigy handle is a little more basic than that of the StrongArm and is more in line with an entry-level knife design.
The Prodigy includes a versatile MOLLE or belt mounted sheath, made entirely of high quality plastic. The knife is also manufactured in the USA and comes equipped with that 25 year warranty for peace of mind.
When we directly compare the two, this knife has one key advantage, price! At $15 cheaper than the StrongArm, the Prodigy will appeal to those who are cost conscious but still want a high quality combat knife!
If you can't decide between the Gerber StrongArm and the Gerber Prodigy, here's an alternative. We mentioned it earlier, but the Gerber LMF II is one of the most popular Gerber knives ever made.
Where this knife really stands out is in it's size – with an overall length of 27.1cm and a blade length of 12.5cm, it's the overall biggest knife we've seen in this article. Weight wise it's also significantly heavier than both the StrongArm and the Prodigy at 330 grams.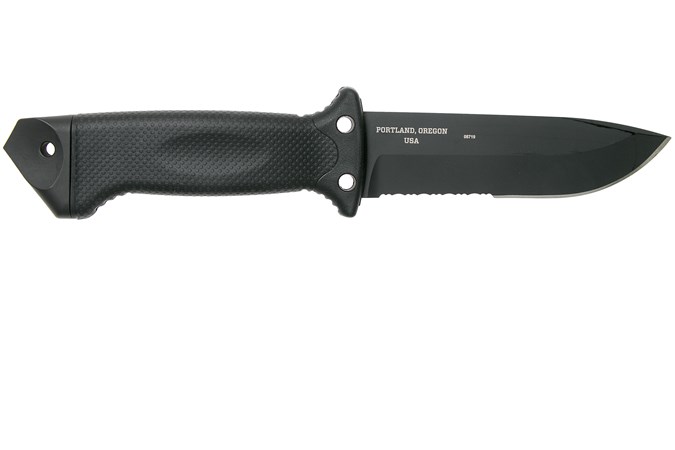 Both the handle and blade materials remain the same as our two comparison knives, but the LMF stands out in a few other ways too. Firstly, the tactical holes found at either end of the handle can be strung, perfect for creating a spear. This knife is also the knife of choice for the US Military, so you know it's tried and tested for the most extreme conditions.
It's also made in the USA (as can be seen on the knife blade itself) and comes with that 25 year warranty.
What's the catch? The price! This is one of Gerbers most popular and premium knives and comes in at anywhere between $30-50 more than the StrongArm and Prodigy respectively.
Summary – Gerber StrongArm vs Gerber Prodigy
Whether you go for either the StrongArm or Prodigy knife from Gerber, you're getting a knife that's perfect for survival and combat situations.
Both are fixed knives, made in the USA and utilise high quality materials in their blade, handle and sheath. There really isn't much in the size either, with the StrongArm slightly longer and the Prodigy slightly heavier.
There's two key differences here, the handle design and the price. Many reviewers really like the StrongArm's handle, particularly calling out how well it grips the hand. If you're happy with no frills, the Prodigy is around $15 cheaper for a fairly similar blade performance.
We hope you enjoyed this article on the differences between the Gerber StrongArm vs Gerber Prodigy. In short, like a great handle? Go for the StrongArm! Need to cut down on cost? It's the Prodigy for you.
Interested in more classical Buck knives? Check out our post here