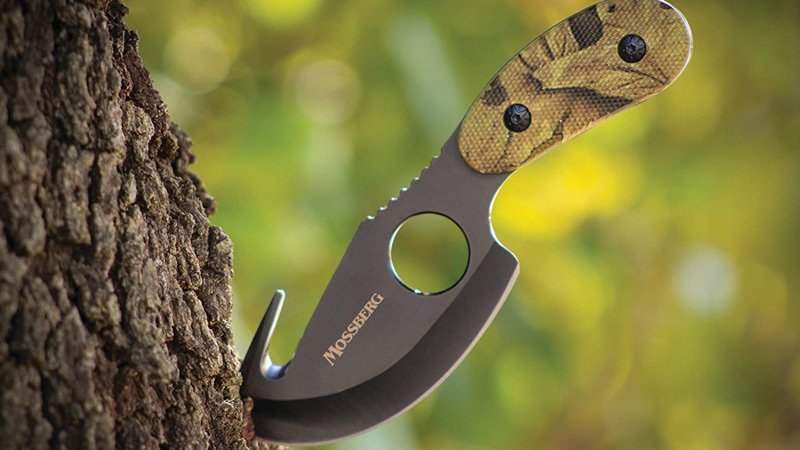 For many lovers of the outdoors, hunting is a popular activity. However, to make the most of your experience, you must have the right equipment.
Hunting calls for you to have different kinds of knives, each serving a distinct purpose. One of these is a skinning knife.
At Knives Advisor, we make it our mission to review and recommend outstanding knives.
This guide examines the best skinning knives you can get in 2023, and the qualities that set them apart.
Some of the finest skinning knives on the market are:
Buck 113 Ranger Skinner Knife
Buck 103 Skinner Knife
Morakniv Companion Fixed Blade Outdoor Knife
Old Timer 152OTL Large Sharpfinger
Mossberg All in One Skinning Knife
Buck 113 Ranger Skinner Knife — The Best Overall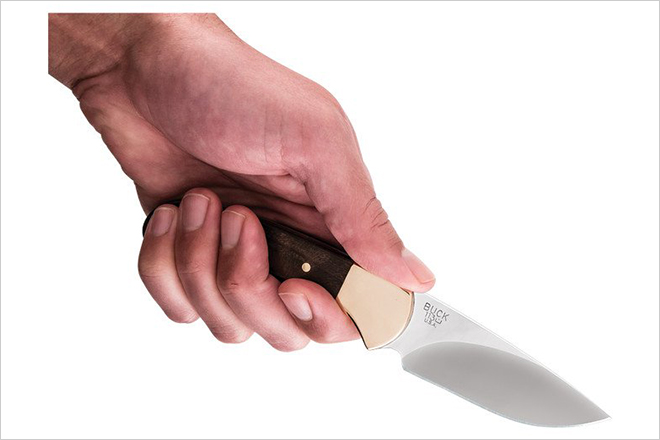 The Buck 113 is, without a doubt, the best skinning knife you can get your hands on. Much like the beloved Buck 119 hunting knife, the 113 has proven indispensable in the outdoors.
As a brand, Buck has built the reputation of being a reliable manufacturer that delivers time and time again. This stems from several attributes:
Buck has been around for a considerable time, having started in 1902.
When you purchase one of their knives, Buck offers lifetime warranty.
Most Buck knives are made in the USA.
Buck knives are renowned for their heat-treating process.
If you're set on a skinning knife that checks all the boxes, then look no further than the Buck 113. More than just a good deer skinning knife, the Buck 113 Ranger is a versatile implement.
For starters, its blade undergoes industry-leading heat treatment pioneered by Paul Bos. The blade is first heated, then frozen, and then reheated. After this, it's tempered to the desired Rockwell hardness.
The result is a razor-sharp blade with impressive edge retention.
This drop point blade features a sharp edge, and consists of 420HC stainless steel that:
Offers impressive wear resistance
Is corrosion resistant
Is strong and durable
Delivers high performance
Another reason to love the Buck 113 is its superior craftsmanship — the Skinner blade features a striking contrast design, while the handle is forged from pure Crelicam ebony.
This is the same wood used to build Taylor Guitars, which means you enjoy unparalleled comfort and a steady grip with an elegant finish.
Given the use of high-quality natural ebony, the handle features beautiful markings. This makes each Buck 113 handle unique.
The impressive craftsmanship on the 113 — and the passion behind it — makes it one of the many Buck knives with a lifetime warranty.
Dubbed "forever warranty," this guarantees that your Buck knife is free of material and quality defects.
A knife of its caliber deserves nothing less than a leather sheath. And that, together with a lanyard hole, is precisely what you get with the Buck 113.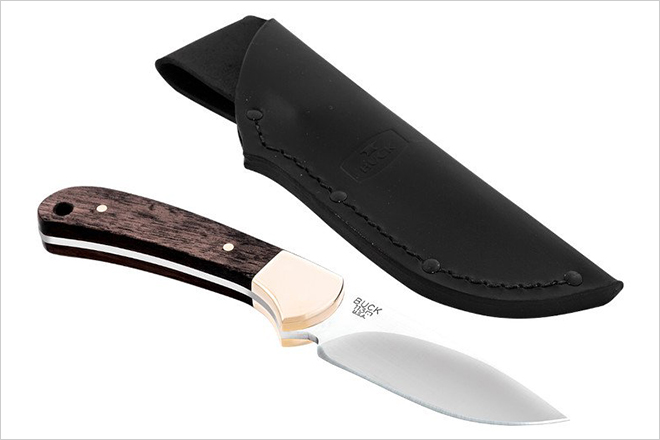 One last feature that sets this skinning knife apart from the rest of the pack — the 113 is customizable.
For an additional fee, you can have your blade personalized with an engraving, with the option of selecting block or script text.
With all that said, the Buck 113 falls on the higher end of the price spectrum. It's a premium offering that comes at a premium cost, but this knife is well worth it.
Mossy Oak Field Processing Knife — Honorable Mention (Budget)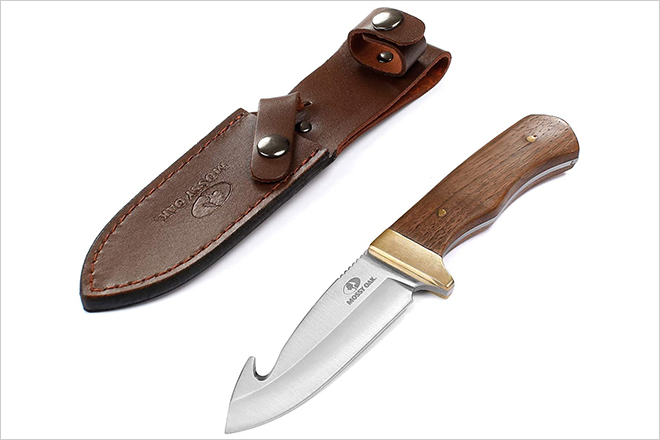 This Mossy Oak knife is a budget all-rounder that aims to please, making it worthy of a mention. It blurs the lines between a gutting, hunting, and skinning knife in its bid to be everything to all.
Its blade is 4.5 inches in length, and it's made of 3CR13 steel with full tang construction. Wrapping around the blade is a walnut handle, featuring a handguard to protect the wielder's fingers in the event of an accident.
Not to be outdone, this Mossy Oak offering comes with a leather sheath for portability.
This implement feels weighty to hold, and indeed it is. At 0.27 kg (9.6 ounces), it's the heaviest knife featured in our guide. This attribute makes it a good choice if you're into tossing — as it makes deep cuts and lands with accuracy.
The Mossy Oak processing knife does enough to make it a noteworthy pick. At the same time, it doesn't go above and beyond to make an impression. It just gets the job done without being too pricey, or compromising on the quality in order to cost less.
Morakniv Companion Fixed Blade Outdoor Knife — The Best on a Budget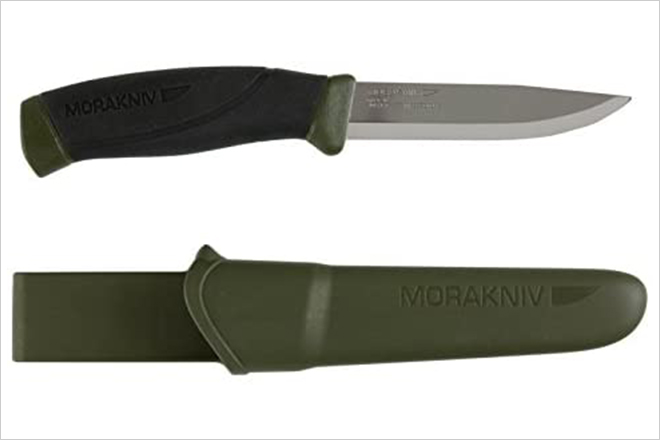 The Morakniv Companion is a fixed-blade knife built to thrive in the outdoors. Rather than full, it features a three-quarter tang blade fashioned from high-quality Swedish steel.
That it's not a full tang doesn't discredit this knife's best-in-class status at its price point. The blade has an edge that stays sharp longer than carbon steel and is less prone to rust.
Morakniv went for a clip point blade. For this reason, like other Companion skinning knives, this one makes a quicker, deeper puncture upon contact.
That said, clip point skinning knives tend to be weaker than those with drop point blades.
Furthermore, it distinguishes itself through its versatility. Other than skinning, you can also use this knife to:
Hew tinder
Cut wood
Carve tools
Prep food
The Companion comes in a range of colors, some of which are very vibrant. Whether you prefer an understated shade or one that pops out, you're spoilt for choice.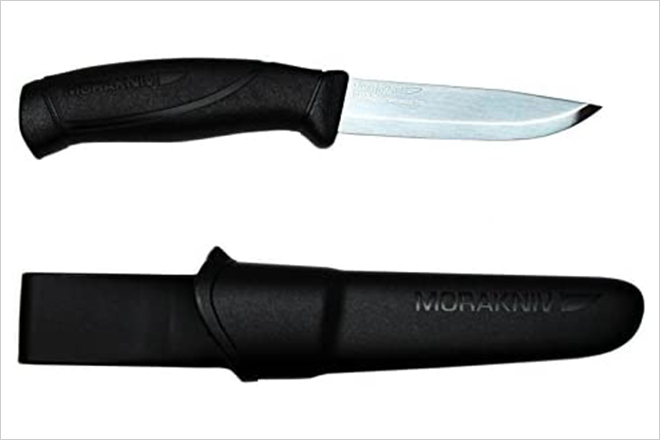 For the handle, this knife sports a patterned and rubbery high-friction grip. Based on the color you select, the companion is a color-matching plastic sheath with a belt clip.
If you're looking for the best skinning knife at an affordable price point, then this is the perfect option.
Buck 103 Skinner Knife — Quality Skinning Knife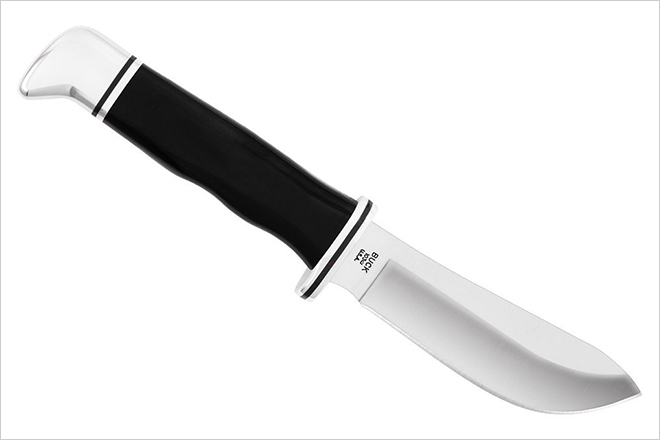 The Buck 103 is a heavy-duty skinning knife that boasts a classic design. Its fixed blade is designed purposefully for skinning game.
With a narrow tip and curved belly, this offering from Buck Knives is more than capable of getting through even the thickest layers. Its effectiveness is also due in part to its drop point style.
Stainless steel in a satin finish makes the blade razor-sharp and visually striking.
In Buck Knives fashion, the Buck 103 Skinner is made in the USA. It undergoes a rigorous manufacturing process to ensure it gets to you free of defects. This is backed by the lifetime warranty you enjoy.
Something unique about the 103 is that its blade comes in two variants — either phenolic or DymaLux wood.
Phenolic is a dense material that comes from exposing glass cloth or paper to high heat and pressure. Following this, synthetic resin is used for enhancement. The result is strong and has a wide range of applications.
On the other hand, DymaLux is a tough and durable natural material made of laminated birchwood infused with resin.
However, you should note that the choice of either handle is subject to availability, as these knives are in high demand.
For protection and easy carry, the Buck 103 Skinner comes with a leather sheath.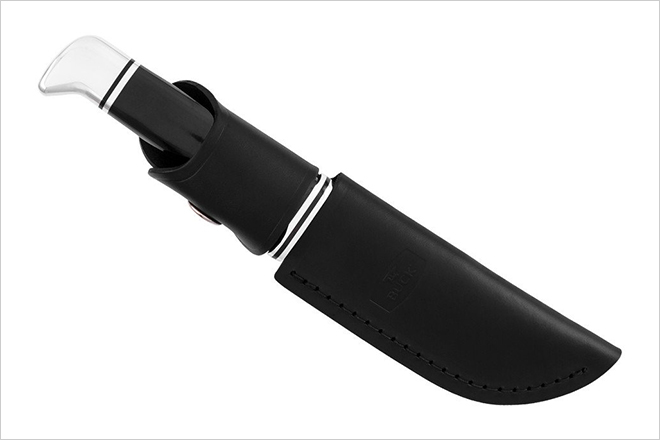 Old Timer 152OTL Large Sharpfinger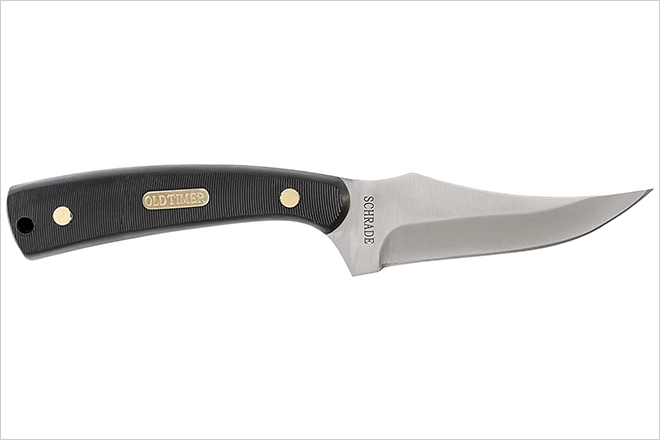 This knife is a new spin on Old Timer's original Sharpfinger classic. While the older version had a 3.3 inch blade length, this one measures 4 inches.
The fixed blade is made of high carbon stainless steel, with a handle made of Old Timer's saw cut handle slab. The choice of 7CR17 (440A) steel makes the Large Sharpfinger blade easy to resharpen.
With regards to design, the Large Sharpfinger has a clip point blade. This makes it an especially ideal skinning knife for deer and other game. Moreover, it means that this is a good skinning knife and handy for outdoor use.
Its leather sheath is decent — as is its build quality — but is nothing outstanding.
Mossberg All in One Skinning Knife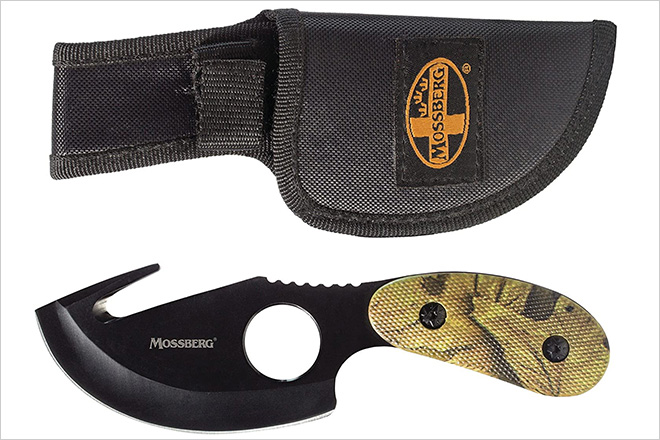 Mossberg's All in One is a skinning knife meant for the outdoor enthusiast. As its name suggests, this knife isn't limited to skinning only — whether you're using it while hunting or not, it aims to meet all your outdoor needs.
Take the blade, for instance. Unlike many skinning knives, this one comes with a gut hook blade and a tanto point.
As for the material, this Mossberg knife has a stainless steel blade.
It also sports a riveted handle, though there's no mention of its material. For carry, Mossberg offers a plastic sheath.
All in all, this can't be described as one of the more excellent options, and this comes down to the choice of materials as well as its overall appearance. All the same, it works well and gets the job done.
While it's among the better deer skinning knives out there, it's also suitable to use on:
However, you should note that it's a hybrid of sorts between a skinning and hunting knife. This may affect its performance, depending on your preferences.
Skinning Knife Comparison Table
Knife
Color
Dimensions
Blade Length
Blade Edge
Weight
Blade Type
Buck 113
Black or Brown
2.38 x 8.5 x 1.5 inches
3.13 inches
Drop point
0.148 kg
Stainless steel
Morakniv Companion
Military green
Anthracite (Gray)
Cyan
Desert tan
Magenta
Navy blue
Orange
9.25 x 1.77 x 1.38 inches
4.1 inches
Drop point
0.12 kg
Stainless steel
Buck 103
Black or brown
6 x 1 x 1 inches
4 inches
Hollow
0.12 kg
Stainless steel
Old Timer
Black
11 x 4 x 3 inches
4 inches
Compound bevel
0.17 kg
440A steel
Mossberg
Green
10.5 x 5 x 1 inches
3.5 inches
Plain
0.1 kg
Stainless steel
Mossy Oak
Brown
11.1 x 2.7 x 1.7 inches
4.5 inches
Gut hook
0.27 kg
3CR13 steel
All You Need to Know Before Buying a Skinning Knife
Before you select a knife, there are several important considerations to make.
Going over the following before your purchase will help ensure you get the best skinning knife to match your needs.
Fixed vs. Folding Blade: Which Type Is Right for Me?
With so many folding blade knives available, one might wonder why people still prefer those with fixed blades.
Fixed blade knives are a better option for several reasons.
First, a fixed blade is less likely to suffer breakage at the pivot point. This makes it more reliable.
Second, folding blade knives have moving parts, and these can easily get jammed by mud or dirt in the great outdoors. Worse still, they can get jammed in the flesh while skinning, compromising performance and wasting precious time.
Which Knife Blade Point Should I Go For?
A skinning knife's blade point is one of its most crucial attributes. That's because the shape of the blade, to a great extent, determines the speed and ease with which you get to cut.
Generally, drop points are best for skinning knives for the following reasons:
They are very precise and easy to control, thanks to the narrowing of the tip. This means fewer mistakes while skinning.
They have a long uninterrupted cutting edge, which allows for the use of the entire blade length.
These blades are ideal for use in tactical or survival situations.
Drop point knives tend to be all-rounded and useful in different contexts.
Going Outdoors? Here Are Other Knives to Carry While Hunting or Field Dressing
As hunting enthusiasts may know, skinning is only one part of the process.
The following other knife types come in handy for different purposes:
Gut hook knife — A gut hook knife serves the purpose of opening an animal and removing its organs. A good blade has a non-slip handle for firmness, and should also have a stainless steel blade for edge retention and sharpness. A handguard is also essential, as it offers protection even when the knife gets slippery.
Boning knife — This version of the traditional hunting knife is adapted for separating the flesh from the bone. A boning knife typically features a narrow blade with great flexibility.
Buck knife — Derived from the renowned brand, "buck knife" is now a generic term to describe a hunting knife that was popularized by Buck Knives. A buck knife usually has a clip-point and is versatile, often serving as a pocket knife.
Camp knife — A camp knife is the most versatile hunting knife. It can be used for various tasks, both while hunting and around camp. Camp knives mostly have larger drop points, like those found on other hunting knives.
Caping knife — Caping is the process of removing the skin from an animal's head and neck, which takes place when the hunter intends to keep the animal's head as a trophy. You can also use these blades for other tasks, despite them being designed specifically for caping.
Hunting knife — The hunting knife is also referred to as a "hunting dagger," and it is meant for hog hunting.
Final Word
Whether you're looking for the best knife for skinning deer or something more versatile, the options reviewed are all you need. The best deer skinning knife overall that checks all the boxes is the 113 Skinner from Buck Knives.
Buck Knives has an extensive range, so regardless of your needs, you can't fail to find a worthy:
Classic knife
Hunting knife
Everyday knife
Fishing knife
For the best affordable knife for skinning, you can't go wrong with the Morakniv Companion.
If you're looking for something more high end, go for the Buck 103 — it's the best premium skinning knife you can get your hands on.
Other KnivesAdvisor guides and reviews you might like:
The Best Survival Knife With A Firestarter: 6 Top Choices in 2023
Gerber's 420HC Steel Knives (6 Popular Folding & Fixed Blades)
3 Best Hog Hunting Knives: 2020 Picks For Hunting Wild Boar
Be sure to check out our blog, as we regularly update it with informative content.
Featured image: Mossberg