Purchasing your first of throwing knives is an exciting experience. In this article, we review some of the best throwing knives for beginners. These are exceptional 3-piece knife sets that are highly rated for both beginner and experienced throwers alike.
We also discuss many important considerations when purchasing a throwing knife set.
These include length, weight, thickness, balance, blade material, blade point, and cost – as well as proper care and maintenance of your throwing knives.
So without further ado, let's get started.
Anatomy of a Throwing Knife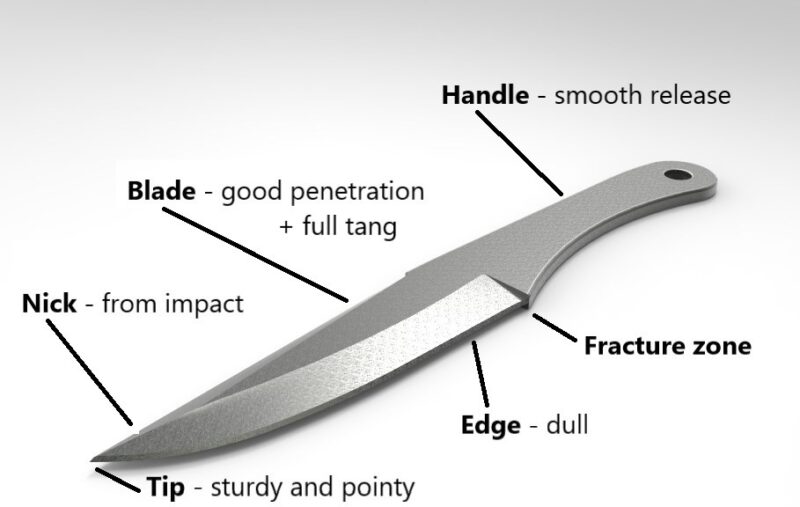 There are several rules of thumb when selecting your first set of throwing knives.
Each knife should:
be sturdy and be specifically made for throwing
weigh at least 200 g (7oz)
have a blunt edge and point tip
have a simple design
are relatively inexpensive, so you can get several

While it is true that you can throw any knife, only a knife that is specifically made for throwing is designed to withstand impact without damage. It is not necessary for throwing knives to be center-balanced. That said, center-balanced knives will result in a more predictable flight.
Another source of confusion for beginner knife throwers is whether the knives need to be sharp. Throwing knives do not actually need to be sharp – a pointy tip is sufficient, as it will still penetrate the wood well.
The best throwing knives for beginners should ideally weight at least 200 grams (7 oz) as this will make them easier to control. Lighter knives have a tendency to wobble in flight and be harder to control.
Focus on a simple design and avoid fancy cut-out designs on either handle or blade. While they may look impressive, chances are they will catch your hand in the release.
Best Throwing Knives for Beginners
At a glance:
---
Features
Overall length: 10 inches
Steel: stainless steel (2Cr13)
Weight: 7oz
Balance: Center
Smith & Wesson makes excellent quality throwing knives geared to beginner to intermediate throwers. About 4mm in thickness, these are excellent starter knives that are sturdy and well-balanced. These are medium weight and easy to throw.
Set of three, and includes a black nylon belt sheath.
A great starter set – one of the best set of throwing knives for beginners we've seen. Smith & Wesson also offers a limited lifetime warranty on these throwers.
This 3-piece knife set is also available in gorgeous black with white S&W branding.
Pros:
Smith & Wesson quality with excellent customer service
Comes with nylon belt sheath
Well-balanced
Sturdy stainless steel construction
Cons:
Some indicate these can snap at the throat with high force
---
Features
Overall length: 9.5 inches
Steel: Full tang stainless steel (3Cr13)
Weight: 5.4oz
Balance: Center
An exceptional throwing knife from SOG, these are made in the US and are of uncompromising quality.
Include paracord-wrapped handles, which is both lightweight and grippy. Wrapping can be removed if desired.
The SOG Fling is well-balanced and designed to accommodate all ranges of throwing styles. A beautiful looking knife backed by a Seattle, WA company that stands behinds their products.
Comes in a set of three, and includes a tough ballistic sheath.
Pros:
SOG reliability (producing knives since 1986) with excellent customer service
Paracord-wrapped (which is removable)
Comes with ballistic sheath
Well-balanced
Sturdy stainless steel construction
Cons:
Some indicate these can snap at the throat with high force
---
Features
Overall length: 8 inches
Steel: stainless steel
Weight: 8oz
Balance: Center to slightly blade heavy
A great starter set of throwers, the PerfectPoint gets great reviews despite the fact that they are relatively inexpensive. Not professional throwers, but delivers solid performance and can really be abused. Reviews have reported no bends or breaks after 50 throws. Great backup throwers.
The spider decoration is a nice touch.
Like other throwers reviewed, these comes in a set of three, and includes a black nylon sheath. Some of the best throwing knives for beginners in its price range.
Pros:
Relatively inexpensive, good for beginners
Attractive styling and spider decoration
Cons:
Some claim these are not center-balanced
Unlike other knives reviewed here, these are not symmetrical in shape
Black color can make these hard to locate in the field
---
Features:
Overall length: 10 inches
Steel: Full tang stainless steel (3CR13)
Weight: 8.7oz
Balance: Center
Another exceptional set of started throwers, these full-tang SCZO throwers can withstand a beating. Reviews love the simple, no nonsense design and reliability of these knives.
These measure 10 inches in overall length, with a 2.75-inch spear-point head and a 7.25-inch body. Like the Smith & Wessons, these are approximately 4mm thick at the base.
Reviewers also appreciate that the blades are full tang spear-points with a double-edged blade head.
The SCZO's feature an ergonomically shaped handle for a no-slip grip for safety and efficiency. Very well-balanced throwing sport knife made to withstand long term use. Competition worthy set of throwers.
These comes in a set of three, and includes a black nylon sheath.
Pros:
Spear point design with double-edged blade
Durable and good value for the money
No-nonsense, symmetrical design
Cons:
Not a well-known brand despite being super reliable
---
Features:
Overall length: 8.5 inches
Steel: Stainless
Weight: 3.4oz
Balance: Handle-heavy when wrapped
They are quite inexpensive for a set of 12 (6 silver, 6 black). Yes, that does mean the knives are a bit flimsy and you will have some broken tips (buy a file to fix this!). But you won't mind so much since the knives are so inexpensive.
Despite their lower cost, these are actually good throwers! The lighter weight and size makes them less intimidating for newbies. They are smooth and balanced, so are fairly easy to stick. You can even use them for rotational, but no-spin really works better.
Note that these are quite light. You may want to wrap the handle to add some more weight. Otherwise the knives will bounce back instead of stick. Once you take the time to wrap them (which is very easy), some found that the knives stick better.
Don't throw them unwrapped! They can bounce back quite aggressively, make a lot of noise, and be prone to tip breakage.
If you're starting out, this set offers great value – some of the best throwing knives for beginners we've seen in terms of value. Just know that these are not professional throwers.
Pros:
Exceptional value – 12 knives in one
Sturdy stainless steel
Curved wide ergonomic handle
Cons:
Imported (not made in USA)
May not last as long as more expensive knives
Some people find the sheath awkward
---
How to Choose a Throwing Knife
There are several considerations when choosing a throwing knife or knife set. While not an exhaustive list, the following list will help you get started.
Length
In general, the bigger the knife the better. Small knives tend to have insufficient weight to gather enough momentum, and ultimately tick to a target. We recommend that your throwing knife of choice is no shorter than 8-10 inches for safety.
If you go for smaller knives, keep in mind that they're more likely to ricochet off the target. This presents a safety issue, as they can either hit you or another object or person within its vicinity.
Professional knife-throwers often opt for knives as long as 13 inches. It is generally easier to grip longer knives, and they result in a slower spin rate when thrown.
Weight
In general, heavy throwing knives are more stable in flight. More weight means more mass, and this transletes into more inertia. With increased inertia, you can make small mistakes without influencing the flight.
However, not everybody has the strength needed to throw a heavy knife accurately. Knife throwing organizations typically recommend starting with a lighter throwing knife to first develop feel. Once skills and strength improve, switching to heavier knives is easy.
The best throwing knives for beginners should be around 200g (~7.5 oz.). Lighter knives (or "floaters") are harder to control and often bounce back from the target at random. Lighter knives also have a lower rate of penetration. This makes them less than ideal if your goal is to stick to a target.
For longer distances, such as 5m (~15 ft) or more, consider throwing a knife that weights at least 250g (~ 9 oz.). However, you'll quickly notice how much heavier these knives can get. Once your throwing knife weights 400g (~14 oz.) or more, you may actually have a hard time reaching your target. This is when arm exercises and overall training can help to ensure you have the strength required.
When selecting a knife, the following guide helps ensure you get the right weight for your knife:
1 inch of knife length = 1 – 1.25oz in weight.
For example, the ideal weight range of a 10″ throwing knife would be approximately 10-10.25 oz. This is a good rule of thumb, but not an exact science. The final weight is subjective, as the preferences of all throwers are all different.
Thickness
The thicker the knife, the more difficult it will be to stick in the target. Knives that are too thin will likely lack sufficient weight to main inertia in flight.
We recommend knives with a minimum thickness of 3/16 inches. While not set in stone, this is a good guideline to ensure your knives are sturdy enough to withstand repeated throwing.
Point
Contrary to what you may think, a good throwing knife should not necessarily have a sharp blade. The knife only needs a sharp point. There are several reasons for this.
First, if the knife edge is sharp you could easily injure yourself while handling the knife.
Second, if a knife does bounce off the target (which is more common that you might think), it could be extremely dangerous for both you and your spectators.
Third, throwing knives will not necessarily stick better if they have sharp blades. It's really all about the point. If a knife is thrown properly such that the pointy tip reaches the target first, it will stick to the target – blade sharpness is not as important as the quality of the point and throwing technique.
Forth, sharp blades are difficult to fix if you put a dent into the edge through impact with another knife or hard object. This will most likely happen during your throwing practice.
And finally, for those who like to add wrapping to improve the grip of their knives, this is only possible if the edge is blunt.
For beginners, we recommend avoiding thick tips as they require more force to enter the wood target. If you find that when the knife reaches the target point first, and then drops down, it's likely because the tip is too fat. Knives with needle points should also be avoided, as these tend to snap.
For stability and penetration power, the perfect knife point starts from a sturdy blunt blade and get smaller and flatter towards the point. Also, ensure that the point of your throwing knife is double-sided. If a knife has a thick back that does not flatten at the tip, it will be harder to get the knife to stick.
Interestingly, some competitive throwers actually grind the point a little since it does not need not be razor-sharp. It only needs to be sharp enough to penetrate targets during competition.
Simplicity
If you're just starting out, opt for knives that are simple in design.
Where possible, avoid purchasing knives with ornamental features, cutouts, or skeletonized parts. These will likely not be as strong. They can be distracting and may throw off your grip and technique. And while exceptions do exist, these types of throwing knives are generally designed to sell well – not to throw well.
What about cord-wrapped? Our preference is to avoid throwing knives with handles wrapped in paracord and other cordage types. At first glance, paracord wrapping seems like a nice touch for your throwing knife. But eventually, it will get sliced as knives hit each other at the target. It could also unravel when you least expect it.
Ultimately, it's the thrower's preference. But when it comes to the best throwing knives for beginners, we recommend keeping things simple.
Set Number
When knife throwing, it's best to own multiple knives of the same type. Many manufacturers now sell throwing knife sets as a 3-pack. Larger 6- or even 12-pack sets are available as well.
Owning multiple throwing knives makes practicing much more efficient. With multiple knives, you can continue to throw them at the target without having to stop and collect a single knife every time. This makes training much more efficient. It's easier to get a feel for the throwing motion when you can repeat it quickly. It also helps you develop muscle memory to ensure good throw consistency.
Having multiple knives also allows you to adjust faster and improve your technique more quickly.
In competitions, you are expected to bring three throwing knives. This is to ensure that throwing events proceed efficiently.
Having multiple knives is key to keeping the momentum going. If six knives breaks your budget, start out with a set of three. Three is the minimum amount you need to ensure adequate progress.
Knife Material
Let's face it – throwing knives take a beating. Most throwing knives on the market these days are made of steel, which offers both strength and corrosion resistance. The best throwing knives for beginners will likely start out as stainless steel.
While steel is an excellent material, no blade material on the market is perfect. Two things that will turn a good throwing knife into a fancy paperweight – point abuse and rust.
If rust in your primary concern, opt for a knife with a stainless steel blade as the high chromium content will provide good rust resistance.
If your primary concern is maintaining a sharp point, opt for steel with high carbon content. This material can help retain sharpness for a while; however, without constant maintenance they are prone to rusting.
While light rust can be removed using a metal polish paste such as Flitz Polish Paste, deep rust will ultimately render the knife useless.
Throwing knives also should be full tang. That is, the blade material should extend through the length of the knife into the handle. Full tang adds the most amount of steel into the knife's handle, making it less likely to bend or fail while in use. It also improves balance.
Balance
Generally speaking, a throwing knife will spin around its center of mass. For example, a 10" knife that is center-balanced will make a 5" radius or a 10" circle when thrown.
Handle-heavy knives are easier to throw using the blade, while blade-heavy knives are easier to throw when gripping the handles. With a center-balanced knife, you can throw it using either method with good success.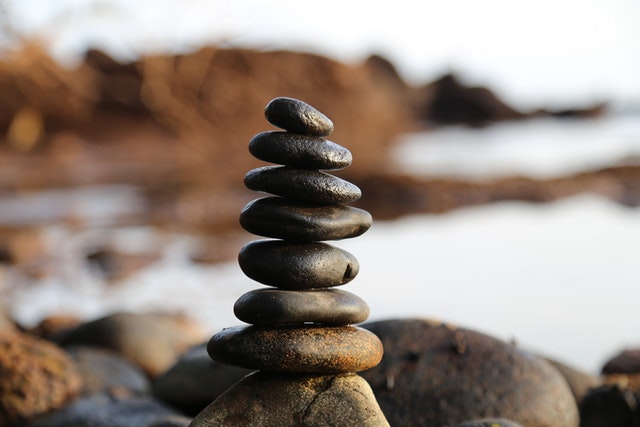 Ideally, you should stick with the same brand and knife style once you find one that works for you. Transitioning to a different knife will take time to get used to and require constant adjustments. This is particularly true if you switch from an off-balanced throwing knife to a center-balanced knife.
If a friend gives you a throwing knife that is not center balanced, just remember the golden rule: grip the lighter end!
Cost
Odds are you will go through several knives, so cost can be an issue. The sets reviewed above all provide exceptional value for the money. The best throwing knives for beginners are also reasonably priced. In general, expect to pay anywhere from $15 to $30 for a solid starter set of 3 throwers.
When first starting out in the sport of knife throwing, it makes little sense to purchase a high-end set. Like any sport, we recommend starting with an inexpensive set. Once your skill level has improved (even to the point where you may want to consider competitive throwing), update to more expensive set.
Knife Maintenance
If you want your knives to last, it is important to care for them. After each practive session, scrub the knives clean with a wet rag to remove dirt and other particulate. Then sinse with warm water and let dry. Before storing the knives, they must be absolutely dry. Properly caring for your knives in this manner will keep ythem rust free.
If you store your knives wet, still dirty, or if left outside they will develop rust. Light rust can usually be removed using a metal polish paste such as Flitz Polish Paste. This is a multi-purpose cleaner that can be used on stainless steel and other metal surfaces to remove rust oxidation, tarnish, water stains, and other marks.
---
If you really want to pamper your knife, consider coating it with a thin film of protective oil specifically formulated for knives. An excellent product is Ballistol, a multi-purpose oil for knives as well as for firearms and tools. Be sure to always rub it off prior to throwing or the knives will be slippery.
---
Unfortunately, collisions with other throwing knives, hardware on the target assembly and/or rocks on the ground will occur. And this may lead to small nicks on the blade. Be sure to fix these prior to throwing, or you run the risk of cutting your skin during release. Luckily, it's fairly simple to repair notches. Simply secure your throwing knife in a vise, and then use a metal file to smooth the nick.
If the knife is slightly bent, you can place it across two bricks and stand on it until it is straight again.
Due to the abuse that throwing knives take, proper care and maintenance will only take you so far. At some point, it may be necessary to replace your throwers all together.
Transporting Your Knives
Sheaths are used primarily to carry your knives to the throwing area. Once there, you can hold them in your hands.
In most cases, the sheath that comes with your purchased knife set will be sufficient. The sheath should be sewn tight enough (or come with a snap-fastener or loop) to ensure that the knives will stay secure. They are typically constructed of a durable "ballistic" nylon, and some may be designed to be worn with a belt. A leg string or cord can come in handy to prevent your knives from hitting your thigh when walking.
You can also make your own sheath or purchase one. Either way, sheaths are important to not only protect your throwing knives when not in use and keep them away from kids.
Best Throwing Knives for Beginners – Final Words
Knife throwing is an adrenaline-inducing sport and is tremendous fun. Purchasing your first of throwing knives is the first step along this journey.
In this article, we reviewed some of the best knife throwing sets for beginners. We also discussed some of the key considerations when selecting your first set of knives.
To make sure you purchase a quality set of knives that can withstanding repeated throwing, look for the following::
Full tang: This is important, otherwise the handle will snap off after a few throws.
Avoid perforations/cutouts/skeletonized parts: These features often make the knives sell better, not perform better. These will also make the blade weaker. Keep it simple and you'll be happier in the long run.
Carbon steel: When possible, opt for carbon steel as they withstand throwing better than stainless steel. Plus, if carbon bends simply hammer it back into shape.
Minimum thickness: A minimum thickness of 3/16 inches is recommended to ensure your knives are strong enough to withstand repeated throwing
Minimum length: A minimum length of 8-10 inches is recommended for safety and sufficient momentum. Smaller knives tend to ricochet more often.
3 or more. Buying a single throwing knife makes little sense. Look for sets with a minimum of 3 knives to maintain throwing continuity and to replace as needed.
Already purchased a set of throwing knives and eager to get started? Check out our list of knife throwing clubs in your area, and get involved in a knife throwing association.