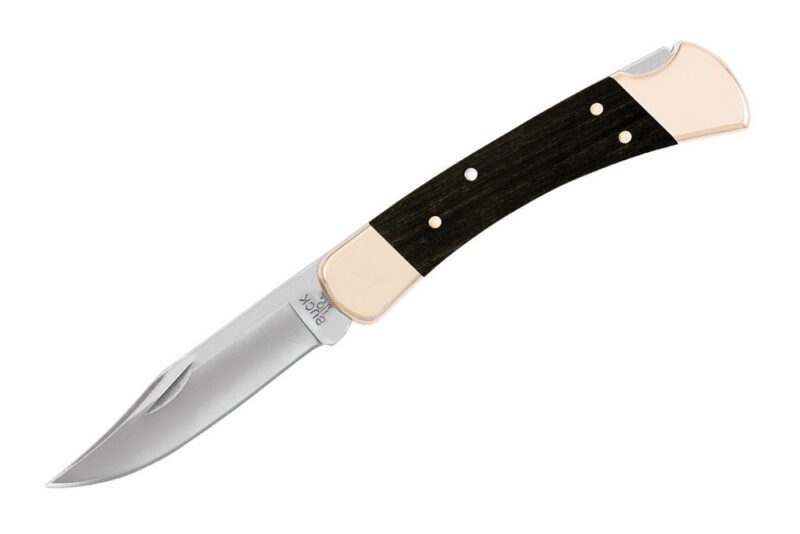 For the past 50 years, the Buck 110 has held it's place as one of the most popular folding hunters of all time. It's a great knife, and for good reason.
Like any knife though, it can't be perfect in every situation. Whether you find it too heavy, too outdated, or too fiddly to open — this article will help you find an alternative. Today we're taking a look at several alternatives to Buck's classic Folding Hunter. Read on for some Buck 110 alternatives.
We'll go through the strengths & weaknesses of the 110, and find other options to suit various needs, budgets, and preferences.
Let's get started!
At a glance:
Choose Buck's own 110 Slim Pro for a one-hand open with better steel, and lighter weight vs the original 110.
Buck also have a very affordable 110 LT that is lighter & cheaper, using a nylon handle instead of ebony
Criteria for finding great Buck 110 alternatives
If you're specifically searching for knives like the Buck 110, then I can draw some assumptions about roughly what you're looking for.
Clearly the Buck 110 isn't perfect in every situation (hence why you're here), but it does have some strengths that you'd probably like to see:
It's from a reputable USA brand
It's a proven model over many decades
It's strong, simple, and reliable
It's suitable as an EDC (well, debatably)
It's also not the cheapest folder on the market, so I'll include a couple of lower priced options too.
Why look for Buck 110 alternatives?
To recommend good alternatives, we need to establish where/when the Buck 110 isn't the best fit. Scenarios in which you might prefer something else.
Speed is not a strength
Some think the design is outdated
420HC steel is good, but there's higher quality out there
Some think it's a bit too heavy for pocket carry
Other than that, as always, there's simply personal preferences, and your specific needs.
It might be that you're looking for a different steel, something longer, shorter, lighter, tougher, etc. — I'll try to cover as many bases as possible.
5 Alternatives to the Buck 110
Here's the recommendations. Depending on your desired use case & budget, these are 5 options to consider picking up.
1. Buck's own modern alternative: 110 Slim Pro
Before we go any further, consider the Slim Pro. It's newer, and solves a lot of the drawbacks from the original 110.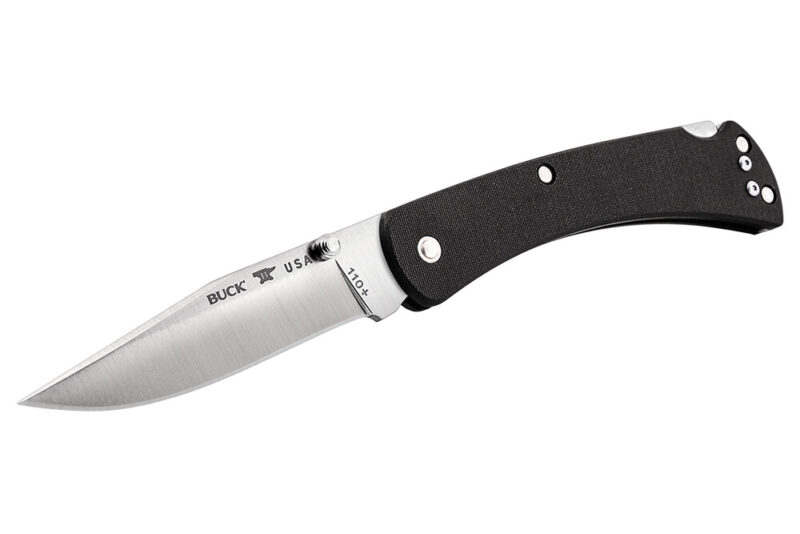 The Slim Pro is more expensive, but it has a better handle, better steel, and it's lighter. For $99, it's such a good purchase that will last for many many years.
And, it can be opened with one hand! A big tick for lockback fans who find that frustrating.
In my opinion (which is shared by many others), it's the first place to look if you like the 110 but found it too heavy or fiddly.
The blade length is nearly identical, and the weight is around half (3.4oz for the Slim Pro).
And of course, it still has Buck's legendary heat treatment & lifetime warranty. Always a safe bet. In terms of Buck 110 alternative, the Buck 110 Slim Pro is an obvious choice.
Buck 110 vs Buck 110 Slim Pro: key differences
In relation to the original Buck 110, the Slim Pro:
Costs more
Has a grippier handle (g10 or micarta)
Uses better (S30V) steel
Is lighter & thinner
The Case Hammerhead is a similar folding knife, with arguably a more modern design, and a lighter total weight.

The Hammerhead weighs in at 3.53oz, which is around half the weight of the Buck 110. It's still not the lightest around, and is slightly less powerful than the 110 overall, but does have an impressive weight-to-power ratio considering.
If you like the 110 but find it too heavy for daily pocket carrying, this could be a great choice.
The blade length is around 3.5″, which is a tiny bit shorter than the 110, but very similar.
It's made in the USA, and opens very smoothly.
One point of note is that the sheath is quite large. With the 110, you'll find it's a more 'snug' fit in the sheath, whereas with the Hammerhead there might be a little wiggle room.
Case Hammerhead vs Buck 110: key differences
In relation to the 110, the Hammerhead is:
A little more expensive
A lot lighter overall
Similar in blade length, but slightly shorter
Arguably a nicer design/appearance
3. Budget alternative: Buck 110 LT
Buck themselves make a smaller/lighter version of the 110 called the LT. It's worth considering if your main motivators are weight and/or price.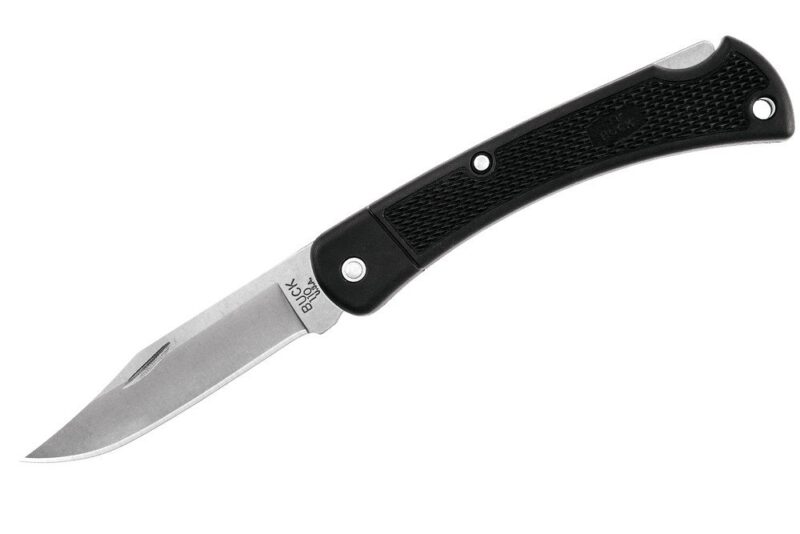 The LT could have fallen into either category (cheaper, or lighter), as it is both. Either way, it's a worthwhile consideration for a 110 alternative.
The big difference here is that the ebony handle has been swapped for a nylon handle, which brings the weight way down to 3.2oz. Even the the handle might feel 'cheaper' in some ways, you'll probably find it's actually grippier.
Other than that, the blades are quite similar. All dimensions e.g. blade length & thickness are identical, and both use 420HC steel.
Overall it's a slightly less robust version of the 110, but it comes in a lot cheaper, and nothing made by Buck is going to fall apart easy.
Buck 110 vs Buck 110 LT: key differences
In relation to the 110, the 110 LT:
Is cheaper
Is lighter
Has a nylon handle instead of ebony
Going in the other direction in terms of price, we have an impressive piece by Benchmade. A great knife, with a beautiful modern design.

If you're looking for either something with a higher quality steel, or something with a more modern-looking design, the Crooked River might suit you well.
It uses US-made S30V steel, which retains an edge longer than 420HC, and is generally regarded as higher quality all-round.
The locking mechanism is different, with the Crooked River using an axis locking mechanism. For some people losing the 110's lockback might be a big deal, but ultimately, I think you can't go wrong with the strength and slickness of axis locks.
The Crooked River is a similar blade length, but slightly shorter at 3.4″. It's also less than half the weight at 3.29oz, which solves the heaviness issue for pocket carry again.
Priced at over $200, it's a big step up in budget, so it's up to you whether or not that's worth it. That being said, I think you'll struggle to find many people who regretted buying a Crooked River.
Benchmade Crooked River vs Buck 110: key differences
In relation to the Buck 110, the Crooked River:
Is much more expensive
Has an axis lock (instead of a lockback mechanism)
Uses a higher quality steel (S30V)
Has a slightly shorter blade
Is less than half the weight
5. A cheaper non-Buck alternative: Kershaw Clash
So far, the only budget option we've looked at is the 110 LT. Let's look outside Buck; something a little different this time.

The Kershaw Clash is a very popular budget knife priced under $40. It has a cool black oxide finish, and a serrated edge.
It's not quite as tough overall as the 110, but the value for money on offer here is great.
The blade length is shorter than the 110 at 3.1″, with an even shorter cutting area due to the serration. The addition of serration could be a pro or a con, depending on your needs.
A few other points of note:
It's lighter than the 110 at just over 4oz, but heavier than many options above, including the 110 LT

It does not use USA-made steel, in case that matters to you.

It's worth noting that the clip isn't reversible for left-handers.
Buck 110 vs Kershaw Clash: key differences
In relation to the 110, the Kershaw Clash :
Adds a serrated edge
Is cheaper
Lacks Buck's heat treatment & lifetime guarantee
Does not use USA-made steel
That's all, folks
Whatever your reason for seeking out a knife similar to the Buck 110, I hope you've found something that fits the bill here.
Chances are you'll have to weigh up and compromise on either price or features. In a ton of cases, simply going with either the LT or the Slim Pro will be a good choice. Buck have done a great job in that regard, listening to their customers and providing solutions.
If they're no good, look to brands like Benchmade for premium options, and Kershaw for cheaper folders.