When it comes to outdoor bushcraft and survival knives a few brands always rise to the top. Especially when it comes to top quality, you can always expect to see offerings from ESEE and Ontario, and with the latter, specifically their RAT range.
Both brands have a wide selection of different knives, but today we're looking in the 5″ range – the perfect fixed blade size to help you overcome pretty much any task when out in the wild!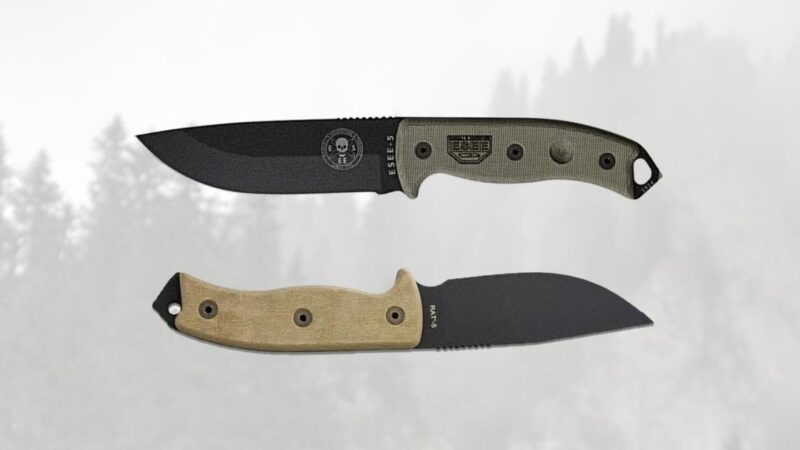 Specifically, we're going to put the ESEE-5 and the Ontario RAT-5 up against eachother to help you find out which knife may be better for you!
Both ranges have a number of models, so we're going to directly compare the standard ESEE-5P & Ontario RAT-5 models.
Haven't got time for a full review? Here's the short version:
If you need a large, strong, high quality knife for taking on any outdoor task, go for the ESEE-5.
If you're looking for a knife on a budget, the Ontario RAT-5 will give you everything to get started without breaking the bank.
Now, let's get started with the full review!
ESEE-5 vs RAT-5 – Key Comparisons
By comparing the knives side-by-side, you'll notice how similar they look. Both knives are great 5″ survival tools but it's when you look into them in greater detail that the differences can be seen!
With a blade length of 5.25″ contributing to a nice 11″ overall size, this is a sturdy, fixed blade knife capable of holding it's own during most outdoor tasks.
Throw in the fact it also weighs 16oz and has a chunky 0.25″ blade, you can see why ESEE brand this as a "hard-use downed pilot's survival knife." The ESEE-5 is a great all rounder and is perfect for big tasks such as wood cutting.
The finish of the Micarta handle, the large handle pommel and the inclusion of a Black Kydex Sheath round off a knife that puts high quality and performance right at it's core.
The RAT-5 comes in slightly shorter at an overall length of 10.5″ which also translates into a slightly shorter 5″ blade. That smaller size has a huge impact on the weight. At just 11.5oz, you can use the RAT-5 for extended periods and not worry so much about fatigue.
The 0.188″ thick blade is comprised of 1095 Carbon Steel ensuring it's durable whilst providing great cutting performance. A Micarta handle and a MOLLE compatible Nylon sheath round off the package meaning you have everything you need to get started!
It doesn't have the same gloss and glamour as the ESEE, but it has everything you need and will be a great companion when heading outdoors.
Key Comparisons – Verdict
Both knives offer a fantastic experience at the 5″ range with both sure to handle every task you'll face either at the campsite or in a survival situation.
The key difference comes in the quality and finish of the knives and subsequently, their cost. The ESEE-5 is a top quality knife with the highly refined finish the brand are known for evident here. The RAT-5 is fundementally the same knife without the polish – it's great either as a first knife or if you're on a tighter budget!
"Both knives are great…the finish of an ESEE is always going to be better, so if you can afford the extra go for that."
That's the high level, but let's break each knife down in a bit more detail!
Side-By-Side Specs – ESEE-5 vs RAT-5
| | | |
| --- | --- | --- |
| | ESEE 5P Black Tactical Survival | Ontario Knife Company 8667 Rat-5 |
| | | |
| Overall Length (") | 11 | 10.5 |
| Blade Length (") | 5.25 | 5 |
| Weight (Oz) | 16 | 11.5 |
| Blade Thickness (") | 0.25 | 0.188 |
| Grind Type | Saber | Full Flat Taper |
| Best For | High quality all rounder for robust tasks | Value all rounder slightly better for slender tasks |
| Steel | 1095 Carbon, 55-57 Rc | 1095 Carbon |
| Sheath | Kydex | Nylon Molded |
| Manufactured | Made in the USA | Made in the USA |
The ESEE-5 forms part of ESEE's core range of knives and is the perfect all rounder when finding yourself in any outdoor/survival type situation. Designed by SERE instructors for SERE instructors, this knife really is tried and tested at the highest level.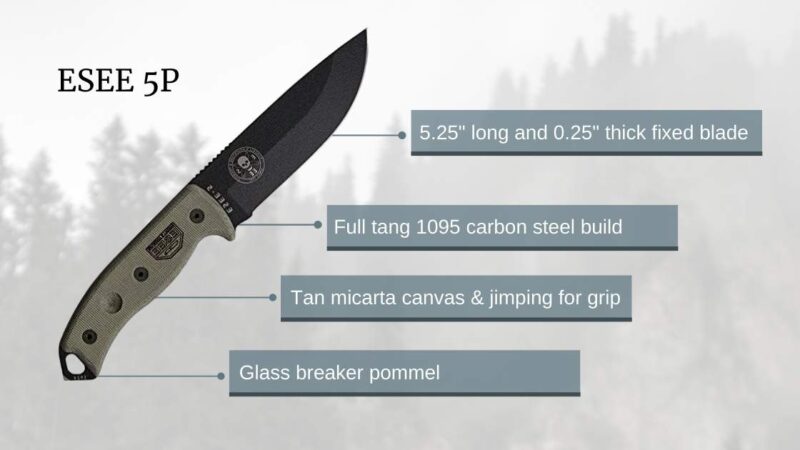 Specs wise, it comes in at an overall length of 11″ with 5.25″ of that comprising of the blade itself. At 0.25″, it's the thickness of the blade which makes this knife so hardy and perfect for heavy tasks such as chopping or batoning.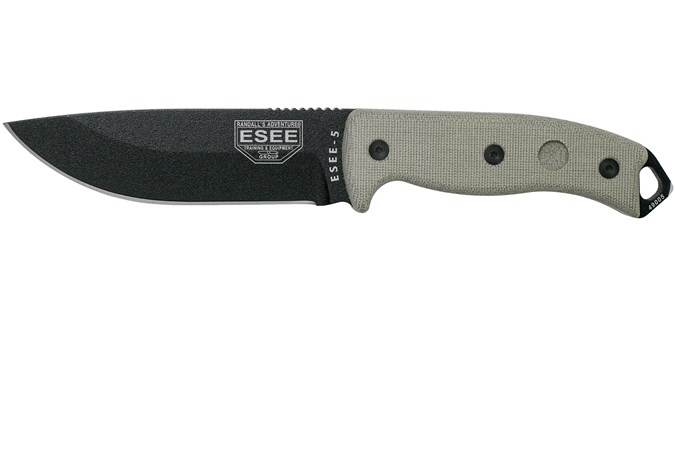 The high quality build of the ESEE brand comes through again here with reviewers often commenting on how nice the Micarta handle feels to use. It comes with a Kydex sheath (known as one of the best sheaths you can get anywhere) which can be belt or MOLLE mounted.
All ESEE knives are made in the USA and come with a 100% unconditional lifetime guarantee. If your ESEE knife should ever break, they will repair or replace it at anytime.
Price wise you'll find an ESEE-5 anywhere around the $180 mark as an MSRP, but keep an eye out for the many sales that bring the price down by $15 or so! You pay for what you get here, a higher price get's you a high quality knife!
The sheer size of that blade make the ESEE-5 a really hardy and heavy duty survival knife which will have no problems with tasks such as chopping wood or batoning.
The RAT range is by far and away Ontario's most popular and best selling set of knives with fans loving the fantastic value for money every knife in the range brings. The RAT-5 is no different and is a firm favourite in the 5″ market.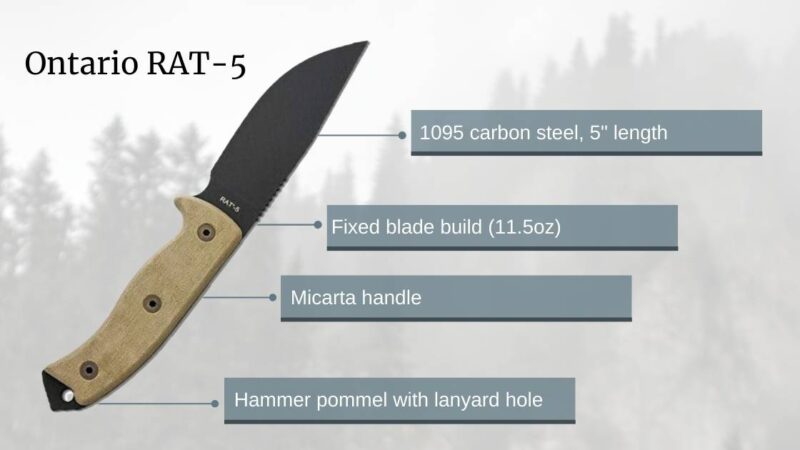 Coming in at an overall length of 10.5″, it's slightly shorter than the ESEE with the reduction in length also bringing the blade length in a little, down to 5″. The blade real estate does get squeezed a little further here too thanks to the sizeable choil, but does bring some addition versatility in its use.
The key benefit of smaller size is always a reduction in weight, and the RAT-5 comes in at a super-light 11.5oz. When that's combined with the 0.188″ blade thickness, you get a large knife that boasts a tactile performance, holding up well for smaller tasks such as slicing or carving.
The knife sports a Micarta handle, utilises 1095 Carbon Steel and comes with a Nylon sheath that can be belt or MOLLE mounted. It's fair to say that the quality of finish isn't as high as the ESEE, but all round does the job you'll need it too.
The real selling point of this knife is the price. At around $75, you're getting a very similar overall product but at nearly half the price. Yes it isn't as finely tunedas the ESEE, but for those on a budget, or who are looking for a first 5″ knife, the RAT-5 offers fantastic value!
If you're stuck on deciding between the ESEE and the RAT, how about an alternative? This knife comes from another great brand in KA-BAR and this time it's the BK2 model.
The BK range all have more of a combat/military feel about them, but be rest assured, they're great for all outdoor situations. At 10.6″ overall, the BK2 sits right in between the ESEE and the RAT., with the 5.2″ blade striking a similar in between specification.
The blade is made from 1095 Cro Van carbon steel and at 0.3″ thick, it's the chunkiest we've seen of the 3 knives. The handle is made from high quality Zytel and comes equipped with a hard shell black nylon sheath.
Again the BK2 strikes a great balance when it comes to price, sitting between the two models at $90. For this you get a great all round knife, with a high quality finish and an all-black combat look and feel.
So if you're stuck between the ESEE and the RAT and want something that mixes great quality and a reasonable price, the BK2 from KA-BAR is a great alternative.
Summary – ESEE-5 vs RAT-5
Both the ESEE-5 and RAT-5 are great choices for versatile and robust outdoor survival knives. When chosing between them it's going to be the age old decision of quality vs price.
If you're looking for a high spec all rounder, the ESEE-5 is the best knife but you pay the extra money for the premium handle and sheath combination. If you're on a budget, or this is your first 5″ knife, the RAT-5 is a fantastic knife at a bargain price!
We'll finish up with a quote from a knife fan on a popular forum when asked their opinion on the ESEE-5 vs RAT-5 debate:
"Both knives are great…the finish of an ESEE is always going to be better, so if you can afford the extra go for that."