Buck Knives has been around for a very long time. Hoyt Buck produced the first Buck knife in 1902, in fact. Over the last 100+ years, Buck have gained tremendous experience and mastery in knife-craft and innovation. From pocket knives to survival knives, Buck has a wide array of knives and tools to meet all outdoorsmen's needs. Here, we provide a Buck knives review.
In this article, we'll go deep on a Buck knives review including some of their most popular products. But to start off with… One of the most common questions I hear when Buck is being discussed:
Are Buck products actually good, or do you pay more for the brand?
In my opinion, yes they are worth the money. Most of their products are still made in the USA, and these are great quality. Others are now made in China these days (for example the 325 Colleague Knife), but they naturally come with a lower price tag which makes the value-for-money still pretty good.
By and large though, a Buck Knife is a safe bet — it'll come with their legendary heat treatments & lifetime warranties — which makes them a safe bet for whichever type of knife you're looking for. I regularly recommend them on this site.
So with that out of the way, let's go through a thorough Buck knives review. We highlight some of their popular products for different use-cases.
11 Buck Knives Reviewed
At a glance:
Buck 110 – A Classic Folding Hunter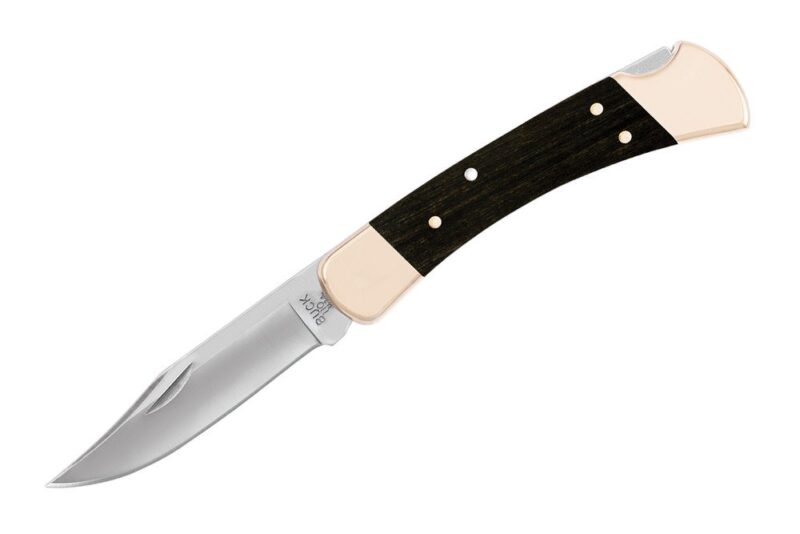 Features
Buck heat-treated 420HC stainless steel
3 3/4-inch folding clip point blade
Genuine ebony hardwood handle
Protective leather sheath
The Buck 110 classic may just been on of the most popular knives of all time; it has been seen in movies and tv shows, and was responsible for huge growth in Buck's brand in the 1960's.
How's the Blade?
Buck makes use of the reliable 420HC stainless steel heat-treated with their signature heat treatment method. This gives the knife ample corrosion resistance while having longer edge retention due to the increased carbon and heat-tempering it undergoes.
Technically the Buck 110 folding hunter is by all accounts still considered to be a traditional hunting knife.
The Buck 110 Classic also employs a 3 3/4-inch folding clip point, which keeps the edge tip narrow for easy piercing while its curved belly makes slicing and cutting smoother.
The Buck 110 also benefits from being a folding knife, with the knife body featuring a nail notch for easy knife operation.
For safety, the knife uses a locking mechanism to keep the knife in place when in use. The knife also comes with a genuine leather carrying case to protect it when not in use.
How's the Hold?
One of the most iconic features of this classic knife is how it uses a polished ebony hardwood handle, which is inlaid at both ends with genuine brass bolsters.
Each one of these high-quality handles will feature slight variations due to the natural wood used, so each knife ends up truly unique.
The Buck 110 Classic is Buck's staple folding knife, perfect for a gift to a loved one (or as a gift to yourself, if you know what I mean). Despite being traditional, its design doesn't render it an ornament as the knife continues to be as razor-sharp and tough as the day it was first crafted. This is why the Buck 110 remains the best overall Buck knife for us.
Pros:
Tough folding blade with lock
Unique ebony hardwood handle
Genuine brass bolsters
Cons:
Tiny bit large to be an EDC for most people
Buck 119 Special – A beautiful, reliable fixed blade hunter
Features
Buck heat-treated 420HC stainless steel
6-inch classic clip point blade
Phenolic Molded Grip
Tough black leather sheath
Buck continues to be one of the best brands to seek out when in the market for traditional yet functioning fixed blade knives. Beyond the Buck 110 Classic, they reissued one other high-quality design in the Buck 119 Special hunting knife.
How's the Blade?
The Buck 119 Special is, by all accounts, a beautiful, well-crafted fixed blade knife. It makes use of the same sturdy Buck 420HC heat-treated stainless steel, as well as a classic hunting fixed blade 6-inch clip point.
How's the Hold?
The Buck 119 Special makes use of a phenolic molded grip. You'll find that whether field-dressing or other bushcraft, working with this hunting knife won't let you down.
If you're up to it, you can even choose a more premium handle, one in a Buck Cocobolo wood. At a small increase in price, you can have a high-quality polished wooden handle, and brass bolsters as well. From knife to hilt, you'll see the quality and care Buck poured on this knife.
You can find our in-depth review of this classic knife in a recent article here.
Pros:
Maneuverable mid-size clip point hunting knife
Classic hunting knife design
Has higher premium options
Cons:
The handle can get slippery when wet (without gloves)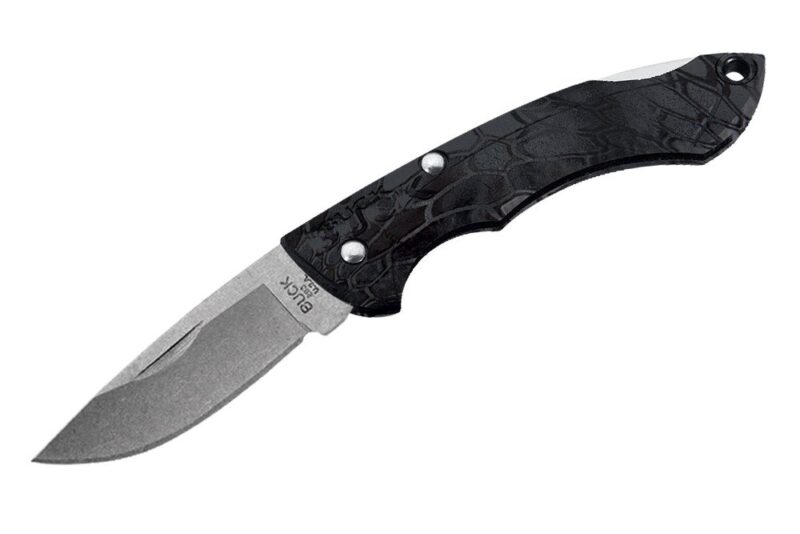 Features
Buck heat-treated 420HC stainless steel
1 7/8-inch drop point blade
Molded and textured nylon handle
Small, lightweight
There are times when you need a sharp tool by your side, but you're not necessarily keen on bringing a full 5 to 6-inch knife with you everywhere you go.
As you may have guessed with the name of this knife, the Buck 283 Nano Bantam is your choice for a compact, lightweight everyday carry knife.
How's the Blade?
The 283 Nano Bantam makes use of the hardy Buck heat-treated 420HC stainless steel. The increased carbon content ensures your knife stays razor-sharp with its treated blade helping edge retention last longer.
The small but sturdy 1 7/8-inch drop point blade differs from clip points as it is generally thicker throughout the whole body.
A thicker edge keeps its sharpness longer and can handle tougher materials than the average knives you may be used to.
It has a nail notch similar to the 110 Classic, keeping it relatively simple to use with a locking mechanism to keep the blade knife in place when cutting and piercing items. Use it for your packages, envelopes, or even on the campsite if you find yourself without a whittling knife.
How's the Hold?
The handle makes use of a lightweight molded nylon, textured and grooved to your fingers for better grip. With the blade knife retracted, this knife's overall length comes in at just 3 inches and weighs 0.6 ounces, lighter than even your car keys.
Clip this to your bag, your belt, or as mentioned, even your house keys. The Buck 283 Nano Bantam is by all accounts nano in everything but performance.
Pros:
Small, lightweight, and compact
Tough blade retains edge longer
Attachable to various key rings
Cons:
Although made in the USA, parts are imported
Will 'feel' lower quality than other models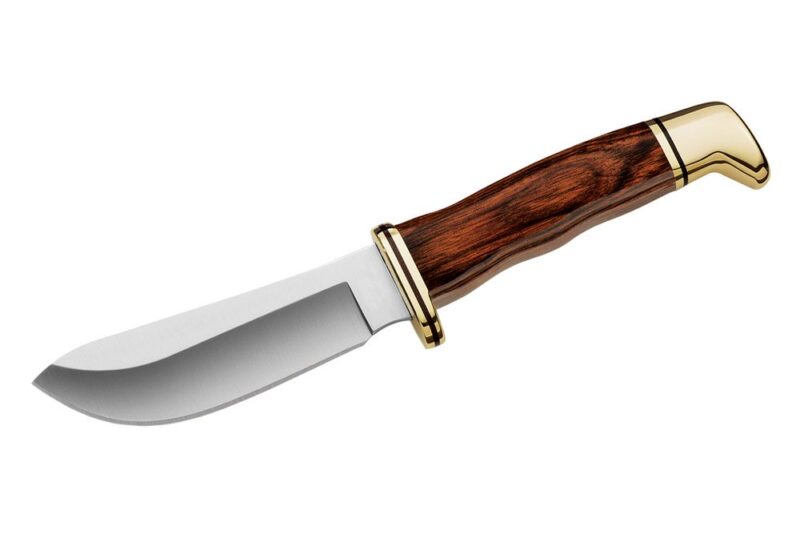 Features:
Buck heat-treated 420HC stainless steel
4-inch wide skinner blade
Hardwood Cocobolo handle (or phenolic)
Nice leather sheath included
Any experienced hunter knows the importance of field-dressing. A way to keep your meat fresh, away from infesting flies, along with use or remove any unwanted parts during your hunting trip.
As you might expect, Buck Knives have several great options for skinning knives, and this is one of them — aptly named the 103 Skinner fixed blade hunting knife.
It's the perfect size for deer, yet not too big for small game.
How's the Blade?
The Buck 103 Skinner makes use of the standard 420HC stainless steel, which has corrosion resistance that comes especially important when cutting fresh meat and exposing the blade to blood regularly.
One thing to note is you will need to clean and maintain your blade after every hunting game as you don't want the blood to dull the blade when it dries.
Maintenance is key regardless of blade material, as the one thing that can stop a blade from dulling is proper care. Luckily, the 420HC stainless steel is easy to clean and sharpen as well.
The Buck 103 Skinner knife uses a specialized 4-inch skinner fixed blade, wide at the edge that comes to a fine point. This allows you smooth cuts throughout the game's surface while also giving you precise piercing when you need it.
Even more so, it's especially useful in keeping the hide intact while processing your game.
How's the Hold?
The 103 Skinner uses hardwood Buck Cocobolo for its handle, capped with brass bolsters for an added aesthetic touch that doesn't sacrifice durability.
You might almost mistake this knife for an ornamental collectible if it didn't cut so well. It always adds to one's enjoyment knowing their hunting knife looks as good as it performs.
Included with the 103 Skinner is a tough genuine leather carrying sheath for protection, which you can also clip to your belt with its integrated belt-loops.
Give yourself one reliable specialized skinning hunting knife with Buck's 103 Skinner knife and find your next hunting trip to go by much easier.
Pros:
Wide specialized skinner blade edge
Hardwood Cocobolo handle with brass bolsters
Nice sheath included
Good size for a range of small & big game
Cons:
The handle can be slippery without gloves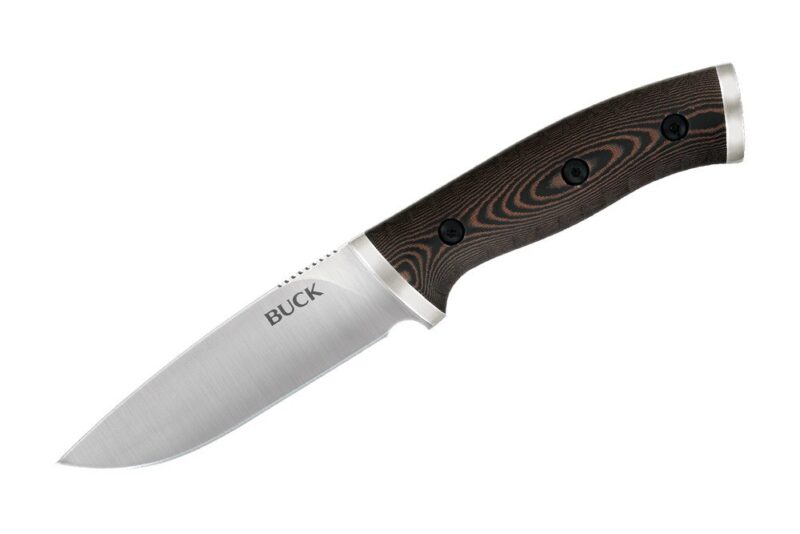 Features:
Buck heat-treated 420HC stainless steel
4 5/8-inch drop point blade
Curved Micarta handle
Injection-molded nylon sheath with a fire starter rod
If you're new to recreational outdoor activities or hunting, you may be overwhelmed by the number of choices available to the average buyer.
If we had to recommend a great knife for beginners and experts alike, it would be the Buck 863 Selkirk fixed blade knife.
How's the Blade?
The Buck Selkirk is a great starter survival knife that uses 420HC stainless steel with a total blade length of 4 5/8 inches.
It's large enough to use for most bushcraft jobs but not too large that maneuvering and doing precise woodwork is overly difficult.
How's the Hold?
The handle comes in a smooth curved Micarta handle that can accommodate a variety of grip styles and is housed in a molded nylon sheath. The knife even comes with a multi-use fire starter rod for emergency situations.
To learn more about the Buck 863 Selkirk fixed blade knife, we actually have an article dedicated to this, which you can check here. [R]
Pros:
Sturdy bushcraft steel edge
Curved wide ergonomic handle
Bolster can be used as an improvised hammer
Cons:
Imported (not made in USA)
Some people find the sheath awkward
Buck 104 Compadre – A fantastic all-round camping knife

Features
Cobalt Grey Cerakote coated 5160 Spring Steel
4 1/2-inch drop tip point blade
Natural canvas Micarta handle
Tough leather sheath
Despite Buck being known for traditional knives, this doesn't mean they haven't innovated in their own ways throughout their 100 years in the business.
How's the Blade?
Their 104 Compadre fixed blade knife is the best example of how they fused traditional designs with the learnings and experience they've developed from crafting knives.
It's mainly characterized by two features, the 5160 spring steel and the cobalt grey Cerakote coating.
The 5160 spring steel is a great composite knife steel that uses a high carbon level with chromium for hardness and stain resistance.
The blade remains flexible enough despite its hardness and bends rather than snaps, useful when batoning and whittling wood.
To offset the lower chromium, which helps stainless steel blades resist corrosion, Cerakote coating is applied to the blade.
Cerakote coating is a ceramic film coating applied to a variety of heavy-duty tools. Not only does it resist rust and stains, but it also gives the knife a black color and a tactile finish for detail-oriented tasks.
Along with the 4 1/2-inch drop tip point, you can baton and whittle wood like it was nothing.
How's the Hold?
The 104 Compadre uses natural canvas Micarta scales. With finger grooves isolated on the hilt and pommel, the handle enables you to use different grip positions for better stability.
To protect your knife while you carry it, it comes with a black leather sheath ensuring ample protection while matching the rugged silhouette of the knife.
Lightweight and direct to the point, the 104 Compadre is your best pick if you're looking for something innovative but in-line with other traditional fixed blades.
Pros:
Unique coated carbon knife edge
Better resistant to corrosion
Tactile Micarta canvas scales
Cons:
May rust easily if not properly maintained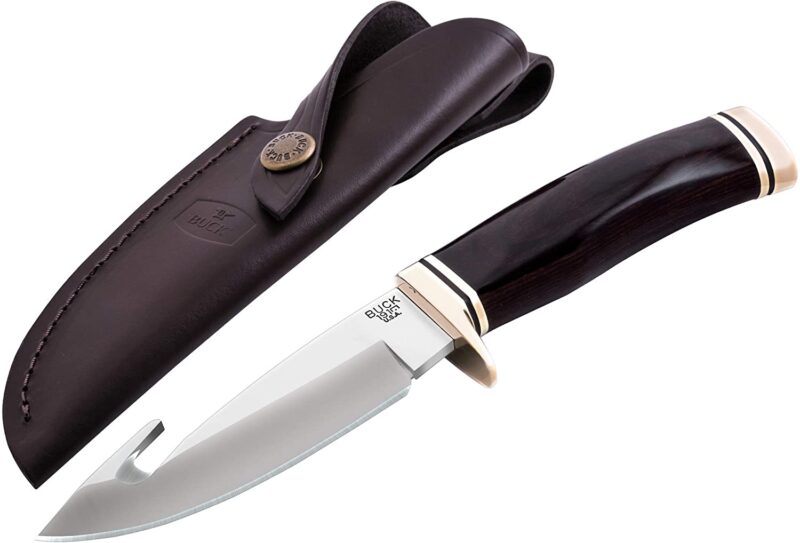 Features
Buck heat-treated 420HC stainless steel
4 1/8-inch gut hook blade
Dymalux Walnut handle
Tough leather sheath
As we look deeper into the specialized knives that Buck offers, the Zipper is a very popular option for a beautiful looking knife with a gut hook.
How's the Blade?
The Buck Zipper fixed blade knife is outfitted with a thick 420HC stainless steel blade, which resists stains and corrosion from field-dressing.
It's similar to the 103 Skinner and most knives to avoid any issues with dried blood and foreign impurities.
The knife blade is one unique aspect of this knife, as it features a modified Buck gut hook point. This gives two main features to the Buck 191 Zipper fixed blade, mainly in its mentioned gut hook and its blade belly below that.
As the name suggests, the gut hook is a curved hook shape found at the end of the knife with a narrow tip, and an inner edge found within the hook.
This provides a special cutting movement where you can "zipper" open while field-dressing by hooking onto the flesh and zipping using the inner hook knife edge. In effect, you can easily cut in horizontal directions without repositioning your knife too much.
Under the gut hook is a wide curved belly, which allows for long slicing cuts across surfaces. It has a hollow cutting blade area to help meat and other flesh slide off easier when cutting and a wider body to accommodate larger cuts.
How's the Hold?
The 191 Zipper comes with a balanced and wide handle made out of a Dymalux polished walnut, which is a composite of resin and wood meant to increase durability while keeping the natural properties of wood.
Its slight curvature helps angle cuts in a natural way while accommodating even gloved hands for a better grip.
Alongside the natural polished walnut is a durable genuine leather sheath, giving both style and protection to your blade when carrying it by your side.
The Buck 191 Zipper is a specialist knife through and through. If you want a hunting knife that gives a different yet unique edge than most knives you've had before, you'll definitely want the Buck 191 Zipper by your side.
Pros:
Unique gut hook knife
Polished walnut handle
Specialized field-dressing knife
Cons:
May be difficult to use for beginners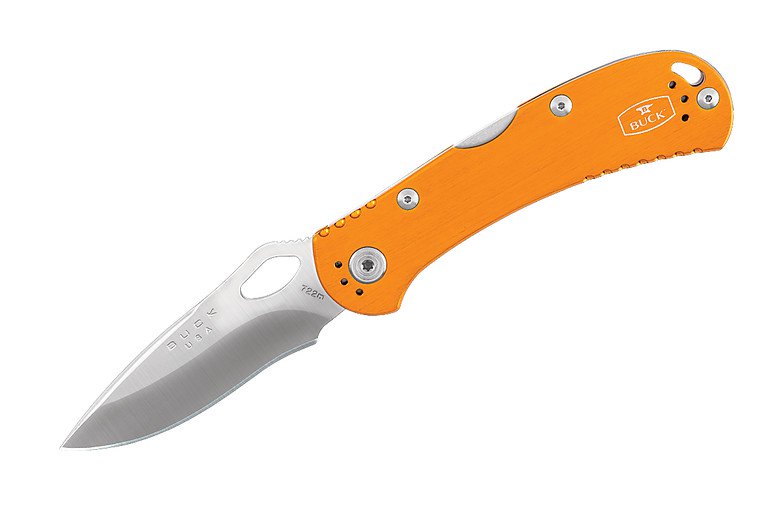 Features
Buck heat-treated 420HC stainless steel
Comes in several different colors
3 1/4-inch drop point blade
Anodized aluminum handle
Lightweight, repositionable clip
You may have enjoyed our earlier entry of the Buck 283 Nano Bantam and its easy carry capabilities, but its size may leave some wanting more out of their folding knives.
How's the Blade?
Worry not, as Buck has several more everyday carry knives in its arsenal.
A knife that's been popular as of late is their Buck 722 Spitfire, a modern foldable knife that uses their signature 420HC steel and a sturdy 3 1/4 drop tip knife blade.
The 3 1/4 inches of reliable steel should get you farther than the 283 Nano Bantam's roughly 2-inch blade.
The Spitfire is meant to be your companion on most outdoor activities – an additional blade for miscellaneous work if some of your knives and blades are too big to perform delicate jobs.
What sets the 722 Spitfire apart from the 283 Nano Bantam beyond the blade's length is its one-hand operation.
The 722 Spitfire has a specialized thumb notch near its handle that you can use with one-hand to open and retract. It features a similar lock-back mechanism near its anodized coated aluminum handle.
How's the Hold?
The coated aluminum handle comes in various colors. It features an integrated belt clip you can use to reposition four different areas on the knife for a better customizable carrying experience.
A complete look into this useful sidekick can be found in a previous article we wrote here.
Pros:
One-hand operation
Longer blade suitable for outdoors
Made in the USA
Tough & durable
Good size for EDC
Cons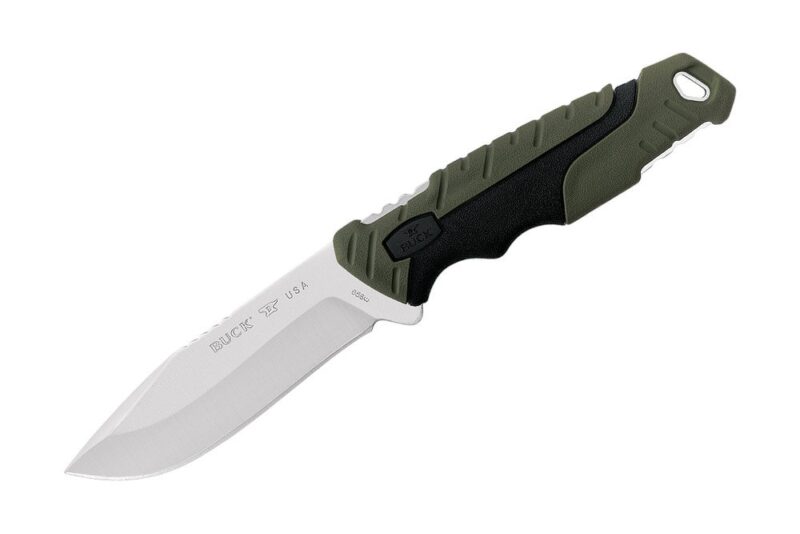 Features
Buck heat-treated 420HC stainless steel
4 1/2-inch drop tip point blade
Versaflex composite handle
Polyester sheath
The Buck 656 Pursuit Large is a good choice for a mid-range hunting knife for someone who prefers a bit more grip. The Buck 656 is a sturdy, mid-ranged knife that can handle general hunting needs to more specialized bushcraft tasks.
How's the Blade?
The 420HC stainless steel has been heat-treated to achieve the best hardness for any task you'll need in the field.
In case you find yourself out in the field longer than you expected, rest assured, this knife keeps its edge razor-sharp and is easy to sharpen on-the-go.
The 4 1/2-inch drop tip point blade keeps the knife edge thick enough to handle various bushcraft jobs without chipping to dulling too quickly compared to other knives.
Whittling and batoning should be a breeze with this mid-sized fixed blade knife. Full tang in construction, you don't have to worry about the Buck 656 Pursuit Large breaking while splitting wood.
How's the Hold?
Stepping towards more modern design techniques, the Buck 656 uses a nylon, rubber, and fiberglass composite known as Versaflex.
This gives a very tactical look to the knife while adding additional grip. The handle also includes a steel ridge for fire-starting so you can keep the spark burns away from the blade itself.
A matching polyester sheath is included so you can keep your blade protected and make it easier to carry. The Buck 656 Pursuit Large is a solid field hunting knife to have by your side in any adventure.
Pros:
Reliable mid-sized blade
Non-slip Versaflex handle
Solid full-tang build
Cons:
Might be a tad heavy if you're looking to minimize your load
Blood can accumulate in the handle grooves (bit harder to clean)
Buck 620 Reaper – A low cost USA-made survival knife
Features
Buck heat-treated 420HC stainless steel with black traction coating
6 3/4-inch drop tip point blade
Injection molded-nylon handle
Woven nylon sheath
Sometimes you will need a larger knife to take care of bushes, vines, and even larger wood objects out on the field. If you're tired of carrying multiple smaller knives with you everywhere you go, you can opt for the Buck 620 Reaper.
How's the Blade?
The 620 Reaper uses the same tough 420 HC blade. A unique aspect, though, is it's coated with a black traction material. This gives the knife more resistance to environmental damage and a rougher surface for better tactile handling.
It has a larger 6 3/4-inch blade than most other survival knives and is further complemented by a wider spine thickness for extra durability during field tasks such as batoning wood.
How's the hold?
It uses relatively straightforward materials for its handle and sheath, opting for nylon composite materials for its durability and flexibility.
The Buck 620 is a menacing knife to have on the field due to its appearance and size, which you can read more about in our previous article here. [R]
Pros:
Large heavy-duty blade
Additional blade coating helps durability
Good value for money
Cons:
The handle is a bit small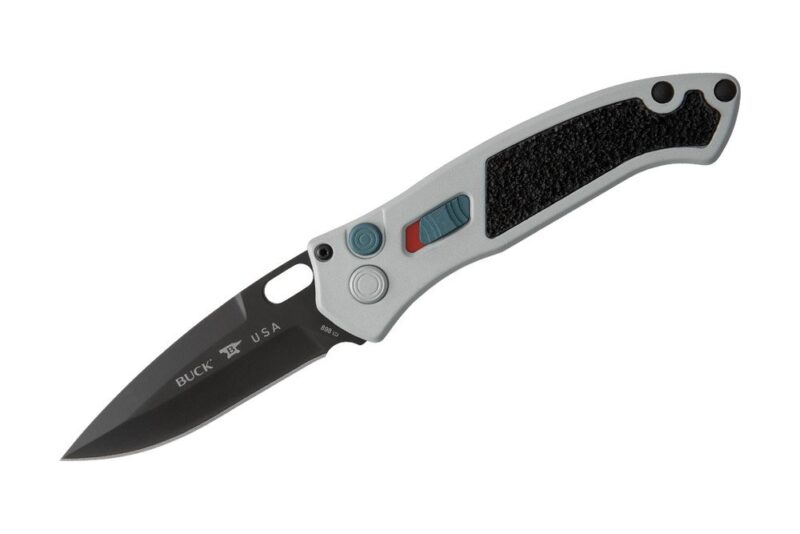 Features
Buck heat-treated and Cerakote coated S30V Vanadium
3 1/8-inch drop tip point blade
Cerakote coated 6061-T6 aluminum
Minimalist pocket clip carry system
As a bonus for some of our active service readers amongst you, we have the Buck 898 Impact knife, Buck's only folding knife with assisted opening.
How's the Blade?
This knife is special for several reasons, the first being its extra-durable knife blade. It uses an S30V Vanadium blade that's treated with both the Buck signature heat-treatment method as well as an additional Cerakote coating.
As mentioned above, the Cerakote coating is most commonly found on different heavy-duty tools as well as some of the standard-issue active service gear that our police and military use.
This ceramic coating ensures your blade remains durable and able to withstand long periods of use while keeping it razor-sharp.
This unique knife comes with a retractable 3 1/8-inch blade. Compared to Buck's other folding knives, the Buck 898 Impact has an internal mechanism for an assisted opening function.
First seen from Kershaw, the Buck 898 Impact uses a similar auto-open system operated with a safety lock and multi-action button. These same sets of buttons and switches maintain your knife open or close with safety, so you don't end up activating your knife by accident.
How's the Hold?
Buck also uses a 6061-T6 aluminum for their handle due to its high strength and resistance to corrosion. The same Cerakote treatment is applied to the knife's body to ensure it has a good tactile ergonomic response to your grip.
The Buck 898 Impact has an integrated pocket clip carry system for easy concealed carry and minimal encumbrance.
Tough as a tank and elegant to a point, the Buck 898 Impact is surely the folding knife for those looking for the best of the best in the market.
Pros:
Assisted opening knife blade function
The extra coating gives better durability to the knife
Easy and minimalist carry
Cons:
Buck Knives Review – Summary
Buck Knives, as we mentioned above, has a long history of knife manufacturing experience. Within that experience are countless lessons learned both in terms of how they craft knives and how they care for their customers.
Much of Buck's philosophy can be attributed to their family-grown business. As their current CEO, CJ Buck, says, "When your family name is on a product, you care a bit more about how it works."
Many of their knives are made-in-the-USA. They even offer custom knife orders using their popular knife designs.
In-keeping with the Buck legacy, you'll find that the knives above are all made-in-the-USA. However, for discerning buyers amongst you, you can always check the knife itself as Buck always states whether the knife has been made in the country or outsourced overseas.
Signature Materials
Despite being a family run business, their views on innovation and improvement go beyond their internal family and to the wider knife community as well.
Paul Bos, a key engineer supervisor in their main Buck factory, was instrumental in the development of the Buck Signature Heat-treatment method.
Developed through Bos for more than 70 years in the company, it ensures better hardness, corrosion resistance, and edge retention through heat manipulation of the knife metals.
Through this treatment method, Buck is able to lift common knife steel materials to a higher degree. Buck's most commonly used treated materials within their knives consist of the 420HC steel and the S30V Vanadium stainless steel.
Lifetime Warranty
Buck goes up and beyond with how they treat their customers. Buying a Buck knife buys you their lifetime guarantee as well.
Nicknamed the "Buck Forever Warranty," Buck guarantees you quality with each knife sold. If you bought a knife that doesn't seem to meet the manufacturer's specifications, you could have it replaced as part of this guarantee.
More than that, if you find that after years of use, your Buck knife doesn't seem as good as day one, you can send it back to Buck knives for a fee, and they can have it razor-sharp in no time.
Lastly, when the time comes your knife has truly passed and cannot be repaired, Buck knives offers a one-time 50% discount on any of their standard priced items so that you'll never be without a Buck knife at your side.
How Do They Stack Up?
In terms of a Buck knives review, how do they stack up? It's always useful to create a good comparison between brands to see best how well a product or service performs. For Buck Knives, it makes sense to compare it to other big names in the market, namely Gerber, ESEE, and Morakniv.
Buck vs. Gerber
Gerber is probably one of the most popular names in outdoor gear, even to the most amateur amongst you.
They even had a special custom knife in collaboration with Bear Grylls. If you had to find a suitable match for a Made-in-the-USA knife with as much quality as Buck, then Gerber would be a solid choice.
They have similar price points, tough blades, a large variety of knives, and a lifetime limited warranty. At this point, it boils down to personal preferences. Buck Knives leans towards more traditional designs, while Gerber leans towards more technical designs.
Depending on what kind of hunting knife you're looking for, both Gerber and Buck should have options for you.
Buck vs. ESEE
If Gerber is a popular name amongst amateur adventurers, then ESEE should be familiar to those experienced outdoors.
With roots in South America providing gear for the Peruvian Air Force's survival school, ESEE provides some of the best survival gear that experienced survivalists can swear by.
If traditional designs with reliable blades characterize buck Knives, you can see ESEE as military-inspired and ruggedly straight-forward.
ESEE knives are no-fuss, keeping unnecessary features out while ensuring the knife by your side will continue to cut when out in the field.
Both brands have lifetime warranties and come with some of the best materials in the business.
If you aren't a stickler for design, ESEE is trusted by many outdoorsmen for a reason. We all know having a good looking knife is half the fun of owning one.
Buck vs. Morakniv
Moving away from the Made-in-the-USA motif, we have Morakniv, an even older brand from Sweden. With hundreds of years in creating tools, Morakniv has made a name for themselves as one of the world's best knife makers.
Morakniv knives look starkly different from American designs found within Buck Knives.
As a more artisanal craft-oriented brand, the knives tend to remain slim with shapely handles. While Buck Knives takes pride in their rugged outdoor knives, Morakniv focuses on sophisticated designs beyond the outdoor with their culinary and other specialty knives.
That doesn't mean that Morakniv outdoor bushcraft knives aren't good. Their carbon blades are often seen as reliable, tough, and easy to sharpen.
If single-design knives are your preference, Morakniv is your brand. If you prefer more variety in shapes and offerings, Buck Knives should have you covered.
Final Words
We hope you enjoyed this Buck knives review. Buying knives has a lot to do with personal preferences and what you intend to do with your knives. But Buck have been around a long time, and most likely have a top quality product to suit your needs & taste.
You can pick any of the knives above as your next companion piece or even choose to have one custom-made from their website. In any case, it's a safe buy.