What is a gut hook knife used for? Do they work? Do you need one?
Some people swear by them, others are adamant that you don't need one.
What's the answer?
Let's dive in.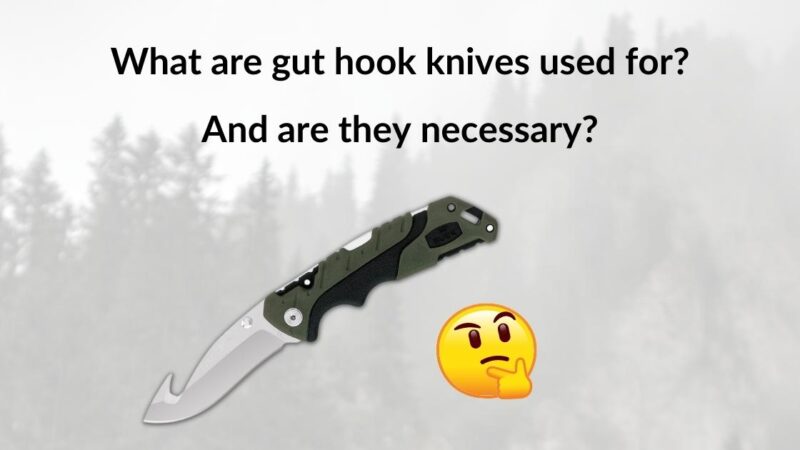 What is a gut hook knife used for?
A gut hook knife is used as part of the field dressing process, which will help prevent your meat from spoiling until you can get back & reach cold storage.
After making an incision to get through the outer hide, the small hook is for slicing along the underside of the animal like a zip, opening up the hide cleanly, avoiding anything you don't mean to cut (muscles, intestines).
The shape & size of this blade feature makes it easy to pull the skin slightly away from the animal's body, and cut through cleanly, ready for everything that comes next.
It can be especially useful for beginner hunters.
My recommendation for a folding gut hook knife
I've made a list of best gut hook knives previously that caters for fixed & folding gut hooks to suit various different tastes and price points in the past.
If I were to recommend just one, though, it would be Buck's 660 Folding Pursuit.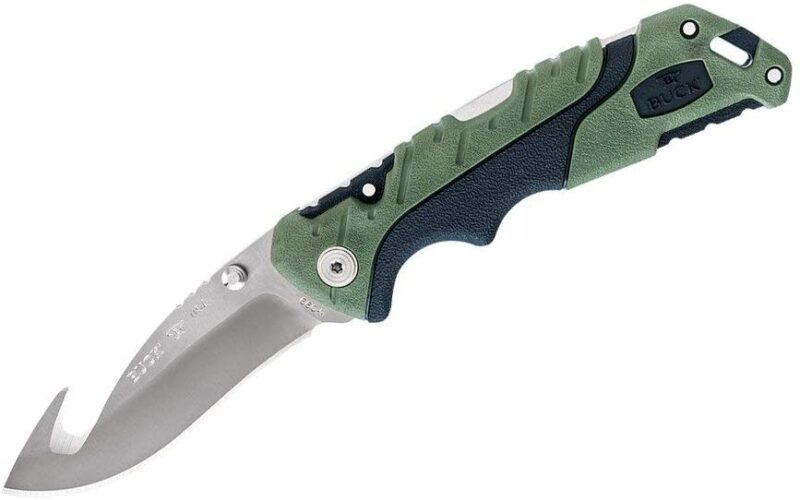 Here's why:
The handle is excellent. Nice finger grooves, super comfortable, great non-slip grip. Performs better with slippery wet hands vs. some of Buck's traditional style handles (e.g. 119).
The value for money is good. It's mid-range in terms of price, with good quality heat treated 420HC steel, good edge retention, and generally great performance.
The brand is reputable, offering a lifetime warranty, and it's USA-made
It's light and small enough to tuck away. It's not cumbersome, which is important since 99% of your time in the field you won't actually have it out.
Do gut hook knives work?
Absolutely.
There are some downsides (difficult to sharpen, arguably more risk of injury). You can also question whether or not it is actually necessary vs. using another of your regular hunting knives.
Ultimately though, if clean & sharp, they do work for their intended purpose of slicing open skin cleanly. No denying that.
Do you need a gut hook knife?
The short answer here is that no, you don't necessarily need a gut hook knife.
That being said, they can make life easier, especially for beginners.
Many skilled & experienced hunters do prefer to simply use a drop point blade. You can pull skin away from the innards with your fingers, and apply the correct amount of pressure as you cut along the stomach, so as to not make a mess.
The gut hook makes life easier for sure, but it's not 100% essential.
If you like them, get one. If you don't like them, don't worry about it.
Downsides of a gut hook knife
While I've concluded above that gut hooks are indeed useful, there are certainly some downsides to using one too.
The main two potential downsides in my view are:
1. They're tricky to sharpen. Well, that's not entirely true. If you know how to sharpen a knife, you'll get the hang of it quick enough. But the point is that it's different to sharpening a regular blade. You'll also need an extra tool for it, since you can't use a regular whetstone for example.
2. They can be dangerous. Since you're using the knife with the sharp side facing up towards you, chance of slipping and cutting a finger or forearm is increased. To be clear, I've never actually known any remotely serious injury to come from this, but it's worth pointing out regardless.
To gut hook, or not to gut hook…
I'll say it again to be clear:
If you like gut hook blades, get one. It's personal preference.
I think they make the job easier, but they're not essential.
If you don't like them, no sweat. Pay attention, focus, make sure you know what you're doing, and you'll likely be fine with another of your hunting knives.