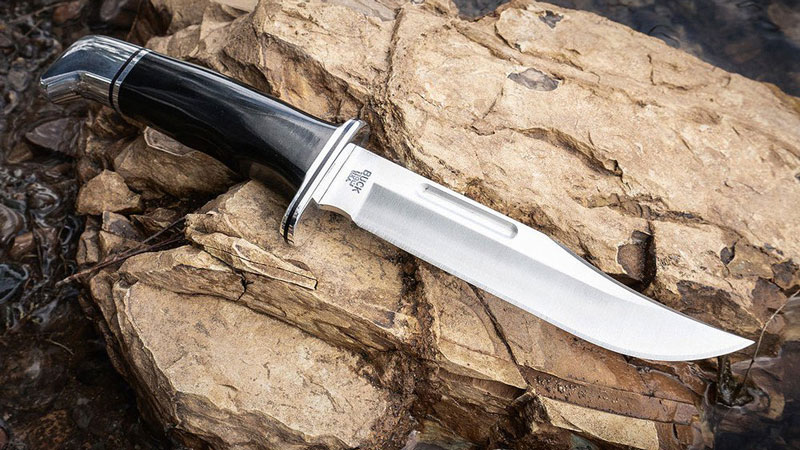 The choice of a hunting knife is as personal as it gets. If you ask a hundred people for a recommendation, you will get a hundred different answers.
To make your choice among numerous hunting knife brands easier, we have created this guide to the best hunting knives.
A hunting knife is a tool, designed to get the job done, and it should serve a variety of purposes – like gutting, skinning, deboning, caping, or butchering game. The knives recommended in this article are intended as good general all-round hunters.
Now, let's explore some of the best hunting knives that will suit all your needs, whether it's hunting deer, elk, small game or anything else. Use these links to skip to the right section:
Best Fixed Blade Hunting Knives
Choosing the best fixed blade hunting knife that's worth the investment and will perform in both everyday and extreme hunting tasks can be overwhelming. Let's take a look at some solid choices.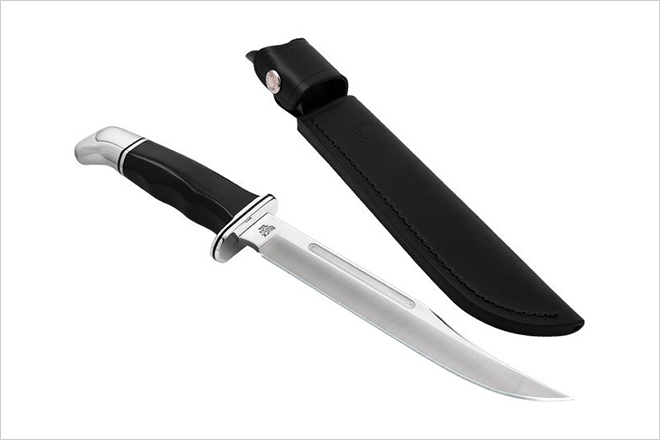 The Buck 119 Special is a real bare-bones, trust hunting knife that hits the sweet spot in terms of value for money. It's a reliable tool with a traditional design that is both alluring and performance-oriented.
Key Features
Blade length: 6"
Weight: 7.5 oz
420HC stainless steel blade
Clip point blade
Phenolic molded grip
If you're looking for a reliable fixed blade hunting knife, you can't go wrong with Buck. Backed by more than a century-long tradition and experience, these knives represent a staple of American-made hunting knives.
Optional: read our full Buck 119 Special review
The Buck 119 Special lives up to its name. Buck's heat-treated method of hardening the steel blade makes the ordinary 420HC high carbon steel into a hard-wearing and enduring high-quality blade with great edge retention.
Its classic clip point blade gives it great control. The sharp blade and thin tip make field dressing insertions simple and a sizable slicing surface cuts through meat with ease.
It comes with a genuine black leather sheath.
One minor thing to point out is that this blade isn't full tang. If you like this knife and you're willing to spend an extra ~$60-$70 or so for an even stronger build, I'd recommend checking out the 124 frontiersman. That being said, the 119 will serve you well and is exceptional value for money.
| | |
| --- | --- |
| Pros | Cons |
| Edge retention | Grip isn't the best when wet |
| Easy to sharpen | Stick tang (although still sturdy) |
| Long-lasting blade | Not the hardest steel blade |
| Iconic design | |
| Made in the USA | |
| Buck's Forever Warranty | |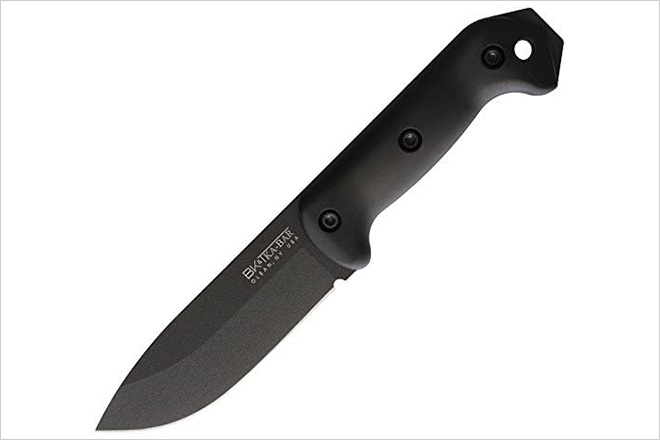 Another American made knife and the work of a master designer – Ethan Becker – the Ka-Bar Becker BK2 Campanion is a real companion and all-around beast of a fixed blade knife.
Key Features
Blade length: 5.2"
Weight: 1lb
Chromium vanadium steel
Drop point blade
Full tang
This knife will take a bite out of every task, no matter the size of the game you hunt. It has a wide, thick, and heavy full tang drop point blade with a strong and durable tip.
Perfect for piercing and de-boning, plus its sharp edge provides incredible slicing and skinning ability.
KA-BAR also offer the BK-22, which is exactly the same knife but with a different sheath. If you're considering this knife, check out the BK-22 and see which sheath you prefer ❗
| | |
| --- | --- |
| Pros | Cons |
| Long-lasting blade | A little heavy |
| Slip-resistant grip | Unwieldy sheath design |
| Full tang | Can't draw sparks |
| Made in the USA | Difficult slicing with textured blade |
| Hammer pommel | |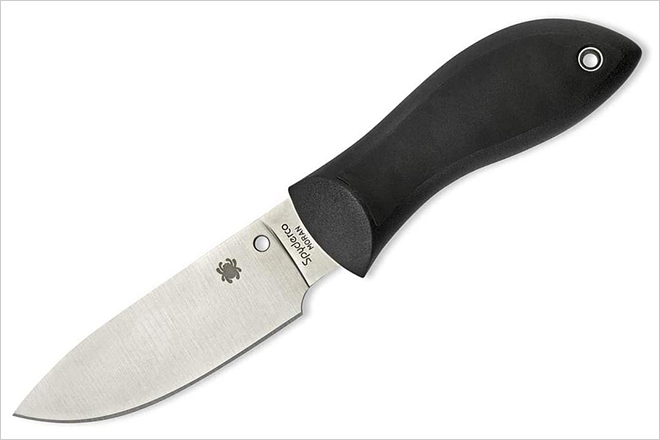 This well-made workhorse of a knife is the result of a Bill Moran and Spyderco collaboration.
Bill Moran was a well-known knifemaker who helped found the American Bladesmith Society and established the Bill Moran Schoool of Bladesmithing. He poured his decades-long experience into his designs.
Key Features
Blade length: 3.875"
Weight: 3 oz
VG-10 stainless steel
Drop point blade
¾ tang with the directly molded handle
Spyderco Moran Drop Point has an elegant design. The blade is very resistant to corrosion due to the use of VG-10 – a common kitchen knife steel.
Looking for something bigger? Check out this article detailing larger hunting knives, with 6″-10″ blades
A comfortable handle with a rounded off grip gives excellent control of the blade, allowing for smooth cuts. The handle is fiberglass-reinforced nylon (FRN), a lightweight and robust material. The grip features non-removable Kraton panels that guarantee no slipping under most conditions.
The sheath is a thin and light Boltaron model with a G-clip fastening system that ensures the knife stays in place and can be carried horizontally or reversed for lefties.
| | |
| --- | --- |
| Pros | Cons |
| Edge retention | Thin edge |
| Factory sharpened | Tough to clean handle |
| Full flat grind | Not full tang blade |
| Multi-positioning G-Clip | Short handle |
| Lightweight | |
Best Cheap Budget Hunting Knives
The outdoor lifestyle, in general, requires shopping for gear – which can really add up. On the other hand, there's so much cheap equipment out there that confirms the adage "You get what you pay for."
But as with many rules, there are exceptions. So, if you're starting to work on your hunting kit, upgrading it, or looking for a great hunting knife as a gift — these are the three best budget hunting knives.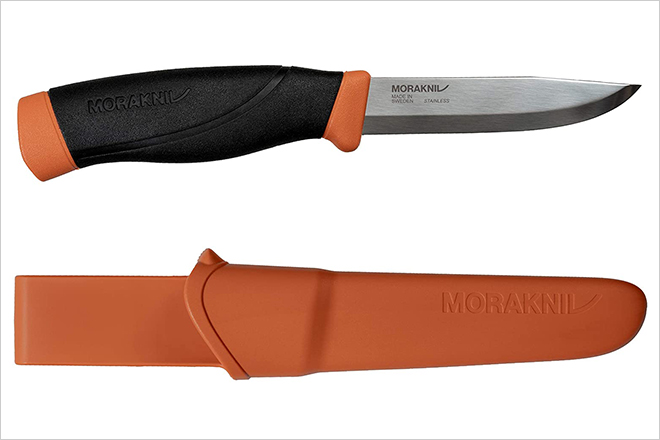 From the town of Mora in Sweden comes one of the best hunting budget knives. The Morakniv, known as Mora, is an everyman's fixed blade knife. It represents the embodiment of the Swedish experience in producing reliable hunting tools since Moraknivs foundation in 1891.
Key Features
Blade length: 4.1"
Weight (knife & sheath): 4.1 oz
Swedish Sandvik 12C27 steel
¾ tang
Scandinavian "Scandi" grind
This sturdy, dependable, and lightweight knife is a sure bet for hunters and outdoorsmen. The high-quality Swedish Sandvik 12C27 steel is an exceptionally tough material and the hardness rating of HRC 56 – 58 ensures unmatched sturdiness, usually exclusive to premium knife brands.
Sandvik stainless blade is easy to sharpen as there is no need to focus hard on the angles.
The surprisingly thick Scandi grind blade with a short bevel provides additional steel to support the spine.
The inventive design is ideal for aggressive tasks while not worrying about chipping or breaking.
In case of manufacturing defects or if it fails you through no fault of your own, the knife comes with a limited lifetime warranty and will be replaced for free.
The handle has a rubberized grip that makes using the Mora comfortable even with wet hands — ideal for messy situations.
| | |
| --- | --- |
| Pros | Cons |
| Easy to sharpen | Can't draw sparks |
| Lightweight | Short blade |
| Sandvik 12C27 stainless steel | Plastic sheath is easily damaged |
| Comfortable grip | Prone to rust |
| Practical belt clip | |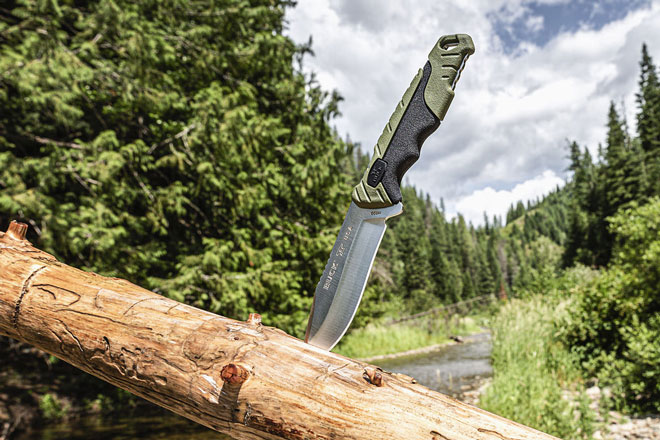 Another of Buck's American-made knives makes it onto our list, and it's no coincidence. The modern design stands out from the traditional Buck's handle and clip point blade, but it still embodies important Buck features that make it so desirable.
The 658 Pursuit is a great alternative to traditional hunting knives. The Pursuit Series fills the need for a mid-range knife for both experienced and beginner hunters.
Key Features
Blade length: 3.75"
Weight: 3.4 oz
420HC steel
Drop point blade
Glass-filled nylon/Versaflex handle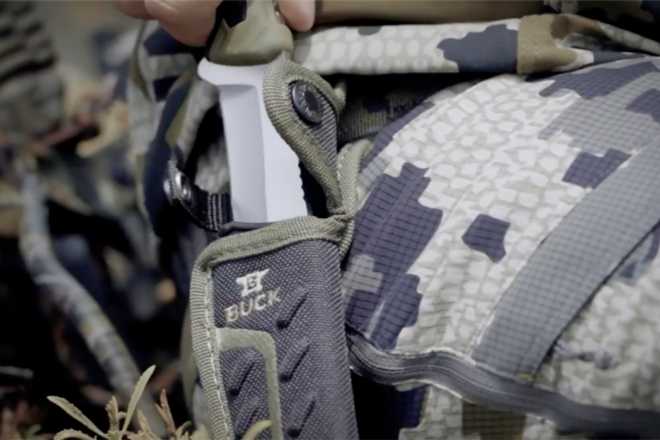 Well-made and easy to handle with its compact design and versatile drop point blade. Buck uses its famous Paul Bos heat-treating system to harden the 420HC steel.
Full tang runs through a Versaflex handle that stays tacky when wet or using rubber gloves. Processing elk, deer, or other game is smooth and efficient.
The blade has deep jimping that makes it easy to grip. It strikes a smooth balance between size, weight, and ability to tackle different tasks.
It comes with Buck's forever warranty that guarantees against defects in material and cratsmanship.
| | |
| --- | --- |
| Pros | Cons |
| Edge retention | Large belt loop |
| Easy to sharpen | May contain carcinogenic chemicals |
| Made in the USA | |
| Buck's Forever Warranty | |
| Size | |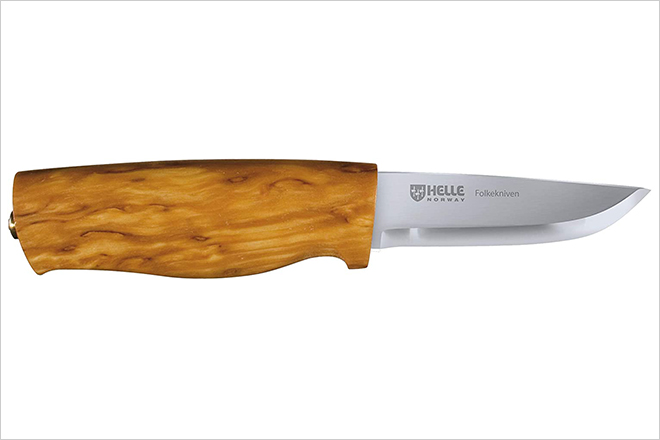 The Scandinavians strike again. And no wonder since their knifemaking abilities are world-renowned, respected, and many generations in the making.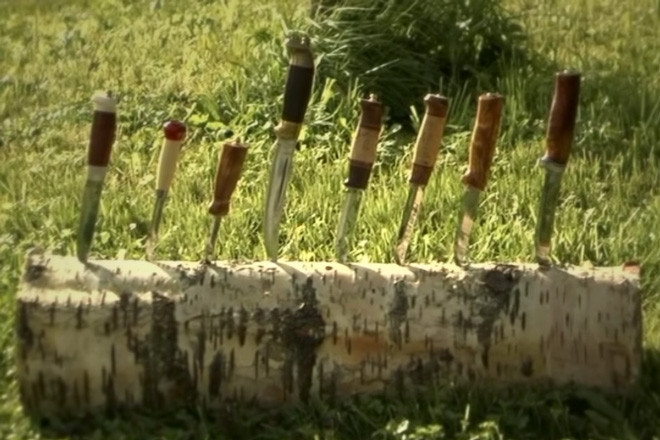 Key Features
Blade length: 3.5"
Weight: 3.1 oz
Sandvik 12C27 Stainless steel
Rat-tail tang
Curly birch handle
Helle's Folkekniven is a small purposeful tool boasting an impressive curly birch wood handle. This handmade knife requires up to 45 manual operations to achieve perfection. It comes with a handmade, specially tanned leather sheath – which makes every knife unique.
Non-laminated Sandvik 12C27 stainless steel with a high alloy core gives the knife a lasting and extremely sharp edge.
| | |
| --- | --- |
| Pros | Cons |
| Edge retention | Could be too small |
| Made in Norway | Leather sheath requires maintenance |
| Sandvik 12C27 Stainless steel | May contain carcinogenic chemicals |
| Firm grip | |
| Will draw sparks | |
Best Premium Hunting Knife
On the other end of the budget spectrum, there is a whole world of premium hunting knives for hunting. It depends exactly what is your definition of a 'premium' knife as to what we should be looking at here.
If you're looking for something slightly above the the ~$100 range, I'd encourage you to take another look at these aforementioned models: Spyderco Moran Drop Point, and KA-BAR Becker BK2.
Moving slightly up from there, I'd recommend checking out: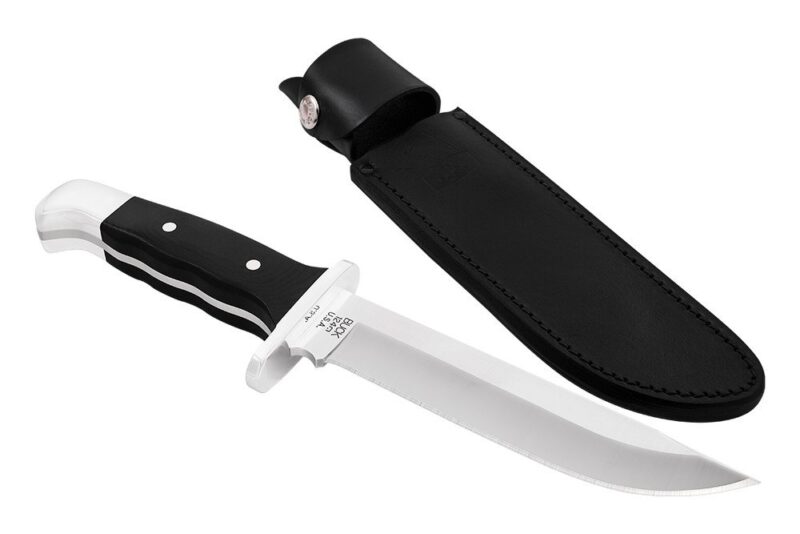 I briefly mentioned the 124 frontiersman when we looked at the Buck 119.
In my eyes, this is effectively the premium version of the 119.
For the extra money, you get: a full tang, more steel (you'll notice the weight behind this knife — an extra 3-6 ounces), a better quality handle (Micarta – better in the wet), slightly more blade length, and a few other minor things.
Of course you get all the good stuff you associate with Buck: a 'forever' warranty, USA-made products, and legendary heat treatment.
One key difference between the 124 and the 119 is that the 124 is a straight-back bowie blade (compared to the 119's more 'standard' clip point blade). The difference there is entirely personal preference.
You'll struggle to find anyone who's bought a Buck 124 and regretted it. Check out the reviews.
| | |
| --- | --- |
| Pros | Cons |
| Micarta slip-resistant handle | Some don't like the guard |
| Made in the USA | On the heavier side (377g) |
| Heat treatment | Thick handle |
| 'Forever' warranty | Not appropriate for hacking |
| Nice sheath included | |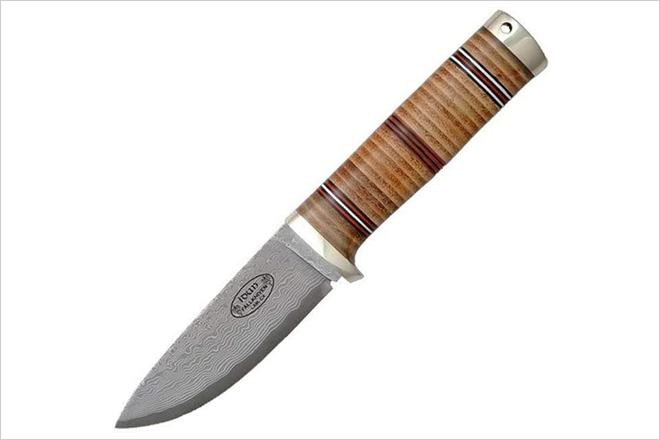 Just for fun (or in case you've got some serious budget to burn!), the Fallkniven NL5cx Idun is considered one of the most advanced hunting knives in the world.
In my opinion, this knife isn't worth the money. But it's fun to look at!
Fallkniven is a Swedish brand but they make their blades in Seki, Japan. The exact composition of its Crowry X Damascus steel is a well-kept trade secret.
Key Features
Blade length: 4"
Weight: 6.63 oz
Cowry X Damascus steel blade
Hardness (HRC) 64
Protruding broad tang
This knife has one of the most premium blades ever made. Its hardness is an impressive 64 HRC; no wonder considering the sides of the blade consist of stainless 120-layer Damascus steel. The edge itself is powdered steel, making this blade equally beautiful and sturdy.
This type of knife can only be made by hand, giving credit to its exclusivity. So it also retains value as a collector's item.
The stacked leather handle consists of specially selected oxhide for a secure and durable grip. It's waterproof and unaffected by oil and solvents, but dryness can cause small splits that will vanish when you use it.
Black high-quality leather compliments the knife in its quality and design.
| | |
| --- | --- |
| Pros | Cons |
| Cowry X Damascus steel | Some might not like leather handle |
| 64 Rockwell hardness | Price (obviously!) |
| Stacked leather handle | |
| Convex edge | |
Best Folding Hunting Knives
When it comes to the best hunting knives, in general, folding knives are uncommon. They are lightweight, fit in your pocket, and don't require a protective sheath. But folders don't come without challenges as they are harder to clean and have moving parts — which can present a problem when processing game.
Nevertheless, there are some great options on the market, and in our hunt for the best folding hunting knife, we've selected our top three.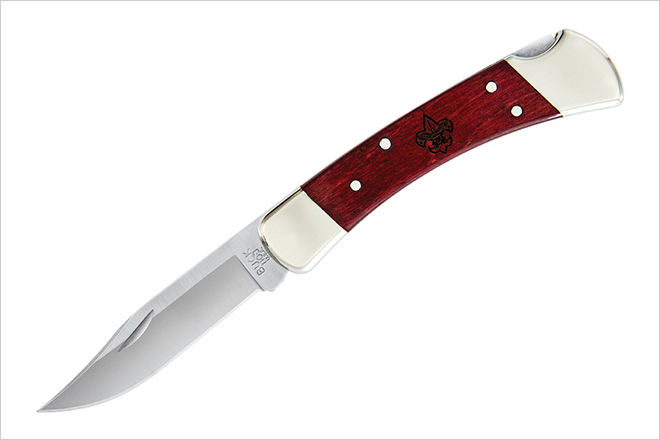 The hallmark folder is an American classic – Buck 110 Folding Hunter. Created in 1963, it was an ideal solution for the outdoorsman who needed a reliable knife but didn't want to trudge around with a long fixed blade knife.
Key Features
Blade length: 3¾"
Blade thickness: 0.12"
Weight: 7.2 oz
420HC steel blade
Clip point blade
This is the knife that launched Buck Knives to the list of the top knife manufacturers worldwide. To this day, it's one of the most iconic knives. No wonder it's officially licensed by the Boy Scouts of America.
This lockback folding number has a beautiful Dymondwood handle with brass bolsters. The blade material is 420 high carbon steel that has been heat-treated and is known for its edge retention ability. The clip point tip is what makes it excellent for detailed work.
| | |
| --- | --- |
| Pros | Cons |
| Edge retention | Closure can be a tad stiff |
| 420HC Heat-treated steel | Might feel unbalanced |
| Made in the USA | |
| Buck Forever Lifetime Warranty | |
| Brass bolsters | |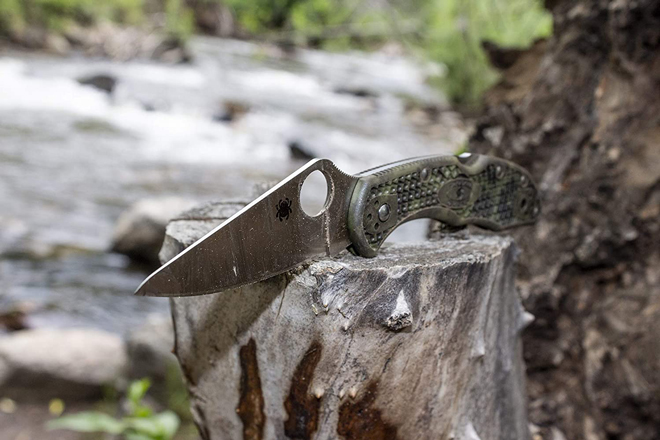 Spyderco Delica 4, another great folder to make the cut for your backup hunting knife. It's lightweight and easily opened and closed with one hand due to the 13 mm hole in the blade, which also reduces weight.
Key Features
Blade length: 2.88"
Weight: 2.5 oz"
Overall length: 7.12"
Blade thickness: 0.09"
VG-10 steel blade
Made in Seki, Japan, it features a superior blade VG-10 steel and a full flat-ground blade with a highly refined cutting edge. It's extremely lightweight because the inside of the handle has skeletonized stainless steel liners.
It's ergonomic and features slip-resistant jimping to provide a secure grip. The handle is fiberglass-reinforced nylon with bi-directional texturing molded onto it. The clip is easy to adjust for a right or left-handed hunter, in either the tip-up or tip-down position.
| | |
| --- | --- |
| Pros | Cons |
| VG-10 Stainless steel | Grooves hard to clean |
| Secure grip | Could be too light |
| Functional pocket clip | Tip blade is not reinforced |
| Made in Japan | Expensive |
| Ultra-lightweight | Optional coating may wear off |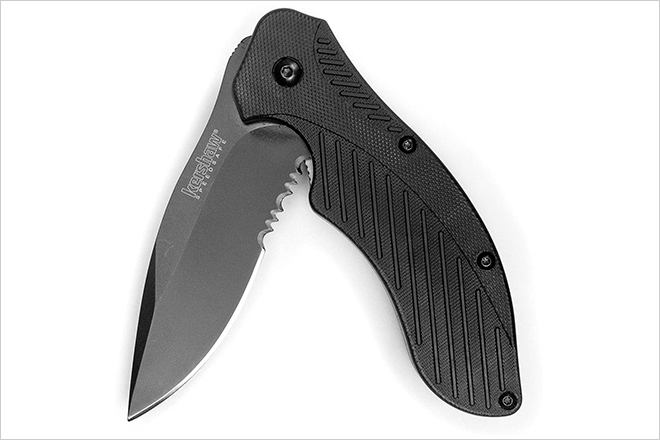 The Kershaw Clash is a multifunctional and capable folder ready for any slicing or cutting tasks. It's a reliable tool produced using alloy steel, mainly carbon, and some nickel for hardness and edge retention.
Key Features
Blade length: 3.1"
Weight: 4 oz
Overall length: 7.25"
Drop point partially serrated blade
Built-in flipper
The heat-treated and wear-resistant blade is made out of 8Cr13MoV steel and can withstand damage to both adhesive and abrasive factors. It features unique capabilities and partial serration, making it a great multi-purpose tool.
The drop-point blade with a belly curve gives this knife amazing slicing capabilities, and the serration allows cutting through dense materials.
The handle is made from textured glass-filled nylon and ensures a solid grip. SpeedSafe is ideal for one-handed deployment which you can activate by pushing the flipper. The pocket clip can be reversed for tip-up or tip-down carry.
| | |
| --- | --- |
| Pros | Cons |
| SpeedSafe assisted opening | Grooves need cleaning |
| Black-oxide finish | May need frequent sharpening |
| Textured glass-filled nylon handle | Locking system may malfunction |
| Sharp stainless steel blade | Black finish fades over time |
| Wear-resistant | |
Ensuring Your Tools Never Fail You
Keeping your folders and fixed blades clean and smoothly running is vital for their performance and longevity. The key component of care and maintenance is knife oil.
Check out our guide to oil for knives and keep your knives in tip-top shape.
The Best Type of Blade – The Does-It-All
Listing all of the different types of blades would require a guide unto itself; there are numerous types, and more are produced every day.
Taking into consideration the ones we mentioned, the most common types are clip point and drop point blades. But there are also spear point blades, tanto blades, and many others.
If you had to choose just one, the clip point blade would be a great start.
The important thing to point out is that when choosing a blade point, it's all about function – not aesthetics or popularity.
But the clip point's popularity is justified. They are versatile — puncturing, piercing, or any kind of very precise and fine cutting control presents no issue.
Because of the fine and thin tip, a clip point can be somewhat weaker compared to a drop point blade, but it will more than compensate with its sharpness and puncturing ability.
As we said from the beginning, the choice of a hunting knife is as personal as it gets. If you're curious to learn more, check out our blog.
A note on knife steel
Something to take into consideration when buying your hunting knife is the steel the blade uses. 420HC, for example, is one of the most common steels for outdoor knives. It will generally do a great job for day-to-day tasks. Especially if, like in Buck's case, there's additional heat treatment.
S30V is a more 'premium' steel, which is harder, and generally considered better in most ways. Except, perhaps, that it's slightly tricker to sharpen. For that reason, S30V might not be the ideal choice for a beginner knife owner who isn't experienced with sharpening.
If you're interested in learning more, we've recently written two steel comparisons: