ESSE and one of the most popular and trusted knife brands in the world. Founded by Jeff Randall and Mike Perrin in the late 90's, the pair were tired of poor quality tools, so set up on their own brand to create high quality outdoor essentials at a bargain price.
Whilst they manufacture a lot of different products, it's their knives they are known for. They have a really wide range, covering fixed and foldable knives, knives that are perfect for surivial or tactical situation alonsgside a great range of everyday carry knives – and thats where we're focused today!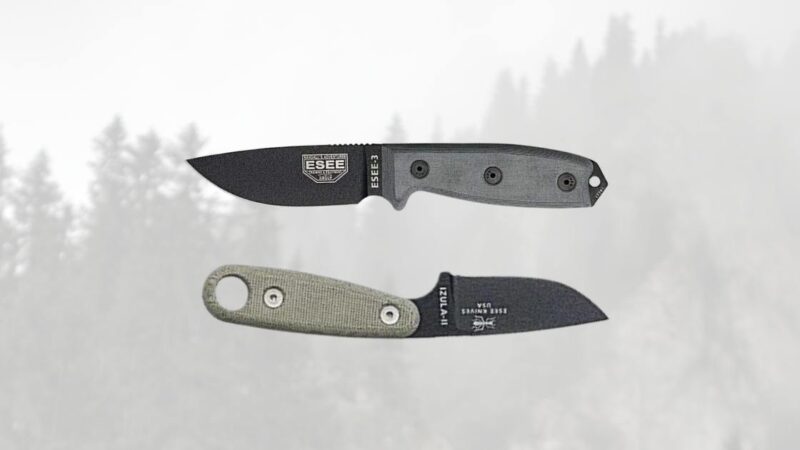 Getting it right with an EDC can be tricky, but two of the best models available anywhere, let alone just from ESEE, and the ESEE-3 and the ESEE Izula-II. Knife fans loves both for their mix of slim profile and supreme cutting power with many advocators for each knife believing one is the best.
So that's what we're going to try and answer once and for all – which is better, the ESEE-3 vs ESEE Izula-II?
Both ranges have a number of sub-models, so we're going to directly compare the standard ESEE Knives 3P Fixed Blade Knife & ESEE Knives Izula-II Fixed Blade Knife models.
Haven't got time for a full review? Here's the short version:
Now, let's get started with the full review!
ESEE-3 vs ESEE Izula-II – Key Comparisons
The reason these two knives come up against each other so often is because of where they sit in the ESEE range. Both knives are some of the smallest and thinnest fixed blade knives on the market, with the ESEE brand ensuring a high quality design and finish.
With an overall length of 8.31″, 3.88″ of which belongs to the blade, the ESEE-3 is a fairly small knife and is a great everyday carry. It's a fairly light knife too at only 5.2oz and has a razor thin blade thickness of just 0.125″.
It's the combination of that leight weight and razor sharp blae that make this knife so popular, with many reviewers loving how great it is at chopping/slicing most materials.
This lightweight design doesn't come at the cost of quality though, with the ESSE-3 but still a durable piece thanks to the 1095 High Carbon Steel blade construction and Micarta or G10 handle options.
ESEE's original Izula was the most popular knife the brand have ever sold, so it's no suprise the Izula-II doesn't stray too far from that winning formula. At an overall 6.75″ length, with 2.63″ of that blade, this model is even smaller than the ESEE 3 making it great as an EDC.
That smaller size results in an even smaller weight too, with the Izula-II feeling feather light at just 3.2oz. The 0.156″ 1095 High Carbon blade also delivers great cutting performance with the included polymer sheath offering a great carry option.
If you're looking for a small fixed blade EDC but the Izula II isn't a perfect fit, check out these 5 Izula alternatives.
Key Comparison – Verdict
Both knives come highly recommended and benefit from ESEE's reuptation of supreme build quality.
When it comes to choosing between these two knives, it's going to come down to the size and weight you're willing to be carrying everyday!
The ESEE-3 often gets the nod as the 'better knife' but that's mainly because of it's increase length. So if you can handle 8.31″ as an EDC, it could be for you! But, there's a reason the Izula range is ESEE's most popular, for a small knife it easily tackles most tasks with many seeing it as the 'perfect' EDC size.
"I would say because of the size, the Izula-II is almost a perfect EDC. The ESEE-3 however is more versitile and can preform more tasks."
That's the high level overview, but let's break it down in a bit more detail.
Side-By-Side Specs – ESEE-3 vs ESEE Izula-II
| | | |
| --- | --- | --- |
| | ESEE Knives 3P Fixed Blade Knife | ESEE Knives Izula-II Fixed Blade Knife |
| | | |
| Overall Length (") | 8.31 | 6.75 |
| Blade Length (") | 3.88 | 2.63 |
| Weight (Oz) | 5.2 | 3.2 |
| Blade Thickness (") | 0.125 | 0.156 |
| Blade Type | Drop Point | Drop Point |
| Best For | Great all round knife for slicing & cutting | Small, light knife for compact everyday tasks |
| Steel | 1095 Carbon, 55-57 Rc | 1095 Carbon, 55-57 Rc |
| Sheath | Polymer Molded | Polymer Molded |
| Manufactured | Made in the USA | Made in the USA |
The ESEE-3 is the smallest knife within the standard ESEE range making it the perfect EDC when compared with the likes of the ESEE-4 & ESEE-5. But don't let the size fool you, the ESEE-3 is still a very capable knife with some outstanding specs and performance.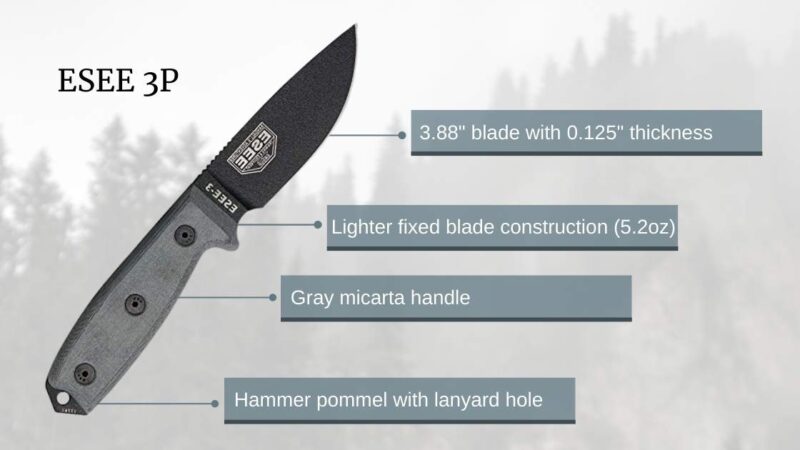 With an overall size of 8.31″ it's a fairly small knive, with the blade following an equally small ratio at only 3.88″. Naturally a smaller size equals a smaller weight, and at just 5.2oz it's an EDC that won't feel heavy on the belt or in the hand.
The USP of this knive is in its blade thickness. At only 0.125″ thick, it's a knife that's just made for fine cutting. Many people who review this knife comment on how easy it is to do basic tasks such as rope cutting, meat slicing or carving.
This simplicity of performance is also thanks to the steel of the knife. In this instance, ESEE opt for 1095 High Carbon Steel with a really slick black textured powder coating to protect it even further from damage.
The knife has a removeable handle and ships natively with either a Micarta or G10 option. It also comes complete with a moulded sheath and clip plate, with additional MOLLE backs also available. Again, the versatility of the carry making it perfect for everyday use!
All ESEE knives are made in the USA and come with a 100% unconditional lifetime guarantee. If your ESEE knife should ever break, they will repair or replace it at anytime.
Price wise you'll find an ESEE-3 anywhere around the $110 mark as an MSRP, but keep an eye out for the many sales that bring the price down to around $100!
The ESEE-3 is right up there as one of the best EDC knives on the market. If you're happy with the 8.31″ overall length, you'll get a great knife with one of the best precision blades on the market!
The Izula-II is seen by many as the perfect EDC knife. Based on the original Izula model which was ESEE's best selling knife, the Izula-II is lauded for it's blend of compact size and high quality performance.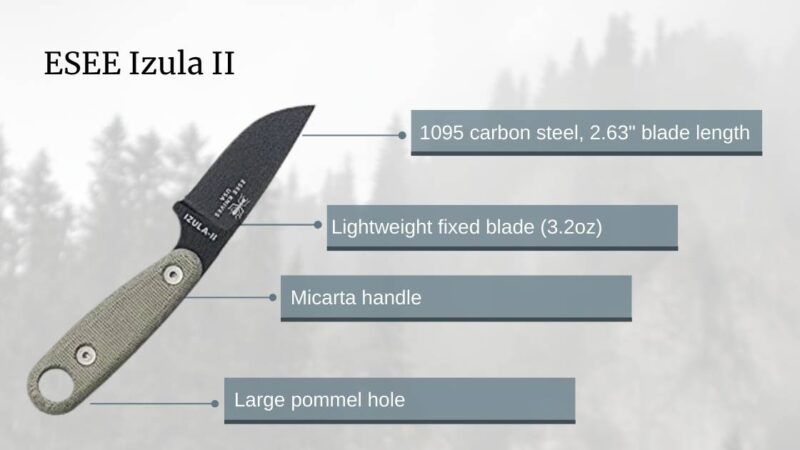 At an extra small 6.75″ overall length, the Izula-II is small enough to fit in your pocket. It has a short 2.63″ blade, made from the same 1095 High Carbon Steel as we saw with the ESEE-3 with the thickness slightly larger at 0.156″.
Smaller size equals smaller weight and at only 3.2oz, the Izula-II is a knife you can carry all day without barely knowing it's there! The high spec Micarta handle feels nice in the hand and features a large pommel hole perfect for use with a carabiner.
Using a carabiner isn't the only way to carry this knife. It comes with a moulded sheath included that alongside a clip plate can also be MOLLE mounted with some additional ESEE accessories.
The Izula-II comes in around $30 cheaper than the ESEE-3 with prices common across retailers at $75. At this price, it's hard to look anywhere else, especially when you throw in ESEE's lifetime warranty.
If you need a compact and light EDC that still delivers a good level of performance, it's hard to recommend anything but the Izula-II. Reviewers love it as a day-to-day companion with many keeping it on their belt wherever they go!
If you can't decide between the two ESEE models, how about an alternative? The BK14 from Ka-Bar is another super popular, compact EDC from a trusted USA brand.
The BK14 strikes the balance between the ESEE-3 & ESEE Izula-II in it's overall length, coming in directly between them at 7″. Of that, the blade sits at 3.25″ and is made from a similar 1095 Steel, this time KA-Bar's Cro-Van variety.
With this knife, the whole construction is steel, with the hollowed out handle creating an 'all in one' feel. This helps to make the knife even lighter than even the Izula-II, coming in at a tiny 2.4oz.
At that weight, it's a knife that many reviewers chose to put around their neck as well as on their belts. For those more traditional carry options, the BK14 comes with a moulded hard plastic sheath that can be belt mounted.
The best bit? The price! At only $50, the BK14 represents great value for a small EDC knife that doesn't give up too much on quality.
So if either of the ESEE's are too much for you, either in terms of weight or cost, the BK14 might be a great alternative when heading into the market!
Summary – ESEE-3 vs ESEE Izula-II
In this article, we took a look at the ESEE-3 vs ESEE Izula II. Both are exceptional knives, great for everyday knives that won't burden you day-to-day.
When chosing between them, it's going to be the size that counts, with the overall length, weight and blade thickness the defining factor between two knives that are otherwise very similar.
The ESEE-3 is a fantastic all round knife that many people swear by, but some find slightly too big for everyday carry. The Izula-II is based on a classic, and will provide a great compact option that should be able to handle any task you come across.
We'll finish up with a quote from a knife fan on a popular forum when asked their opinion on picking up an ESEE-3 or an ESEE Izula-II:
"I would say because of the size, the Izula-II is almost a perfect EDC. The ESEE-3 however is more versitile and can preform more tasks."