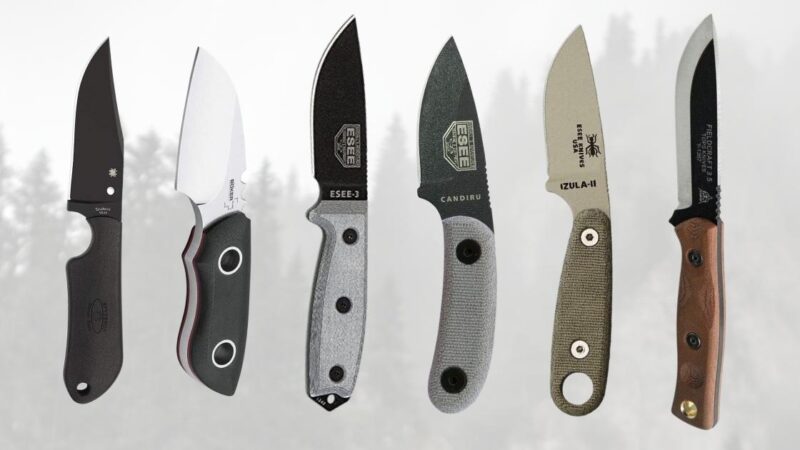 In the world of small fixed blade EDCs, the Izula is arguably the most well-known knife.
Naturally though, it's not for everyone. Maybe it's too small, maybe you prefer a different design, a stainless steel, maybe it's too big even. Whatever the reason, I'll try to help you find some options for good ESEE Izula alternatives.
Today we're taking a look at 5 fixed blade alternatives to ESEE's Izula models.. We'll go through the characteristics that we're looking for, and how each of the 5 compares.
Let's get started!
At a glance:
Consider ESEE's other models: the ESEE Candiru for something a bit smaller, or the ESEE 3P for something a bit bigger

Check out the Spyderco Street Beat for a nice-looking black knife with stainless steel & a great ergonomic handle

Take a look at the Boker Plus Prymini Pro for something a little cheaper, that packs the most possible power into the most compact knife!
Criteria for finding an ESEE Izula alternative
Since you're searching specifically for an Izula alternative, I can make some assumptions about what you're looking for.
Clearly the Izula isn't perfect for every situation and every taste (hence why you're here). But in any alternative suggestions, I'm guessing you'd like to see:
A fixed blade EDC, most importantly
Relatively small & light-medium weight
Quite a short blade, no more than 3-4″
Full tang
Good quality steel & build
You might also look for cheaper options, a different type of steel, something heavier, lighter, and so on. I'll try and cover as many bases as possible.
Why look for an ESEE Izula alternative?
What are the drawbacks of the Izula?
Why bother looking for an alternative in the first place? As mentioned, it's not perfect. You might simply be looking to see what else is on offer in this price range. Or, you may look to fix a specific drawback such as:
Could be slightly too small
Could be too expensive
You may want a more rust-resistant steel
Honestly, I can't think of many more reasons than those.
Other than that, as always, there's simply personal preferences for example different designs, colors, handles, and your specific needs.
5 Alternatives to the ESEE Izula
Here's the recommendations. Depending on your desired use case & budget, these are 5 options to consider picking up.
To start off our list of good quality ESEE Izula alternatives, let's look at the Spyderco Street Beat. Here we're going up in price from the Izula II in exchange for VG-10 stainless steel and a great ergonomic design.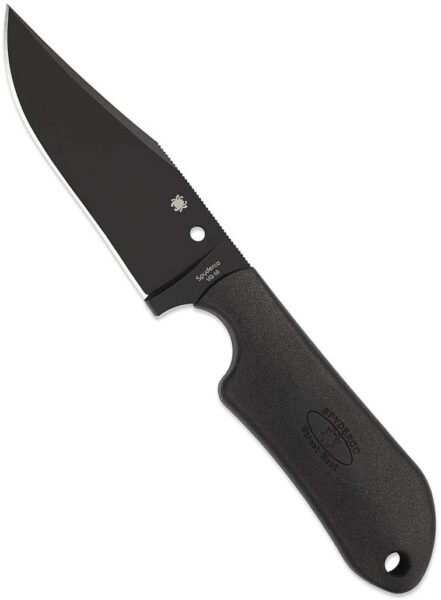 If you're looking for something that has a more stain/rust resistant steel, or a different design, this could fit the bill nicely.
Spyderco's Street Beat is popular among those who like to EDC a fixed blade knife, and you can see why.
The VG-10 steel should lead to better corrosion resistance (even moreso with the coating), slightly better edge retention, and a little less ease of sharpening vs the 1095.
It also just looks cool, if you like that aesthetic.
The handle is super comfortable to hold, great control, and it'd be harder for someone to knock that out of your hand too.
You get a good quality sheath included, and a G-clip, which gives you a pretty wide range of carrying options.
The only downside I can think of would be if you have particularly large hands, the ergonomic design might be a little snug for your finger(s).
Izula II vs Spyderco Street Beat: key differences
In relation to the Izula, the Street Beat:
Is more expensive
Uses VG-10 stainless steel instead of 1095 high carbon
Weighs around the same (3.2oz)
Has a longer blade (3.51″ vs 2.63″)
This time we're going down in length (and in price), but up in strength & toughness.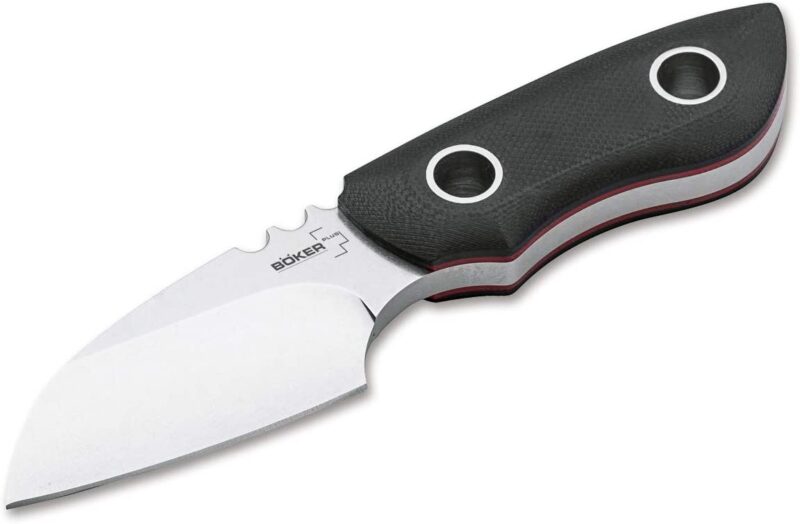 This compact little knife by Boker is easily small enough to be an EDC, is tough as nails, and reasonably priced.
The blade thickness is 5mm (nearly 0.2″!), and it uses a full tang D2 steel build. The handle has G10 scales and jimpings for extra grip.
The blade is almost the same size as the Izula II, just a little shorter, at 2.55″ (vs. 2.63″), so if you like the length of the Izula II, this should be good too. The total length is noticeably shorter though, at 5.2″ (vs. 6.75″).
Due to the thickness, this Boker weighs a little more than the Izula, at 3.5oz (vs. 3.2oz). Even though there's barely any difference, you might feel like the Boker is heavier than it really is, since it's so compact.
Either way, this is a solid contender for a small, strong, fixed blade EDC. And great choice when it comes to durable ESEE Izula alternative.
Izula II vs Boker Plus Prymini Pro: key differences
In relation to the Izula, Boker's Prymini Pro:
Costs less
Has a similar length blade, but shorter total length
Weighs 0.3oz more
Has a thicker blade
3. Slightly bigger & tougher: ESEE 3P
Before we go any further, consider this other small fixed-blade knife from ESEE, the 3P.

The 3P is larger than the Izula II, and it's probably about as large/heavy as you would be willing to go for an EDC.
Still, if something a bit larger to suit a broader range of tasks sounds attractive, give it a look.
The 3P weighs in at 5.2oz, vs the 3.2oz with the Izula II. The overall length is larger too, at 8.31″ vs 6.75″. The blade is 3.88″ long, vs. 2.63″.
Lastly, you'll notice a difference in the handles in that the Izula II has a large pommel hole, which could be convenient for carrying with a carabiner. The 3P has, instead, a hammer pommel, and a smaller lanyard hole.
Other than that, mostly everything else is equal. Same drop point shape, same 1095 steel, same sheath.
Price wise you're looking somewhere around $20-$30 extra for the 3P, accounting for the larger size. It's down to you whether or not that's worth it — but the 3P's size makes it viable for a bigger range of tasks overall.
Izula II vs 3P: key differences
In relation to the Izula II, the 3P:
Is a little more expensive
Is larger, longer, and heavier (but still small enough for EDC)
Has a hammer pommel instead of the pommel hole handle
Uses the same steel, shape, and sheath
One more ESEE blade to think about. It's so similar to the Izula II, it's hard not to mention it.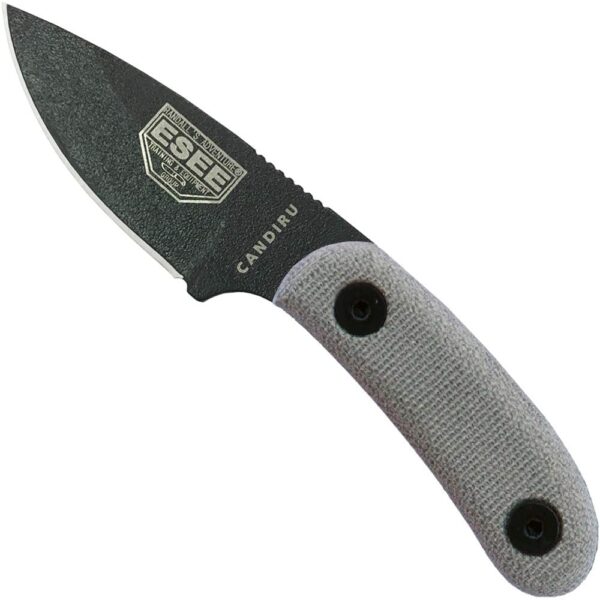 This one is going to be quick.
The Candiru by ESEE is shorter, and thinner.
The blade length here is shorter (2″ vs. 2.63″), and the blade thickness is less (0.125″ vs 0.156″).
So if you love everything about the Izula II, but just wanted something a little smaller, you've found the perfect fit.
Otherwise, everything else is basically the same. Same micarta handle, 1095 steel, and drop-point shape.
Even the price is around the same, so it really is just personal preference & use case here.
Izula II vs Candiru: key differences
In relation to the Izula, the Candiru:
Is around the same price
Has a shorter blade (2″ vs 2.63″)
Has a thinner blade (0.125″ vs 0.156″)
Otherwise has the same steel & handle
5. Similar quality, slightly larger: Tops Fieldcraft
Rounding out our list of good ESEE Izula alternatives, we're going for something a little bigger with this Fieldcraft knife by Tops.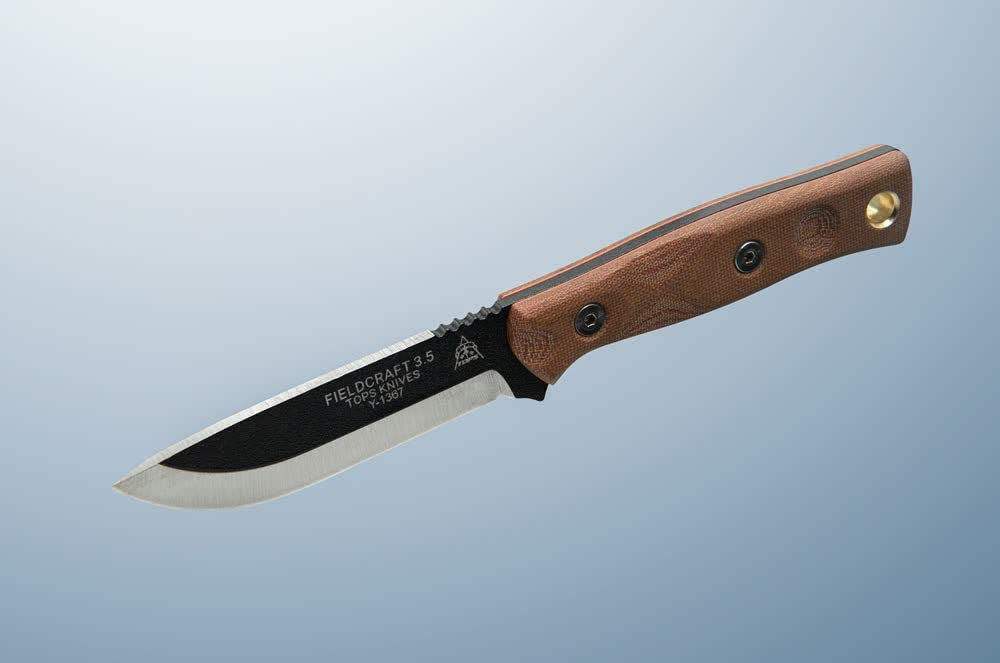 Now, I think Tops have a bit of a strange perception in the knife world.
A lot of people disregard them due to the brand name. I can see why, it's kind of an odd name that makes everything sound like a kid's toy.
But ask anyone who owns one, and they'll tell you that's not the case. These are really well built knives.
The Tops Fieldcraft, as you can see, is longer. The blade comes in at 3.75″ (vs. 2.63″) with an overall length of 8.25″ (vs 6.75). So once again, probably on the top end of what you'd comfortably EDC, but worth a look if that's what you want.
The weight is heavier at 5.5oz, and blade thickness is very similar at 0.160″.
The extra size could be a big advantage if you're doing a lot of cutting tasks, and/or if you want this to double up as a camping/bushcraft knife then it'll likely perform better than the Izula for that.
Plus, it's just a different design again. Always have to account for tastes in design/style.
Izula II vs Tops Fieldcraft: key differences
In relation to the Izula, the Fieldcraft:
Is more expensive
Has a longer blade & overall length, but similar blade thickness
Uses similar quality 1095 steel
Is heavier (5.5oz vs 3.2oz)
That's all, folks
In this article, we took a look at some solid ESEE Izula alternatives. Whatever your reason for seeking out a knife similar to the ESEE Izula, I hope you've found something that fits the bill here.
There's quite a few good options out there these days for a good, small, fixed blade EDC, assuming that's what you're looking for.
ESEE themselves have very similar models to consider in the 3P and the Candiru, and other brands like Spyderco, Boker, and Tops have small fixed blades to check out too. I hope you found a good fit!
Read More >>> ESEE-3 vs ESEE Izula II: Which EDC Should You Buy?