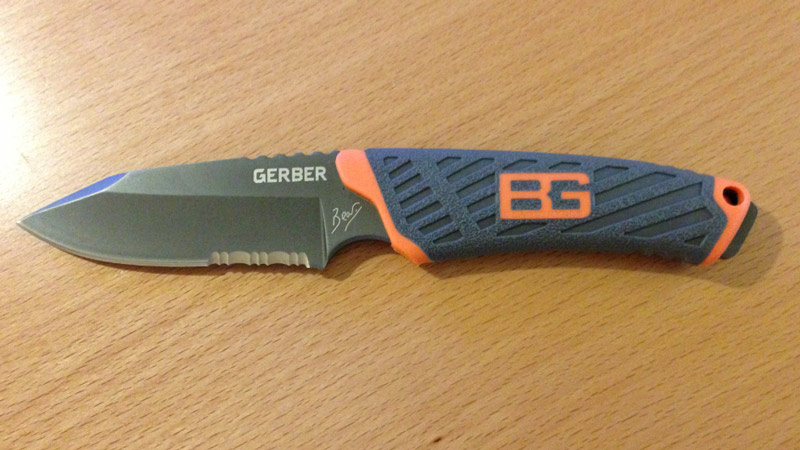 Gerber, a name many outdoorsmen swear by, is a well-known manufacturer of blades and tools. The company — based in Portland, Oregon — was founded by Pete Gerber and has been designing top-notch equipment since 1939.
All products engineered by the brand are backed by their famous lifetime warranty.
In this article, we'll take a look at the best Gerber knife for each price point and use case. So whether you're looking for cheap or premium, hunting, EDC, survival, or anything else — keep reading. Let's get started!
At a glance:
Best fixed blade knife: StrongArm
There are two knives that really remade Gerber's reputation as a quality knife maker. The StrongArm, and the Prodigy.
They are remarkably similar, but the very short version is that, basically: they're the same knife but the StrongArm has an upgraded grip. See here for more detail on the StrongArm vs Prodigy.

This blade weighs 7.2oz, has a blade length of 4.8″, and uses a diamond texture rubber handle (not found on the Prodigy). The base of the handle features a pommel that can be used as a hammer and even to smash glass in a rescue situation.
This Gerber military knife has a no-nonsense, tactical look, keeping in line with the purpose it aims to serve. The rugged equipment is noticeably heavy and comes with a durable sheath that includes the right mounting points for drop-leg, horizontal, or vertical carry.
It's to be suitable for everyday carry if larger fixed blades float your boat for that. It will also work for a variety of survival and bushcraft situations. Don't get me wrong, there are better knives for something like whittling firewood (Mora Garberg…?), but it will still do the job.
This is one of Gerber's most popular knives, for good reason. It's a solid all-rounded, for a reasonable price.
The knife uses Gerber 420HC steel, and has good edge retention and corrosion resistance. The Gerber StrongArm comes in two variants — one with a straight blade, and the other with a partially serrated blade
Toughest Gerber Knife: LMF II
If you are looking to maximize value for money, you should take a serious look at the Gerber LMF II.
This fixed blade knife is likely to survive a round trip through even the harshest conditions.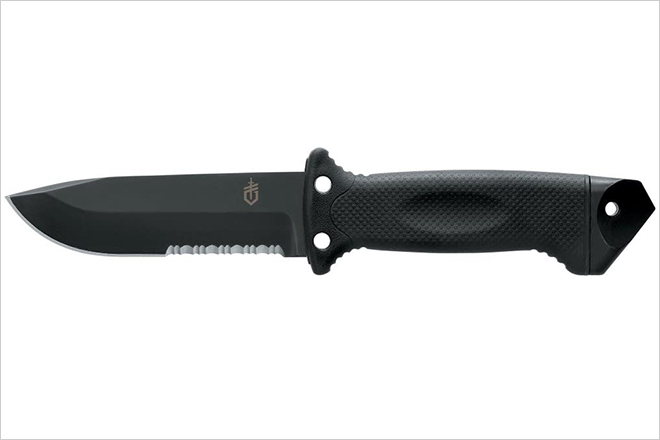 One of the brand's most renowned models, the LMF II was originally designed for downed US Military air crews.
It measures approximately 28cm from handle to tip and weighs almost 12oz without the sheath (and 23oz with it). But this weight makes it sturdy rather than cumbersome.
This is the perfect companion on a camping trip or hiking expedition, and — true to form — the Gerber LMF II comes in handy in a variety of situations. From opening cans of food to cutting firewood, this partially serrated survival knife does it all.
See also: Gerber StrongArm vs LMF II
The handle and base of the knife are designed to be used as a hammer, with the former also being designed to function as a glass breaker if the need ever arises. And, taking it a step further, there are holes in the handle and the knife butt which are meant to function as lashing points for a spear.
The knife's sheath deserves as much attention as the equipment itself — it comes with a built-in sharpener and has attachments for molle straps. Its sturdy cover holds the knife firmly strapped in place.
Pros: It has a textured handle that ensures a firm grip. The blade requires little maintenance, regardless of if it's used regularly. Great for survival purposes, the knife is tough and durable enough to even cut through aircraft fuselage.
Cons: Removing the knife from the sheath can sometimes feel a little clunky. It's also too big and heavy for EDC.
The Paraframe Mini emerges as the hands-down winner in this category if you're looking for an affordable / low-cost Gerber knife.
This small Gerber pocket knife is made of steel and has a serrated edge, and is also available in plain and tanto edge variants. Its end-to-end metallic design gives it an intimidating (yet very appealing) appearance.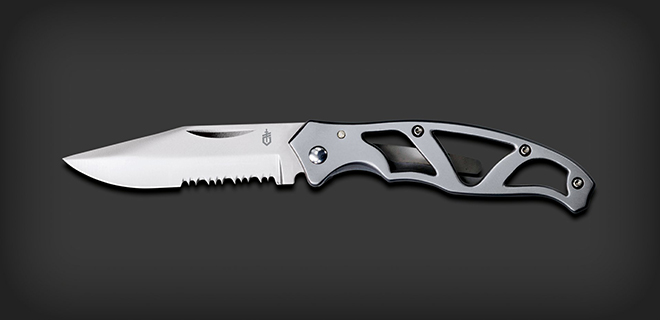 Measuring 13cm from butt to tip, this folding knife has a frame lock handle design and a sturdy pocket clip. Sharper than most stainless steel knives in the same price range, it is a strong contender to the title of the best Gerber folding knife.
For a knife that fits well within every budget, its performance goes well above and beyond — its effectiveness can be compared to many high-end, premium knives. And, although suitable for general, daily use, this knife also stands out as a survival tool.
It is a great option for first responders who might need to rescue people while under challenging circumstances. According to reviews from users, it is the perfect combination of durability, strength, and budget-friendliness.
Pros: Ridiculously lightweight, this knife is perfect for everyday carry. Plus, its small and compact design can help you conceal it easily. As a piece of affordable survival equipment, the sharpness of its blade is comparable even to most of its high-end peers.
Cons: The blade lock requires regular maintenance to ensure smooth operation. You must also keep an eye on the screws and tighten them periodically.
Best Premium Gerber Knife: Gator Premium
Emulated after one of nature's deadliest predators, the Gerber Gator Premium is easily among the best Gerber knives available if you're not on a budget.
Measuring about 23cm from end to end, the knife has a drop point configuration and weighs about 8oz and 10.5oz, without and with cover respectively.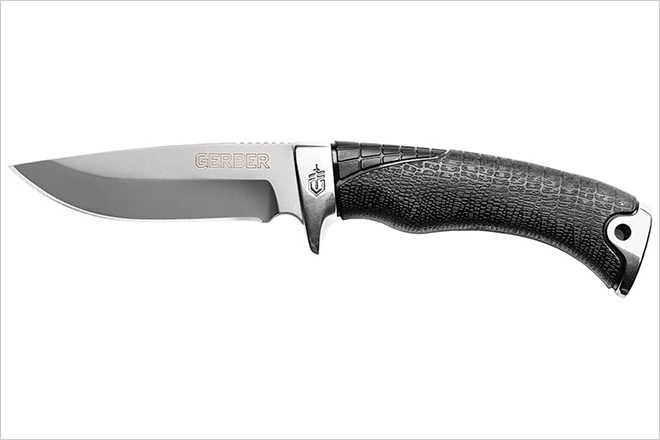 A bestseller for over two decades, the Gator is one of the best knives in ergonomics and utility, making it a favorite among modern hunters and knife enthusiasts alike.
The earliest Gators were dubbed the "Most Innovative American-Made Design" at the 1991 Blade Show.
The Gerber Gator Premium has a full tang, fixed blade made of hard and durable S30V grade steel. The blade extends into the glass-filled nylon handle and can hold its edge for a long time. What's more, the handle has a rubber over-mold — characteristic of the classic, non-slip Gator grip.
The Gator Premium has a simple design and was meant for everyone's use, but it's now become a favorite among hunters — and with good reason.
The knife can seamlessly mold itself to serve in any situation. From slicing potatoes to field dressing big game, this tool can do it all.
Pros: Almost everything about this knife is a winner. It is durable, stable, and made of superior-quality steel. It can hold an edge with minimal maintenance and perform a wide variety of functions, and is undoubtedly one of the best products from the house of Gerber.
Cons: The blade steel's durability makes it difficult to sharpen. The leather sheath also covers just the blade and could use an improved design.
Best Folding Gerber Knife: Ripstop II
The Gerber Ripstop II, with its stainless steel skeleton frame and futuristic design, has made ripples in the folding knife category.
Well constructed and sturdy, it weighs in at a mere 3oz and makes an impact despite being light. It is a great survival knife, suitable even for everyday carry.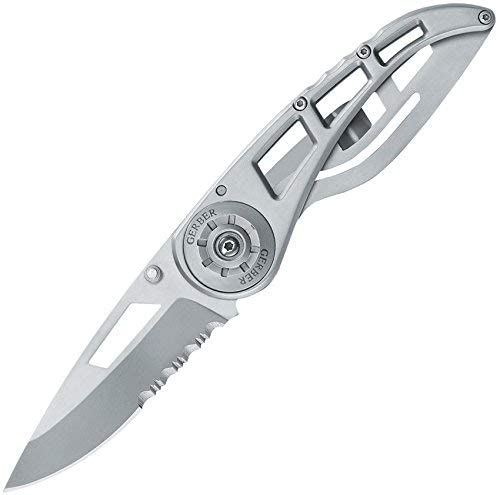 Measuring about 19cm in length when opened, this knife is of a folding variety and has a partially serrated edge. It has a fairly large pocket clip running about three-quarters of the length of the knife's body that can be used to securely fasten the equipment.
More suited for right-hand operation, according to reviews, the Ripstop II performs like magic even if you need a cutting and cleaning knife on a hunting expedition. Irrespective of the nature of its use, it can cut through all kinds of material without snagging.
With a thin blade and minimalistic design, it's a compact tool that easily fits into any pants pocket. Little maintenance is required, and sharpening takes only minutes.
Pros: The lightweight futuristic design makes it an excellent knife for everyday carry. It can comfortably be carried on a utility belt without adding unnecessary bulk, and the skeleton steel finish helps make a style statement. The big plus? It takes a lot to lose the edge off its sharp, durable blade.

Cons: Many user reviews state opening the folding blade with one hand takes a considerable amount of practice. The blade needs some getting used to, and requires both hands to maneuver initially. The dual thumb stud also requires maintenance for smooth operation.
Types of Gerber Knives
The offerings from this brand are varied and many, making it tough to select a single best Gerber knife — or even to select the best in any one given category.
While the knives mentioned above are market leaders in their own right, the following Gerber products are just as noteworthy.
Survival/Camping Knife
The Gerber Bear Grylls Ultimate Knife is a blade that gets mentioned every time knife enthusiasts discuss survival knives as part of camping equipment.
Measuring about 25cm from end to end, this fixed blade tool can easily be dubbed the best Gerber camping knife. It weighs about 15oz with the sheath, and about 11oz without it.
This blade boasts a partially serrated blade made of high carbon steel that retains its edge for a long time.
Its ergonomically designed handle has a rubber grip which makes it comfortable to hold and reduces the chances of slippage. On top of that, it also has a steel pommel at the base of the handle which can be used as a hammer.
Keeping in mind that good survival equipment needs to be innovative, the knife handle includes two holes for fitting the blade to a stick to be able to use as a fishing spear. Meaning, if the necessity ever presents itself, you'll never go hungry.
Plus, it has a lanyard cord with an attached whistle that can help you attract attention in an emergency.
This lightweight, defense-grade knife doubles up as a fire starter — it has a ferrocerium rod that locks into the durable nylon sheath and a striker notch at the back of the knife blade.
As versatile as the knife, the sheath conceals a diamond sharpener.
Military Knives
There's no need to repeat the details here, but 3 of Gerber's best knives have military origin.
The StrongArm, the Prodigy, and the LMF II.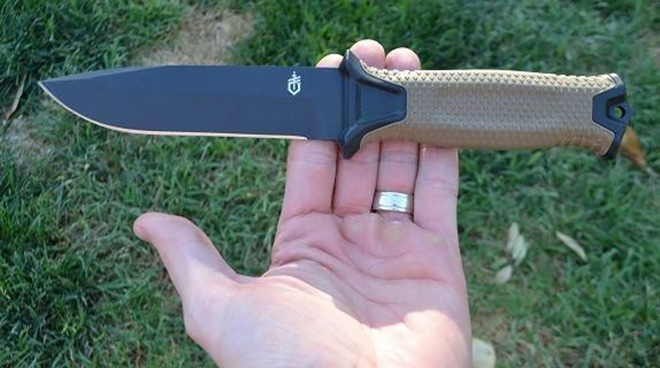 Pocket Knives
Gerber's Daily Carry (GDC) collection is all about merging utility with compactness to ensure common objects integrate seamlessly into our lives. Nowhere is this more evident than the Tech Skin knife.
The GDC Tech Skin is the ideal everyday carry Gerber knife for the iPhone generation, while also being best suited for the office executive who prefers a blade for daily use that can be taken on weekend hiking trips.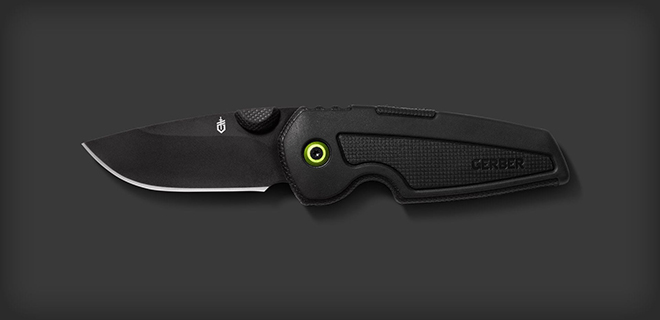 The blade is covered in a rubberized layer and comes with a lock back system which prevents it from folding in during use. Underneath the rubber layer is a blade made of Chinese 7Cr17 steel with a titanium nitride coating.
Its sleek design makes this Gerber product quite difficult to detect, and it can fit seamlessly into your pocket alongside your phone. Even though it has a steel frame as a foundation, it's slight frame and flexible blade blends in with any suit and tie.
The flex, coupled with the Tech Skin's small size, limits its utility to some extent, making it suitable only for light-duty everyday tasks. It also lacks a clip, requiring users to always tuck the tool in their pocket.
Hunting Knives
The Gerber Myth Fixed Blade Pro, with its drop point blade, was designed for the use of professional hunters and wilderness guides. It was the first product in the legendary Gerber Myth series.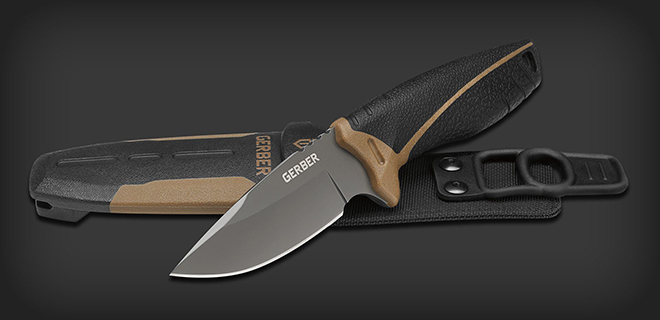 Its slim, ergonomic design coupled with its very low weight (about 4.5oz unsheathed) help it set new standards of efficiency among fixed blade hunting knives. It has a full tang, and a stainless steel blade with a titanium nitride coating.
The knife comes with a durable, puncture-proof sheath made of hard plastic and equipped with a built-in carbide sharpener. It uses dual-lock technology that employs both a friction lock and a rubber lock to ensure secure and quiet fastening.
The sharpness of its blade is what makes the Myth Fixed Blade Pro a go-to hunting knife, even though its size can sometimes be a bit inconvenient.
Other buyers have only praise for its efficiency in dressing big game on the field:

Gerber at a Glance
Here is a handy table that you can use as a reference to compare the features of the Gerber products we discussed:
Knife

Purpose

Blade Type

Weight (unsheathed)

Length
(end-to-end)

Gerber LMF II
Survival, Military
Fixed, Partially Serrated
12oz
27cm
Gerber Paraframe Mini
Survival, Everyday Carry
Foldable, Serrated/Plain/Granton
2oz
13cm
Gerber Gator Premium
Hunting, Survival
Fixed, Plain
8oz
23cm
Gerber Ripstop II
Camping, Everyday Carry
Foldable, Partially Serrated
3oz
19cm
Gerber Bear Grylls Ultimate Knife
Survival, Camping
Fixed, Partially Serrated
25oz
11cm
Gerber StrongArm
Military, Survival, Camping
Fixed, Partially Serrated/Plain
7oz
25cm
Gerber Daily Carry Tech Skin
Personal, Everyday Carry
Foldable, Plain
1.5oz
15cm
Gerber Myth Fixed Blade Pro
Hunting, Survival
Fixed, Plain
4.5oz
21.5cm
When it comes to knives for every imaginable purpose, Gerber is the first to name that pops up.
Gerber has a wide selection on offer for every buyer and all kinds of use. Regardless of your lifestyle, the perfect Gerber knife — with its unique characteristics and advantages — is out there waiting for you.
We've tried to narrow down the choices in every category. The final selection, however, depends on your preferences. All you need to do is identify your requirements and go through our blogs to find your perfect match.
We also have an article that looks specifically at 420HC Gerber knives which you can read here.
Featured Image: commons.wikimedia.org