If you're in the market for a new knife, one of the first names you'll come across is Buck. The American brand's 110 years of craftsmanship experience along with their Forever Guarantee makes them one of the most trusted and well-loved brands in the knife market.
If you've made your way to this article, we're betting you're after a new folding knife. Well, you're in the right place as we're here to put two of Buck's most popular folding knives to the test – The 501 'Squire' and the 503 'Prince'.
We'll take you through the specs, price, and comparisons of both models to help you answer the big question: "which knife is better for me, the Buck 501 vs Buck 503?"
If you haven't got time to read the whole article – here's the key difference:
And now it's time for the full review!
Buck 501 vs Buck 503 – Key Comparisons
On the face of it, these two knives are super similar. They both match the same Dymalux Red Wood handle with good quality 420HC steel and a drop point blade. But, it's in the size, weight and carry options where these two knives differ.
The 501, nicknamed the 'Squire', is the slightly bigger of the two models with a 2 3/4″ blade length and a 3 3/4″ profile when closed. Whilst we use the term 'bigger', it's worth noting in context this isn't a 'big' knife and still very small and comfortable in the hand.
Carrying the 501 is a dream. At a weight of just 3oz, you'll barely know it's there even when you're not using the included genuine leather sheath.
On the other hand, the 503, nicknamed the 'Prince', is a slightly smaller knife at 3 3/8″ when closed with a blade length of 2 1/2″. The weight drops down to only 2oz with the 503, which really does make this knife effortless to carry and use.
Given the 503's small size and feather-light weight, there's no external carry system included here. Buck anticipates that most users will just slip it into their pocket for daily use.
There's a $3 difference in price between these two knives, with the 501 coming in at $60 and the 503 at just $57.
Given that the two knives are so similar and both on the small side in general terms of foldables, it's hard to see past picking up the 501 with its greater blade real estate and inclusion of a sheath.
But, as with many knives, it comes down to how it feels in the hand for you. If you want something slightly bigger, go for the 501. If in fact, the 501 feels a little big, go for the 503 as the smaller and lighter option if you're comfortable with not having a sheath included.
Side-By-Side Specs – Buck 501 Squire vs Buck 503 Prince
Buck

501 Squire

Buck

503 Prince
Overall Length (")
6 1/2
5 2/3
Weight (Oz)
3
2
Blade Thickness (")
0.096
0.084
Blade Type
Drop Point
Drop Point
Best For
EDC with Sheath
Pocket EDC
Steel
420HC
420HC
Sheath
Black Genuine Leather
None (Pocket Carry)
Manufactured
Made in the USA
Made in the USA
Buck has always made great folding knives and the 501 is no exception to that rule. For $60, you're getting a great quality knife from a renowned American brand that looks great and feels nice in the hand.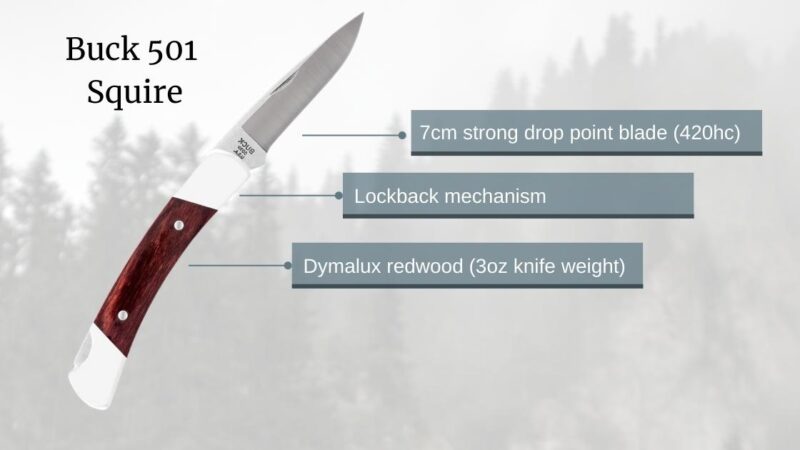 Let's get into the specs. When closed, the 501 sits at a nice 3 3/4″ long making it easy to slip into your pocket or carry around your neck if needed. When opened up to 6 1/2″, you get a knife that's a good size for most day-to-day tasks without being onerous thanks to only having 3oz of weight.
Some knife users with bigger hands will complain that this knife is still just too small. If that's you, you're going to be more at home with something like a Buck 110 which we'll look at later on in this article.
Heading back to the 501, you get a nicely built 2 3/4″ blade that utilizes 420HC steel which is standard for Buck's at this price point. With 420HC you're getting a blade that performs well with most things it comes across. That said, it isn't ultra-sharp like a S30v.
The knife is rounded off with a really classy Dymalux redwood handle which feels great in the hand and is super easy to clean. One of the key plus points of this knife vs the 503 is the sheath which is made of genuine black leather and can be attached to a belt.
This is one of Buck's USA-made models and of course, comes with their Forever Guarantee. If you have any problems, it's quick and easy to repair or exchange. The 501 'Squire' is an absolute steal at $60, making it one of the easier to recommend small foldable knives on the market.
The Buck 503 Prince is a super-compact folding knife that's the perfect carry for those who need to manage their pocket capacity. It perfectly balances great quality and tiny size to make it one of the best all-around compact folders on the market.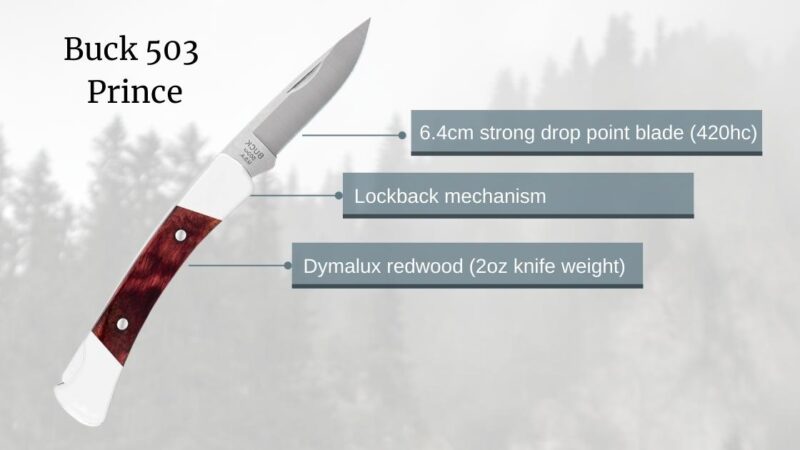 Size-wise, at just 3 3/8″, the 503 is a knife you're going to be comfortable hanging around your neck or slipping into the inside pocket of your jeans. When opened, the full 5 2/3″ profile (2 1/2″ blade) is going to give you enough to work with for most day-to-day tasks whilst being easy to handle at just 2oz.
It's this reduced size and weight that will draw those with smaller hands to the 503 over the 501, with the blade and handle material exactly the same as its bigger brother.
Given the smaller size, Buck has made the assumption most users will store this knife in their pocket and that means it doesn't include a sheath. Whilst it's a little disappointing to have a sheath excluded, you can follow Buck's logic as given the knife is so small, we doubt anyone would struggle to store it in their pants.
The 503 is also USA made and follows the Forever Guarantee that Buck offer. The 503 is slightly cheaper than the 501 at just $57. Given the $3 difference, we'd exclude price as a competing factor when choosing between the two as knives alone, so you're essentially saving $3 by not having a sheath.
Overall, the 503 is one of the best compact foldable knives on the market. If you really are looking for something that will pop into your pocket with ease, we'd recommend the 503 not just against the 501, but against most other pocket knives of this size given Buck's outstanding reputation!
The overriding critisism of both the 501 and the 503 is that they're too small. So, if you need a foldable knife with a bit more size and power, we'd recommend another classic from Buck, in their 110 Folding Hunting Knife.
We really step it up a notch with this knife. With a closed length of 4 7/8″, an open length of 8 2/3″ and a blade length of 3 3/4″, the 110 is a much bigger knife and will appeal to those with bigger hands who need to complete more robust tasks.
Naturally, the weight is proportionally heavier at 7.2oz, double that of the 501. This means you'll likely be ditching the pocket carry here and definitely utilizing the genuine leather sheath that's included.
The differences here also extend past the size, with upgrades to the knife's specs. With the 110, you'll get a Crelicam genuine ebony handle, S30v steel and a clip point blade that's perfect for high-intensity cutting.
This USA-made knife is a serious step up in size and quality and the price increases to match. At $100, you're into the more premium range of folding knives but it's well worth it if you're after a chunkier model that also upgrades in quality over the Buck 501 and 503.
Read More >>> Buck 110 vs Buck 112: The Difference Between Two Classic Folders
Summary – Buck 501 'Squire' vs Buck 503 'Prince'
In this article, we compared the Buck 501 vs Buck 503. If you're after a small foldable knife from a trusted American brand, we'd recommend both the 501 and 503.
When choosing between the two, there are two key factors that separate them – size & carry options.
If you need a slightly bigger knife with a sheath included, the Buck 501 is definitely the knife for you and will see you good for all your day-to-day needs. If instead, you're prioritizing size and weight, it's the Buck 503 with its smaller profile and feather-light load that we'd recommend.
Both knives are quite small for those with bigger hands, so venturing up to the Buck 110 could be the way to go if you need a plus-size alternative.
When it comes to Buck 501 vs Buck 503, this simple quote from a popular knife forum sums up how to make the choice in just 13 words:
"All a matter of what size suits you. Same knives other than that."