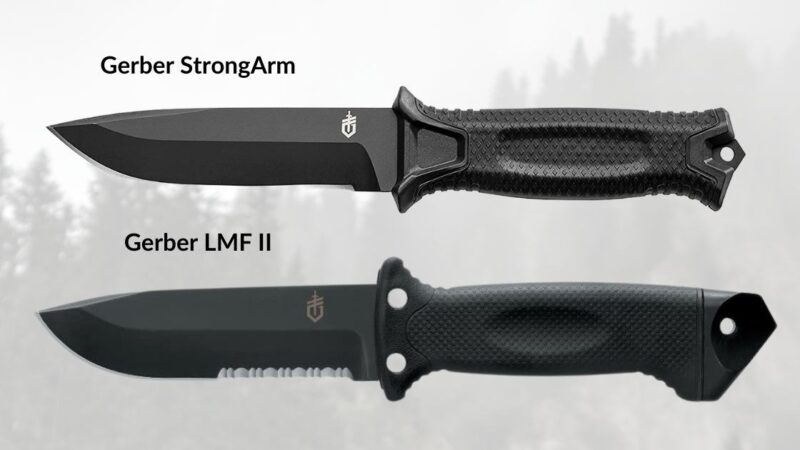 Thinking about buying a Gerber knife? In this article, we discuss the relative merits of two exceptional knives – the Gerber StrongArm vs Gerber LMF II.
This article will help you with a concise explanation of the differences & similarities, to help you make the right buying decision.
If you haven't got time to read the whole article – here's the short version. Both knives are solid fixed-blade choices which will do well for survival purposes, but:
The Gerber StrongArm is a little shorter, smaller, and lighter to carry. It's also better for bushcraft tasks. You'll get more use out of the StrongArm as a more versatile knife.
The Gerber LMF II is bigger, thicker, and heavier, making it a stronger knife to get through tough situations, but worse for bushcraft & precision jobs. It has it's place, but only when you need those characteristics. Less versatile.
Let's get into the details.
What's the difference between the StrongArm & LMF II?
In terms of the Gerber StrongArm vs Gerber LMF II, the biggest difference between these knives is the size and weight.
The StrongArm has a blade length of 4.8″, an overall length of 9.88″, and a weight of 7.2oz. In comparison, the LMF II has a similar blade length of 4.84″, an overall length of 10.59″, and a weight of 11.67oz.
The LMF II, although it is similar in length, is much wider. See:

Screenshot credit to SensiblePrepper
Other than that:
The LMF II isn't quite full-tang. It has an intentional break before the pommel to insulate from electricity & impact
The LMF II is pretty pommel-heavy with the integrated hammer
The LMF II has lashings on the handle which you can use to attach to a spear/pole
Neither of these knives excel at slicing due to their thickness, but they can take a beating, they're tough, and the 420HC makes it easy to sharpen. Not perfect for bushcraft overall, but good for batoning for example.
Overall, the StrongArm is a much more versatile knife. The LMF II has it's place, but only if you really need that extra weight and strength.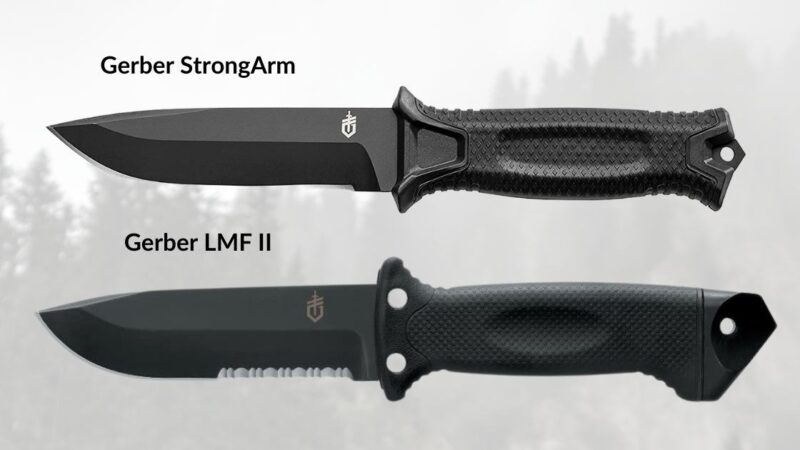 StrongArm & LMF II Specs Side-By-Side
| | | |
| --- | --- | --- |
| | Gerber StrongArm | Gerber LMF II |
| | | |
| Overall Length (") | 9.88″ | 10.59″ |
| Blade Length (") | 4.8″ | 4.84″ |
| Weight (Oz) | 7.2oz | 11.67oz |
| Blade Thickness (") | 0.190″ | 0.175" |
| Blade shape | Drop point | Drop point |
| Steel | 420HC | 420HC |
Similarities shared by the StrongArm & LMF II
These two knives share a lot in common.
Both use the same 420HC steel
Both have a similar rubberized coating on the handle
They have a drop point blade shape
They have very thick spines, to get power behind
Most of these similarities are shared by the Gerber Prodigy too.
More about the StrongArm
As a newer knife, the StrongArm can be considered a successor to the LMF (to an extent).
It solves many of the complaints that one might have about the LMF II. For example, it not being full tang. Or it being just too heavy.
It's even cheaper, too, which is inevitably one of the reasons why it became so popular.
The StrongArm comes in a few variants. Basically, serrated vs fine edge, and two handle colors: black or coyote brown.
Here's the serrated coyote brown variant as an example:

More about the LMF II
The LMF II was, very famously, originally designed for downed aircraft crews. To be strong enough to get through fuselage and other tough materials.
That's also the reason for having the electrically insulated handle; in case of live wires.
Since then, obviously it has been released to the public for purchase, promising that same toughness as a utility / survival knife. It's very strong, and you won't have to worry about chips during tougher tasks.
It was designed by Jeff Freeman, who also has his own range of hard use outdoor gear.
As well as the survival knife linked above, you can also get the LMF II infantry knife which comes in more colors, including this great coyote brown.
There's no difference in the actual blade, just handles & sheaths.
Gerber LMF II Infantry, Coyote Brown

Can't decide? Here's one other alternative: ESEE 5P
If you will consider going up a little in budget, check out the ESEE 5P.
This is a beautiful knife that's even heavier than both the StrongArm & LMF II. It's a big step up in weight and thickness vs. the ESEE 4, which might be suitable if you're already considering a tough fixed blade knife like the LMF II.
It has a blade length of 5.25″, and an overall length of 11″.
One thing to be aware of is that by using 1095 high carbon steel, this knife will rust easier if you don't take care of it. Remember to wipe it down and oil occasionally.
Check out some other StrongArm alternatives here if you're still looking.
Summary
I think in most cases, the StrongArm will be the go-to knife of choice. The LMF II is super robust, but may be just a little too big & heavy for most use cases. Hopefully you found this article about the relative merits of the Gerber StrongArm vs Gerber LMF II useful.
When you need that in a knife, that's great, it's an amazing knife for the job. Reasonably priced, well made, manufactured in the USA. But I'd dare to say that situations in which the LMF II is needed are fewer and farther between vs. situations in which the StrongArm is useful.
I'm sure you'll be happy either way, as these are both great sturdy knives which won't disappoint.