Hog knife hunts, or Hogdogging, is a serious hobby sport that can be extremely satisfying if done right but dangerous if done wrong.
With that in mind, it is important to equip yourself with the correct hunting knives when doing so.
Careful consideration is important for the knife as using proper gear can make the hunt with your dogs quicker and cleaner. Below are 3 picks for reliable hog hunting knives.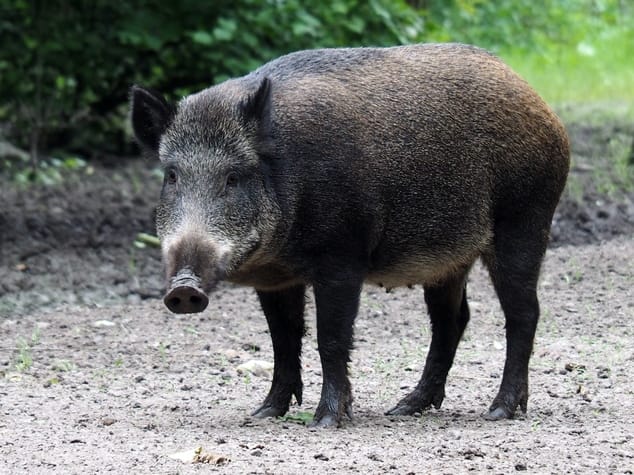 3 Best Pig Hunting Knives
At a glance: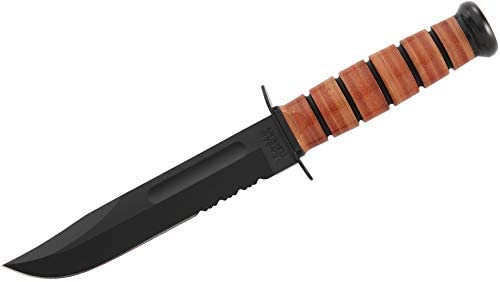 Features
1095 Cro-van steel
7-inch clip point blade
Leather molded grip
Leather tough sheath
Knives don't get more iconic than the Ka-Bar Standard USMC Classic. You've seen it in movies, tv shows, and even in history books. The Ka-bar, previously a standard-issue marine knife, is now a viable choice for the experienced hunter.
The Ka-bar uses a tough, high-quality 1095 high carbon steel or Cro-van steel. Almost synonymous with Ka-bar themselves, this 1095 steel stays sharp for a long time and is easy to sharpen for regular maintenance.
Ka-bar's knife blade length comes at an impressive 7-inches, with an overall length of roughly 12 inches. It's a striking knife, with the clip point and curved razor-edge able to pierce and cut a hog with ease.
Its handle is fairly traditional, composed of leather rings around a steel handle concealing the narrow full-length tang. The Ka-Bar also features a traditional brass hand-guard and pommel for hunter protection when wrangling your hog.
Ka-bar keeps things well-matched with a complimentary leather sheath, tough enough to carry your knife during a hunt with your dogs.
Simple, straightforward, and reliable, the Ka-bar makes our list as the most recommended hunting knife for the experienced boar hunter.
Pros:
Sharp, high carbon blade
Grippy leather handle
Tough leather sheath
Cons: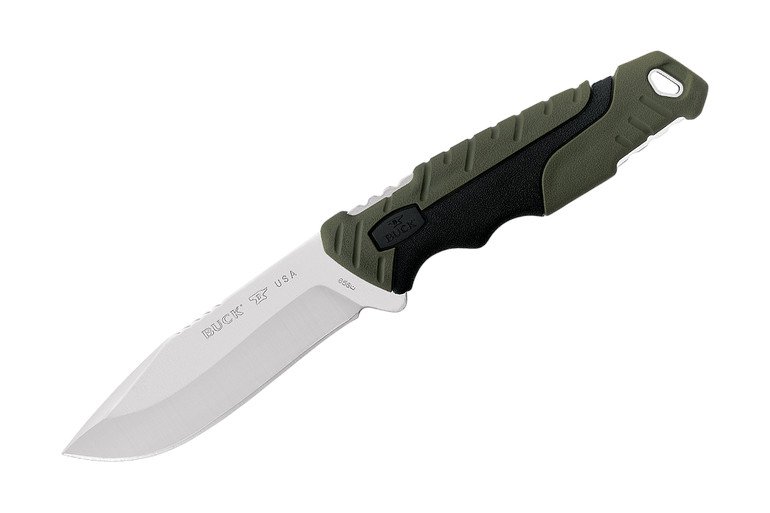 Features
420HC stainless steel
4 1/2-inch drop point blade
Nylon Versaflex handle
Polyester-nylon sheath
You may be a hunter who enjoys having more innovative and modern knives by your side when out in the field.
Buck Knives has its 656 Pursuit Large hunting knife that uses 420HC stainless steel that has been through their legendary heat-treatment processs.
This is guaranteed to pierce nearly any type of hog through their thick hide, such as Berkshire, Hampshire, and Duroc, to name a few.
The 656 Pursuit Large has a 4 1/2 inch blade length that uses a drop point tip.
In contrast to the clip point, the drop point blade has a thicker edge and a smaller tip point. This helps precise piercing and lends to the toughness of the blade when piercing a hog.
The Buck 656 uses a composite of nylon and rubberized Versaflex. The handle takes inspiration from tactical designs to give the hunter more grip while handling the knife through different finger grooves.
The 656 Pursuit Large comes with a heavy-duty polyester-nylon sheath that comes with an integrated belt loop. You'll appreciate this lightweight knife when you're out trying to take down a wild boar.
Pros:
Thick, durable drop point blade
Modern handle
Cons:
Sheath might be a bit softer than others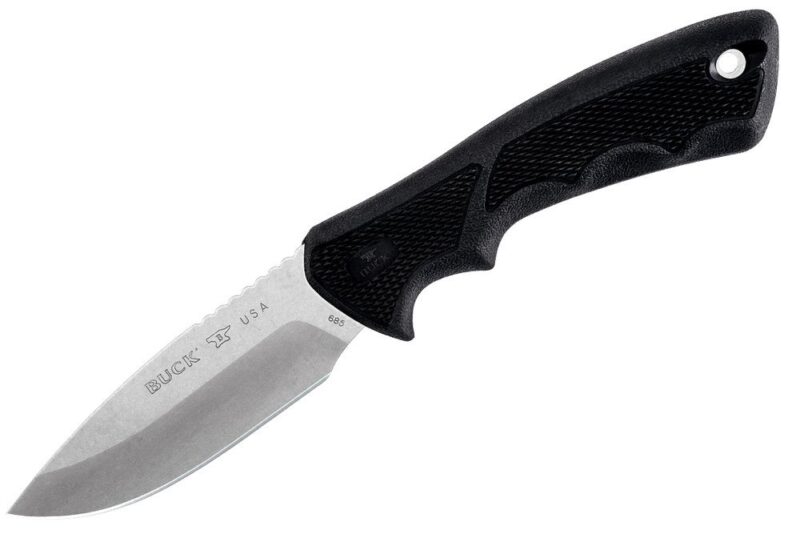 Features
420HC stainless steel
4-inch clip point blade
Black rubber handle
Black polyester sheath
For the price point, you'll struggle to find something this good quality (especially something made in the USA).
Having more than 100 years of experience in the industry, Buck know that sometimes you just need a basic sturdy knife that gets the job done.
Their 685 BuckLite again uses the heat-treated 420HC stainless steel, and has a classic 4-inch clip point blade.
The knife has a full-tang construction, which I would consider essential for a tricky sport like boar hunting. If you find yourself in a position where you actually need to use your knife as a last line of self-defense, then you definitely don't want a partial tang or folding knife (which both risk breaking).
The handle uses Dynaflex rubber, which keeps the knife lightweight and offers good grip. As a hunter, the last thing you want is a slippery blade. After all, a slippery knife can be the difference between safety and a serious injury.
If a classic appeal with a cheap price tag is what you're looking for in a pig hunting knife, the 685 BuckLite is the hunting knife for you.
Pros:
Small-mid sized blade helps control for detailed work
Sturdy classic design that does the job
Buck lifetime warranty & heat treatment
Cons:
The sheath is a little lower quality, which is to be expected at the price point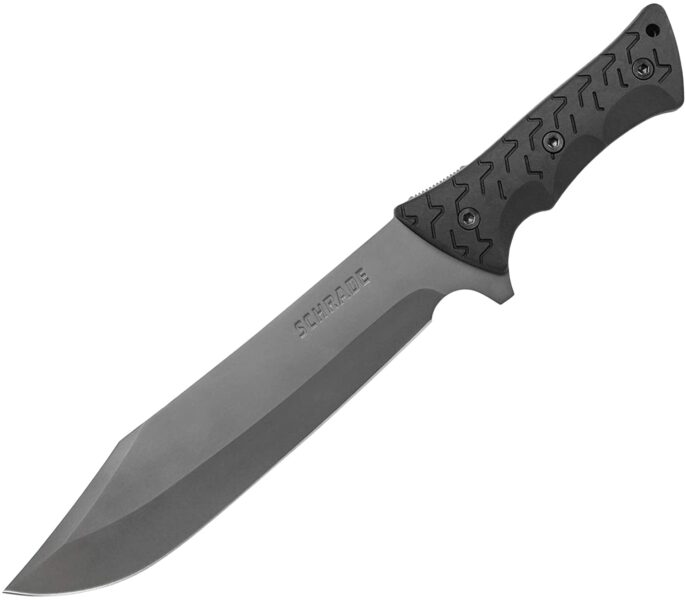 Features
8Cr13MoV Titanium coated high carbon steel
10.4-inch clip point blade
Thermoplastic elastomer handle
Thermoplastic sheath
As a bonus, we wanted to include an impressive full tang knife we've discovered, a relatively large pig sticker from Schrade, their SCHF Leroy.
The Leroy comes with a hardy 8Cr13MoV Titanium coated high carbon steel. Not only is it razor-sharp and long-lasting, but the additional coating adds corrosion resistance so it can last longer without maintenance.
The Leroy features a massive full tang blade length of 10.4 inches when compared to other knives.
Finishing with an overall length of 16.5 inches, knives like this can make bacon of a wild boar, ensuring that you hit the correct organs for a clean kill.
The thermoplastic handle scales gives you a good grip so you can manage the hog with or without gloves, further complimented by the accompanying thermoplastic sheath.
Large and in-charge, among other knives, the Leroy ensures you'll always have enough knife to deal with any hog that crosses you or your dogs.
Pros:
Large tough full tang blade
Handle makes grip easy and non-slip
Cons:
Might be difficult for beginners to use
A Quick Hogdogging Overview
Boar hunting with a knife, or as some would call Hogdogging, is a very active type of recreational hunting usually accompanied by two dogs, known as bay dogs.
Start by having your two dogs tethered and sniffing out for the wild boar.
Once the dogs have found the hog, the dogs will chase and attempt to keep the boar stationary by capturing it either through the ears or one of the legs.
Once the dogs have either cornered the hog or rendered it immobile, you enter the last step in boar hunting.
As the boar hunter, it's here you slip your hunting knife under the put of its front leg, hitting their heart and ending the hunt. Now it's a matter of bringing the boar back to your transport to properly field dress and avoid any rotting.
Conclusion
Hogdogging can be an enriching experience. In fact, any active type of hunting usually feels very fulfilling.
To have more good hunts than bad ones, it always helps to have the right training and gear on you.
The right hunting knife by your side can eliminate one more thing to worry about when focusing on your hog game.