Buck is a much-loved American brand that creates some of the best outdoor accessories on the market. Whatever your needs are, Buck are sure to have the perfect knife for you.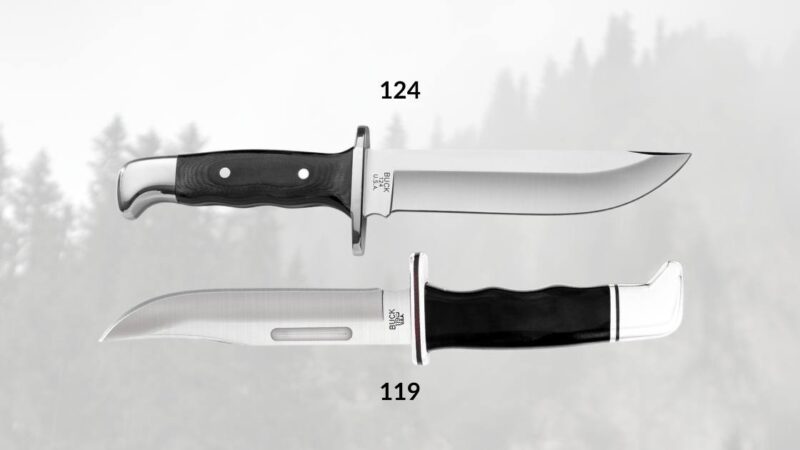 If you're reading this article, I'd imagine you're already quite familiar with Buck. Here we offer advice to decide between the 119 Special and the 124 Frontiersman.
This article aims to help you understand the differences, and choose which one suits you best.
I'll take you through the specs, price, and real user reviews of each model to help you answer the big question: "which knife is better for me, the Buck 124 vs Buck 119?" (and, whether the Frontiersman is worth the extra $).
If you haven't got time to read the whole article – here's the key points.
If you're after a robust knife that's great for hunting and other activities such as batoning, the 124 will be your best shot.
But if you're after something a little smaller that's best suited to more intricate outdoor tasks, go for the 119.
And now it's time for the full review!
Buck Knives 124 vs 119 – Key Comparisons
At first glance, these two knives look incredibly similar. However, there are key differences that make these models suited to different outdoor needs.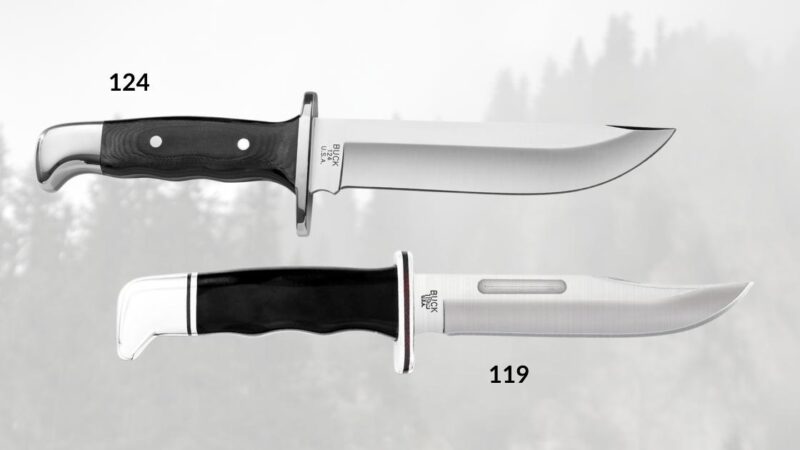 The 124 claims to be one of the best knives out there for serious hunters. With its full tang, deep choil, and integrated finger guard, it's easy to see why this hefty knife is great for hunters with big hands. This is also a great knife for batoning, as a robust, multi-purpose model that will serve you well in tougher tasks.
Similar in Size
On the other hand, the 119 is a slightly smaller knife that is well-suited to more intricate tasks such as detail work or cutting in tight places. The features of this knife have been carefully considered. Finger grooves on the belly of the handle and the aluminum pommel ensure it feels safe and secure within your hand. Beauty and balance!
But Different in Weight
As you'd expect from the above, the 124 model is the heavier, weightier knife out of the two. It is better suited to heavy-duty tasks such as batoning. However, it might not come as a surprise that as a result of the solid build, some people say the knife feels a little blocky in the hand. The 119 is a much lighter model. Many reviews outline just how good and balanced this model feels in their hand.
Quality All Around
Both products come with a high-quality leather sheath with a snap fastener. And the integrated belt loop allows you to safely carry the knife when you're out and about. As with all Buck products, both models also come with a lifetime warranty. If that isn't a mark of good quality, we don't know what is.
Ultimately, if you need a bulkier knife or have a bigger budget, we'd suggest getting the Buck 124. And if you needed something better suited to intricate tasks, or wanted to spend $100 less, then the 119 might be for you.
Either way, you'll be getting a great knife from a well-respected American brand. And both will serve you well when you're enjoying time outdoors. What's not to love?
That was just a quick overview, so let's jump into the details.
Side-By-Side Specs – Buck 124 vs Buck 119
| | | |
| --- | --- | --- |
| | Buck 124 | Buck 119 |
| Overall Length (") | 11 3/4 | 10 1/2 |
| Blade Length (") | 6 1/4 | 6 |
| Weight (Oz) | 13.3 | 7.5 |
| Blade Thickness (") | 0.178 | 0.175 |
| Blade Type | Clip | Clip |
| Best For | Hunting and batoning | More intricate tasks |
| Steel | 420HC | 420HC |
| Sheath | Black leather | Black leather |
| Manufactured | Made in the USA | Made in the USA |
The Buck 124 prides itself on being the perfect hunting knife. It's durable, robust, and razor sharp, so would make a great addition to your hunting pack.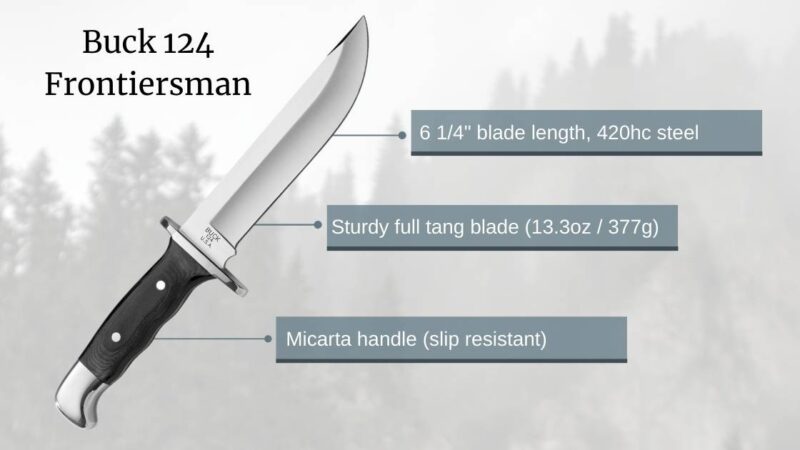 The Buck 124 is a classic hunting bowie knife. It's 11 3/4″ inches long and weighs 13.3 oz, so is quite a large knife, but many big-handed reviewers say they love the way it feels.
Despite being a bigger knife, Buck has included some clever features to try to reduce that blocky feeling. The handle has palm swells and curves to ensure a safe and comfortable grip.
Micarta Handle
"The handle is big and square which I like since it keeps the knife from turning in your hand when chopping or prying and the micarta quickly warms to the hand. I've got middle to large hands and this knife has plenty of room for your hand to hold the knife in many various positions depending on what you are doing"
Additionally, the Micarta handle is a real selling point. Micarta is strong and durable, and means the knife can be used safely in inclement weather due to it being impermeable to many liquids, including rain!
Sturdy Full-Tang Blade
The full tang style appeals to many people, with lots of reviews stating they are glad this knife has a full tang instead of a rat-tail tang. The benefit of a full tang knife is that it allows for increased force to be leveraged through the handle, which is great for heavy outdoor tasks.
520 HC Steel
As with all Buck knives, the Buck 124's blade is made from 420HC steel which has undergone an exclusive heat-treating process. This means the knife is sharper out of the box, stays sharper for longer, and is resistant to corrosion.
The Buck 119 is a popular choice amongst a variety of outdoor enthusiasts. Whilst it may struggle with more hefty jobs, it comes into its own when used for woodwork, or cutting in tight places. Many reviews comment on it being a well-balanced knife that does the job. But it also looks and feels great in the hand.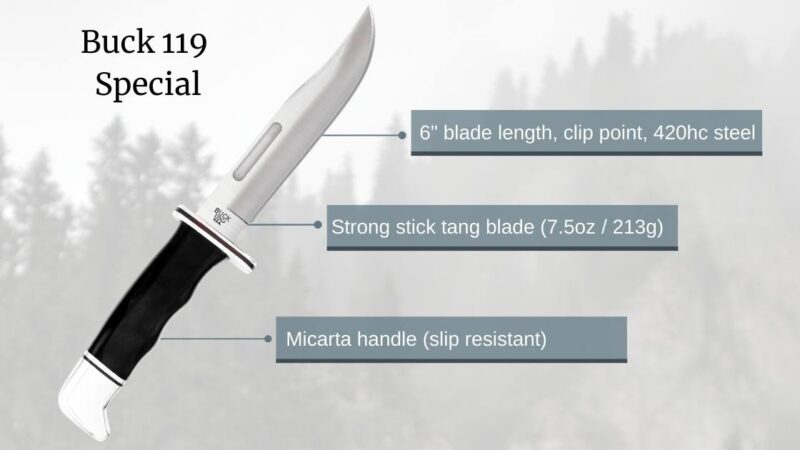 Whilst the Buck 124 was quite a chunky knife, weighing a solid 13.3 oz, the Buck 119 is a more manageable 7.5 oz. However, the overall length, blade length and thickness of the two models are actually relatively similar, as seen in the side-by-side specs table above.
Noticeably More Comfortable
Some users find the Buck 124 to be a little cumbersome to hold, whereas the Buck 119 has no such problems. This knife has been created by experts who have ensured the model feels comfortable in your hand. Finger grooves, palm swells, and an aluminum pommel promise to provide a well-balanced knife that is a pleasure to hold.
"A solid brass pommel extends downward to prevent backwards slippage of the hand while gripping. Finger grooves on the belly of the handle allow for a firm grip. A brass bolster/finger guard prevents forward slippage"
"A Perfect Knife"
The Buck 119 is one of the brand's best-selling models and is thought to be the perfect knife to hand down from generation to generation. As with many Buck knives, it also comes with a leather sheath and a snap fastener. Many reviews comment on how lovely and genuine the leather smells!
For more details, we've written a full 119 Special review you can read.
Like all other Buck knives, the 119 is proudly made in the USA. The makers are so confident in their workmanship that they offer a lifetime warranty.
If you're still struggling to decide between the Buck 124 and the Buck 119, the Buck 120 model could be the one for you!
Perhaps you're worried the 124 might be a little too heavy for what you want? Or you're worried the 119 might not pack the punch you need? Well, the 120 is a great hunting knife that shares the same durability as the 124, just without the extra weight.
Weighing in at 8.3 oz (Buck 124 = 13.3 oz / Buck 119 = 7.5 oz) it is well-positioned in between the two models. It is also a half-way model in terms of price too. The 124 sits towards the more expensive end, the 119 towards the cheaper end, and the 120 nicely in the middle!
The Buck 120 is felt to be a classic hunting knife, and still retains the same 420HC steel we've seen before. It also has the same durable micarta handle as seen in the 124, and is also full tang, but is much lighter in weight.
Many reviewers feel that the 120 model is a solid all-rounder. From skinning a deer, to filleting fish, to making kindling, it seems there are no limits to this knife's capabilities.
"If I could only have ONE knife, this would be it."
We hope that sharing the Buck 120 with you has made your decision either instead of harder, but this article includes 3 brilliant knives, so you really can't make a bad choice!
Read More >>> Buck 110 vs Buck 112: The Difference Between Two Classic Folders
Summary: Buck 124 vs Buck 119
The 124 and 119 are both adored by their owners, and hopefully, you'll understand why after having read this article.
What about the difference between the Buck 124 vs Buck 119? Both knives have clip blades, are made in the USA and utilize Buck's famous Paul Bos Heat Treat technology. The main differences between the two is the weight. The 124 is a chunky knife that's suitable for heavy-duty outdoor tasks, whilst the 119 is much lighter and better suited for more intricate tasks.
Ultimately, you know what you need from a knife, so think about what activities you're likely to need the knife for, and then it will hopefully become clear whether you need the Buck 124 or Buck 119.
At Knives Advisor, we believe the knives are different enough that you could actually purchase both to ensure you're well-equipped to tackle any challenge! Or if you don't fancy adding two knives to your basket, maybe the 120 is a good compromise between the two!
As always, here's a lovely quote from a Buck fan that nicely summarises the difference between these two beautiful knives:
"The 124 is almost the same style as the 119 but the bulky handle and broader blade make it seem like something else entirely after you use it for a while. The 124 is the 119's bigger beefier brother with the handle to prove it. I've largely been impressed with Buck and this is no exception"