When it comes to survival knives, not many people make them better then ESEE. Founded by Jeff Randall and Mike Perrin in 1997, the American outfit set out to create military grade survival equipment without the fuss and hype of their rival brands. In this article, we review the ESEE-5 vs ESEE-6 and dig into why these knives are so popular.
While they manufacture a lot of different products, it's their knives they are known for. In particular the high quality and fit-for-purpose survival pieces are what keep outdoorsman coming back for more!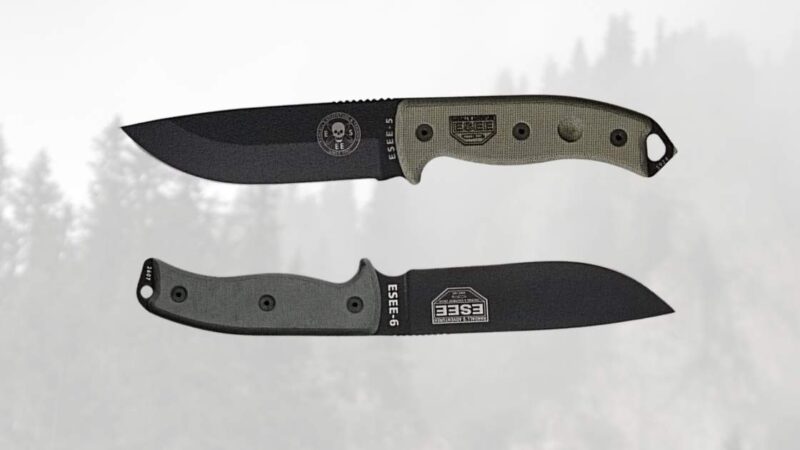 Two of their most popular models are the ESEE-5 and the ESEE-6. To the untrained eye, these knives may look similar but when you study them a little closer, they really do offer completely different propositions.
We're going to put them both head-to-head to help you understand which one is right for you!
Both ranges have a number of models, so we're going to directly compare the standard ESEE-5P & ESEE-6P models.
Haven't got time for a full review? Here's the short version:
Now, let's get started with the full review!
ESEE-5 vs ESEE-6 – Key Comparisons
On the face of it, these two knives may look very similar. The question of the ESEE-5 vs ESEE-6 is a common one, but it's only when you dive a bit deeper into the specs of both knives you realise they're suited for different purposes.
We'll start with the ESEE-5. With a blade length of 5.25″ contributing to a fairly large 11″ overall size, this is a sturdy fixed blade knife, especially when you consider its 16oz weight too.
But, what truly sets the knife apart is it's blade thickness, which at 0.25″ makes it a very thick blade. Designed specifically as a "hard-use downed pilot's survival knife" the ESEE-5 is perfect for big tasks such as wood cutting.
Whilst the ESEE-6's blade length is much longer at 6.5″, the blade thickness is only 0.188″. When you combine this with a weight reduction of 4oz over the ESEE-6, you have knife that is far more nimble and much better suited to tasks which require more finesse, such as meat cutting or whittling.
"The ESEE-5 is a "when the shit hits the fan" type of knife….The ESEE-6 is knife more geared towards regular camp tasks like food prep and wood whittling."
Both knives come highly recommended, are well made and have a similar handle, grip and sheath. This means the right choice for you will likely come down to what you need the knife for – heavy duty survival or more accurate outdoor tasks.
That's the high level, but let's break each knife down in a bit more detail!
Side-By-Side Specs – ESEE-5 vs ESEE-6
| | | |
| --- | --- | --- |
| | ESEE 5P Black Tactical Survival | ESEE Knives 6P Fixed Blade Knife |
| | | |
| Overall Length (") | 11 | 11.75 |
| Blade Length (") | 5.25 | 6.50 |
| Weight (Oz) | 16 | 12 |
| Blade Thickness (") | 0.25 | 0.188 |
| Grind Type | Saber | Full Flat |
| Best For | Heavy duty survival tasks | Smaller, more delicate camp/survival tasks |
| Steel | 1095 Carbon, 55-57 Rc | 1095 Carbon, 55-57 Rc |
| Sheath | Kydex | Polymer Molded |
| Manufactured | Made in the USA | Made in the USA |
The ESEE-5 forms part of ESEE's core range of knives and is the perfect knife as a big hitting all rounder when finding yourself in an outdoor/survival type situation. And, given it was designed by military SERE instructors, that's no suprise either.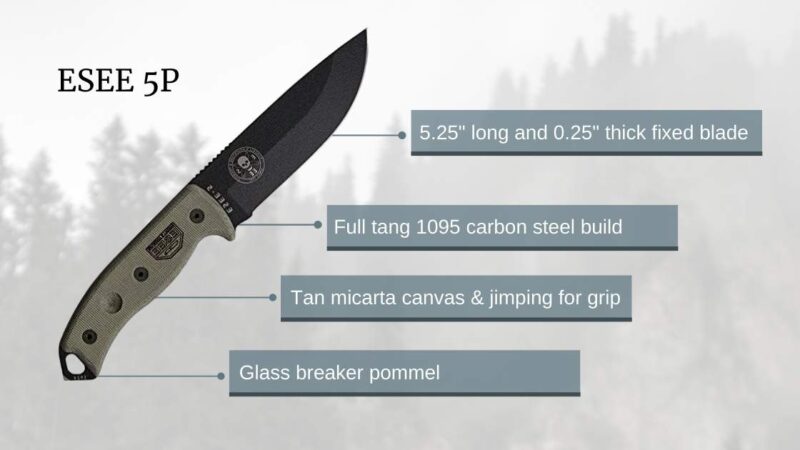 Its no nonsene but versatile approach is why ESEE brand it as a 'hard-use downed pilot's survival knife' knowing that it can handle pretty much anything you can think to throw at it.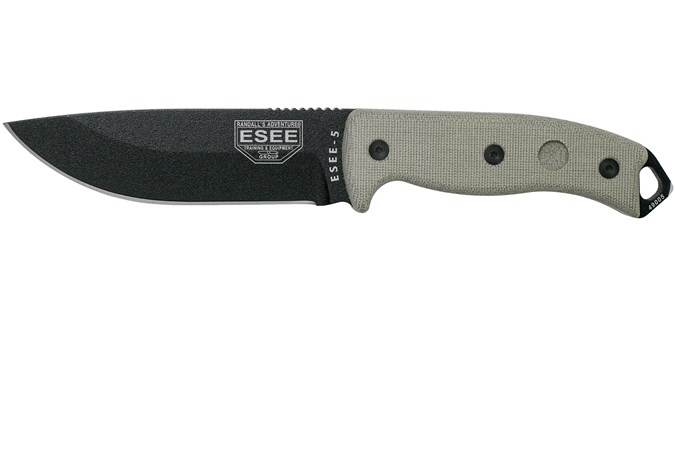 Specs wise it comes in at an overall length of 11″ with 5.25″ of that comprising of the blade itself. At 0.25″ it's the thickness of the blade which makes this knife so hardy, with the 1095 carbon steel fantastic quality at this price point.
Reviewers often comment on how nice the handle feels. It's made out of tan Micarta canvas, and features a glass breaker pommel on the end, again making it great for tough tasks. It comes with a Kydex sheath which can be belt or MOLLE mounted.
All ESEE knives are made in the USA and come with a 100% unconditional lifetime guarantee. If your ESEE knife should ever break, they will repair or replace it at anytime.
Price wise you'll find an ESEE-5 anywhere around the $180 mark as an MSRP, but keep an eye out for the many sales that bring the price down by $15 or so!
The sheer size of that blade make the ESEE-5 a really hardy and heavy duty survival knife where it will have no problems cutting wood or pummeling through ice.
The ESEE-6 is arguably ESEE's most popular knife which combines the durability and size needed for most survival tasks whilst balancing that off with the tact and versatility typically found in much smaller knives.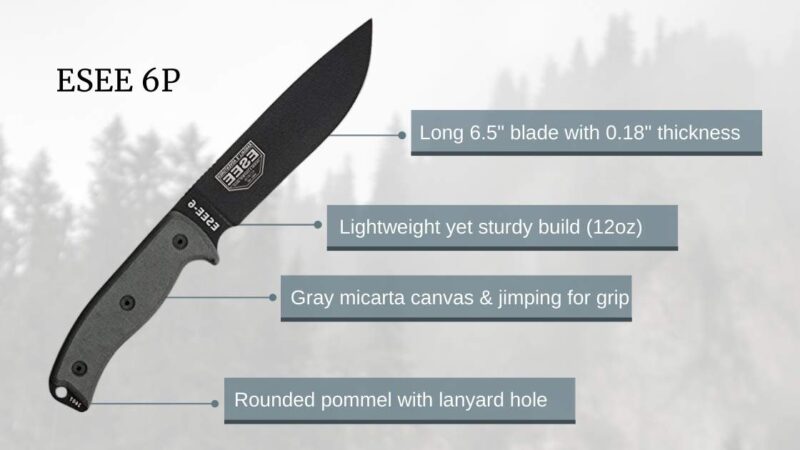 The ESEE-6 is built for efficiency, made to be taken with you in any outdoor situation, ensuring it is up for the job for sustained periods each and every time.
At an overall length of 11.75″ and with a blade length of 6.50″, the ESEE-6 is a fairly long knife. Of that 6.50″, only 5.75″ is cutting edge, leaving a large 0.75″ for a very useful choil. When you combine this with a nimble 0.188″ blade thickness and a weight of 12oz, you can see how this knife gives you great efficiency in the hand for a full day of use!
The ESSE-6 utilises a linen micarta handle design and as with the ESEE-5, comes with a molded polymer sheath which can be belt or MOLLE mounted. The knife is also USA made and comes with that lifetime warranty from ESSE.
MSRP on the ESSE-6P sits around the $170 mark but in truth, given the popularity of this knife, it is often stocked much lower. You'll usually be able to find this around the $135 mark from different online retailers.
The ESSE-6 is a really great all rounder that has just enough size and strength to handle most outdoors tasks without loosing it's ability to perform smaller tasks well.
Still Can't Decide? Here's an Alternative – ESEE Laser Strike
If you're still stuck on deciding between the ESSE-5 and the ESEE-6, here's something a little different that might be a great knife for you, especially if you're in a survival or camping situation.
The ESEE Laser Stike is a small knife than either the ESEE-5 or the ESEE-6. At an overall length of 10″, 4.75″ of which is a 1095 carbon steel blade, and with a weight of only 9.5oz, the Laser Strike will be a lot more nimble and efficient in the hand.
Where this knife is different is in it's handle. Inside the canvas micarta handle you'll find Ferrocerium fire starting flint and tinder tabs, making it the perfect companion for starting a fire when you're out in the wilderness.
The Laser Strike can also be a belt or MOLLE mounted, this time in a black Kydex sheath, and of course is made in the USA and comes with that lifetime warranty.
Whilst the MSRP of the Laser Strike is up near the $200 mark, you can often get these for significantly lower at around $130 which is an absolute bargain!
So if you'd prefer a knife that's a little smaller and more tactical whilst also combining some neat features for storing fire starting accessories, the Laser Strike could be a good alternative!
Read More >>> Gerber StrongArm Alternatives for Survival & Bushcraft
Summary – ESEE-5 vs ESEE-6
Both the ESEE-5 and ESEE-6 are great choices for versatile and robust outdoor survival knives.
When chosing between them, it really comes down to your individual needs and the sheer size of knives you like to use. Both offer similar specs on the face of it, but when you compare the blade thickess and the weight of the two, you start to see real differences in how they perform.
If you're looking for a real heavy duty knife, with a thick blade, that's perfect for chopping wood or pummeling through ice/rock, the ESSE-5 is what we'd recommend. If you're looking for something with a slightly smaller profile, that's more efficient, versatile and suited for more tactful tasks, the ESEE-6 is where you should go!
We'll finish up with a quote from a knife fan on a popular forum when asked their opinion on the ESEE-5 vs ESEE-6 debate:
"The ESEE-5 is a "when the shit hits the fan" type of knife….The ESEE-6 is knife more geared towards regular camp tasks like food prep and wood whittling."