I'm a big fan of Buck Knives, so if you're choosing between the 301 Stockman and the 303 Cadet, I can help you out.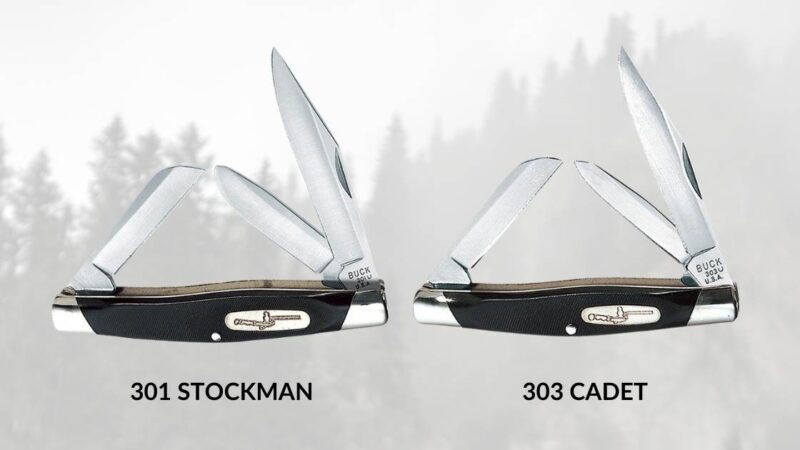 These knives share many similarities, and to the untrained eye they might look like twins. But they aren't 100% identical. In this article, I'll pull apart the subtle differences between the Buck 301 vs Buck 303 so you're able to choose the knife that's right for you.
This review will take you through the key comparisons, side-by-side specs, and real user feedback of each model to help you decide whether it'll be the 301 or the 303 that gets added to your basket!
If you haven't got time to read the full article, don't worry – here's a super quick overview:
Buck 301 vs Buck 303 in a nutshell
The 301 weighs around 1oz more, and is around 0.6″ longer. The difference in price is negligible, so it really just comes down to size preference.
The Buck 301 and Buck 303 are very similar knives
Both have three blades: a clip point blade, a spey blade, and a sheepsfoot blade
If you're looking for something marginally bigger, it's the Buck 301
If you want something smaller, get the

Buck 30

3
Right – let's dive in.
301 Stockman vs 303 Cadet – Key Comparisons
Both knives are three-blade folding knives that are less than 4 inches long. They are also both super-light, with the 301 coming in at 2.9 oz and the 303 weighing 1.9 oz. Based on this, we find it's not a burden to carry either knife around day-to-day.
The 301 and 303 both promise to be multi-purpose, and given that both models have got three blades, it's an easy promise to fulfil.
Both models have a clip point blade which is really useful for intricate tasks, such as cutting in tight places or detail work. They also have a spey blade that's perfect for skinning. And finally, both have a sheepsfoot blade which is perfect for making clean cuts.
Both knives adopt super-sharp, Paul Bos heat-treated 420HC steel, giving them the performance to tackle most everyday tasks. Whilst 420HC steel can lose its edge quite quickly, it's easy to bring back to hair-popping sharpness, even for amateur knife sharpeners.
The Buck 301 and 303 are both beautiful knives to behold. The injection moulded black valox handle with nickel silver bolsters is as equally handsome as it is handy.
"This is a beautiful USA made little pocket knife! I wanted the dressiest looking knife for special occasions & this is it."
Despite so many similarities, there is a small difference in price, with the Buck 301 being slightly more expensive than the 303. This is due to the 303s primary blade being slightly bigger than the 301s, with the overall size being slightly bigger too.
There really isn't much in it, and I'd be amazed if anyone could truly tell the difference at first glance. We recommend getting both in your hand to find out which one feels better for you – it's the only way you'll honestly be able to decide!
Whichever knife you choose, you can't make a bad decision here. Both are beautiful, multi-purpose knives, crafted by a much-loved American brand.
Hopefully, that's given you a taster for both models before we dive into the nitty-gritty.
Side-By-Side Specs – Buck 301 vs Buck 303
Buck 301
Buck 303
Closed Length (")
3 7/8 "
3 1/4"
Weight (Oz)
2.9
1.9
Blade Type
Folding
with Clip, Sheepsfoot, Spey blades
Folding
with Clip, Sheepsfoot, Spey blades
Best For
Detail work, skinning, clean cuts
Heavier model
Detail work, skinning, clean cuts
Lighter model
Steel
420HC
420HC
Sheath
N/A
N/A
Manufactured
Made in the USA
Made in the USA
Buck describe the 301 as being "traditional, convenient, and multi-purpose". The Buck 301 is the largest three-bladed knife that's available from Buck and a knife that's a great everyday carry for bossing basic cutting tasks.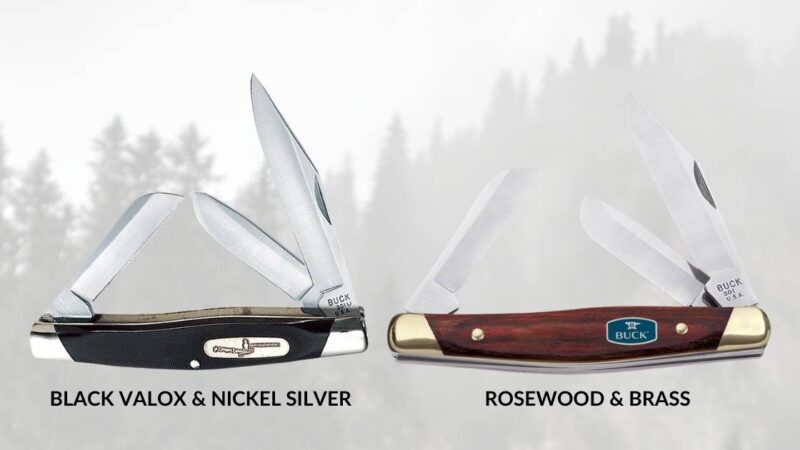 This 301 is truly versatile, with each of its three blades fulfilling a different purpose. The clip point blade is 2 3/4″ long and is well-suited to detail work. If you're going to be skinning or using sweeping knife strokes, the spey blade will come in handy. And if you're looking to make clean cuts, the sheepsfoot blade is our favourite.
"Having sheepfoot and spey blades as well as a clip blade is a big plus if you have ordinary household and yard tasks in mind rather than, or in addition to, dressing a deer."
Many reviewers comment on how handsome the knife is. Mixing together the black valox handle and silver nickel bolsters, it's easy to see how some people are just as happy admiring the knife in their hand as well as putting it to work!
Of the two knives we're reviewing in this article, the 301 is slightly bigger than the 303. Despite this, we think the 301 is still small and light enough to keep in your pocket but some reviewers do find it a little big for traditional work slacks. Something we recommend you keep in mind when considering your options.
Despite its small and compact size, the 301 is extremely functional and shouldn't be underestimated as 'just a pocket knife' – it packs a punch and delivers the cutting performance most of us need.
As with most Buck knives, the 301 is made in America and comes with a lifetime warranty. A very small number of reviewers mention that they have had issues with the knife's quality control, receiving models that were poorly finished with scuffed edges. But all of those reviewers note the friendly "no questions asked" warranty had saved the day!
Though the 303 is slightly smaller than the 301, it is still a durable and strong pocket knife that fares well during day-to-day use.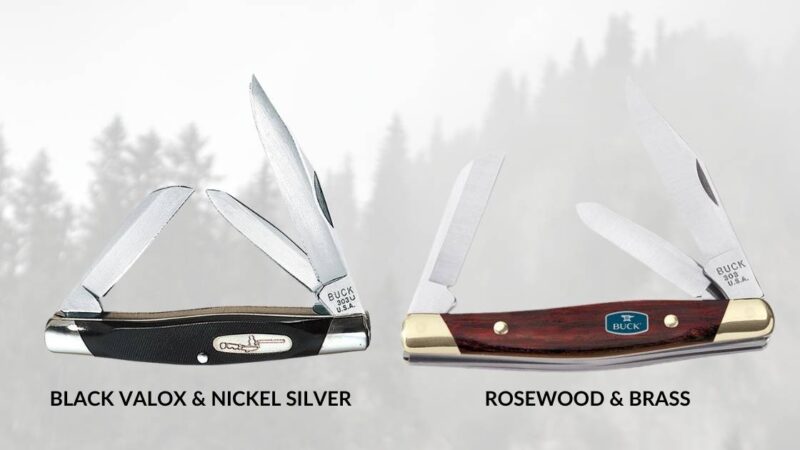 As with the Buck 301, the 303 model also has the same three blades, proving it is just as versatile for day-to-day use. Across the primary blade, you'll lose around 1/3 – 1/4 of an inch in size, with blade thickness also reducing proportionally. Again, it's still the same blade as we saw with the 301, just think of this as the little brother model.
"My only regret about this knife is that I didn't buy one a long time ago. I have only had it for a short time, but it has replaced every other knife I own as my go to, in my pocket every single day, favorite knife."
That fractionally smaller and lighter profile of the 303 may fare better when undertaking intricate skinning tasks or for those with slightly smaller hands. Ultimately, it'll come down to how they feel in your hand when deciding whether the 301 or the 303 is right for you.
Still Can't Decide? Here's an Even Cheaper Alternative – Buck 379 Solo Knife
If you can't make up your mind between the Buck 301 and 303, I've got another option for you to consider!
The Buck 379 is a single-bladed knife, described by Buck as being a "traditional, compact pocket knife". The closed length is only 3″, so a little smaller than both the 301 and 303 if you were worried about carrying either for long period.
The 2 1/4″ clip blade is perfect for intricate jobs such as cutting in tight places, detail work, and piercing. If you felt the three-blade setup on either the 301 or 303 was a little busy, this single clip blade is strong and durable enough to cover a range of tasks without the fuss.
"I was looking for a small pocket knife that would disappear in your pocket, especially when wearing slacks, and this one certainly does!"
The other great benefit of the 379 is the price. If you're on a tighter budget or simply don't need a folder with 3 blades, you'll save yourself some cash here at around $30 less than either the 301 or 303.
Summary – Buck 301 vs Buck 303
As you have seen, the Buck 301 and 303 are very similar models. Both knives are compact folding knives that aren't a burden to carry day-to-day.
When it comes to the Buck 301 vs Buck 303, both knives are extremely versatile and multi-purpose. Both serve as great all-rounders. Between the clip point blade, the spey blade, and the sheepsfoot blade, it's the perfect tool to have in your pocket for tackling anything life throws at you.
Ultimately, it all comes down to size. With everything else identical, I'd recommend getting both the 301 and 303 in your hand to simply work out what feels better for you.
Or better yet, if you can't choose, just go for both – at around $50 a pop, you're not breaking the bank with either knife, so why not have a backup?
Whichever knife you choose, we hope it serves you well.
To finish, here's a very short quote from a knife fan to sum up the 301 vs the 303 – we couldn't have put it better ourselves!
"They are basically the same knife, with the 303 being a little smaller."