If you're in the market for a new knife, one of the key factors you'll likely be considering is the material of the blade. Whilst it's a given the blade will be made of steel, there's a wide range of different variants to choose from.
And when you consider that the steel does all the work, it's important to get it right when choosing the perfect metal for your needs.
In this article, we'll be putting the S30v and 420HC steel variants up against each other. As two of the most commonly used steels for outdoor knives, there's a chance your next knife might use one of the two variants.
We'll compare both on their usability (durability, edge retention and difficulty to sharpen) and specifications before picking out some of the best knives that use either steel.
By the end of this article, you'll be ready to make a choice between either S30v or 420HC steel for your next survival knife!
Haven't got time for a full review? Here's the short version:
S30v is a premium steel that's great for those who need a top-performing knife with great edge retention.

If you're on more of a budget and can accept more regular sharpening, the 420HC steel will see you good for most of your outdoor tasks!
Now, let's get started with the full review.
S30v vs 420HC – Usability
Whilst both steels will do a good job for most of your day-to-day tasks, there's a noticeable difference in quality between the S30v and 420HC steels when it comes to performance and price.
Let's see how they rank against each other for durability, edge retention and their respective difficulty to sharpen.
Durability
You'll find S30v steel in many high-end knives from the likes of Benchmade and Buck. It's a hard steel that's more than capable of managing most tasks thanks to its heat-treated, extra robust finish.
On the other hand, 420HC has a super high carbon content (hence the 'HC') which means it lacks the essential carbides to make it super strong. Expect that most 420HC variants could be prone to chipping or bending, but some heat-treated variants, like Buck's 420HC, offering additional strength.
Summary – S30v is undoubtedly far more durable, but 420HC should still see you good for most day-to-day tasks, especially if you opt for a variant with additional heat treatment.
Edge Retention
S30v is known for having great edge retention. As a super hard steel, it stays sharper for longer and won't have you heading back to the sharpening stones for months at a time!
You'll have probably guessed that given the softer properties of the 420HC, it's a very different story. That softer metal can lose its hair-popping edge within 2-3 weeks of regular use but will, of course, still do a job when out and about.
Summary – If you need to retain an ultra-sharp edge for longer, opt for the S30v. If you need a standard edge for lighter weight tasks, you'll still get the performance you need from a 420HC knife.
420HC Knife Example

S30V Knife Example

Difficulty to Sharpen
A softer, more entry-level steel always has one benefit – it's easier to sharpen!
Whilst 420HC can lose its edge faster, it makes up for it with super easy sharpening qualities. You won't need to be a knife expert or have the most expensive sharpening stones as 420HC can easily be brought back to an ultra-thin profile by most amateur knife owners.
On the other hand, sharpening S30v is a much more difficult task. Those inexperienced with knife sharpening may struggle to keep their blades ultra-sharp without investing a lot of time and effort into perfecting the art.
Summary – 420HC makes up for its lack of edge retention with its ability to sharpen quickly and easily. S30v is far more difficult for an amateur, but those with knife sharpening experience should be fine!
S30v vs 420HC – Usability Summary
Whilst there's a noticeable difference in quality between the S30v and the 420HC, both will ultimately do a good job.
As you'd expect, cheaper steel isn't as durable and long-lasting as a more expensive alternative, and that's definitely true when you put the cheaper 420HC up against the premium S30v.
However, softer steels are easier to sharpen, so if you don't need ultra-thin performance or are looking for a first knife, it's definitely worth keeping 420HC on your list!
Side-By-Side Specs – 420HC vs S30v
Both steels have slightly different compositions to deliver their fantastic performance. We've put the steels side-by-side with some extra information to help you understand the specification of the two.
S30v
420HC
Steel Composition
Carbon 1.45%, Chromium 14.00%, Vanadium 4.00%, Molybdenum 2.00%.
Carbon 0.45%, Manganese
0.80%, Chromium
13.00%, Silicon 0.80%, Nickel <.50%
Example Brands
Benchmade, Buck, Mercworx, Hogue.
Buck, Gerber, Kershaw, Leatherman, Victorinox.
Edge Retention
4/5
2/5
Sharpening Ease
2/5
4/5
Best For
High quality steel for great edge retention.
Budget steel for a day-to-day or first knife.
S30v vs 420HC – Popular Models
Having looked at both the S30v & 420HC steels, we've pulled out 2 of the best knife models which utilise either steel. As always, these are our favourites, but there are hundreds out there to choose from!
Here at Knives Advisor, we're big fans of Buck and have pulled out their 110 S30V folding knife as a great example to check out
The 110 is a legendary pocket knife; perhaps one of the most well-known ever in the USA, with many being passed down for generations.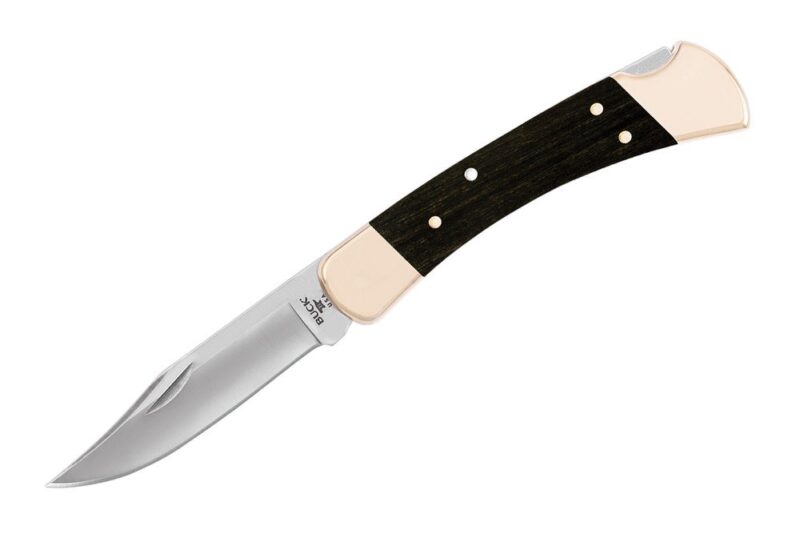 The 420HC version is slightly cheaper and therefore more popular, but if you're looking for a robust and reliable folding knife with a steel upgrade, this is a great bet.
Although this is a premium quality steel (and knife overall), the price tag isn't too crazy, at around $100. Well worth a look.
Everyone needs a good folding knife on their belt for day-to-day tasks. The Shaman from Spyderco is a great choice and notably utilises an S30v stainless steel blade to deliver great performance.
At over $200, there's not much to dislike with a high-quality grip, convenient thumbhole and the quality assurance from a brand like Spyderco. This is a premium folding knife for those that need something high quality and durable on their belt!
There's nothing more versatile than a foldable hunting knife, and true to its budget price tag, 420HC can be found on the super-affordable Buck Folding Pursuit Hunting Knife.
As always, Buck pioneers great USA quality so you'll be in safe hands with this knife wherever you happen to be.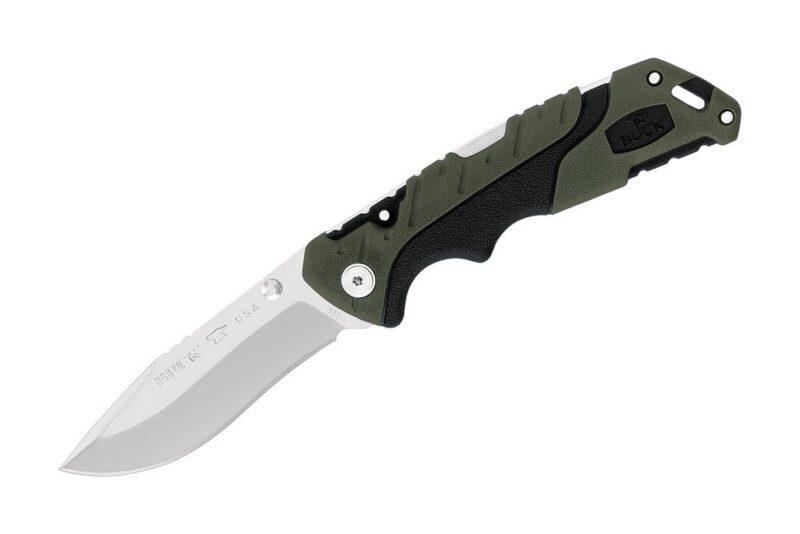 The price of <$70 makes this great quality, lifetime-guaranteed knife accessible for just about anyone. Well worth a look.
420HC – Gerber Prodigy, 4.75″ 420HC Fixed Blade Knife
If instead, you're a fan of something more tactical, we'd recommend checking out the Gerber Prodigy.
With a total length of just under 10″ and a strong 4.75″ fixed blade, the Prodigy is a perfectly sized hunting knife that strikes the balance between being easy to use and packing a real punch!
Last year, we also compared the Gerber Prodigy vs the Gerber Strongarm, in case you're interested in that.
This is one of the highest quality all-round knives you'll be able to find with 420HC steel and as such, the price will rise up to around $55. This would make a great first knife whilst showcasing the level of quality a well finished 420HC steel blade can produce.
Summary
Both the S30v and 420HC steels are super popular in the outdoor market for their good performance and longevity. But, there's a big difference between them with the S30v the far more premium of the two!
So if you need a knife that durable and holds a strong edge for a long time, head for the S30v. If instead, you're on a budget or just simply don't need something premium, 420HC steel knives are more than capable with the added bonus of being easy to sharpen thanks to their softer characteristics.