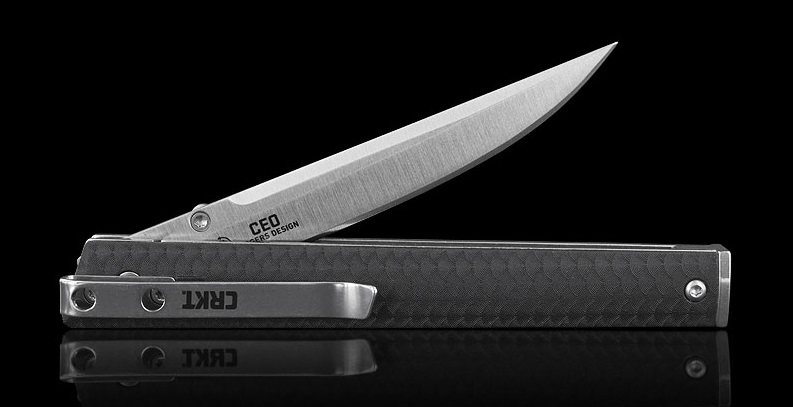 Designed by Richard Rogers, the CRKT CEO is popular for it's no-nonsense, slim, simple design.
Like any knife, though, it isn't perfect for every taste & every use case. In this article, we're looking at 5 options that could be a suitable alternative, depending on your preference & needs.
Let's get started!
At a glance:
Criteria to find great CRKT CEO alternatives
If you're specifically looking for knives like the CRKT CEO, then I can draw some assumptions about roughly what you're looking for.
Clearly the CRKT CEO isn't perfect for every situation and every taste (hence why you're here), but it does have some strengths that you'd probably like to see:
A low-profile, subtle design
Lightweight EDC
Easy and quick to open
Reasonably priced
You might also look for cheaper options, or upgrades with a higher quality steel, different design, and so on. I'll try to cover lots of bases with these recommendations so you find something that suits you.
Why look for CRKT CEO alternatives?
What are the drawbacks of the CEO?
Why look for an alternative in the first place? It's necessary to answer this question in order to recommend the right alternatives to fix whatever you dislike:
It is light, but might be too light for some
Not everyone likes a thumb stud opening
Quality & strength is good, but can be improved
There are sharper blades out-of-the-box out there
Other than that, as always, there's simply personal preferences, and your specific needs.
5 Alternatives to the CRKT CEO
Here's the recommendations. Depending on your desired use case & budget, these are 5 options to consider picking up.
1. Similar cheaper alternative: Samior G1035
Kicking off our list of great CRKT CEO alternatives, let's start with a knife that is similar in function & design, but priced lower, the Samior G1035.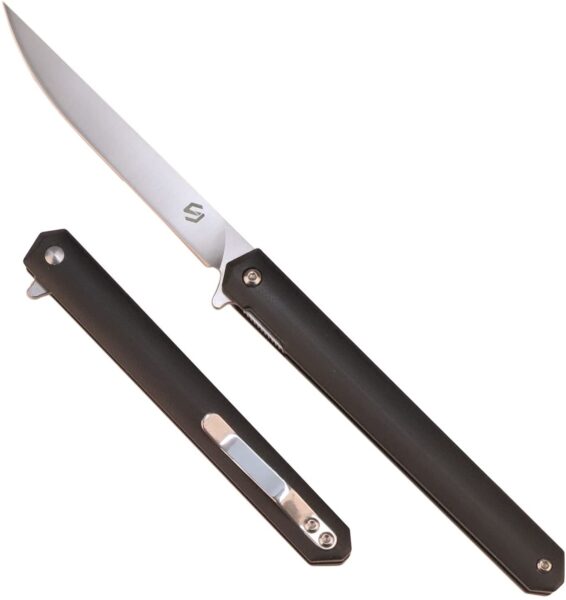 This knife by Samior isn't nearly as popular, but it'll serve a similar purpose, and comes in at around $15 cheaper at the time of writing.
Both of these knives are designed to feel almost like a pen in your pocket. Light, and low profile.
The G1035 opens with a flipper tab instead of the CEO's thumb stud. Whether that's better or worse is entirely personal preference, but you may find the flipper easier if you're not used to thumb studs.
The G1035 also weighs less (1.3oz vs 2.1oz), and has a slightly longer blade length (3.5″ vs 3.12″).
Lastly, the G1035 uses a drop point blade instead of a clip point. Typically, drop point means better general all-round usage, and clip point wins for small precision tasks. They'll both do a fine job of most EDC tasks, though.
CRKT CEO vs Samior G1035: key differences
In relation to the CRKT CEO, the Samior G1035:
Costs less
Weighs less
Has a drop point blade instead of clip point
Opens with a flipper tab (vs a thumb stud)
Has a slightly longer blade length
While this is still a slim / low-profile design, it has a little more flare, with a nice handle & beautiful damascus blade.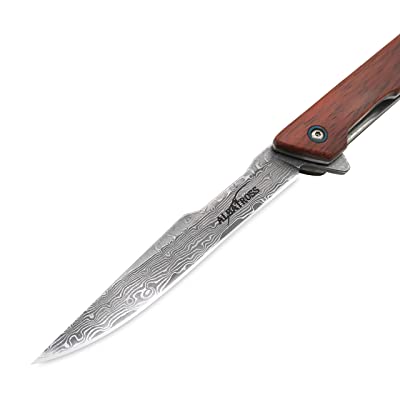 This one also comes with a gift box. Combined with it's nice aesthetic, that makes a great gift option.
The ALBATROSS weighs in at almost the same as the CEO, at 2.2oz (vs 2.1oz). The blade is slightly longer, at 3.5″ (vs 3.12″).
The most obvious difference is the appearance. It'll feel similar in your pocket, but it's more likely to draw some attention when in use, with the sandalwood handle and damascus blade.
It's worth noting that this knife doesn't come with a pocket clip, whereas the CEO does.
One point of note is that the sheath is quite large. With the 110, you'll find it's a more 'snug' fit in the sheath, whereas with the Hammerhead there might be a little wiggle room.
ALBATROSS Thin EDC vs CRKT CEO: key differences
In relation to the CEO, this ALBATROSS knife:
Has a little 'flashier' design, with a damascus blade & sandalwood handle
Almost the same weight
Slightly longer blade length
Has no pocket clip
Is the same price (roughly)
For around $20 extra vs the CEO, consider the Crossbones flipper, also by CRKT, which is slightly larger & uses higher quality steel.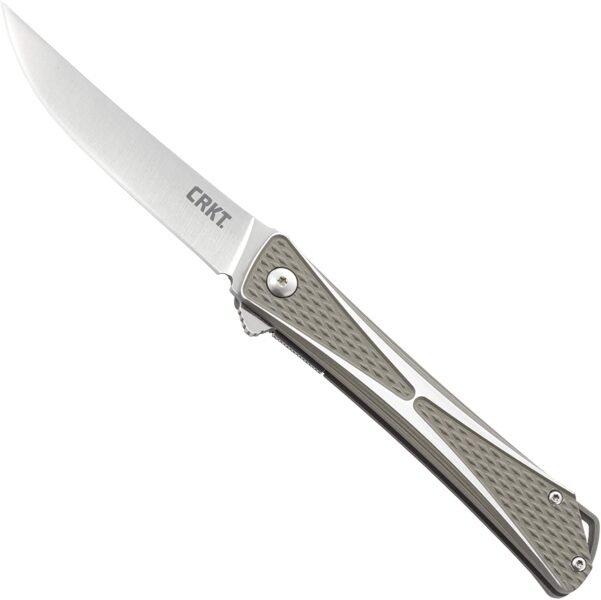 If you like CRKT as a brand, and will consider something slightly larger, the Crossbones could be a worthwhile option.
It uses AUS 8 steel, which is a (slight) step up from the 8Cr13MoV. You probably won't notice a major difference in edge retention & standard resistance against wear & tear. However the AUS 8 will have a slight edge in impact resistance / resisting chips. So it depends what kinds of jobs you're planning for the knife.
Other than that, this knife uses a flipper tab instead of a thumb stud to open, and clearly the design is different too. Still clean and simple, though.
Overall this knife is larger, with a blade length of 3.5″ and around 1mm extra thickness on the blade too (3.15mm vs. 2.18mm).
In terms of price, you're looking at something like +$20-$25 compared to the CEO, so it's up to you whether or not the size, strength, and design are enough of an upgrade.
CRKT Crossbones vs CRKT CEO: key differences
In relation to the CEO, the Crossbones:
Is more expensive
Uses a flipper tab vs a thumb stud
Uses AUS 8 steel instead of 8Cr13MoV
Has a longer & thicker blade
4. Stronger budget alternative: Buck 110 LT
If you're looking for something slightly tougher, but still small, fairly low profile, and affordable — consider Buck's 110 LT.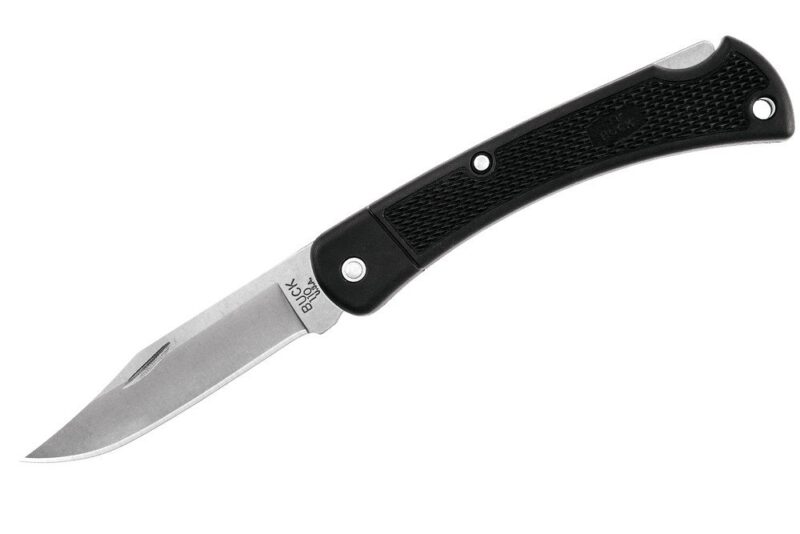 This knife by Buck is the 'little brother' of the famous Buck 110. The 110 weighs in at over 7oz, so if you're looking for something similar to the CRKT CEO, that's probably way too heavy.
The LT version, however, could be a good fit.
Made by Buck, even though it's actually cheaper than the CEO, it still comes with their legendary heat treatment & lifetime guarantee. It's also fully made in the USA.
This knife weighs in a little heavier, at 3.2oz (vs. 2.1oz), and has a longer clip point blade measuring 3 3/4″ (vs. 3.12″).
The LT comes with a polyester sheath, but is light enough to pocket carry.
CRKT CEO vs Buck 110 LT: key differences
In relation to the CEO, the 110 LT:
Is slightly cheaper
Is slightly heavier
Has a longer blade
Is tougher overall
5. Upgraded Samior option: Samior SD374
For our last option, we're back to Samior again. This time, with something that's a slight step up in terms of quality, but still less than $10 difference in price vs. the CEO.
Samior are probably the top brand that can compete with the CRKT CEO in this slim pocket EDC market, with lots of viable options.
We already looked at a cheaper option first in the G1035, but let's check out something a little nicer too.
The SD374 uses VG10 damascus steel, which is a step up in both quality and appearance.
The blade length is significantly longer, at 4.5″, and it has a flipper tab to open vs. the thumb stud opening of the CEO.
There's no pocket clip, but despite the extra length, it's around the same weight at 2.2oz, so very comfortable for a pocket carry still.
In terms of price, it costs a little more than the CEO, but the difference is small (<$10). The appearance of this knife makes it a great gift option, in my opinion.
CRKT CEO vs Samior SD374: key differences
In relation to the CEO, the SD374:
Has a notably longer blade at 4.5″
Has a flashier design, with damascus steel & wooden handle
Weighs a similar amount at 2.2oz
Opens with a flipper tab vs. a thumb stud
Costs slightly more
That's all, folks
In this article we took a look at some good CRKT CEO alternatives. Whatever your reason for seeking out a knife similar to the CEO, I hope you've found something that fits the bill here.
Chances are you'll have to weigh up and compromise on either price or features. In a ton of cases, simply going with either the LT or the Slim Pro will be a good choice. CRKT have done a great job in that regard, listening to their customers and providing solutions.
If they're no good, look to brands like Benchmade for premium options, and Kershaw for cheaper folders.
Read More >>> 13 Best Pocket Knives for Women (EDC and Self-Defense)