Disclaimer: Although this article is not sponsored by Buck, we may earn a commission if you purchase anything through our links. It supports our writing, costs you nothing, and does not affect our opinions.
Your outdoor knife is as essential as any other tool you have on the field. Whether it's preparing game or even setting up camp, you can't understate the utility of a good outdoor knife.
With Buck's experience in providing high-quality outdoor knives, the Buck 119 is sure to meet the same standards and more.
If you want the short version: The Buck 119 comes in as a no-frills, sturdy, and reliable knife with a classic design that looks as good as it performs. You can check the current price on Buck's website.
An Overview of the Buck 119
Old is gold, as some people would say. With a Buck 119 review, we can't leave out the history of Buck knives as well. Starting almost 120 years ago in 1902, Buck knives have been a staple in creating reliable and classic hunting knife silhouettes.
The Buck 119, also known as Buck 119 Special, is a callback to classic fixed-blade hunting knives, going in-between the popular Buck 105s and Buck 120s in height and weight.
The Buck 119 offers the same 420HC steel, ensuring the same performance and sharpness you can expect from Buck knives.
For some reason, reaching this sweet-point between the two Buck knives puts this Buck 119 in an appropriately titled "special" place. The knife is not too bulky and long and tough enough to handle different hunting activities with ease.
Maybe it's the almost 50 years that this classic silhouette has been around or the quality of Buck's steel heat treatment that influences the Buck 119's popularity.
In any case, the Buck 119 is a staple piece that any hunter can rely on.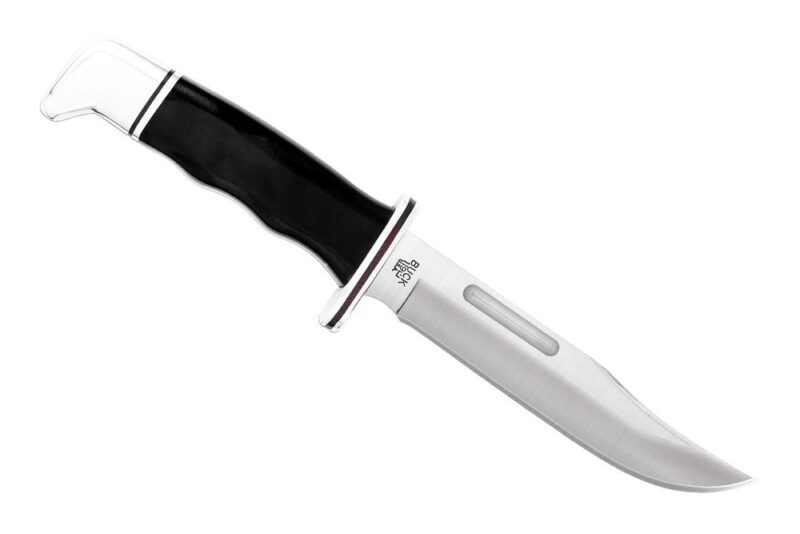 Where to Start When Buying a Hunting Knife
There are a variety of knives to match the versatility a good knife can bring you. This means you will ultimately get the most out of your knife if you know what you're looking for in the first place.
Buck has an intensive guide on picking the right knife for you. But if we had to choose a quick way to decide, we would focus on deciding what you want from your knife.
What Do You Want From Your Knife
A good outdoor knife performs even better when you're using it properly. It's also good to note that not every knife does the same job the same way.
To simplify things further, outdoor knives are usually split into two main categories: Hunting Knives and Survival Knives.
Hunting knives, like our Buck 119, are primarily used to prepare game. These can be a range of different tasks, such as skinning, gutting, and de-boning.
Survival knives, on the other hand, focus on its usage on a variety of other things, such as camp preparation, bush clearing, food preparation, and even self-defense if the need comes to it.
There are many other types of outdoor knives, but by far, most knives fall into the two categories above.
Buck 119 Review: Features & Specs
The Buck 119 Special is inspired by many of Buck's most classic designs. Similar in design to both the Buck 105 and the Buck 120, the Buck 119 Special proves to earn that subtitle through its near-perfect size and shape to tackle most hunting needs.
The Buck 119 hunting knife itself has been dialed to a little more than 50 years of made-in-the-USA knife revealing experience but remains largely true to some of the first knives forged by Hoyt Buck himself.
A quick rundown of the features that the Buck 119 has:
420HC Stainless Steel Blade
Classic Clip Point Blade
Phenolic Molded Grip
Aluminum Guard and Pommel
7.5 0z, 6-inch blade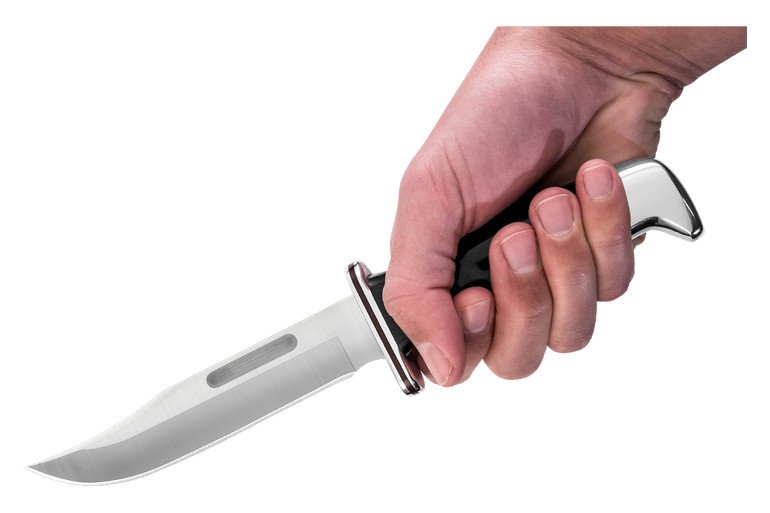 420HC Stainless Steel
Not all knives are made equal, and some knives are certainly made better than others. As for the 420HC Stainless Steel alloy that the Buck 119 knife blade uses, you can rest assured that the blade will be razor-sharp and easy to sharpen.
Many standard outdoor knives use 420HC Stainless steel for their blades, which may turn some knife collectors off to hunting knives that use this relatively soft steel material for their blade.
The Buck 119 is special as it uses a heat-treated method of blade finishing, which turns the common 420HC into something extra durable and long-lasting compared to other blades that use the same base steel.
The Buck 119's edge retention is one of the strongest selling points of the knife, going without the need for sharpening for extended periods of time.
Don't be afraid to take this blade out for a spin on camp preparations as well, as it is well durable enough to cut through wood and other detail work needed.
If all this isn't enough, the blade is also "satin finished," meaning it was hand-sanded to a soft matte polish.
The Buck 119 420HC steel certainly stands on its own as a testament to the quality and longevity of the knife proper.
In terms of how 420HC stacks up against other steels, one of it's biggest strengths is ease of sharpening. Comparing 420HC to s30v (which you'll commonly find considered the 'next step up' in steel quality) you'll get slightly worse (but still good) edge retention & toughness, but better ease of sharpening.
Classic Clip Point Blade
As classic as it gets, the Buck 119 special's feature clip point blade goes to show that even one of the most common knife tip shapes can be done and executed well.
You've probably seen the blade tip on other popular knives such as the Bowie Knives, and for good reason. The clip point is one of the more all-purpose knife tips out there due to the knife's tip that seems to be "clipped" off by design.
It's useful in its high ability control due to its narrow and thin tip, as well as its large slicing surface found on the belly of the point. This can make field dressing insertions and meat slicing much easier for you when preparing your game out on your trip.
In any case, it certainly adds to the appeal and feel of the knife, which should be plenty to even the most casual hunter and collector.
Phenolic Molded Grip
Phenolic Resins are known for their high heat and impact resistance, so it's no surprise that the Buck 119 would use a practical material like this to construct their knife handle.
The handle uses a black phenolic resin, which has wide soft grooves to accommodate your finger placement. Though some collectors prefer a more neutral grip, there are moments where you might enjoy a bit more fitted grip through the molded holds.
Take note that while the resin handle does maintain a good grip, it doesn't intrinsically have any non-slip properties.
Hunters and outdoorsmen amongst you should be careful when using this knife in the rain or winter as these conditions may make the knife slippery if used without gloves.
An important note to have is that the knife is not full tang but admittedly comes close. Full tang knives are known for their durability due to the knife's "tang" extending through the handle and protruding by the butt of the knife.
The Buck 119 knife isn't full tang, not for lack of trying, as its tang extends around to 90% of the knife handle proper.
The end of the tang is simply covered by the knife pommel. So yes, while the Buck 119 isn't full tang on a technicality, it should also be considered as having the same stability in structure.
Aluminum Guard and Pommel
The Aluminum Guard and Pommel compliment the black and silver motif that the knife is already striving for. Apart from that, the placement of the guard and its effectiveness boils mostly down to personal preference.
You may experience that the guard might be a bit too close to the handle, but sometimes even this can be overlooked for the sheer simplicity and classic design that this knife has.
Don't try to use the aluminum pommel for anything other than showing off, though, as while it can resist dings and drops, using it to hammer down anything will result in a dented and damaged pommel.
All in all, the guard and pommel just work well in conjunction with the rest of the blade and handle, adding more to the already beautifully crafted knife.
Midweight 7.5 Oz, 6-inch blade
As mentioned earlier, the Buck 119 Special comes in-between the popular Buck 105 and Buck 120 hunting knife series. This goes beyond just being in the middle in terms of Buck series and the actual knife dimensions.
The Buck 119 sits in the middle of the two knives in terms of knife blade length and weight.
Designed as a 7.5 oz knife with a 6-inch blade length, the Buck 119 never really feels cumbersome. The Buck 119 is just light enough to handle regular cutting and stabbing without wearing yourself out, and not too long that some trimming work just gets too difficult.
Overall knife length sits at 10.5 inches, making it easy to carry around on your hunting trip. Buck 119 focuses on a no-frills hunting knife design, so you don't need to worry about any unnecessary features to get the job done.
Additional Features
The 119 Special is just a gift that keeps on giving. While we mentioned five fantastic features already, it is still worth noting that this knife's additional features may not be entirely exclusive to its design yet are impressive for what it offers.
Genuine Leather Sheath
With how good the Buck 119 is, you'll want to bring it with you on most of your trips outside.
Unless you want to look like Michael Myers from Halloween, you'll need to keep this knife somewhere safe when at home or when you're out.
Lucky for you, Buck included with the 119 series a genuine leather sheath and a generous belt attachment so you can easily carry this and have two arms free still.
The sheath is tightly stitched thick leather and comes with additional details such as an interior plastic guard and a drainage hole at the tip to keep your knife clean.
It also comes with a knife snap-close guard to keep your knife in place just in case you feel like sprinting with this knife holstered to your side.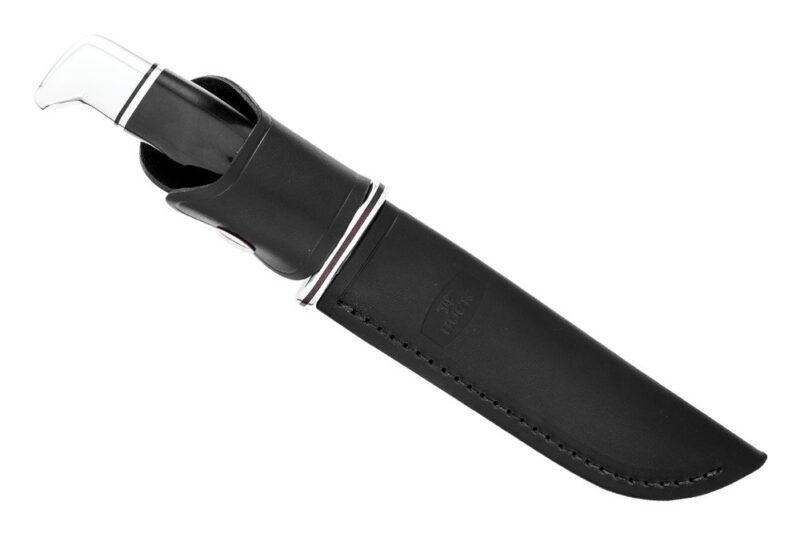 "Buck Forever Warranty"
As a guarantee of quality, Buck includes with every knife purchase their inclusion into the Buck Lifetime Warranty program. This comes with the standard warranty for any defects and manufacturing errors for life.
The program doesn't stop there, as the Buck Forever warranty includes extended service protection that ensures that any damage through use or misuse can be sent back to them for a small fee to be repaired.
If all that wasn't enough, they also offer 50% off new purchases of their knives if they find that your knife cannot be repaired.
All in all, Buck has your back when it comes to ensuring that this knife, or any of their knives, will not fail you when you need it.
Wooden Handles and Engraving
Now while the phenolic molded grip is as sturdy as they come, sometimes you may want something a bit more classic and personal. This all boils down to your personal style preference, and the Buck 119 has you covered with this as well.
The Buck 119 has an option to swap out the black phenolic resin handle for the Dymalux Cocobolo wood, which changes the pommel and guard as well from aluminum silver to brass gold.
The cocobolo wood is a damage-resistant and durable wood usually found in a warm reddish-brown color.
The handle is hand-polished and molded in the same wide finger molds as the default handle. If you're looking for a more rustic design, this option is available to you at a slightly higher price point.
For those with a particular design, you can also have the knife engraved with 2 lines of 14 characters for an extra fee. You can put your name, so everyone knows whose beautiful knife this belongs to, or you can put a saying that resonates with you while you're out hunting.
Whatever you decide, Buck 119 gives you several options to make it a bit more in line with whatever personal preference you may want.
How Does The 119 Compare vs. Other Popular Knives?
With any review of a good hunting knife, you'll need to see how it fairs against other knives that can do a similar job.
The Buck 119 Special stands as a midpoint to two different popular Buck products, the 105 and 120. Additionally, we will review how the 119 stands up to a more modern knife, the Buck 658.
Lastly, we'll go through a series of super quick comparisons.
Buck 119 vs. 120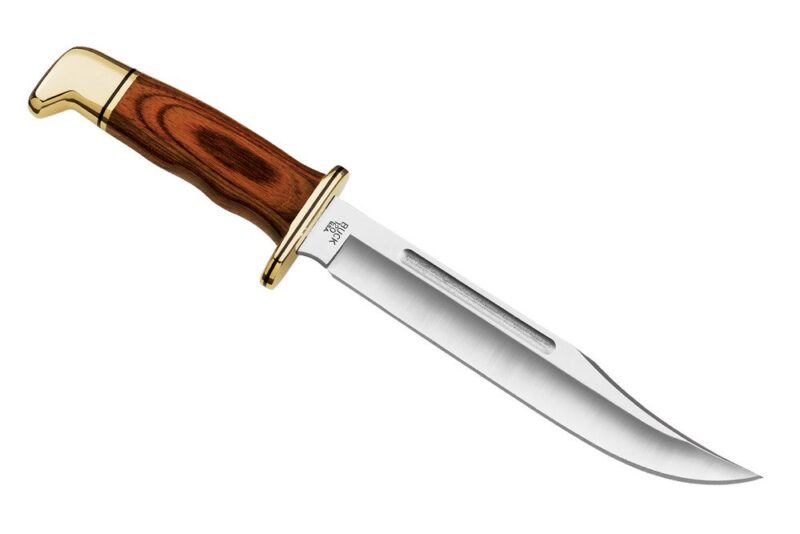 The Buck 120 can be seen as the big brother to the Buck 119. Coming around 1-inch larger in length, the Buck 120 comes in heftier as well at 8.3 oz vs. the Buck 119's lighter 7.5 oz.
See here for a more detailed comparison of the Buck 119 vs Buck 120
When comparing these two knives, a lot of the deciding factor between them will boil down to personal preferences.
Some hunters prefer the larger Buck 120 for complicated dressing tasks like de-boning, but others enjoy the mid-sized 119 for its portability while maintaining similar performance.
Both knives have the 420HC heat-treated steel, so skinning and breaking down meat should function the same. Whichever you prefer, you can expect the same ease when dealing with your game.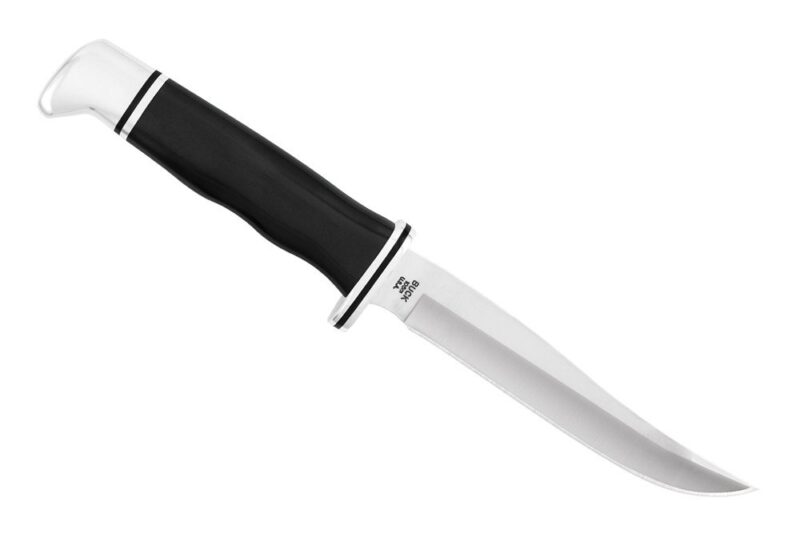 If the 120 is the big brother, it's only appropriate to call the Buck 105 the little brother to the 119. This time, the Buck 105 comes in a full inch shorter than the 119 and feels significantly lighter.
See here for a more detailed comparison of the Buck 119 vs Buck 105
The Buck 105 also has a modified clip compared to the point that the 119 has, creating a shorter narrow blade tip compared to the 119's traditional point. This allows for smaller insertion points and slightly better control when using the knife tip.
However, the 105's shorter blade changes things in a few ways. First, it dulls out faster but is also faster to sharpen. Second, it creates less drag when cutting compared to a much larger blade like the 119.
While this does mean that the 105 has better maneuverability, especially with smaller game, it is also a bit more difficult to handle with gloved hands as the molds have less space for your hands.
Again, similar to the Buck 120, the choice between the 105 and the 119 mainly comes down to personal preference. The 105's size and modified may be attractive for those hunters looking for a more compact traditional hunting knife.
Buck 119 vs. 656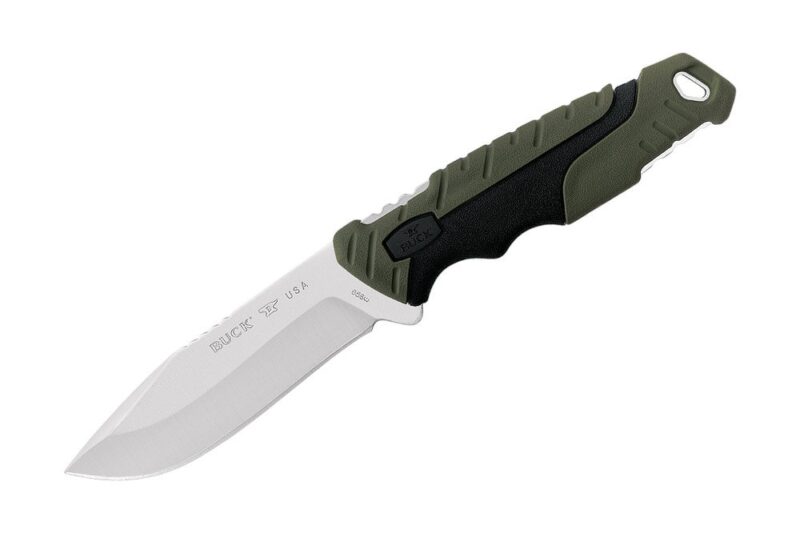 Now for an exciting review comparison, the 119 vs. the Buck 656 Large Pursuit Knife. While the 119, 120, and 105 all come in a traditional hunting knife silhouette, the 656 comes in a more modern tactical hunting knife design.
The knifepoint changes as well, as while the 119 uses a classic clip point, the 656 uses a thicker drop point for its blade.
The drop point comes in thicker than the clip and allows you to dress tougher game meat as well as more precision on the point.
This also means it may be harder to handle smaller game with a thicker blade like this and puncture as well as the clip's knifepoint.
The handle also features more technical innovation, with a nylon-rubber composite mold to add to the handle's grip. Its sheath is also made out of polyester compared to the stiffer 119 leather sheath.
Between these two, the choice comes down to your mindset when it comes to hunting, as well as the kind of blade you want to be working with while field dressing.
If you're more traditional, go with the 119. If you enjoy more modern innovations, consider the 656.
Quick 119 comparisons
Ready for some quick-fire comparisons?
Here's an at-a-glance overview of how the 119 compares to some other knives.
Buck 119 vs 102 Woodsman
The 102 is intended as a hunting knife for smaller game & fish.
It is much lighter and smaller compared to the 119. The 119 is triple the weight of the 102.
The 102 is good for dressing and small precise tasks.
These two knives are very similarly priced.
| | Buck 119 | Buck 102 |
| --- | --- | --- |
| Blade length | 6″ | 4″ |
| Overall length | 10 1/2″ | 7 3/4″ |
| Weight | 7.5oz | 2.5oz |
| Blade thickness | 0.175″ | 0.120″ |
| Steel | 420HC | 420HC |
Buck 119 vs Gerber StrongArm
When comparing the Buck 119 to the Gerber StrongArm, you'll find that the 119 is better for hunting related tasks, and the StrongArm is better for survival.
Compared to the 119, the StrongArm:
Has a slightly shorter blade
Is slightly shorter overall
Is a similar weight
One key difference between the StrongArm and the 119 is the handle. The StrongArm has a diamond textured rubber grip which you'll likely find grippier, especially when wet without gloves.
The StrongArm also features a hammer pommel in the handle.
Although they both use 420HC steel, Buck's legendary heat treatment makes theirs a little harder, and more corrosion-resistant.
These knives are priced similarly.
| | Buck 119 | StrongArm |
| --- | --- | --- |
| Blade length | 6″ | 4 4/5″ |
| Overall length | 10 1/2″ | 9 7/8″ |
| Weight | 7.5oz | 7.2oz |
| Blade thickness | 0.175″ | 0.187″ |
| Steel | 420HC | 420HC |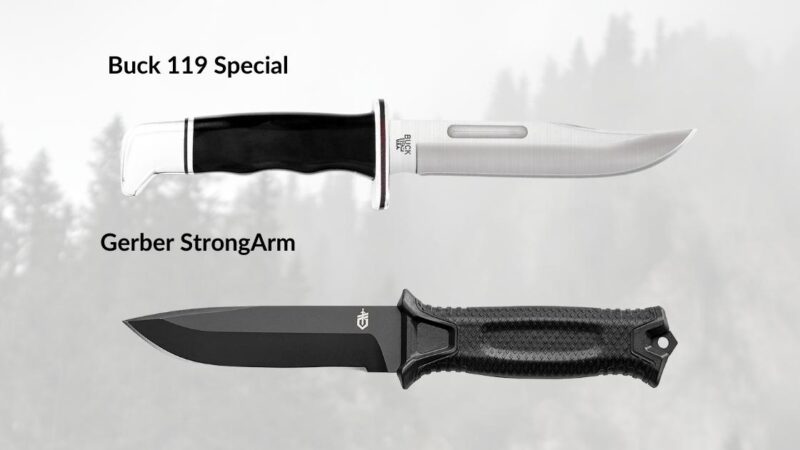 Buck 119 vs KA-BAR USMC
The USMC was originally designed to be a combat knife, but it works well as a survival knife. It's reliable and sturdy enough to hold it's edge in the field, baton firewood, and cut through wires etc.
The USMC has a longer blade length at 7″, and is heavier at 11.02oz.
Once again, the 119 is preferred for it's intended use (hunting), but for combat or survival situations, I'd be glad to have a USMC in my hand.
The KA-BAR is slightly more expensive.
| | Buck 119 | KA-BAR USMC |
| --- | --- | --- |
| Blade length | 6″ | 7″ |
| Overall length | 10 1/2″ | 11 7/8″ |
| Weight | 7.5oz | 11.2oz |
| Blade thickness | 0.175″ | 0.165″ |
| Steel | 420HC | 1095 Cro-Van |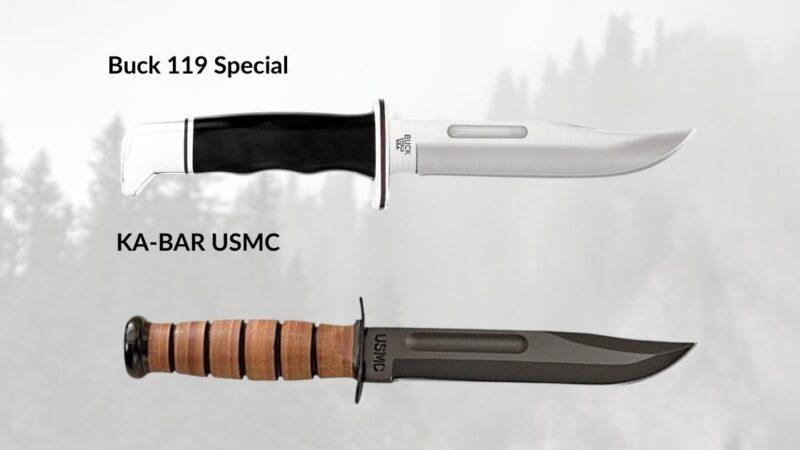 Buck 119 vs Selkirk 863
While the 119 is a famous hunting knife, the Selkirk is known as a survival knife. Particularly as a survival knife with a firestarter.
Each of these knives excels at the purpose it was designed for, so it's not really relevant to pit them against each other.
The Selkirk comes in fixed & folding options, and with / without a firestarter. Personally I like the fixed blade with firestarter best, which is what the comparison stats below are based on.
This Selkirk is slightly more expensive than the standard 119, but you can get a smaller version slightly cheaper too.
These knives use the same heat-treated 420HC steel.
| | Buck 119 | Selkirk |
| --- | --- | --- |
| Blade length | 6″ | 4 5/8″ |
| Overall length | 10 1/2″ | 9 1/2″ |
| Weight | 7.5oz | 7.6oz |
| Blade thickness | 0.175″ | 0.135″ |
| Steel | 420HC | 420HC |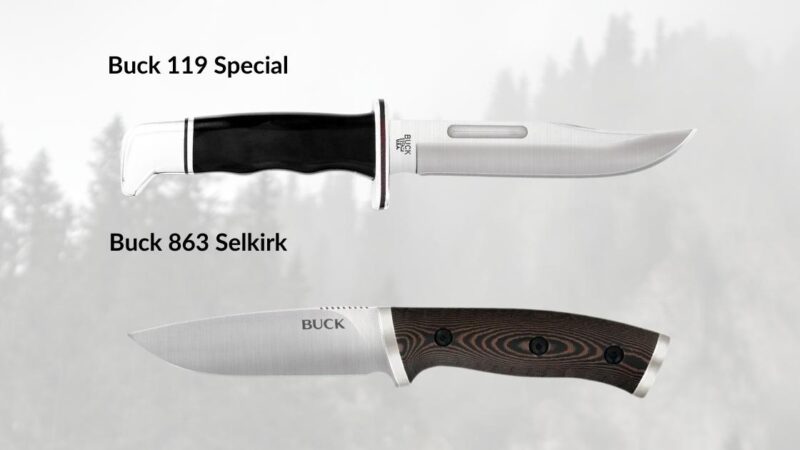 Conclusion
Whether you're a seasoned hunter or someone new to the activity, having a good hunting knife is invaluable as both a dressing tool and, at times, a utility tool for the field.
The Buck 119 comes in as a no-frills, sturdy, and reliable knife with a classic design that looks as good as it performs.
Easy to sharpen, tough, and versatile enough for any task, our review of the Buck 119 comes as a highly recommended choice to those who want an all-purpose hunting knife by their side.