If you're looking for a new knife to take out hunting, you'll definitely come across Buck during your search. The American brand has been at the forefront of knife making for nearly 100 years and make a range of great knives for many different hunting needs.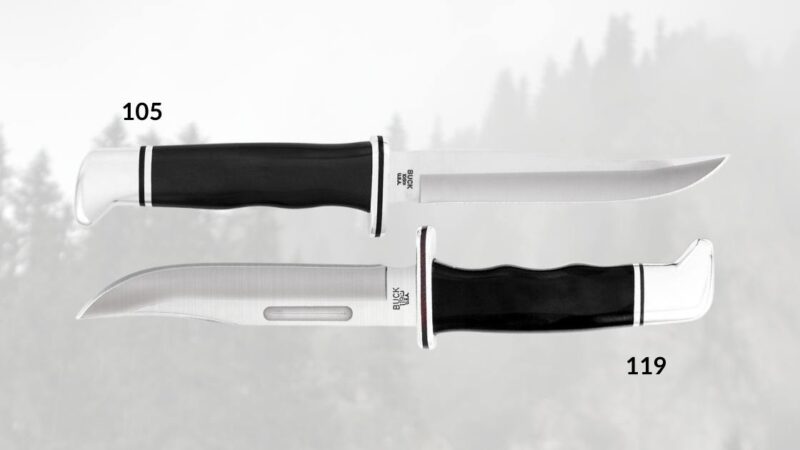 In this article, we'll be putting two of Buck's top hunting knives side-by-side to help you in your search to find the best hunting knife for you.
Comparing the Buck 105 vs Buck 119? In this article, we'll take you through the specs, price, and comparisons of the Buck 105 Pathfinder and the Buck 119 Special Hunting Knife. Both are absolute classics of the hunting range. However, they do have some critical differences that make them perfect for different scenarios.
If you haven't got time to read the whole article – here's the key difference:
If you're looking for a knife that's a hunter at its core but is great for all-round tasks too, you'll get great service from a

Buck 105

Pathfinder.
If you need a dedicated hunting knife that's strong and secure, you'll love the Buck 119 Special.
And now it's time for the full review!
Buck Knives 105 vs 119 – Key Comparisons
Let's get one thing straight. Both of these knives are absolutely fantastic pieces of kit if you're heading out hunting. The 119 recently celebrated its 75th anniversary, showing its longevity and popularity, with the 105 often lauded as the perfect small hunting knife by knife fans.
The key difference between the two is size, with Buck themselves branding the 105 as "the smaller version of the 119 special that's perfect for general outdoor use".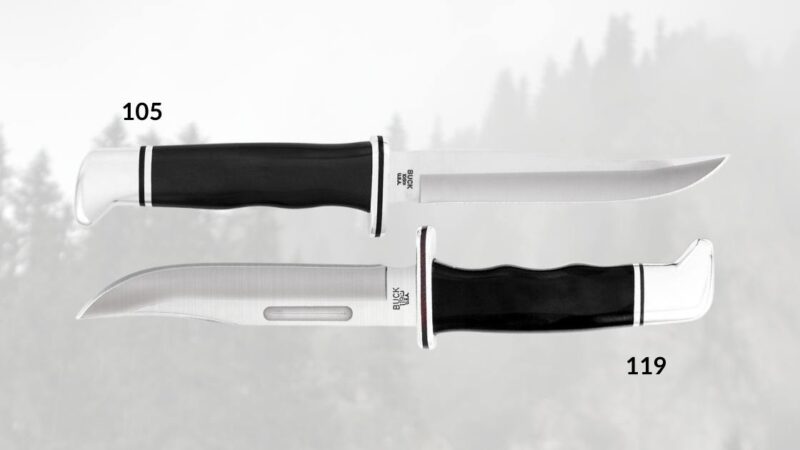 If we dive into the 105 first, you're getting a fixed blade knife that's 9 1/8″ long with a 5″ modified clip blade. It's a great small hunting knife that, given its slightly smaller size, makes it perfect for a range of other more intricate slicing, skinning and detailing tasks.
Jumping over to the 119 Special, and you're looking at what many consider to be the perfect hunting knife. 10 1/2″ overall length with 6″ blade gives the 119 just that little bit extra power over the 105 thanks to the increased length.
It's Not Just the Length
It's not just the length that beefs up the Buck 119. It's not until you put the knives side-by-side you can appreciate the 119's additional 1.4″ in blade width. And when in the hand, you can you feel the extra 3 oz in weight. It's these factors that also give it that additional punch!
Aside from the size, these knives are pretty similar. They share the same Phenolic handle, 420HC heat-treated steel and come equipped with black leather sheaths that can be belt-mounted.
You may be surprised to see that the 105 is actually slightly more expensive, at $70, than the 119 is, at $70. As the slightly newer blade with a slightly modified clip shape, we think this is where the difference will lie with Buck. In truth though, at $5 difference, we wouldn't suggest you let price become the determining factor in your choice.
Ultimately, you need to ask yourself two questions. Firstly, what size of knife do I need? And second, what tasks do I need to complete?
If you need a slightly smaller knife that can be used for hunting as well as other general tasks, head for the Buck 105. If you need a heavy-duty knife that's tailor-made for large hunting tasks, the 119 has been (and continues to be) the perfect knife in this category for 75 years.
Side-By-Side Specs – Buck 501 Squire vs Buck 503 Prince
Buck

105 Pathfinder

Buck

119 Special
Overall Length (")
9 1/8
10 1/2
Blade Length (")
5
6
Weight (Oz)
4.5
7.5
Blade Thickness (")
0.120
0.175
Blade Type
Modified Clip Point
Clip
Best For
All Round
Outdoor Knife
Dedicated Large Hunting Knife
Steel
420HC
420HC
Sheath
Black Genuine Leather
Black Genuine Leather
Manufactured
Made in the USA
Made in the USA
The 105 is one of Buck's most popular fixed blade knives. It's not hard to pinpoint why this is either. It's a knife that combines all of the aspects hunters loved with the 119, just condensed into a smaller package.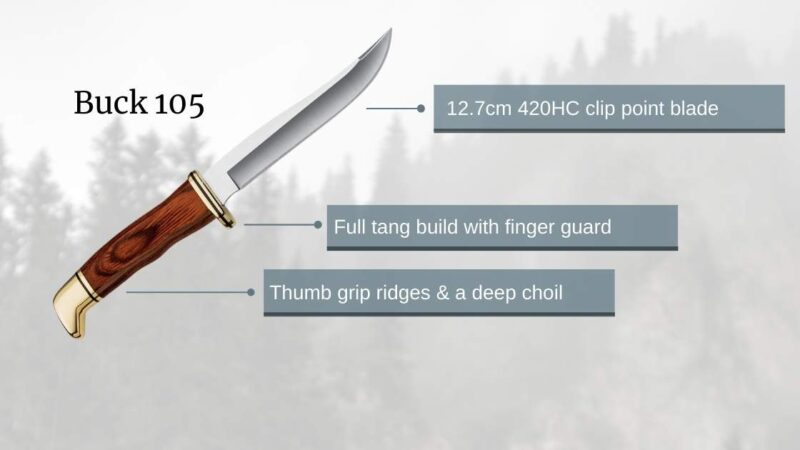 At 9 /18″ long, with 5″ of that comprising of the blade, the 105 Pathfinder hits the sweet spot between being big enough to tackle most tasks without being too big and cumbersome.
At 4.5oz in weight and with a 0.120″ thick blade, it's easy to use in the hand whilst being intricate enough for slicing and fleshing tasks when you need a little finesse. That blade's made up of 420HC steel which is standard for Bucks at this price point. With 420HC you're getting a blade that performs well with most things it comes across. However, it isn't ultra-sharp like an S30v.
The knife utilises a black phenolic handle that's again pretty standard for Buck knives. The thumb ridges, finger guard, pommel and choil all combine together to ensure the knife is robust across a range of circumstances.
The 105 also comes bundled with a genuine black leather sheath which can easily be belt-mounted. Again, pretty standard for Buck's at this price point but a nice accessory to have nonetheless.
This is one of Buck's USA-made models and of course, comes with their Forever Guarantee meaning if you have any problems it's quick and easy to repair or exchange. At $70, you're getting a model that's packed with hunting-knife DNA but is small and nimble enough to accompany you through most outdoor tasks as an all-rounder.
The Buck 119 Special Hunting knife is an absolute classic in the hunting knife market. Having recently celebrated its 75th anniversary, the knife combines size, strength and power to make it an essential companion for any serious hunter.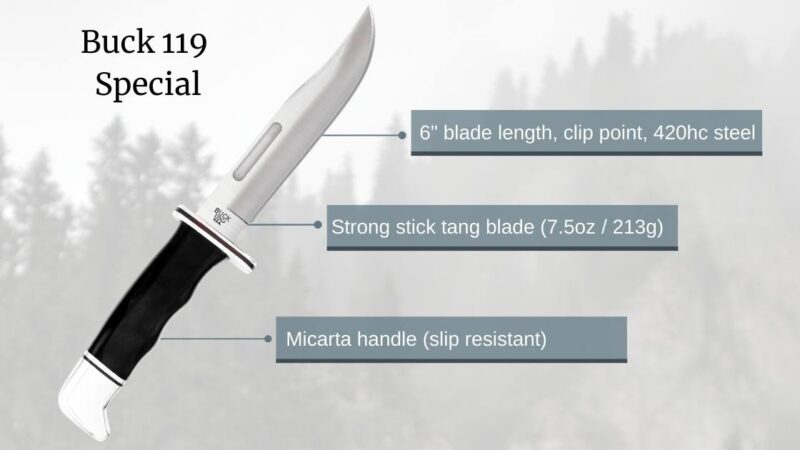 A 6″ blade contributes to an overall size of 10 1/2″ that feels powerful in hand. When compared to the 105, the 119 is also 1.4″ wider and 3oz heavier, again contributing to that additional power. It's these specs that make this knife perfect for carving, quartering and filleting game. It's also robust enough for strong pommeling and chopping.
The setup of the handle is exactly the same as the 105. The thumb ridges, finger guard, pommel and choil combine on a black phenolic handle to maximize usability.
You'll receive a nice genuine leather sheath as an accessory to the 119, which can be belt-mounted if required. And of course, the knife comes with Buck's Forever Guarantee meaning you can replace or repair any knife that becomes faulty.
There's a reason the 119 has been around for so long. It's the perfect hunting knife for serious hunters who need something strong and secure in their hand for heavy-duty game work. At $65, it's also a very affordable knife to add to your knife collection!
Can't Decide Between The Two? Here's an Alternative – Buck 656 Pursuit (Large)
The Buck 105 and 119 are both specialist hunting knives that some fans find hard to use in other circumstances. If you're wanting a knife to take hunting that can also tackle other outdoor, woodwork and foraging tasks, the Buck 656 is a great alternative.
Buck describe the 656 model as 'a multi-purpose alternative to traditional hunting knives' and we couldn't agree more!
At an overall length of 9 1/2″, it sits right in the middle of the 105 and 119 with the 4 1/2″ blade slightly smaller than both models. Most of this size is due to the large glass-filled nylon/Versaflex grip that covers a full tang construction.
This gives you a multi-purpose knife that's handle-heavy and perfect for general tasks alongside hunting. We've got the same 420HC steel as we've seen before with a green trim, polyester sheath matching the overall knife design.
This is a great alternative if you need a slightly weightier knife that can be used for general tasks as well as hunting. The design of this knife will appeal to those with more modern/military tastes too. This is a nice alternative to both the 105 and 119 given they look practically identical.
You can pick up a 656 Pursuit for $58 making it not only a great all-around alternative but a cheaper alternative too!
Read more >>> Buck 110 vs Buck 112: The Difference Between Two Classic Folders
Summary – Buck 105 Pathfinder vs Buck 119 Special
When comparing the Buck 105 vs Buck 119, both are great companions if you're heading out on a hunt.
When choosing between the two, ultimately, it's going to come down to size and use case.
The 105 is a hunting knife that's got the added bonus of being slightly smaller and great for a wide range of general outdoor tasks. It's an easy knife to recommend and a true fan-favourite.
On the other hand, if you're after a solid, secure and specialized hunting knife that's lasted the test of time, there's a reason the Buck 119's been one of the leading hunting knives for over 75 years.