When out in the wild, having a fantastic knife is essential to ensure you're fully equipped for survival, hunting or bushcraft. For those with a knowledge of outdoor knives, you'll know that Buck is one of the world's leading brands, creating versatile knives that won't let you down. Two of their popular models are the 110 and 112. Here, we look at a classic showdown – the Buck 110 vs Buck 112.
While these are two very similar knives, they still have noteworthy differences to consider if you're buying one.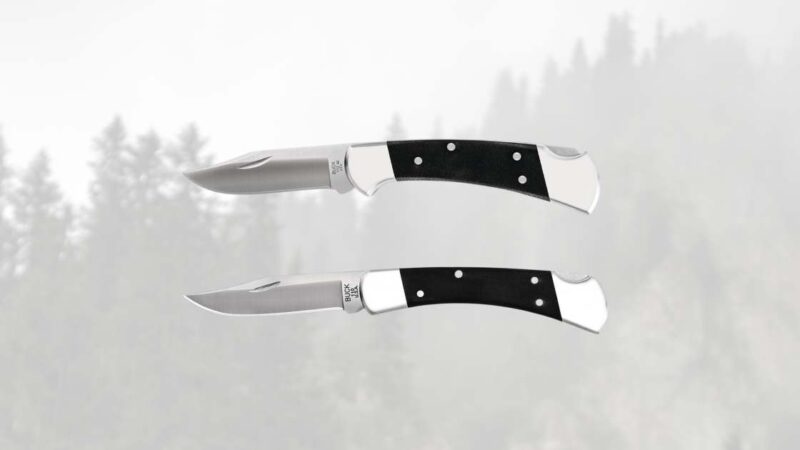 If you've found this article, you're probably asking yourself – well, which one's better, the 110 or the 112? We're going to try and help you answer that by putting both side by side to compare their respective merits.
Both ranges have a number of models, so we're going to directly compare the Buck 110 Folding Hunter Pro Knife and the Buck 112 Ranger Pro Knife.
Haven't got time for a full review? Here's the short version:
There's a lot of personal preference here, since both knives are solid. The 112 is slightly smaller and lighter.
What's the difference between the Buck 110 and Buck 112?
The main difference is size and weight. The 112 as a 3″ blade and 5.9oz weight, vs the 110's 3.75″ blade and 7.2oz weight.
Both knives come with cheaper options (110 LT, 112 Slim Select), standard options, and upgrades (the Pro versions we're looking at today).
Buck Knives 112 vs 110 – Key Comparisons
Honestly, with these two knives there really isn't much in it! The 110 has been a one of the leading knives in the world for many years, featuring in outdoors TV shows and survival movies throughout for decades.
The 112 came along as the slim line version of the 110, offering up the same iconic design, premium build quality and versatility but packed into a slightly lighter and thinner profile.
If we look beyond Buck's fairly regular sale and clearance offers, there's not much more than $10 between the two knives either, again cementing their overall similarity. Price shouldn't be a driving factor for you here, we think it has to come down to the feel of either knife in your hand.
As when using any tool, it all comes down to personal preference – especially with day-to-day usage. If you like a knife with a bit of weight and size behind it, the 110 is the one to go for. If you have slightly smaller hands, or like the feeling or something more nimble, the 112 will be the knife for you!
"If you think the 110 is too big, buy the 112. If you think the 112 is too small, buy the 110. Both are nice knives that will get the job done."
Either way, you're getting a fantastic knife at a fair price. Both knives are foldable, easy to stow, versatile and as you'd expect from Buck, high quality.
Both knives come with and without finger grooves.
That's the high level, but let's break each knife down in a bit more detail!
Side-By-Side Specs – Buck 110 vs Buck 112
| | | |
| --- | --- | --- |
| | Buck 110 Folding Hunter Pro Knife | Buck 112 Range Pro Knife |
| | | |
| Closed Length (") | 4.875 | 4.25 |
| Overall Length (") | 8.625 | 7.25 |
| Weight (Oz) | 7.7 | 6.4 |
| Blade Thickness (") | 0.120 | 0.120 |
| Best For | Versatile outdoor use | Multi purpose, lightweight knife |
| Steel | S30V | S30V |
| Sheath | Black leather | Black leather |
| Manufactured | Made in the USA | Made in the USA |
The Buck 110 Folding Hunter Pro Knife is a classic of the market. Have a conversation with any seasoned outdoorsman and you'll no doubt get talking about the Buck 110 such is it's reputation.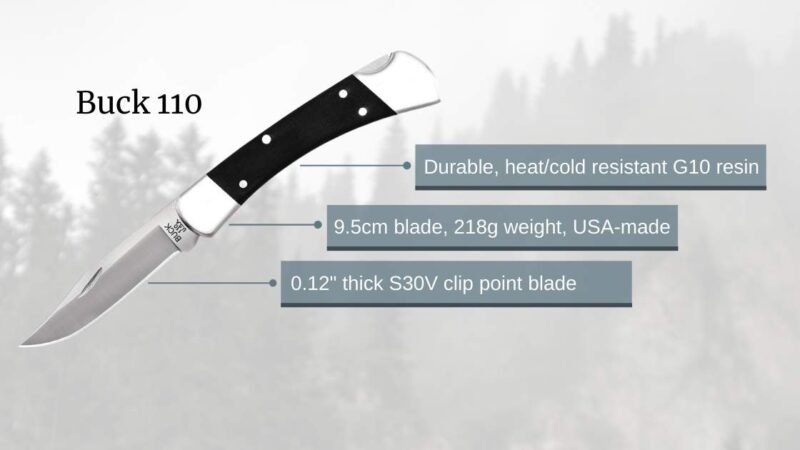 With the original Buck 110 around since 1963, an update was overdue, with the Hunter Pro benefitting from enhanced S30v steel and the latest G10 handle resin.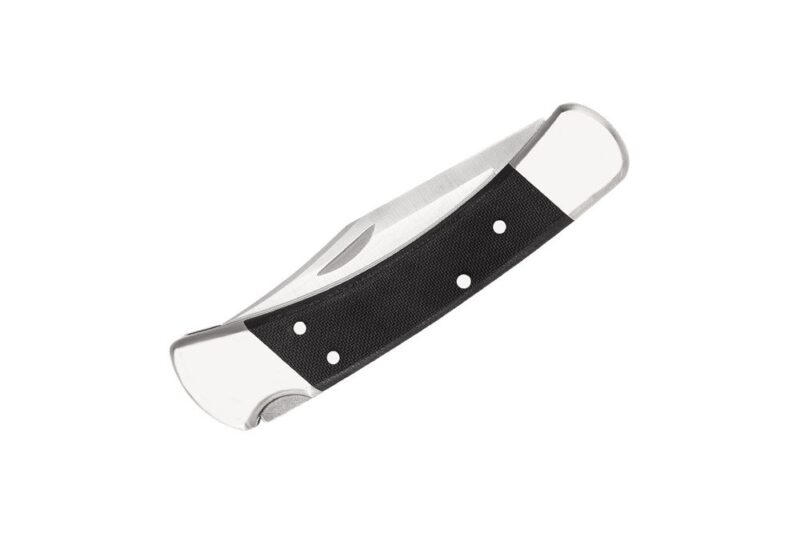 That G10 resin is hardy stuff; an almost indestructible resin that's got against extreme cold, heat, chemical interference and impact means this knife isn't going to break on your first trip into the wild.
At 7.7oz and a handle length of 3.75", the Buck 110 packs a punch despite it's foldable style. Outdoorsmen that like a knife with a bit of size typically go for the Buck 110 as it gives great feedback whilst being comfortable in the hand.
Buck is a trusted American brand and it's easy to see why. The Buck 110 is made in the USA with every knife coming with a forever warranty against defects arising from poor workmanship.
If you're wondering whether the Buck 110 makes for a good EDC, well, we've answered that question here in more detail. But to save you a click, the short version is probably. It's a great all-rounder knife, but some people find it to be a little big for EDC. So unless you're looking for a particularly light/small pocket knife, then it'll be a good fit.
Much like the 110, the 112 has a long legacy of being a fantastic knife for anyone venturing outdoors. Specifically with the Buck 112 Ranger Pro Knife, we see a similar theme of taking a classic and giving it an update for 2023.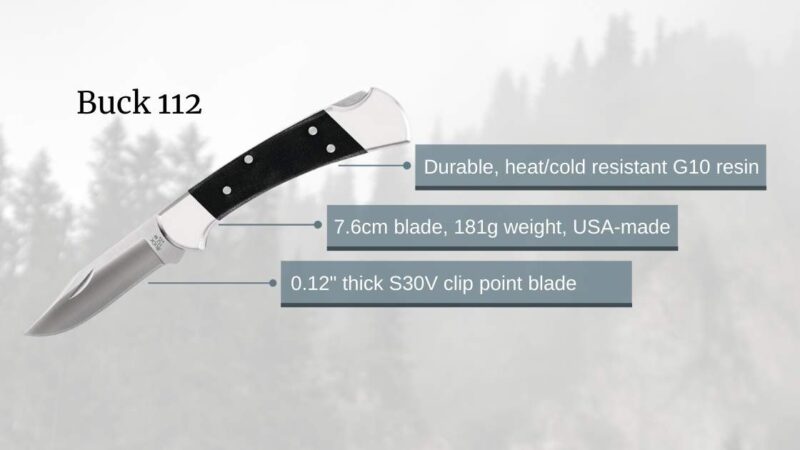 This knife also features those premium features such as the G10 resin and S30v steel, with features for lockback also included to aid in day-to-day performance.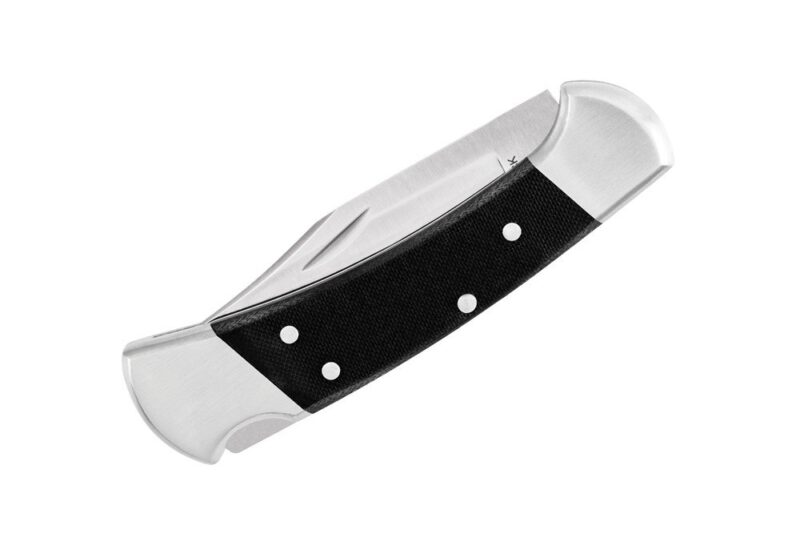 The real difference between the Buck 112 Ranger Pro Knife and it's Buck 110 older brother is the size. The 112 comes in lighter, at 6.4oz, and an overall 1.4" shorter. Blade thickness stays the same in both knives so it's really the size in the hand that varies.
People that buy this knife like that extra nimbleness from having something slightly smaller in the hand. It still performs just as well, as is just as robust, but gives greater comfort to those with smaller hands or just like a tool with smaller profile.
Of course this knife is still made in the USA and comes with that forever warranty against workmanship defects, whilst also being small enough to fit into a sheath carry system!
Still Can't Decide? Here's an Alternative – Buck 500 Duke
Both the Buck 110 and 112 are Pro knives perfect for any outdoor need. Whilst the 112 is slightly more slimline than the 110, both are still big knives.
If you need something smaller and more mobile, why not check out the Buck 500 Duke Knife? At an overall length of just above 7" and significantly lighter at just 4.6oz, the Duke might be the better knife for you if you're looking for something more compact.
The knife retains many similar traits, with blade thickness at 0.11", heat treatment and a similar lockback feature whilst swapping out the G10 resin handle for a sleek dymalux red wood offering. It's also significantly cheaper too, owing to its smaller size.
So, if the Buck 110 & 112 both seem a little too much for your outdoor needs, and you want to save on budget, the Buck 500 Duke might be the knife for you!
Summary – Buck 110 vs Buck 112
Both the 110 and the 112 are iconic knives. Offering fantastic USA build quality, long versatile blades and an almost indestructible handle, both knives are safe bets for anyone helping into the wilderness.
In the end, it really comes down to the feel in the hand. The 110 is slightly larger and heavier, offering good feedback and robust day-to-day usage. It's not hard to see why it's been one of the most popular knives in the world for over 50 years.
But, if you're looking for something more lightweight and slightly smaller in the hand, the 112 might be for you.
We'll finish up with a quote from a knife fan on a popular forum, we really couldn't have put it any better ourselves.
"If you think the 110 is too big, buy the 112. If you think the 112 is too small, buy the 110. Or do the obvious thing, buy both."