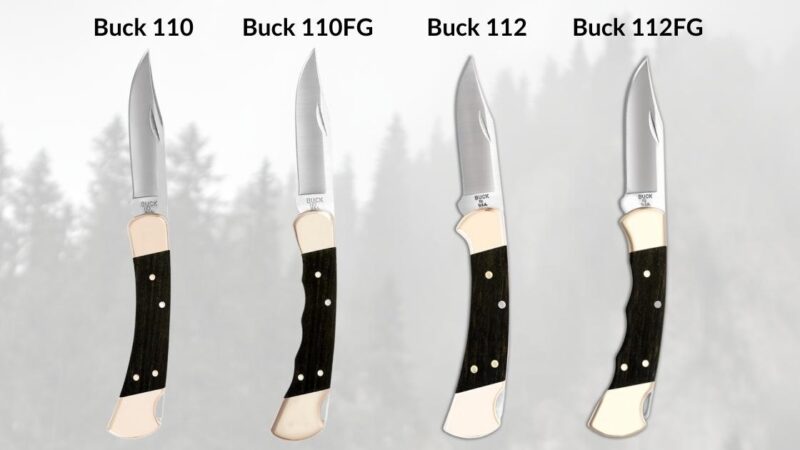 Buck makes two of the most well-known, classic, American-made pocket knives there has ever been: the Buck 110 and the Buck 112.
They come in various configurations, and one of the options you have as a buyer is to get finger grooves vs. a plain handle.
Which is better? Well, it depends.
So let's explore the big question. Should you get a 110 / 112 with finger grooves, or without?
Buck 110/112: Finger Grooves Or Not?
The majority of people I've heard of who got finger groove pocket knives are happy with them.
Typically, finger grooves will lead to a more secure and comfortable grip.
The shape can also provide a little extra grip just for pulling your knife out of it's sheath.
Naturally though, some people don't like them. And of course, the plain handles on the 110 and 112 aren't exactly uncomfortable anyway.
Let's dig into some things to think about.
I think the finger grooves debate comes down to three things:
Hand/finger size
Exclusiveness… (sort of, I'll explain shortly)
Personal tastes & preferences
Hand & finger size
As I mentioned, generally, people buying FG models are happy, and find them secure and comfortable.
The exception is people with particularly large hands.
I'd say this matters more on the 112. The 110 is a larger handle overall, so it's less likely to be a problem. You'd have to have really big hands/fingers for it to be an issue there. But just something to keep in mind if you do have bigger hands.
Exclusiveness (sort of)
Over the years, there's simply been fewer finger groove models made for both the 110 and 112.
So from that perspective, having an FG model can feel a little more 'exclusive'. You'll likely find that many people, even Buck knife fans, haven't actually seen a FG 110 or 112 before.
The reason why I say 'sort of', is because they're now both easily accessible on Buck's website.
The finger groove models are slightly more expensive though, so I think there'll always be less of them being bought.
Personal tastes and preferences
Despite the above points, I think this is likely the biggest factor.
Although there's a price difference, it isn't huge for something that will last decades.
And although big hands could matter, for 90%+ of us, it won't.
What really matters is whether you personally like the look and feel of finger grooves. I do, but they're not for everyone.
If you're a collector, and you have the budget for it, why not get both? They really are quite a different feel and experience to use.
Buck 110 With Or Without Finger Grooves
For the 110, hand size matters less.
This is a pretty big, handle-heavy knife, with a handle length of just under 5″ long.
Here's the 110 and 110FG side-by-side again: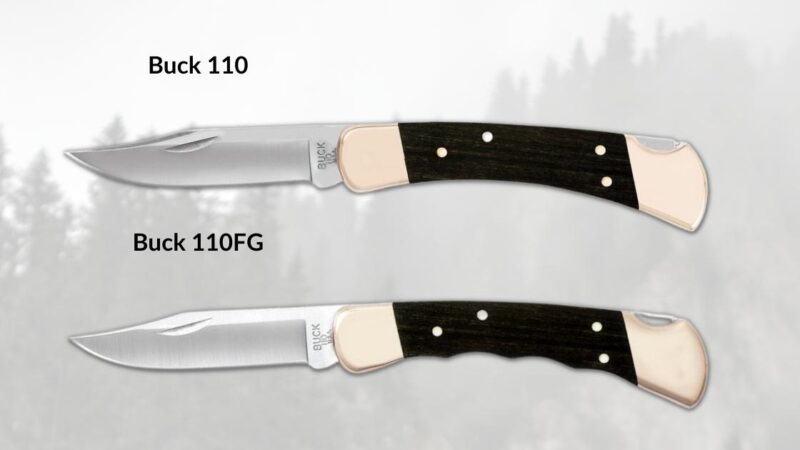 You can find the prices for both the FG and non-FG versions of the Buck 110 using the button below. The price difference at time of writing is around $20.
Buck 112 With Or Without Finger Grooves
The 112 isn't a small pocket knife, but when compared to the 110, it is smaller.
So for that reason, when debating finger grooves or not for the Buck 112, I'd consider hand & finger size a little more carefully.
The 112 handle length comes in at just over 4″, so around 3/4″ smaller than the 110. It means that for those with really big hands, the finger grooves could feel a little tight.
Here's the 112 and 112FG side-by-side again: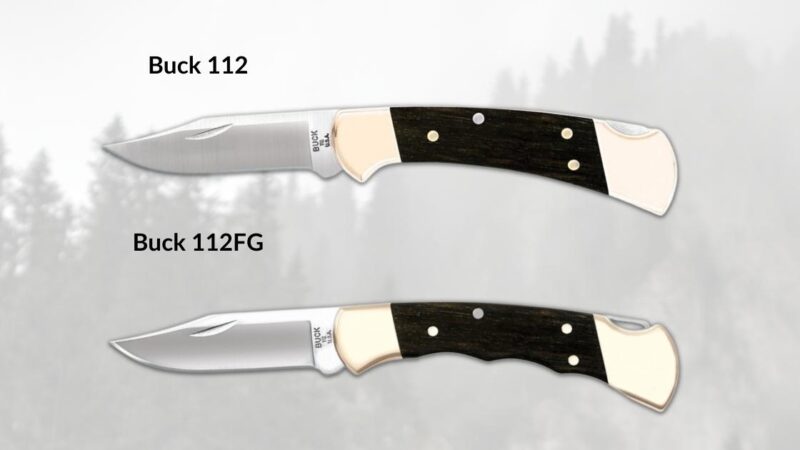 You can find the prices for both the FG and non-FG versions of the Buck 112 using the button below. The price difference at time of writing is around $25.
In conclusion
It's kind of a cop-out answer, but it really depends.
The plain handles of the 110 and 112 are pretty nice already, so you aren't going to be uncomfortable either way.
Unless you have enormous hands, the finger grooves will most likely feel more secure, and unsheath easier. They're also slightly more 'exclusive', but do come at an extra cost of $20-25.
It's really up to you whether or not you like the look & feel.
If you can, I'd highly recommend getting both!