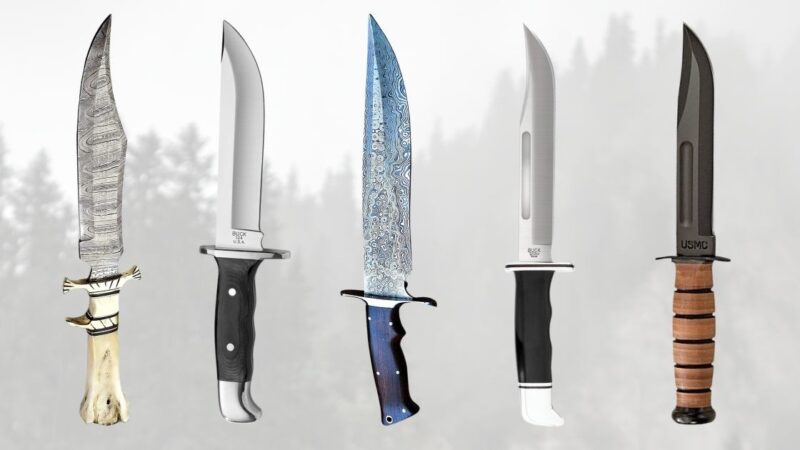 Bigger isn't always better when it comes to hunting knives, but that doesn't mean there isn't some great larger knives out there.
If you want something a little bigger to take out into the field, at camp, or for preparing game, you're in the right place. We'll take a look at what classifies as 'large' hunting knives exactly, the pros/cons of having a bigger knife, and 8 options to suit every taste and wallet size.
At a glance:
In a hurry? Here's a quick overview. Keep scrolling for the details.
For a tight budget, Mossy Oak have a popular 8 1/2″ bowie blade that is worth checking out
What classifies as a 'large' hunting knife?
When it comes to large hunting knives, the most common are typically around 4-5″ blades. If you look through lists on the internet of 'best hunting knives' in general, the majority have a blade length of 5″ or less.
There's a good reason for that, because bigger isn't always better. A large knife can be impractical, heavy, and inaccurate.
That being said, there's still some great larger hunting knives out there, so in this article, we'll look at various options with a blade size starting at 6″, up to 8″ & beyond.
The one exception to that is I've included one larger folding knife (the 659 Pursuit Large by Buck). For a folding knife, even if you want a big one, you're obviously coming down in blade length.
I'd like to add before we jump in that you shouldn't prioritize size over quality. The steel quality is probably the #1 factor to consider here, as well as the price of course. Even then though, if you add up all the money you'll have already spent on other hunting gear, it can really be worth spending an extra $50-$100 to get a better knife.
With that comment out of the way, lets' dive in!
8 Large Hunting Knives For 2022
Heads up — we're starting with 3 of Buck's large hunting knives in a row, at different price points. If you don't like these classic designs, or you're looking for something even cheaper, skip straight ahead to #4 or beyond!
To kick things off, we have a classic design from a quality USA brand, Buck. Their 120 General comes in with a blade length of 7 3/8″, and a total knife length of 12″.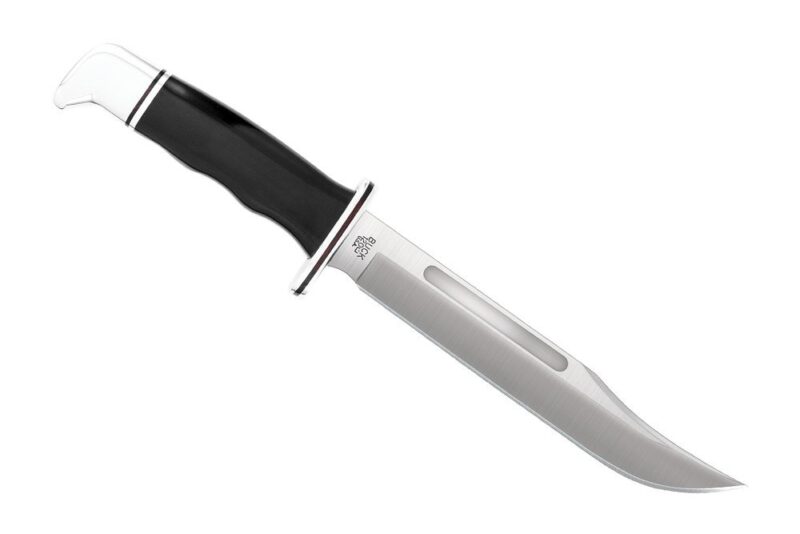 For those looking for something a little larger, the Buck 120 presents an ideal balance between size, strength, and weight.
Weighing in at 8.3oz with a blade thickness of 0.175″, it's not so heavy that it becomes cumbersome, but you can get a lot of power behind it for tougher tasks.
It has a no-nonsense traditional design, and a clip-point blade that's good for precision work despite the size.
And of course, since it's Buck, you get that famous heat treatment and lifetime guarantee.
The only minor downside you might consider is that the handle material could get slippery when wet. We're not talking crazy slippery, and the finger grooves help too. There are grippier handle materials out there though, e.g. micarta.
If you can go up a little in budget, the 124 Frontiersman is another really good quality hunting knife by Buck, and it solves the grip weakness of the 120.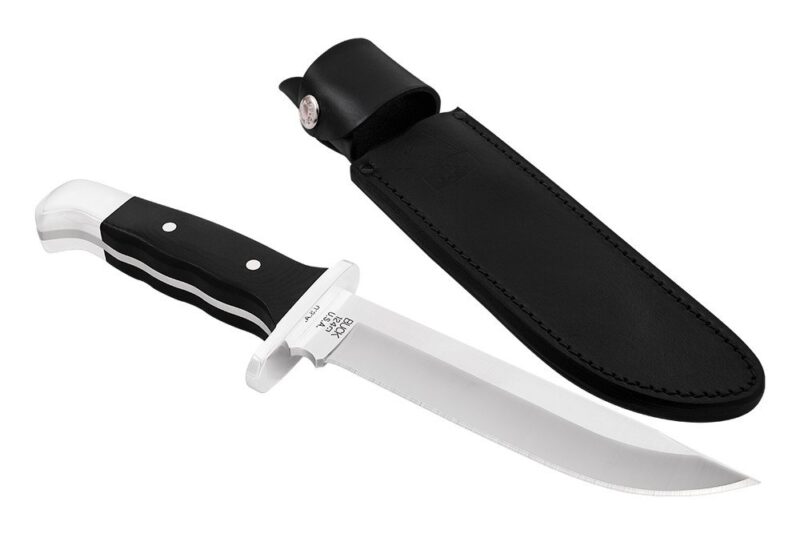 One big difference you get here with the Frontiersman is a black micarta handle. Perfect material for a hunting knife handle, and worth paying more for.
That being said, it's quite a big jump up in price of around $60 extra, so – is it worth it?
Well, the first big difference other than the handle is the bowie blade vs clip blade. A bowie is widely used for butchering & skinning jobs, so this knife will likely perform better for that.
One other notable point is the weight. The 124 is hefty, weighing in at 13.3oz for even more power. If you want something lighter, maybe stick to the 120.
The extra power and sturdiness will come in handy if you want to use your hunting knife for other tough applications, for example batoning wood.
Lastly, they both come with leather sheaths, but the wider sheath for the 124 is USA-made, whereas the 120's is imported.
There's no difference in steel — both heat treated 420HC.
One more option from Buck, this time coming way down in price to around $70. Buck's 2nd most popular knife, after the 110.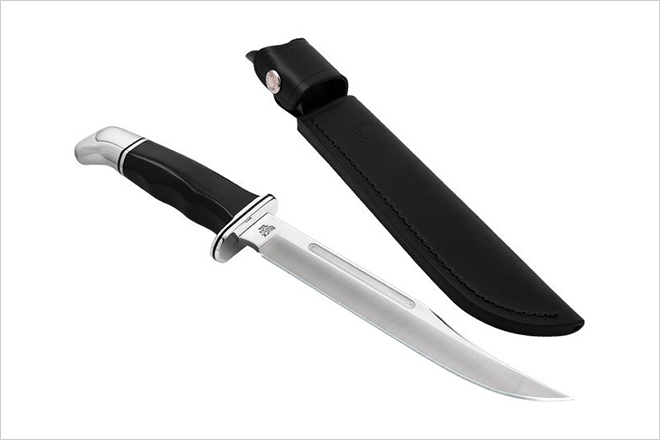 First things first, this knife has the shortest blade (6″) and lightest weight (7.5oz) of the three mentioned so far.
It's also the cheapest by far, despite still having the same 420HC stainless steel quality, making it arguably the best value for money.
Honestly, it's mainly just a smaller version of the 120. Something like deboning would be easier with the 120's longer blade, but otherwise, it's just personal preference and budget.
It's the same clip blade shape, same handle, same sheath, same steel. Even the same blade width (0.175″).
Lighter, shorter, cheaper. You decide which is preferable.
Originally designed for combat, this KA-BAR knife is versatile, and can easily perform the tasks of a hunting knife.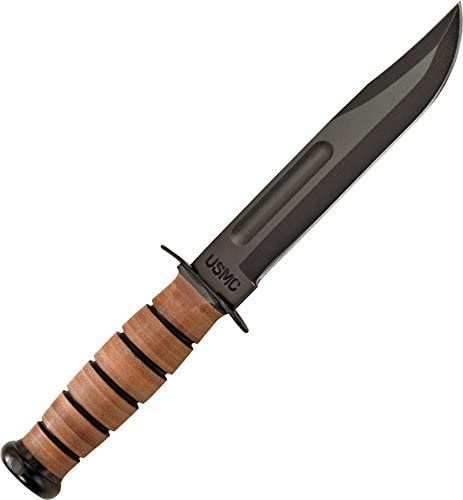 The USMC knife by KA-BAR is designed as a combat knife, legendarily chosen in the 1940s as the knife that the US Marines would be equipped with.
That said, these days, people buy them for a whole host of reasons, including hunting.
It's a very solid build, that is designed to last a lifetime.
The blade uses 1095 Cro-van steel, which is a very hard steel, but it isn't stainless, so will corrode if you leave it wet, which is worth noting. The powder coating protects against that to an extent.
The blade has a length of 7″, and there's a nice sized handguard to keep safe during use.
This is one of the most famous knives in the world, and you'll struggle to find someone who regrets buying one.
This is a large blade that can be used for hunting and/or survival, and it brings some of that flare & wow-factor you get with damascus steel.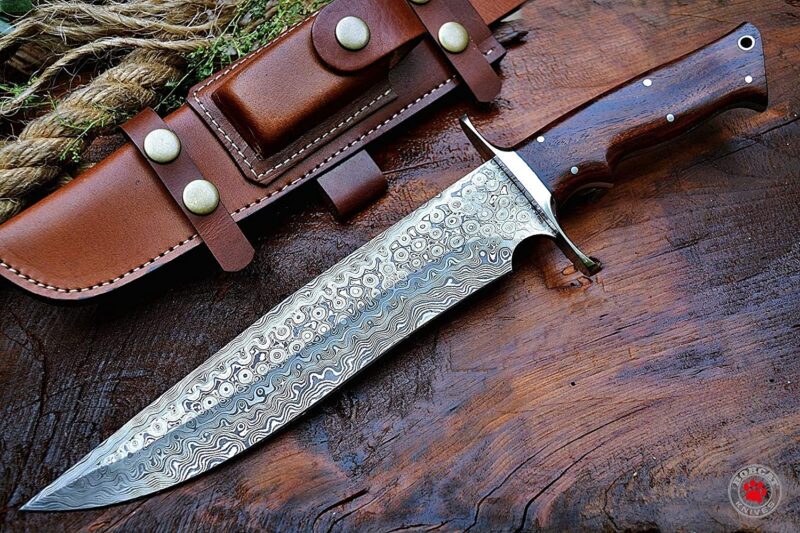 If we haven't seen anything big enough or flashy enough for you so far, maybe this will hit the spot.
This knife from Bobcat is available on Amazon, and it's the longest blade so far, coming in at 9″, an approx. blade width of 0.175″ and fairly hefty weight of 12.8oz.
Presumably this is etched damascus, rather than real damascus which is usually quite a lot more expensive. Still though, it's a great quality build, and very pleasing to look at.
You're sure to get some compliments when pulling that out of the sheath.
Don't expect this knife to be as sharp out of the box as some of the previous options, but it'll sharpen up to a degree, and perform adequately while looking great.
Coming down to a very budget-friendly price point of <$30, we have this Mossy Oak bowie knife. The total length is 14″, with a blade length of 8 1/2″.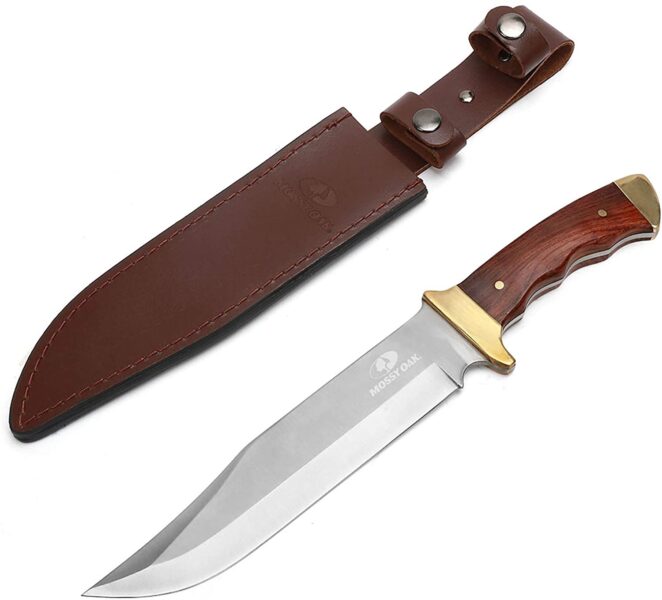 The cheapest blade in this list by far, we have a budget-friendly option from Mossy Oak, a reputable brand for this price bracket.
This massive knife has an 8 1/2″ blade, and a hefty weight of 14oz. The blade thickness is a little less than we've seen from some of the Buck knives, at 0.14″ (vs. 0.175″), but the full tang build is still sturdy and strong.
Of course you won't expect the edge retention and sharpness to be as good as the more expensive knives, but you can't say that this isn't good value for money.
Mossy Oak also advise against using this knife for chopping & batoning jobs; the bowie blade is better suited to piercing & detail tasks.
If you're on a tight budget searching for a large hunting knife, I'd say this fits the bill.
It's available on Amazon, and has thousands of positive reviews already to assure you.
This gnarly looking knife comes with a camel bone handle, a 10″ blade, and 15″ total length.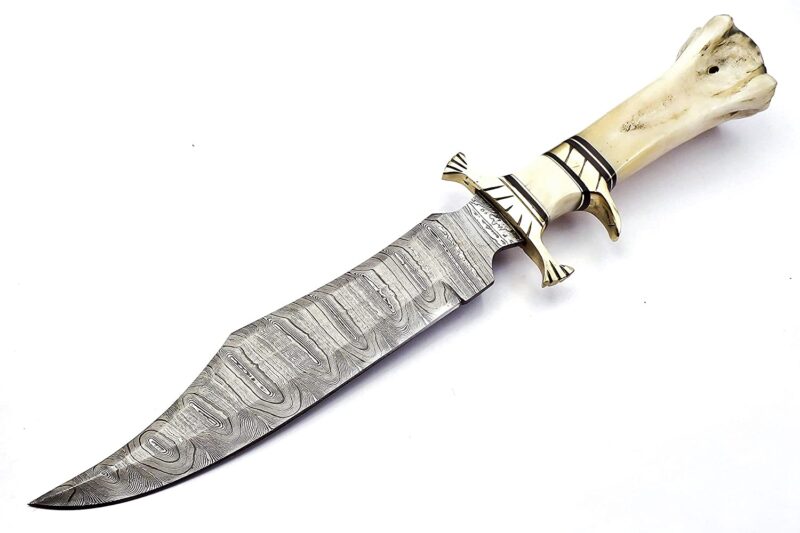 This is probably a good example of a knife that you'll find impractical when out in the field.
Such a large knife can be awkward to carry around, and increases the chance that you'll catch it on something, or stab/slice something you didn't mean to.
That being said, you're looking for a large knife, and this is definitely a large knife!
It's something a little different, and works even just as a display piece if that floats your boat.
Worth checking out despite the practicality issues.
Lastly, just in case there's anyone reading who wants a large folding hunting knife, here's an option for you.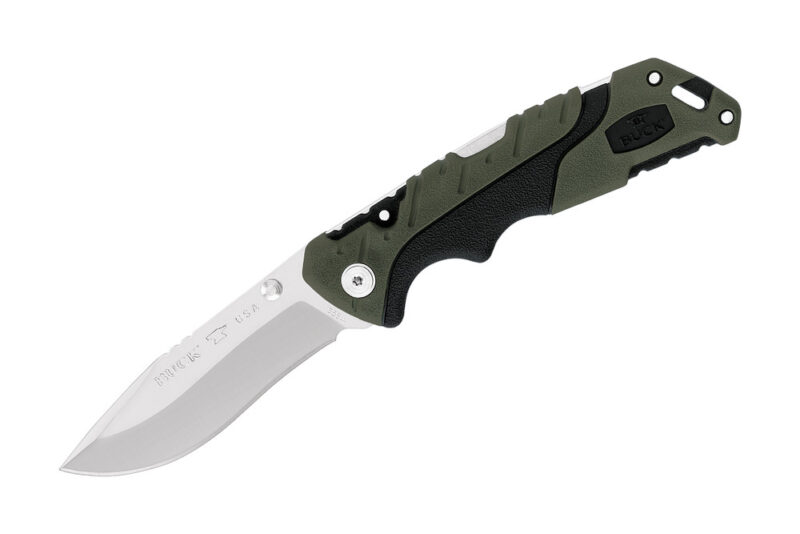 The blade is still only 3 5/8″, but by folding knife standards, that's pretty big.
For one last time, we're back to Buck.
Even though it's large as far as folding knives go, with a weight of 3.6oz, it's perfectly comfortable for a pocket carry.
It opens with ambidextrous thumb studs, which means one-hand opening isn't a problem. Arguably not as quick/easy as a flipper tab, but with a bit of practice, beginners will get used to it quick enough.
This knife is a popular folding hunter, with an excellent grip. The glass nylon/versaflex handle will perform better without gloves & in the wet vs. the wooden handles we've seen previously with the 120 & 119.
It's also probably the most versatile knife in this list; you could very happily use it for a plethora of other daily tasks outside of hunting.
Overall, this is a mid-range knife in terms of price, and it packs a ton of value for money into the price tag.
That's all, folks
Did you find what you're looking for?
Hopefully we've covered a range of quality large hunting knives that means there's something for every budget and taste.
From the classic designs of Buck to something flashier like the damascus steel, and from price points of <$50 to