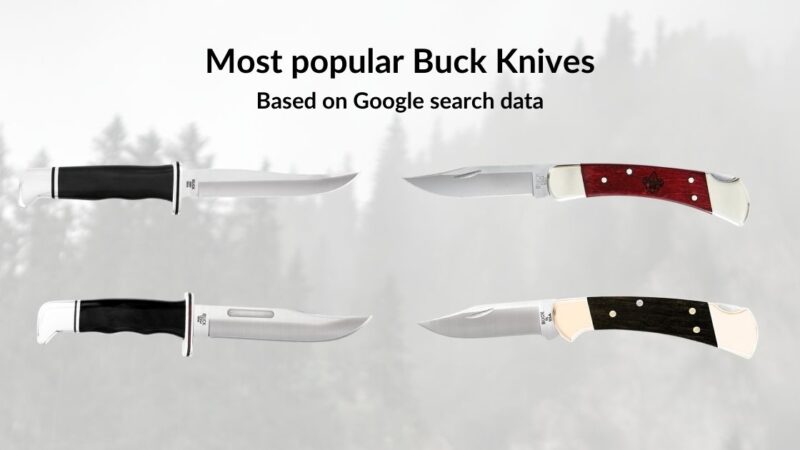 Have you ever wondered what are the most popular Buck knives?
I have, so if you're a data nerd like me it's your lucky day. I've compiled data on how many times each of Buck's model names are searched in Google per month.
Here's the results. We'll start with the top 5, with a more complete list further down.
The short version: 5 most popular Bucks
The short version is that the Buck 110 is by far the most popular Buck knife with 17k+ Google searches per month on average. That's followed by the 119, details below:
So there we have it. The most popular Bucks, based on Google searches per month, are: Buck 110, Buck 119, Buck 112, Buck 120, and Buck 124 (in that order).
Unsurprisingly, these are roughly in price order too. You can check the links above/below to get an exact current price, but the Buck 110's popularity is enabled by it's balance of quality & mid-range price (around $70). Meanwhile, the 124 runs at around $150, being a heavier, longer, more sturdy build. So while it's still popular, the higher price will likely always restrict it from overtaking the more affordable knives in popularity.
If you're interested, we have published several comparison pieces to help you choose between these knives, e.g:
A note on methodology
Before we take a look at more models, I want to take a minute to explain that this was not a complex data operation; I simply grabbed the last 6 months average volume data from a keyword research tool.
One limitation to be aware of is that the volumes don't consider alternative search queries. For example, if I was looking for the Frontiersman, I could type in:
Buck 124
Buck 124 frontiersman
Buck frontiersman
… and a few other variants.
This data set only takes the first Buck + [model number] volumes. That means there are actually more searches in total for each model than displayed here, but the order should still be correct.
Search demand for other Buck Knives models
I've separated these to make sure each chart is (hopefully) readable. You may need to zoom in on mobile. In case you can't see these charts for any reason, there'll be a table further down with all models in popularity order.
To start with, we have the Buck 1-xx models. This is a nice visual representation of the top 5 we already checked out above too: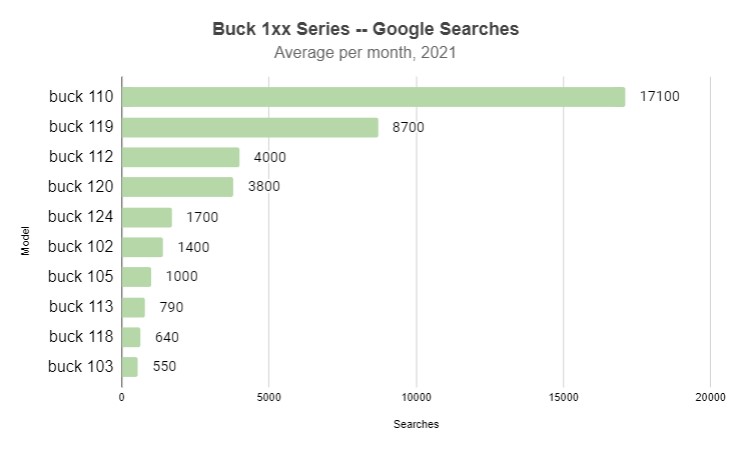 Here we can still see pretty substantial search demand for the 102 Woodsman, the 105 Pathfinder, and the first specialist skinning knife we've come across (the 113).
Digging deeper: which 110 models are most sought after?
With the 110, since there's so much data, it's interesting to break it down even further and see what specific 110 searches people look for. Here's some examples: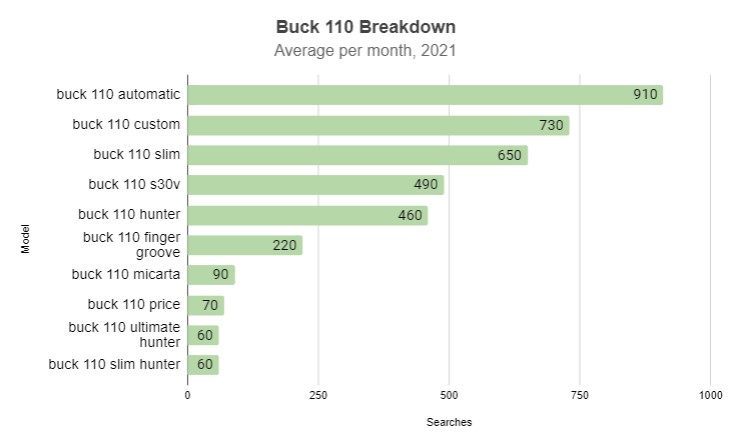 You can see that the automatic is a particularly popular variant of the 110. I've seen/heard of a lot of people that use the 110 auto for EDC. Searches have been growing too, and you can see typical spikes each year around September & December:

These are a little pricier, but I'd highly recommend checking it out if you're into automatic knives. Here's a few quick specs, and a link through to where you can buy it: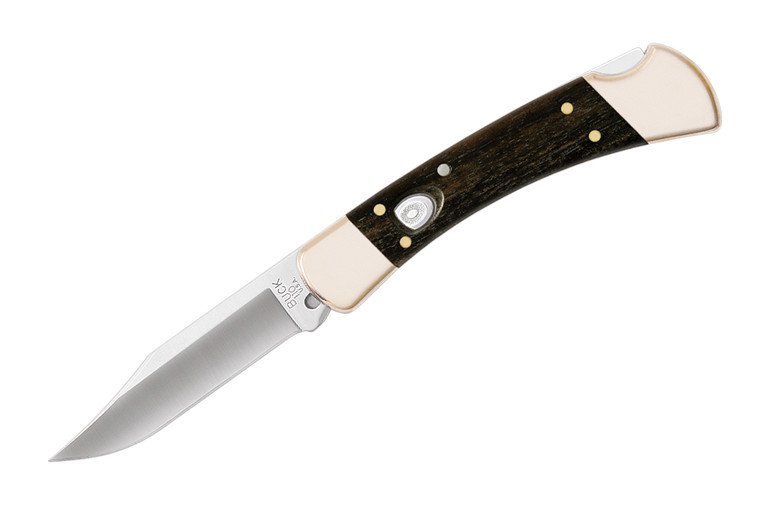 3 3/4″ blade length (9.5cm)
0.12″ blade thickness
7.1 oz weight (201.3g)
Made in the USA
Carry: sheath
Click here to see price & reviews of the 110 auto.
Now, getting back to the rest of the Buck knives.
This chart below has search volumes for 8 more Buck models.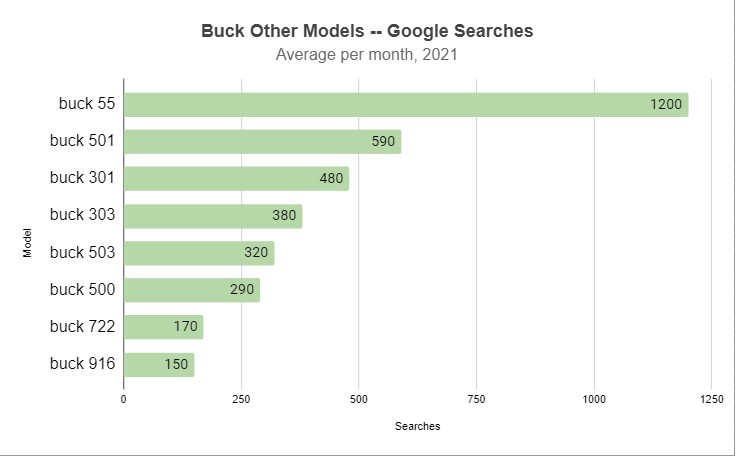 As you can see, the 55 is the most popular in this group — not far from having made the top 5. Overall, this knife would be 7th in my list of popularity.
Buck 55
I'm going to take an extra minute on this knife too, for two reasons. 1) This is very similar to the Buck 110. It's name actually derives from the fact that it is exactly 1/2 the size of the 110, at 3 3/8″ (closed).
It is the pint-sized version.
And the second reason, is because the 55 is currently part of their legacy collection for 2023. There's a beautiful looking 55 available on the site now. Here are links to the regular 55 and the legacy 55:
Regular Buck 55: check price & reviews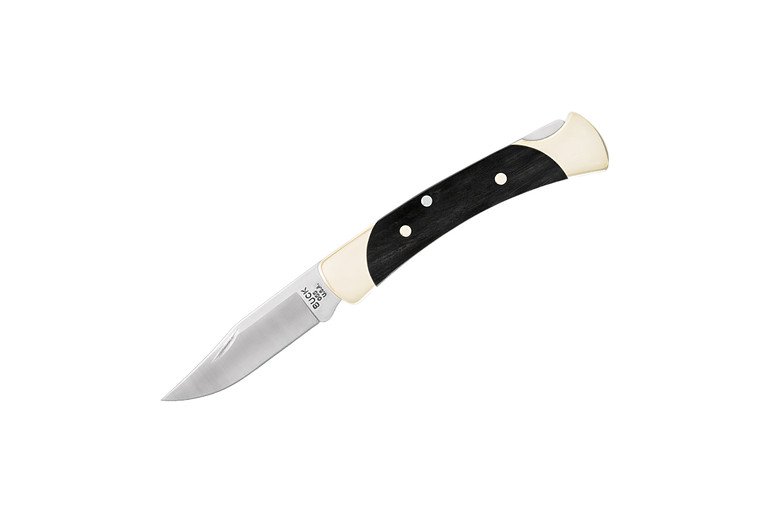 Legacy Buck 55: check price & reviews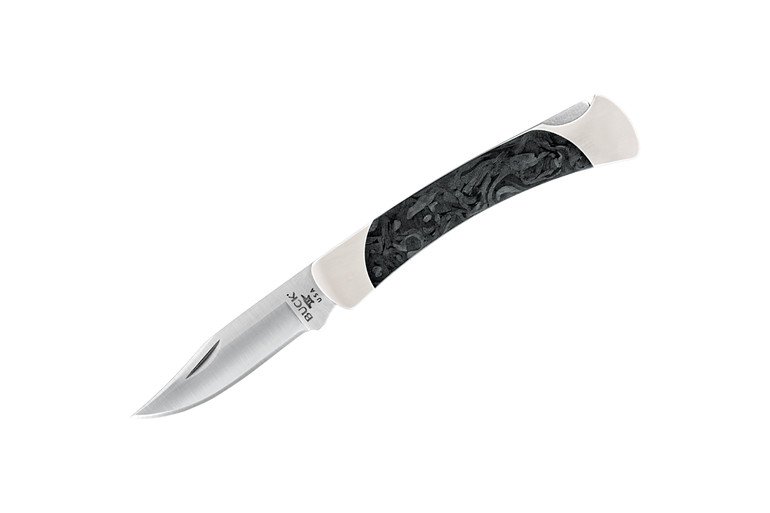 Really nice looking knife, which many people use for EDC, although I find it's a little on the small side. It's most likely too small for activities like camping too.
Moving on…
Lastly, here's a table for you with all the Buck models I could find reliable data for, in popularity order.
Enjoy!
| Model | Monthly searches |
| --- | --- |
| buck 110 | 17100 |
| buck 119 | 8700 |
| buck 112 | 4000 |
| buck 120 | 3800 |
| buck 124 | 1700 |
| buck 102 | 1400 |
| buck 55 | 1200 |
| buck 105 | 1000 |
| buck 113 | 790 |
| buck 118 | 640 |
| buck 501 | 590 |
| buck 103 | 550 |
| buck 301 | 480 |
| buck 101 | 420 |
| buck 303 | 380 |
| buck 503 | 320 |
| buck 104 | 300 |
| buck 500 | 290 |
| buck 111 | 170 |
| buck 107 | 130 |
| buck 106 | 90 |
| buck 114 | 60 |
| buck 108 | 50 |