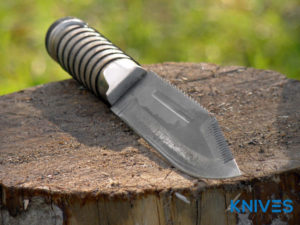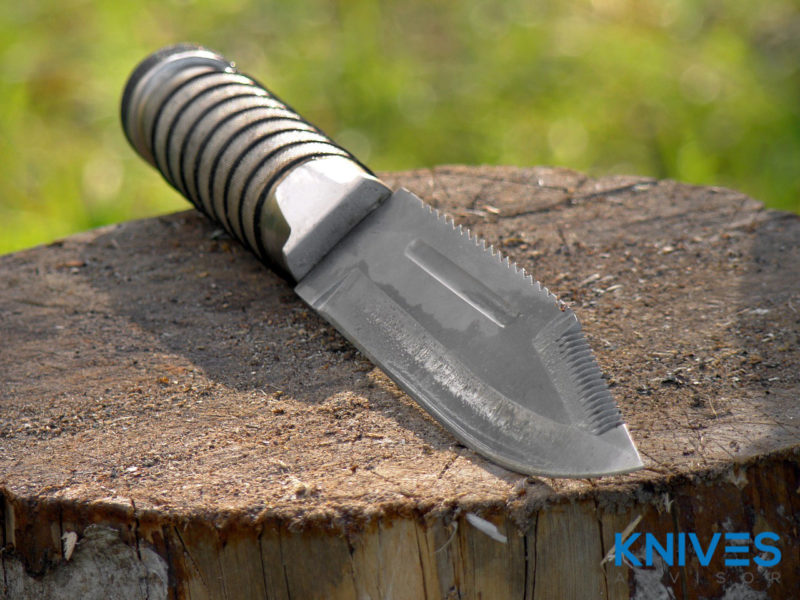 A survival knife is a knife that you can use in a variety of survival situations in environments such as the wilderness. They are intended for use in various tasks, such as skinning an animal or cutting wood. It is also intended that you can use these knives in an emergency if you do not have any other tools or equipment. Therefore, it is important that a knife used for survival purposes is versatile. A survival knife is not one specific type of knife; it is an umbrella term used to describe knives that can fulfill a variety of purposes in survival situations. The following are some of the best types of survival knives with examples of a top-rated product for each.
Boot Knives
These small, fixed blade knives get their name because they are usually carried inside your boots. However, you can also carry them in your pant leg, under your belt or even around your neck if you attach it to a chain. Most boot knives have a double edge and are often used as a backup knife due to their small size, which is usually between two and five inches. One of the best boot knives is:
This compact bot knife measures five inches overall with a 2.25-inch blade which is made from stainless steel. The full tang handle is made from ABS inserts, so it is sturdy, durable, and has good grip. It fits neatly into your boot with the blade protected by the ABS sheath that is provided with the knife. It also comes with a 28-inch chain so that you can hang it around your neck.
Buck Hunting Knives
Buck hunting knives are just as suitable for a survival situation as they are for hunting, which is their original intended purpose. When hunting, they are used for skinning game rather than for killing. There are both fixed blade and folding varieties of this type of knife and they usually have thin blades. They are a multipurpose tool that you can also use for chopping wood or building a shelter. An excellent example of a buck hunting knife is:
This is a three-piece set that includes a hunting knife, a gut hook, and a leather protective sheath. The knife 9.25-inch knife has a 4.5-inch stainless steel blade with a razor-sharp edge and a black rubber handle that has an excellent grip. The inclusion of a separate gut hook means this is a versatile set that will make you prepared for any eventuality in a survival situation.
Combat Knives
A combat survival knife is something usually carried by people serving in the military. They use them either for combat or for various tasks in survival situations. They usually have a double edge with one side straight and the other partially serrated and this adds to the versatility of this type of knife. The following is one of the best options for those who want a survival combat knife:
Intended for survival, camping, or hunting, this combat knife is foldable so that you can easily carry it in your pocket and take it along on any trip away from home. The super sharp blade is made from stainless steel and the G10 handle has a good grip.
Folding Survival Knives
Some people are not fans of a folding survival knife as they are usually not as strong as fixed blade knives. However, there are some advantages to choosing a folding survival knife, not least that they are lighter and more compact than fixed blade knives in most cases. You can fold them and carry them in your pocket, which is convenient when you are in an outdoor setting. The downside is that there is a risk that your knife will fail to open just as you need it the most. If you prefer a folding survival knife to one with a fixed blade, then the following is a good option:
An affordable folding pocket knife, this product is ideal for survival situations. It is a compact and lightweight folding pocket knife as it weighs just 7.2-ounces and has a 3.5-inch blade.
Military Knives for Survival
Members of the military carry military survival knives and these are some of their most important tools. It is designed in such a way that you can use it in combat, to fend off an animal, for digging holes, preparing food, and cutting cord or rope. The style of knife varies for each branch of the military and this reflects the purposes for which you are most likely to use a knife. The public can also buy these knives for use in survival situations and one of the best available now is:
A folding military knife, this product has a sharp tanto blade with both a straight edge and a serrated section. The G10 handle features a seat belt cutter and a window breaker. This means it is a versatile option to take with you in the wilderness.
Multitool Survival Knives
Another option is to buy a survival multitool as these have a knife along with a variety of other useful tools that will come in handy in a survival situation. There are many variations of knives that are part of a multitool and each has different features.One of the best on the market now is:
This multitool includes several different types of knives that are suitable for a range of purposes along with many other useful tools. In total, there are 16 tools and knives included in this multitool. The handle has imprints that indicate where each tool is located, so it is exceptionally easy to use.
Rambo Survival Knives
This style of survival knife was popularized by the Rambo series of films. Although the exact model of knife used changed for each movie, the style chosen remained the same. These are longer fixed blade knives with one sharp straight edge, a tip with an upward curve, and an upper serrated edge. An example of this type of knife is:
As there is a straight edge for cutting and a serrated edge for sawing, this is a multifunctional knife that you can use in various ways. It is an affordable choice, so it will suit people with a limited budget. It has a built-in glass breaker and belt cutter in the handle.
Tactical Knives
A tactical knife is both a weapon and a tool. They are similar to a Rambo knife in the sense that they have both straight and serrated blade edges, but they are usually straighter and slimmer. It is important to opt for a good-quality tactical knife if you intend to use it in survival situations as you need a knife that will work in any situation. If you opt for a tactical knife, then a good choice is:
At just 5.4-ounces, this is a lightweight option. However, it is also durable and good quality as it has a heat-treated 4.75-inch stainless steel blade and a glass reinforced handle. It comes with a molle compatible sheath so that you can carry the knife safely.
Tanto Knives
Also known as a Japanese short sword, a tanto knife looks like a smaller Samurai sword. The tip of these knives differs from other survival knives as instead of a pointed tip, they have a flat, angled tip that is reinforced to make both the tip and the whole blade very strong. They are difficult to damage, and this is what makes them suitable for survival situations.
The blades of these knives measure just over six inches and are made from vacuum hardened steel. Their shaped handles are made using linen Micarta, which gives a comfortable grip. It comes with a quality leather sheath and a fire starter rod kit.
Final Verdict
If you wish to carry a survival knife when you are in a wilderness environment, there are many different types of knife you can choose. Each of these knives has different features, advantages, and disadvantages. Which type of knife you choose will depend on your personal preference, how you intend to use the knife, and the price you are willing to pay.