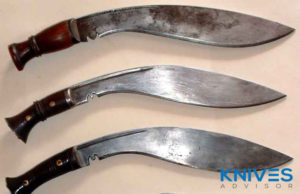 Although kukri knives have a history of military use and use as weaponry, they are a versatile and multifunctional knife that you can use for many purposes. They are also popular amongst collectors who like to own different styles of these knives that are made using a variety of materials. If you are buying a kukri knife, there are many things to think about to make sure you get the right kukri to meet your needs. This buying guide will help you to compare the different features to find the best kukri for the money. The product reviews that follow highlight the key features of some of the best kukris on the market now.
Best Kukri- Product Reviews
There is a huge selection of kukri knives available to buy online. To help you find the best kukri for the money, here is a selection of 12 of the best options available now.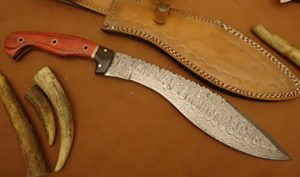 Handmade using Damascus steel, this kukri knife has a 14-inch blade with an ornate design. The steel is rated as 58-60 hardness on the Rockwell scale. This knife is intended for hunting, although it is suitable for many other uses as it has a sharp blade that is hand sharpened. The smart handle is made from a solid, colored pakka wood that is contoured for improved grip. The kukri is designed to last a lifetime, so it is a strong and durable product. It comes with a handmade sheath that is crafted from cowhide leather. This protects the knife when not in use and reduces the risk of injury when you are carrying the kukri.
Key Features:
Hard, Damascus steel
Hand sharpened sharp edge
Attractive and practical handle
Cowhide leather sheath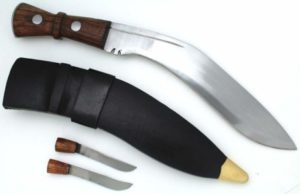 This is a well-constructed knife that is made from good quality materials and it is handmade in India, so it is possibly the best survival knife. The 12-inch blade is made from a high carbon steel and is 0.25-inches thick. It is curved with a sharp edge for excellent performance. The attractive handle is constructed from an exotic haldina cordifolia hardwood. This kukri knife comes with two accessory knives with fixed blades, both of which measure four-inches. It also comes with an artificial leather protective sheath for you to safely store and carry your kukri.
Key Features:
Quality materials
Sharp, curved blade
Attractive handle
Two accessory blades
Protective sheath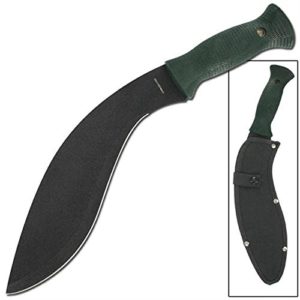 The low price of this kukri makes it the best budget kukri. Despite having many features of a traditional Gurkha kukri, this kukri also has some modern features for ease of use. The 10-inch blade is made from stainless steel that is powder coated in wrinkle black. The blade thickness is 4.5-millimeters. A solid green rubber cast forms the handle, which is easy to grip. The kukri has a full tang and the handle features a lanyard hole. Further carrying options include a belt loop and a securing strap. It comes with a nylon sheath for safety and protection when you are not using the kukri.
Key Features:
Non-slip rubber handle
Stainless steel blade
Attachment options
Nylon sheath included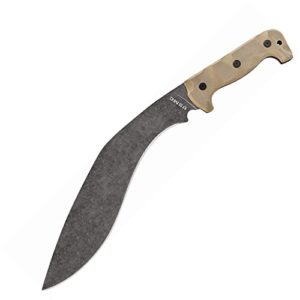 With an 11.5-inch blade made from rust-resistant steel with a stone-washed finished. This is one of the best options available on the market now. The overall length of the knife is 17-inches. The handle is impact-resistant and solid with G10 overlays. It measures 5.5-inches and is shaped for a good, secure grip. This kukri comes with a nylon sheath that is emblazoned with the USMC logo. The sheath means you can safely carry your kukri without worrying about an injury.
Key Features:
Stone-washed finished blade
Sturdy handle
Nylon sheath
Sharp blade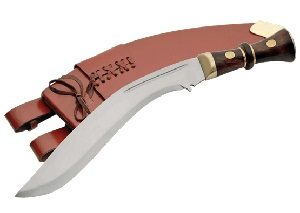 If you prefer a full tang kukri over other options, then this is one of the best on the market. This affordable kukri has an overall length of 13-inches, a blade length of nine inches and a handle measuring four inches. The full tang blade is sharpened to razor sharpness and the wooden handle is a smart element to this kukri. The kukri comes with a scabbard that is made from faux leather with a metal tip to provide extra protection from the tip of the blade. The scabbard has a smart belt loop, which gives you an attachment option.
Key Features:
Sharp blade
Wooden handle
Full tang kukri
Faux leather scabbard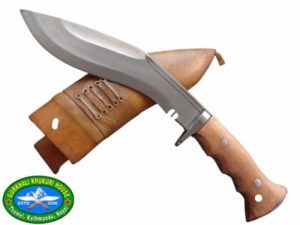 A genuine Gurkha, hand forged kukri, this knife measures 12.5-inches with an eight-inch blade. At the spine, the thickness of the blade of this tactical kukri knife is less than half an inch and this tapers to the tip. This is a high-quality kukri with a high carbon steel blade with excellent sharpness. The Sadhan wooden handle has a good grip and gives the knife a smart appearance. It comes with two utility knives as accessories. One is a karda which is for skinning animals and the other is a Chakmak, which is for sharpening blades. Therefore, this is a good option for hunting. This knife also comes with a natural leather sheath for safely carrying your kukri with you.
Key Features:
Two utility knives
Quality blade
Nice wooden handle
Leather sheath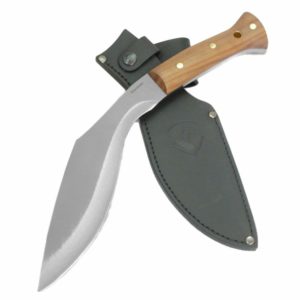 The blade of this kukri knife measures 10-inches and is six millimeters thick, so it is a good-sized knife for many practical tasks. The handle measures 4.5-inches, so the overall length of the knife is 14.5-inches. This knife is made from good quality materials as the blade is made from a high carbon steel that is heat-treated and has a blasted satin finish. It has a hardness of 50-55 on the Rockwell scale. Its handle is made from hardwood and is shaped for easy grip. This knife comes with a genuine black leather sheath for convenient and safe carrying which protects both you and your knife.
Key Features:
High carbon steel blade
Shaped handle
Good length
Black leather sheath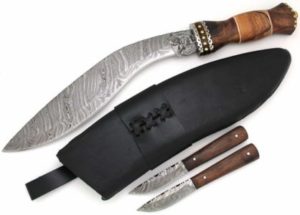 This is one of the larger kukri knives available as it has a12-inch blade and measures 18-inches overall. The ultra-sharp blade is handmade and forged from top-quality Damascus steel. The ornate handle is made from carved rosewood and adorned with brass trimmings. While the handle is aesthetically pleasing, it is also very practical thanks to the curved design. This knife comes with two additional fixed blade knives, both of which measure seven-inches. It also comes with a durable leather sheath. This means you can safely carry your kukri around with you in its sheath to protect both your knife from damage and yourself from injury.
Key Features:
Damascus steel blade
Quality materials
Ornate handle
Leather sheath
Two additional knives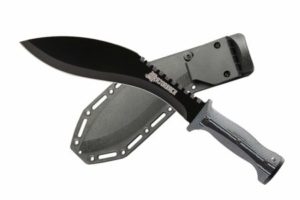 One of the most versatile kukri knives on the market, this knife is intended to act as a replacement for a collection of tools. The blade of this knife is made from carbon steel with a black oxide coating. One side of the blade has saw teeth, so you can use the knife as a saw. The front-heavy design of this knife mimics the chopping ability of a hatchet and the knife also acts as a hammer pommel. The handle is grooved micarta, which is durable and gives a comfortable grip. Included with this knife are a Velcro strap and a reversible strip. This means that you have several attachment options. It comes with a molded nylon sheaf for extra protection when carrying your kukri. Although this is one of the most expensive modern kukris available, it is also one of the best available now.
Key Features:
Versatile
Carbon steel blade
Serrated saw teeth
Nylon sheath
Attachment option
Non-slip grip handle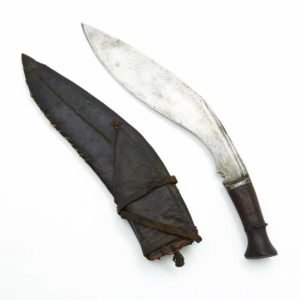 For those who want an original and traditional Gurkha kukri, this authentic Gurkha kukri was acquired from the Royal Armory of Nepal in 2003. Therefore, it was made using traditional Nepalese knife-making methods. This genuine Nepalese knife is a collector's item. The knife measures 16-inches with a 2.5-inch wide blade. The wooden handles have the natural wear and tear that is expected of knives of this age and is shaped for good grip. The knives come with a soft leather scabbard that will protect the blade of your collectible knife. If you intend to use it rather than displaying it, then the scabbard will also increase your safety when carrying the knife.
Key Features:
Made with traditional methods
Collectible item
Soft leather scabbard
Original Gurkha knife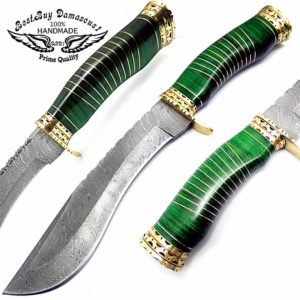 If the visual appeal of a kukri is important to you, then this is a good option because this kukri is very pleasing on the eye. However, it is also a practical choice. The hand forged blades are made from high carbon steel with a nickel layer. They have a razor-sharp single edge and an intricate ladder pattern on the blade. The stunning green wood handle has beautiful file work on both sides with brass details and adornments. The knife comes with a smart, brown leather sheaf with a brass button. This is a strong and durable item that will protect your knife.
Key Features:
Green wood handle with brass adornments
Patterned blade
Sharp single edge
Brown leather sheath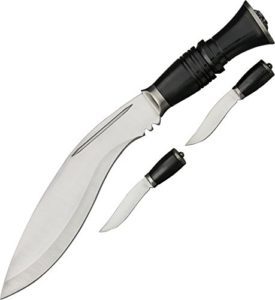 With an overall length of 11.5-inches, this is one of the smaller kukri knives available and it weighs just over a pound. This means it is one of the most compact and lightweight kukri knives. It is also one of the cheapest options. The blade is made from stainless steel, the black plastic handle is shaped for good grip, and it has a rat's tail tapered tang. It comes with two smaller kukri knives that you can use for a variety of purposes. This knife also comes with a sheath so that you can carry it around safely when you are not using the knife.
Key Features:
Lightweight and compact
Comes with a sheath
Low cost
Things to Consider When Choosing the Best Kukri for the Money
There are vast differences in the size, style, and materials used in kukri knives. When buying a kukri, you should take these factors into account. The following guide should help you to find the perfect kukri.
Size and Weight
Two of the most important factors to think about are the size and weight of the kukri. Consider the following points:
The size of kukri you need depends on your intended purpose.
Its size will usually impact on the price you pay.
A kukri for general use is usually between 16 and 18-inches in length and will weigh between one and two pounds.
Larger kukris are not practical of general use. These are usually used as ceremonial weapons, or they are collector's items.
The materials used for both the blade and the handle will impact on the weight of the kukri.
The construction of the blade also impacts on the weight. If it is hollow forged, it is lighter.
Blades
The blade is the most important part of the kukri in terms of fulfilling its purpose. Therefore, you should pay special attention to the blade when choosing a kukri.
The curve can vary significantly depending on the blade design.
Blades for general use are usually between 10 and 15-inches in length.
The spine of the blade can vary from five to 10-millimeters at the handle end of the knife and then will taper to around two-millimeters at the tip.
Many kukri blades have a notch at the base. These can have practical purposes, such as giving a place for sap and blood to run off the knife so that they don't become slippery. Others are symbolic. For example, a notch that represents a cow's teats is a reminder not to kill the cow, which is a sacred animal in the wild.
Traditionally made blades are forged from steel, while modern kukris are made using manufacturing processes that rely on technology.
Some blades had a hard, tempered edge but a softer spine as this means they are sharp but can withstand impact.
Handles
Handles are another part of the knives that vary significantly. Your choice of handle is a personal preference. Here are some things to think about:
Handles are usually made from either hardwood or water buffalo horn.
Other materials used to create handles include bone, metal, and ivory.
Most handles have metal bolsters and butt plates made from either steel or brass.
Handles with a flared butt are a good choice because they give better retention for chopping and draw cuts.
A partial tang is the traditional Nepalese handle attachment. However, many modern kukris have a stick tang. Some military kukris have a full tang.
Some handles have an ornate design which you may find visually appealing. You should weigh up aesthetics against practicality.
Price
The price for a kukri can vary significantly. If the price is an important factor for you and you have a limited budget, you should consider the following:
The size of the kukri and the materials used will impact on the price.
Where the kukri is made and the manufacturing process can also affect the price.
A high quality kukri is not always more expensive than a lower quality kukri.
You are more likely to find the best budget kukri online as kukris will usually cost you less online than buying them from a bricks-and-mortar store.\
A Few Frequently Asked Questions
What is a Kukri Knife?
The kukri, also known as a khukurior a kukkri, is a type of knife that originates from the Indian subcontinent and is usually associated with Nepal. It has an appearance similar to that of a machete with an inwardly curved blade. It is used as both a tool and a weapon and is the basic utility knife of the Gurkha.
The history of kukri knives is from the prehistoric bent stick used for hunting and the later used domestic sickle. Similar tools and weapons have been used throughout South Asia at various points in history and one of the oldest on display in museums dates to 1559.
The Western world became aware of kukri knives during the Gurkha War between 1814 and 1816. Gurkha troops are each issued with two kukris; one for service and one for ceremonial purposes. The use of these knives during both World Wars made them popular amongst allied forces.
Different Types of Kukri Knives
Kukri, also called khukuri, are generally classified into two groups; Eastern kukri and Western kukri. The Western kukri are usually broader than the Eastern Kukri. They are sometimes called Budhuna or Baspate. The latter term is used to refer to Western knives that have proportions larger than the Sirupate blade. Western kukrisare used just as much in Nepal as the Eastern kukri.
There are many more types of Eastern kukri and these are named after the towns or villages of their origin in Eastern Nepal. Some of the kukri names include:
Angkhola
Bhojpure
Chainpure
Cheetlange
Chirwa
Dhankut
Ganjawla
Panawala
Sirupate
What Kukri Knives Are Mostly Used For
There are two main uses for kukri knives; weaponry and utility. As a weapon, kukri knives are used by many military groups in countries around the world. The curved shape and the weight of the knives mean they are good for slashing and chopping.
As a utility tool, it is used predominantly for construction and agricultural purposes, although it is also used as a household tool. It is a useful piece of equipment for many tasks, including building, chopping firewood, slaughtering animals, clearing overgrown shrubs and grasses, preparing meat and vegetables, opening cans, skinning animals, and even digging,
Safety Tips While Using and Carrying Kukri Knives
Like all knives, a kukri is a sharp and potentially dangerous tool. Therefore, it is important to take steps to reduce the risk of injury to yourself or someone else. The following tips will help you to increase safety while using or carrying a kukri.:
Do not use these as a weapon, unless you are in the military and have the authorization to do so.
Do not leave your kukri unattended when not in use.
Always store the kukri in its sheath if one is provided. This reduces the risk of injury to yourself or others when carrying.
Store the knife away from children.
Final Verdict
Choosing the right kukri requires considering many factors and comparing the different products. Each kukri has different features, pros, and cons and this means that some are better suited to some people than others.
Overall, Custom Handmade Damascus Steel Kukri Knife is the best one, as this is both an attractive and practical option. It is sharp, a good length, and is made from quality materials. It also comes with a cowhide leather sheath for carrying it around safely.
If you have a higher budget and are willing to splash out for a high-quality kukri, then a great option is the TRS Razorback Kukri Knife. Not only is this one of the most versatile kukri knives, but it is also made from good quality materials, has a nice non-slip handle, and comes with attachment options.
For those with a lower budget, the best budget kukri is the Gurkha Blade Stainless Steel Kukri Knife. Despite its low cost, this is a practical choice that is made from good quality materials.