Knives are a versatile tool for many activities and they are sometimes an essential piece of equipment. Just some of the activities for which you may use knives include cooking, camping, hunting, fishing, crafts, and furniture making. While a good knife is a useful item for all these activities, a blunt knife is almost useless and potentially more dangerous than a sharp knife. Blades will gradually become dull and blunt as part of natural wear and tear and they are then less effective. It takes longer to cut, the cut is not as precise, and the knife may slip instead of slicing straight through. Therefore, keeping your knives sharp is essential. One of the best sharpening experiences (yes, I said sharpening experiences) is to use a Japanese water stone. Here's our guide on the things to consider when buying Japanese water stones, and reviews of some of the best Japanese water stones on the market.
Quick List of The Best Japanese Water Stones
Multiple Grit
Single Grit
Best Japanese Water Stones With Multiple Grit
Many people opt to buy a multi-grit stone, which is a stone with two different grades of grit. You can use these for both sharpening and polishing.
Here are 8 of the best water stones for sharpening with multiple grits (from 1000 to 8000).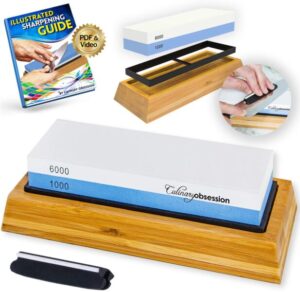 Key features:
Sharpening guide included
1 year money back guarantee
No oil needed
Non-slip grip included
Angle finder included
If you have never used a whetstone before, you will like this product as it comes with both video instruction and an illustrated PDF guide showing you exactly how you should use the water stone to sharpen your knives effectively. The blue side of the stone is graded as 1000 grit and is perfect for sharpening your blades. The white side is 6000 grit which is a good grade for polishing. It comes with a lightweight rubber holder to prevent slipping and protect work surfaces. This stone also comes with an angle guide, which you can use to make sure you have the right angle for effective sharpening. The set comes in a wooden box for neat and stylish storage. You can also use this stone for sharpening your kitchen scissors or any other blades.
A high-quality product, this multi-grit whetstone is one of the best water stones for sharpening. One side of the stone is graded as 3000 grit and the other is 8000 grit. This means that you can use the stone for both sharpening and polishing your knife, so it has a clean and precise edge that cuts easily and safely. This affordable whetstone looks extremely stylish as the sides have different colors, pink and white, so you can easily see which side you should use for which purpose. It even comes in a stylish box that is made from bamboo. This has a sturdy construction that will protect your stone from damage. The set also includes a rubber holder, so you can lay the stone flat inside the holder and it will not slip and protects your work surfaces from scratching. The stone is one inch thick and measures 7.25×2.25 inches.
This is a three-piece set that comprises a multi-grit stone with a plastic stand and a separate Nagura stone for buffing. It will give your knives a clean and sharp finish. The multi-grit stone is one-inch thick and measures just over seven inches in length and 2.5-inches wide. One side has a grade of 1000 grit and the other has a grade of 6000 grit. This means you can tackle rough edges and sharpen your blades quickly and easily. The Nagura stone that comes with the set has a grade of 8000 grit and is ideal for polishing and buffing your knives. Using the main block with the plastic stand holds the stone secure to prevent slipping and angles the stone to make it easier to use. King is a reputable company and they claim that their products give better results than oil stones.
This whetstone has been meticulously crafted by expert knife makers who know what it takes to maintain knives to a professional standard. It will sharpen kitchen knives, pocket knives, scissors, and even samurai swords. It is a double-sided whetstone in beige and white. The beige side is 1000 grit, which is ideal for sharpening dull blades. The white side is 8000 grit, which will refine the sharpness of the edges and polish away any scratches. It comes with an angle guide to makes sure you use the stone effectively for the sharpest finish and a rubber holder. The latter will hold the stone still and prevent damage to your work surfaces. The stone slots neatly into a smart bamboo tray for storage and the set is beautifully packed on arrival, so it makes the perfect gift for a cooking enthusiast with professional-standard knives.
There are some interesting features on this product which makes it one of the best Japanese whetstones. It is intended for professional use and is slightly thicker than its competitors with a depth of 1.5-inches. It is two inches wide and seven inches long. This double-sided multi grit stone has an orange 240 grit side that works well at removing chips and sharpening very blunt blades. The white side of the whetstone is 1000 grit, which will give a refined sharpness to your knife. At the end of the stone is a blue section. This is for rubbing rust off your knives. Too many people throw away an excellent set of knives because they are beginning to rust, but this handy feature easily removes any rust spots, leaving your knives looking as good as new. The stone comes with a stand that keeps it secure and makes it easy to use. It also reduces the risk of you damaging your work surfaces while sharpening your knives.
Suehiro is one of the finest manufacturers of sharpening stones in Japan. Suitable for sharpening various cutting tools, including knives and scissors, this is a dual-sided sharpening stone. One side has 1000 grit and the other side has 3000 grit. This means it is ideal for sharpening knives to create razor sharpness while also being suitable for polishing your knives to leave them scratch-free. The different colored sides, powder blue, and magnolia, make it easy to identify which side you are using for which task. It comes with a rubber base-stand which holds the stone secure during use to prevent slipping and accidents. It also stops the stone from marking your work surfaces. This is a compact and lightweight stone that will not take up much room in your kitchen, weighs just over nine ounces and is small enough to take it along with you on trips, should you wish.
A dual-sided stone, this is a multipurpose item that you can use with kitchen knives, pocket knives, hunting knives, scissors, chisels, razors, and gardening tools. The only tools you should not sharpen are those with serrated edges or ceramic blades. The green side of this tool is 100 grit, which is perfect for blade repairs, such as removing small chips, and for sharpening dull edges. The white side of this whetstone is 6000 grit. You can use it to improve the sharpness of the blade, perfect the edges, achieve a mirror polish, and eliminate burrs. It comes with a rubber base that keeps the stone fixed in place when in use. This also protects your work surfaces. The set also comes with an angle guide that allows you to maintain the right angle and to safely apply the correct amount of pressure during sharpening. The set includes a short instruction manual that gives tips for using the sharpening stone correctly.
This product is designed to effectively sharpen blades until they are razor sharp no matter whether you are sharpening an axe or your kitchen knives. It is made from professional-grade aluminum oxide, so you can use it just with water with no need to buy expensive oils. The manufacturers of this product claim it works better than diamond sharpening stones. The salmon pink side of this stone is 1000 grit, so this is the side you will use for sharpening. The second side is black and 6000 grit, which is a good grade for polishing. It comes with a rubber base to hold it secure and protect your kitchen surfaces.
Best Japanese Water Stones Reviews- Single Grit
Some people prefer to buy single-grit water stones. Here are 8 of the best Japanese sharpening stones.
This is a good quality Japanese whetstone with a grit grading of 800.This means it is ideally suited as a medium grinding tool that can remove small chips, maintain your knife, and sharpen the edges. Made in Japan, this product has an appealing design and comes in a deep terracotta color. It comes with a stylish stand that holds the whetstone in place. This improves your safety when sharpening the knives as the stone will not slip and slide. It will also protect the surfaces on which you use the sharpening stone from cuts and scratches. The stone is 2.1 inches deep, 2.5-inches wide, and seven inches long. It comes with a dressing stone accessory that you can use for cleaning and buffing your knives after using the whetstone. This product works best on stainless steel, high alloy steel, and blue steel knives and tools.
A smart-looking Japanese water stone, it has a grit rating of 1000. This means it is good for general use for sharpening kitchen knives, pocket knives, hunting knives, penknives, craft tools, garden tools, and scissors. It will grind away rough and dull edges to give your blades a sharp and neat finish. The sharp edges will improve safety when using your knives or tools. This product is made in Japan and it comes in a smart wooden box that you can use as a stand to protect your work surfaces and hold your water stone still for safety and to prevent scratches. This is a compact and lightweight product that weighs just 1.6 ounces and measures 9 x 3.5 x 1.6 inches. This is one of the top-rated single-grit whetstones sold online.
With a grit rating of 800, this whetstone is coarse enough to remove chips and dents from the blade edges of your knives while also sharpening the blades until they are razor ship. King is one of the leading manufacturers in this market, so this is a good quality product to choose if you are using the wet stone for professional purposes. At two pounds in its box, it is heavier than many of its competitors and this is probably because it is wider at 5.9 inches. The size difference is less in terms of its length and depth as it is eight inches long and 1.4 inches deep. This is one of the cheapest single-grit sharpening stones on the market, so it is ideal for those on a budget.
With a grit grading of 6000, this is a shiage whetstone, which is also known as a finishing stone. This means that it is fine enough to finish off the edges of your blades to make them nice and sharp. It is also smooth enough to polish the blades. This whetstone is less than one inch thick, three inches wide, and just over eight inches long. It comes with a White Nagura buffer stone for buffing your knives once you have finished sharpening them. Made in Japan, this whetstone comes with a wooden base. You can use this to hold your stone still while sharpening and to stop the stone or your knives damaging the work surface. You do not need to soak this stone as it is described as a 'splash and go' stone'. This means it only needs sprinkling with water before use.
This is a synthetic Japanese water stone that is made in Japan. It has a grit grading of 8000, so it is classed as a finishing stone. You would use this stone after a medium sharpening stone so that you can refine the sharpened edge so that it has a clean edge for safe and effective cutting. It is also good for polishing the knives after sharpening to give them a smooth finish. Just like a natural stone, you must soak these stones in water for ten minutes before use. As they are made from synthetic materials, you will need a stone fixer to level out the surface as the stone becomes concave. This is one of the larger stones, as it is almost three inches thick, 12 inches in length, and 4.6 inches wide. It weighs 2.05 pounds.
The Naniwa Blue Super Stone has a grit grading od 1000. It is a medium stone that is intended for sharpening knives that do not have chips or dents or for use after a coarse sharpening stone. This will help to give your knives or tools a clean and sharp edge. It is less than half an inch thick, has a width of just under three inches, and measures 8.25 inches in length. This stone is bonded to a solid base that means you can safely use this Japanese whetstone on any flat surface. It is a synthetic stone that is made from a resin bond that is highly abrasive, meaning this stone will sharpen your knives very quickly. They are suitable for both Western and Japanese knives as well as many other tools.
Made in Japan, this sharpening tool has a grit grading of 1,000. This means it is a medium grinding tool that is suitable for general sharpening of knives. You can use it to create a more refined edge on a knife after using a course tool to get rid of any chips and markings. It is suitable for use on most types of knives and metal tools but works particularly well on stainless steel, high alloy steel, and blue steel. This synthetic stone also comes with a dressing stone accessory that you can use for buffing your knives after sharpening. It is fixed into a solid base that will protect your fingers and work surfaces when in use. Instructions on how to use this stone for sharpening are included with the set, so you should have no problems getting started sharpening your knives.
The Naniwa Yellow Super Stone is a high-quality finishing stone with a grading of 8000 grit. Although you will pay a little more for this Japanese water stone than you would for many of its competitors, it is worth the extra outlay to own a tool of this quality. Its high grit grading means that this is a finishing stone which you can use to get rid of scratches left behind from using the medium and coarse stones to create a smooth and mirror-like surface. It comes in a visually appealing stand that holds your water stone secure while you are polishing your knives. It helps you to use the stone on any flat surface while also protecting the surface from damage. This water stone is made from a resin bond and is suitable to use with both Western and Japanese knives, along with most metal tools.
Buying Guide- Things to Consider When Buying Japanese Water Stones
You might suspect that all Japanese water stones are the same, but this is not the case. There are several grades, sizes, and options. Therefore, you need to think carefully about what you need the stones for and take each of the features into account. Here are some of the factors you should consider when making your choice.
Size
There are many sizes available, so you should consider the following points:
If you only need to sharpen small knives, a smaller whetstone will do the job just as well.
For those who have large knives or knives of multiple sizes, it is better to choose a larger water stone.
Lager water stones will usually cost more than smaller water stones.
Grade
The grade of Japanese whetstones refers to the size of the grit particles in the stones. Generally, there are three grades of Japanese whetstone and there is the option to buy stones that have different grits. Your options include:
Rough- These have the largest grit particles and are graded between 120 and 140 grit.
Medium- The medium Japanese water stones are graded between 700 and 3000 grit.
Smooth- A smooth Japanese water stone will have a grade between 3000 and 10,000. It is worth noting that there is no upper limit to the grading, but you are unlikely to see any significant improvement by using stones with a grade over 10,000 grit.
Single grit stones- These are the water stones that have only one grade of grit.
Multi-grit stones- Also called multiple grip stones; these stones have more than one grade of grit. These are usually double-sided with a rougher stone on one side and a smoother grit on the other.
Sets- You can also buy a Japanese whetstone set. These have three water stones which include a rough, medium, and smooth stone in each set.
Use
Which grade of Japanese whetstones you choose depends on what you want to achieve. The following is a guide for the different uses of the stones:
Chips and very dull blades- If your knives have chips in the blades or the blades have become exceptionally dull, then you need to use a rough
Regular sharpening- For general sharpening, you should use a stone that is graded between 700 and 3000 grit.
Buffing and polishing- Some of the rougher Japanese sharpening water stones can create scratches to the surface of the blade. To get rid of these, you can use the smoother stones to buff and polish the blades.
Price
The price of a product is a significant factor for many people when deciding what to buy. Consider the following:
The price is affected by the brand, the size of the stones, the grit, the quality, and the location from where the stones were mined.
Individual single grit stones are usually cheaper than multi-grit stones and sets of three single grit stones.
However, buying three individual single grit stones with different grit grades will probably cost you more than buying a multi-grit stone or a set of stones.
There are cheap starter sets available and expensive sets intended for professional use.
A Few Frequently Asked Questions
What Are Japanese Water Stones?
Japanese water stones are also known as Japanese whetstones. They are a rectangular block of stone that you can use for sharpening knives & polishing them. There are different grades available and this refers to the size of the grit particles in the stone.
In case you're wondering about the difference between a water stone and a whetstone, allow me to enlighten you. In a nutshell, a water stone is a type of whetstone. All water stones are whetstones, but not all whetstones are water stones. Got it? Good!
What Are the Benefits of Using Japanese Water Stones over other options?
There are some advantages to choosing Japanese water stones over other options. These include:
They are a versatile item that you can use to sharpen many sharp tools and not just knives. These include razors, scissors, chisels, plane blades, and scythes.
You can use them for a variety of tasks, from sharpening your knives to polishing them.
Japanese water stones are suitable for both Japanese knives and knives manufactured elsewhere in the world. On the other hand, some other types of sharpening tools are not suitable for Japanese knives as they will damage them. So, Japanese water stones are the best sharpening stone for a Japanese knife.
You do not need to buy expensive oils to use them to sharpen your knives or tools.
What Are the Other Sharpening Stones Options?
Japanese whetstones are not the only option. Some of the other options include:
Other whetstones- There are other forms of whetstones where the stone used is often formed from quartz, such as novaculite. These stones are mined from many locations around the world, such as Syria, Lebanon, Belgium, and the Ouachita Mountains in Arkansas.
Diamond plate- This is a steel plate that is coated with diamond grit, which is a form of carbon. It is an abrasive that can grind metal. A diamond plate is often mounted on a plastic or resin base.
Artificial stones- Increasingly, people are using artificial stones as the manufacturers can regulate the particle size and choose the properties.
Pull-through sharpeners- These are easy to use but can cause chipping on some types of knives, including Japanese knives that are thin and brittle.
Oil stones- These are stones that you use oil instead of water. You should not use oil on Japanese water stones as it reduces their effectiveness.
Can I Sharpen with Any Grit Size?
There are different uses for different grit sizes. The smooth water stones are not suitable for sharpening as they are intended for buffing and polishing. The medium grit stones are good for general sharpening and the rough grit stones are best for sharpening very dull blades or for getting rid of chips. Go here to learn more on selecting the perfect grit.
Is There a Sequence to Using Different Grit Sizes and Which Sequence Works Best?
Yes, there is a sequence to using the Japanese water stones. If the blade is extremely dull or if it has chips, you should start with the rough stone first. However, if there are no chips and the blade only needs a general sharpening, you can skip this step. The next stone in the sequence to use is the medium grit stone as this is the best option for general sharpening. If the rough stone has left scratches on the blade, you can then use the smooth stone to buff and polish the blade.
Is a Single Grit or a Multiple Grit Better?
If you are trying to choose between buying single grit stones and multiple grit stones, think about the following:
A single grit stone is suited to a specific purpose depending on its grade.
You can buy lots of single grit stones with different grades to use for repairing, sharpening, and polishing different knives and tools.
Single grit stones are cheaper than multi-grit stones.
A multi-grit stone is a multifunctional item that combines different grades in one handy sharpening tool.
A multiple grit stone will take up less storage space than buying several single grit stones.
How to Sharpen Knives Using Japanese Water Stones
Sharpening knives using Japanese water stones is surprisingly easy, although it can take some practice to master the technique. Here is a quick and easy guide for how to use Japanese water stones to sharpen your knives.
Prepare the stones- Before using the stones, soak them in water for approximately ten minutes first until there the stone has soaked up plenty of water and a film has developed over the stone. You should do this to all the stones you plan to use.
Splashing- After removing the stones from the water, splash them with a little more water.
Position the stone- If the stone comes with a holder, set up the stone in this. Otherwise, simply place the stone perpendicular to your body on a damp tea towel.
Holding the knife- Using your dominant hand, hold the knife at a 45-degree angle across the stone. The edge should face you and the hell of the knife should point towards your abdomen.
Adjusting the angle- Now, you need to adjust the angle for sharpening and it can take practice to get the angle right. For Japanese knives, the right angle is about 12 to 15-degrees. To get this angle, put your index finger between the spine of the knife and the stone and remove your finger before sharpening. Western knives need a slightly higher angle of around 20-degrees. To set the angle using your index finger and then raise the spine of the knife slightly.
Apply pressure- Using your non-dominant hand; apply some pressure to the belly of the knife.
Start at the tip- Putting the tip of the blade against the stone, move it backward and forward along the stone around five times. Repeat the process on the middle section of the knife, again moving the knife five strokes up and down the stone.
Flip the knife- You should then repeat the process on the other side of the knife. However, you should lead with the heel this time rather than the blade.
Check the burr- You should aim to create a burr. This is when there is one scratchy and one smooth side to the blade.
Removing the burr- To remove the burr, you should use a leather strop. Draw the knife blade over the leather strop in a motion that is similar to sharpening the blade. You can do this with a fibrous tea towel if you do not have a leather strop.
Testing the sharpness- When you have removed the burr, you can test the sharpness of the knife with a piece of newspaper. Holding the newspaper at an angle of around 45-degrees, carefully slash the paper with the tip of the blade. If the knife is sharp enough, it should cut easily.
Switch stones- If your knife is sharp, you are ready to switch stones and start using the smooth stone. Or, if you are using a multi-grit stone, turn it over to use the other side. If it has become dried out, splash with a little more water.
Polishing- Using the smooth stone, you can now polish and buff the knife. You should use the same technique as for sharpening but apply less pressure. Approximately 30 strokes on each side should polish your blade nicely.
Wipe clean- Using the leather strop or a tea towel, wipe your blade clean.
For more tips on how to use Japanese water stones to sharpen a knife, you can read our dedicated article on sharpening Japanese knives, or watch this video:
Final Verdict
Japanese water stones are an important piece of kit for anyone who wants to keep their knives sharp, safe, and functional. This is especially the case if you have an expensive set of knives to look after or you use knives in a professional capacity. There are different grit gradings and each has a different purpose. Some are single-grit and others are multi-grit.
If you prefer to buy single-grit sharpening stones, then you should probably buy several with different grit gradings as you need to gradually wear down the knife blade to create a sharper edge. At the very least, you should have a medium and a smooth sharpening stone. However, if you have badly damaged knives or tools, then you will also need a coarser stone.
One of the best water stones with a medium grit grading is the Naiwa Chosera 800 Grit Stone. Not only does this sharpening stone sharpen blades quickly, but it also comes with a stand a dressing stone accessory. The Houcho Finishing-Grade Whetstone Arashiyama is one of the best Japanese water stones with a smooth grit grading and these are great for polishing your knives. It also comes with a buffing stone and a wooden base. One of the best features of this water stone is that you do not need to soak it for long periods before use.
The other option is to buy a multi-grit sharpening stone and Culinary Obsession Whetstone Knife Sharpening Stone is one of the best options in this category as this gives an excellent finish to your knives. It also comes with a rubber base, a wooden box, and an angle guide. Another good option is the Kai Japanese Professional Knife Sharpening Stone because, in addition to having dual-sided grit, it also has a rust removal section.
Other Resources By KnivesAdvisor: