When you're out in the field on a hunting, camping hiking or survival excursion, your life may depend on the sharpness of your pocket knife. One of the most important pieces of gear you will take along is a knife, and the second is a sharpener. We've put together a useful guide that provides you with everything that you need to know to find the best pocket knife sharpener that won't let you down when you need it the most.
Our Selection of The Best
Pocket Knife Sharpeners
Review of The Best Portable Knife Sharpeners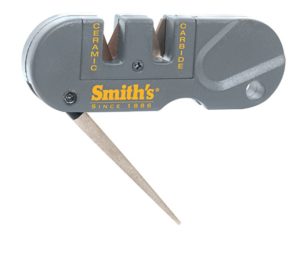 Sharpen knives on the go and much more with convenience and ease with Smith's Pocket Pal Multifinction sharpener.
Diamond coated rod
Diamond is one of the hardest materials and the tapered round diamond coated rod quickly sharpens both serrated edge blades and standard edges.
Carbide blade slot
The coarse carbide slot is included to allow you to quickly set the edge on your knife blade with little effort. The carbide gives your knife an edge with razor sharpness with a few quick passes.
Ceramic Stone slot
After you use the carbide slot to put a sharp edge on your knife, the ceramic stones slot complete the fine work to take your already sharpened knife edge to a new level of sharpness.
Replaceable components
The ceramic and carbide stones are both reversible and replaceable for extended sharpening with just one tool
Multiple carrying options
A lanyard hole is built in to give you the option of carrying in your pocket, around the neck with a lanyard, or attach a clip to carry on a backpack or belt loop.
Preset sharpening angles
The preset angles are set at the ideal angles for knife sharpening. You won't need to make adjustments to achieve the perfect edge on knives.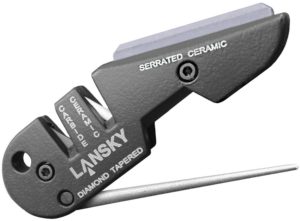 Restore the blade of your knife wherever you are and whenever you need to with the Lansky PS MED01 BladeMedic.
Diamond tapered rod
The diamond tapered rod allows you to take the first step in quickly reconditioning and maintaining any knife blade with a few swipes.
Tungsten carbide slot
A few passes over the Tungsten carbide slot will give you fast access to blade restoration in seconds as the second step in achieving a razor sharp blade edge
Ceramic sharpening slot
The ceramic sharpening rods are the third step that polish the knife blade for a sharp and refined edge in the matter of three to four passes for a complete knife sharpening process in less than a minute.
Serrated edge sharpener
This feature is built-in to the sharpener to make this tool effective for both straight edge and serrated knife blades. You can sharpen the tiniest serrations with precision and ease.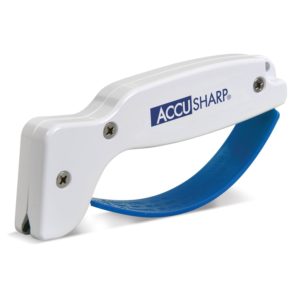 AccuSharp delivers fast and convenient knife sharpening on the go and in any situation.
Diamond honed tungsten carbide
The hardness with diamonds with the sharpening power of tungsten carbide combine to deliver a razor's edge sharpness for your straight edge knife blades.
Safety hand grip
The built-in safety hand grip protects you from accidental cuts because it gives you superior holding power to prevent slippage when sharpening knife blades.
Precision sharpening
The built-in sharpening stones deliver one step instant and accurate knife edge renewal so you can continue the job with more cutting speed and efficiency.
Simple and convenient
The tool does most of the work for you. All you need to do is draw the AccuSharp over the edge to be sharpened for a few passes and the work is done.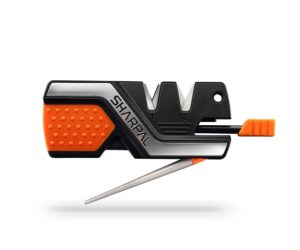 You get six functions all in one convenient knife sharpener and survival tool.
Tungsten carbide blades
The power of Tungsten carbide blades put an instant edge on any knife or tool in just a few short passes through the convenient slot
Tapered diamond rod
Hard diamond rod takes off burrs to prepare the knife edge for precision sharpening
Multi-tool sharpening
Three types of sharpening blades and stones resurface, sharpen and fine tune blade edges for razor sharpness in a few seconds.
Emergency whistle
This additional feature can help to save your life in an emergency survival situation. The emergency whistle deters predators and alerts others to your location.
Fire starter
The handy fire starter allows you to build a fire for instant warmth and protection from the dangers of extreme cold when you're outdoors and need a fast heat source
Fine honing
Ceramic blades fine tune the edge on knives and other sharpened items for extreme sharpness.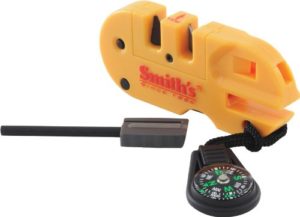 Smith's Pocket Pal X 2 gives you six tools in one for outdoor and survival preparation.
Two phase knife sharpening and refining
The Pocket pal is a pocket knife sharpener that gives you the effective sharpening power of carbide blades placed at the perfect angles to guarantee edge sharpening in just a few strokes across the blades. Follow up with a few passes through the ceramic finishing slot to fine tune the blade edge for maximum sharpness and precision sharpening.
Tapered diamond rod
Quickly sharpen serrated edges and gut hooks with the included diamond rod.
Fire starter
Start a fire with ease when it's cold outside and you need instant warmth. Designed to provide you with twice the spark for more efficient and faster fire starting.
Signal whistle
Let others know where you are with the included signal whistle that helps others find you when you've lost your way.
Compass
Always know which direction you're going with the built-in compass that provides accurate information about where you are and which way you're traveling. Excellent tool for path correcting to help you find your way back to important landmarks in the wilderness.
LED light
The LED light gives you illumination in the dark or when you need extra light to see what you're doing.
Related: How much do you know about the knives you use? See our Knives Wiki Section to learn everything about knives.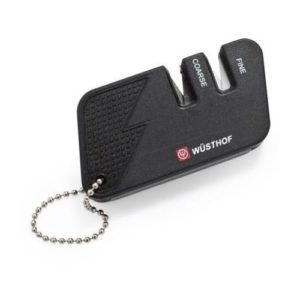 Get the benefits of two tools in one for precision sharpening whenever your knife needs a new edge.
Pocket sized for easy carrying
This pocket knife sharpener is small enough to carry in your pocket, but also comes with a convenient key chain for carrying on a key ring or belt loop.
Coarse carbide heads
When your knife is dull, the coarse carbide heads, positioned at the ideal angles lie beneath the convenient slot that allows you to drag your knife across them for guaranteed results that put a sharp edge on a dull knife in just a few passes.
Fine ceramic rods
After you've sharpened your knife, pass it through the honing slot where fine ceramic rods hone the edge to an even finer and sharper finish.
Non slip feature
Top and bottom stability is enhanced with the included non slip rubber inserts. This increases your safety by helping to prevent accidental injury from knife cuts. The inserts give you additional gripping power.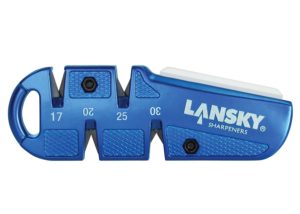 Sharpening a dull knife blade on the go is made fast and easy with the Lansky Qaudsharp Multi Angle Knife Sharpener.
Pull through feature
The slot design makes it quick and easy to sharpen any knife with just a few pulls. Precision placement of multi angled slots allow the knife to access the sharpening blades at the ideal angles for putting a fast, sharp edge on any knife.
Flat blade and Serration sharpening
The included ceramic bench stone features a tapered design that is perfect for sharpening the grooved edge of a serrated knife or tool.
Re-profiling function
The carbide slots are provided for use with extremely dull knives in need of re-profiling. This helps to ensure a razor sharp edge when you take this first step.
Fast and convenient
Multi-angling allows you to resurface the edge of your blade, sharpen then fine tune the edge for maximum sharpness in one portable unit. You can sharpen a knife with a minute or two in an emergency situation.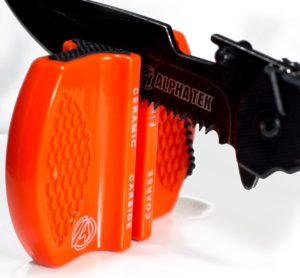 The Alpha Tek Pocket Hunting Knife Sharpener is an essential for all hunters, campers and other outdoor enthusiasts.
Easy to use
This simple pocket knife sharpener is designed for fast and easy knife sharpening on the go.
Non-skid base
The non-skid base ensures that this sharpener will stay in place when you're using it. This lessens the changes of accidental injury while using the sharpener.
Precision angled slots
You won't need to guess which angle to sharpen the blade at. Precision angled slots make it easy to just pass the knife through the perfectly angled sharpening blades and it's as simple as that.
Two stage sharpening
This sharpener includes a slot with crossed carbide blade for quickly setting an edge. Follow up with the crossed ceramic rods slot for refinement and a razor sharp edge
Fast and convenient
This portable pocket sharpener was designed for speed and convenience. It does most of the work for you. You can carry it in your pocket, tackle box, backpack or you can hang it on a backpack or belt loop for convenient access.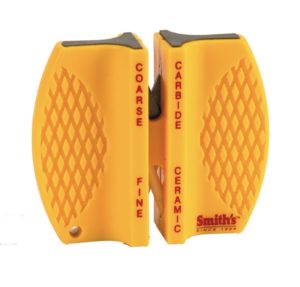 Sharpening a knife blade could not be faster or easier thanks to the Smith's CCKS 2 step knife sharpener.
Crossed carbide blades
The crossed carbide blades are perfect for setting an edge on your knife with three or four quick passes through the slot.
Crossed ceramic blades
In just seconds, fine tune the edge on your blade and hone it to razor sharpness with the crossed ceramic blades slot
Preset angles
This sharpener does the thinking for you with present angles that guarantee you're sharpening at the proper angle to achieve maximum sharpness.
Nonslip feet
Nonslip rubber feet keep the sharpener in place for added stability and protection from accidents.
Multiple carrying options
Lanyard hole makes it possible to carry around your neck, in your pocket, or attached to a backpack.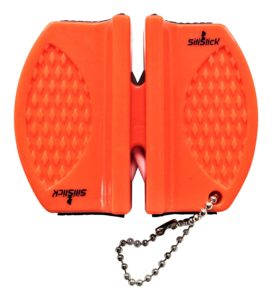 SiliSlick 2 stage portable knife sharpener is a fast solution for easily sharpening knife blades on the go in just seconds.
Crossed Tungstsen bars-blades
Set an edge on your knife blade with lightning speed with Tungsten bars -blades that resurface and sharpen with three to four passes.
Ceramic bars
Complete the second stage in a flash with a few passes over the ceramic bars for fine tuning of the edge for a perfectly honed sharpness.
Preset angles
There is no guessing involved in which angles to use. The preset bar blades are at the ideal angles to guarantee excellent results.
Non slip base
Thee non slip rubber base is placed on both sides for safety and stability.
Textured grip
Enjoy comfort and control with the textured hand grip.
Related: Check out the Ultimate Knife Care Guide

Considerations Before Buying
Before you make your decision about which pocket knife sharpener to buy, first think about what types of knives you will need to sharpen.
Are there serrated edges involved or are the knives all straight edges? What kinds of features would you be the most likely to use in a pocket knife sharpener? Some of them come with a variety of additional tools that help when you're out in the wilderness. What style will be the most beneficial? Some are intended to be carried in a pocket and others come with attachments such as a keychain holder or a clip on device that allows you to affix them to a belt loop or a backpack.
Also, consider the ease of sharpening and the inner components. Do you prefer diamond plate, steel plate, ceramic or a combination of these options in your sharpener?
Some Frequently Asked Questions About Pocket Knife Sharpeners

What is a Knife Sharpener?
Pocket knife sharpeners come in several brands, styles, types and sizes. One thing that they all have in common is that they are compact enough to carry in your pocket. They are knife sharpeners that are made with diamond sharpening plate and a honing rod placed at angles within a housing of some type, to sharpen a knife edge on the go.
Benefits of Owning a Pocket Knife Sharpener
There are a few benefits to owning a pocket knife sharpener. The most important is that they allow you to sharpen your knife any time and any place. They are small enough to carry in a pocket or backpack. They don't take up a lot of space and are light in weight. It's difficult and sometimes impossible to cut with a dull knife and also dangerous. A pocket knife sharpener allows you to sharpen knife edges to make cutting tasks easier and safer.
Types of Pocket Knife Sharpeners
There are several types of pocket knife sharpeners that are commercially made for convenience. Small sized sharpening stones, also known as whetstones are considered to be a pocket sharpener when they are compact in size for easy carrying.
Some are made with diamond plates, others with diamond rods or ceramic rods that are placed at angles within a housing that holds them in place. These are known as slot sharpeners because all you need to do is drag the knife through the slots to sharpen.
There are also multi-tool sharpeners that are made to sharpen knives, scissors and other tools, and steel rods in a compact size. There are also electric knife sharpeners, but unless you're near a power source, they're not something you'd be likely to take with you in the field.
What Type is Best to Carry in Your Pocket?
The Wusthof Black 2 is made with a built-in key chain to make it easy to carry because it can be affixed to a belt loop, but it's also small enough to carry in your pocket comfortably. The ALPHA TEK Pocket Hunting Knife Sharpener is another good option because it can be hung from a backpack or carried in your pocket without difficulty. Small whetstones are light and comfortable enough to carry in a pocket as well.
Best Pocket Knife Sharpener for Serrated Edge Blades
The Sharpal 101N knife sharpener is one of the better options for sharpening serrated edge blades on the go It features a medium 400 grit tapered diamond rod that is built with grooves that are intended specifically for sharpening serrations. Smith's 50364 Pocket Pal X2 Sharpener & Outdoors Tool is also an excellent choice for serrated edges as well as smooth edge sharpening.
Best Pocket Knife Sharpener for Straight Edge Blades
The Lansky PS-MED01 BladeMedic is the best pocket knife sharpener for straight edge blades. The diamond tapered rod gives you the ability to maintain and recondition straight blades fast in the field. The Tungsten carbide will restore the sharpness of your blade in three to four strokes and the ceramic sharpening rods fining the edge in a few additional strokes.
Emergency Knife Sharpeners
When you're out in the field and you don't have access to a pocket knife sharpener, you can always improvise ways to sharpen your knives.
You can use the bottom part off your coffee mug to drag the edge of the blade across. You can also find a hard and flat stone to sharpen your knife on.
You can also use leather belt to sharpen a knife blade, click here to see the steps.
Some outdoors-men have found useful sharpening materials by digging through the trash, and even a stout piece of cardboard will do in a pinch. These stop-gap methods are not as fast or efficient as a portable sharpener, but they help keep your knife sharp in an emergency situation.
Final Verdict
Finding the best pocket sharpener means identifying the tool that has all of the features and benefits that you'll need for safety, convenience and comfort. Now that you know exactly what to look for in a pocket knife sharpener and why, you're better informed to make a selection that you will be satisfied with in the long run.
We've reviewed the top 10 portable and pocket knife sharpeners in one handy location. As you browse through the selections, try to narrow your choices to two or three of the most appealing, then compare each to find the pocket knife sharpener that is right for you.