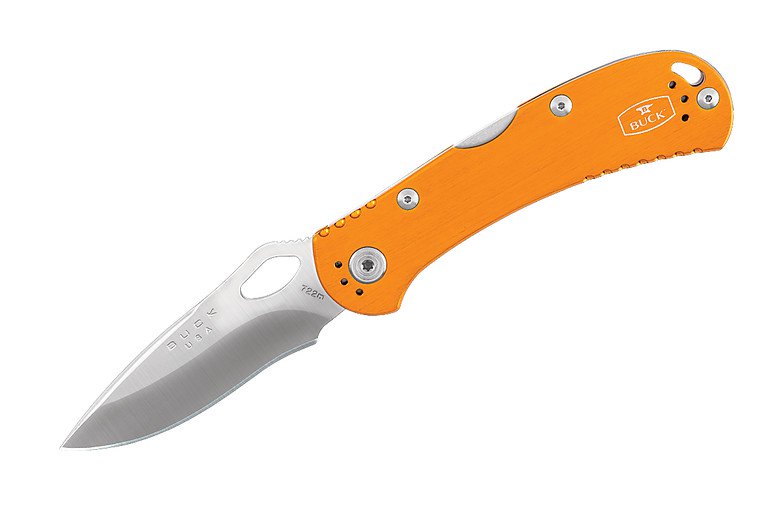 A good everyday knife comes in handy in more ways than one.
Most people think of knives and either attribute it to the kitchen or outdoors. Buck's Everyday Carry knives showcase a different kind of knife, where the practicality of these small compact knives often goes farther than you think.
The Buck 722 Spitfire is one of their most popular designs in a foldable everyday carry silhouette, and as you'll see below, it's easy to see why.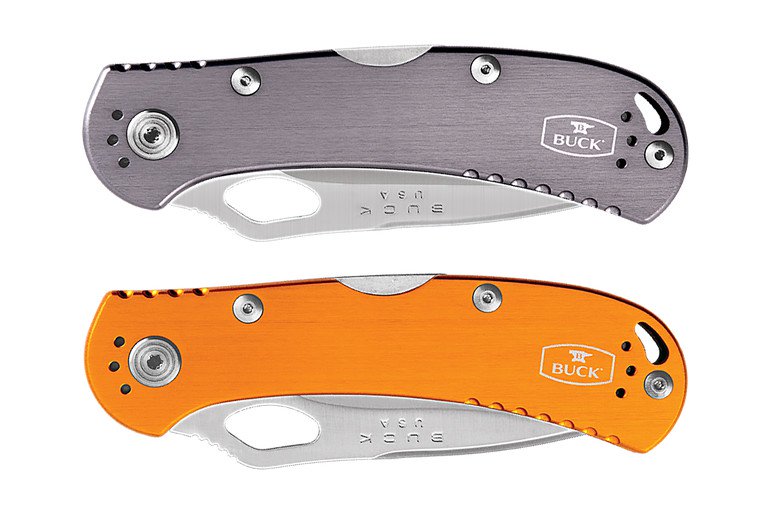 The Buck 722 Spitfire Knife is a foldable everyday knife that is easy to bring around and as durable as Buck's other line of made-in-the-USA products.
An everyday carry knife, or EDC Knife, is an underrated tool to have around the house and on your person. You've probably come across EDC knives in the form of Swiss army tools and other such multi-tools.
The Buck 722 showcases a specialized design in that its performance as a tool knife blows the knives found in these multi-tools out of the water.
With its multi-clip placement handle, heat-treated stainless steel blade, and one-hand operated folding function, you'll start wondering how you got through your day-to-day without something this useful.
Things To Consider About Your Knife
When thinking about what you should look for about a knife, it's important to look at what makes up your blade in the first place.
From the blade steel to the handle, you'll need to pay attention to the materials used, how they are manufactured, and how they are intended for use.
Through these three aspects, you'll see why Buck Knives and the Buck 722 is a good choice for an everyday carry knife.
Buck 722 Spitfire Knife Review: Features & Specs
The Buck 722 Spitfire is one of the key models that Buck knives have in their catalog for everyday knives. It's a direct to the point, no fuss, compact carry blade that uses the same quality materials that Buck uses in many of their knives.
Some of the notable features are the following:
420HC Stainless Steel
3 1/4th-inch Drop Point Blade
Lightweight Aluminum Handle
Convenient Carry and Compact
420HC Stainless Steel
The 420HC steel is a standard metal alloy used in many Buck products.
Although this metal is used in many lower-end knives, the engineers at Buck improve hardness and edge retention by using a system of heat treatments to upgrade the metal to a higher quality.
This means that your blade will stay sharp for much longer than other blades in the market. When it does start to lose its sharpness, the 420HC steel proves to be easy to sharpen even with a standard sharpening set up.
Not only does the edge on your blade last longer, but the Buck heat treatment causes the blade to be both rust and corrosion resistant, even more so than the average stainless steel knife.
It's why Buck takes pride in their signature heat treatment to give you a knife that won't let you down.
3 1/4-inch Drop Point Blade
The 722 Spitfire features a short and compact drop point tip blade shape at 3 1/4 -inches in length. A drop point tip is popular amongst hunters but can be used as a general utility blade tip due to its precision knife tip and thicker edge.
A precise knife tip allows you to use the Buck Spitfire for more detail-oriented tasks as you can avoid making unnecessary cuts with the high precision that a drop point tip gives you.
A thicker edge ensures your knife cuts through different materials with ease and generally keeps durable for a long time.
The short body enables you to keep the folding knife compact, as the overall length of the knife closed reaches roughly 4 inches in length.
Lightweight Aluminum Handle
The handle of the knife is made out of durable, corrosion-resistant anodized aluminum.
Anodized aluminum is a lightweight aluminum coated with a specific chemical, called "anodic oxide," and allows the metal to have a clean finish while keeping it safe from the elements.
Coming it at only 3.2 oz, the knife with its lightweight handle is practically lighter than most modern cellphones now. In fact, this knife practically rivals your car keys in terms of weight in oz.
Convenient Carry and Compact
Now the main features you should be looking for in a folding knife are their portability and compactness.
Apart from being lightweight, the Buck 722 features a thumb hole on the main blade so that you can manage a one-handed opening motion.
A one-handed operation is incredibly useful when needing to use the knife quickly, such as opening packages and other things that require a razor edge.
A handy lock back feature is also present on the handle, ensuring that it stays that way once your knife is open. This can make cutting harder materials easier as you don't need to worry about your knife snapping back from pressure.
Of course, an everyday knife is only as good as where you can take it. That's why the Buck Spitfire Knife has a pocket clip that you can reposition with attached screws in 4 different positions on the handle.
The fit and finish of this knife work at its best, whether you're using it on the job or you're on the go.
Additional features
While some of these features below aren't necessarily knife deal-breakers, they do sweeten the deal when dealing with Buck Knives.
Multi-color options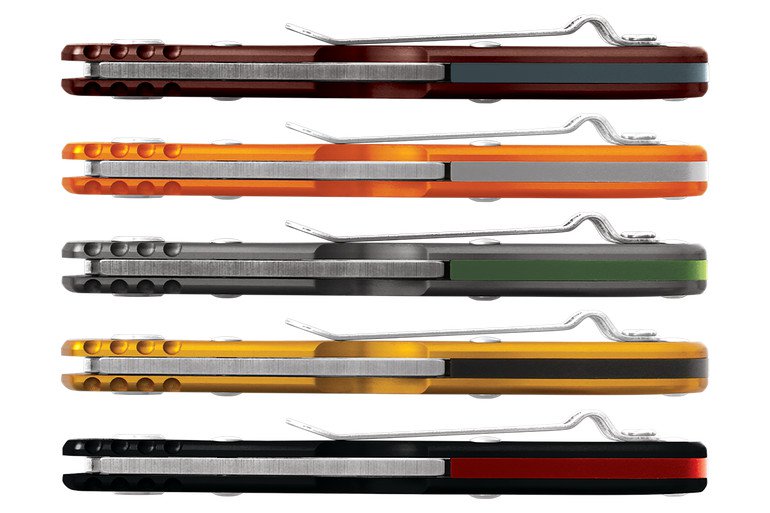 You'll definitely have personal preferences when it comes to the overall look of the knife you'll be carrying around with you. That's why Buck has included several different color options for their Spitfire knife.
These include the default black and other variants such as brown, grey, and orange. There is also a special green serrated version that includes a small groove on the blade for a few serrated teeth.
Buck Lifetime Warranty
With every knife sold and including the Spitfire, Buck includes their lifetime warranty that guarantees a replacement if your knife had any manufacturing defects when you receive it.
Apart from that, they include a service desk where you can have your knife repaired for a fee after a long period of time or accidental misuse.
More still, they offer a 50% discount on other products just in case your knife is no longer able to be repaired. It just shows that purchasing this knife also includes the full support of the Buck knifemakers.
How Does It Compare?
The Buck Spitfire isn't the only folding knife in their catalog. To better round out the review and give you more perspective, we decided to check out two more similar products from their collection to see how the Spitfire holds up against them.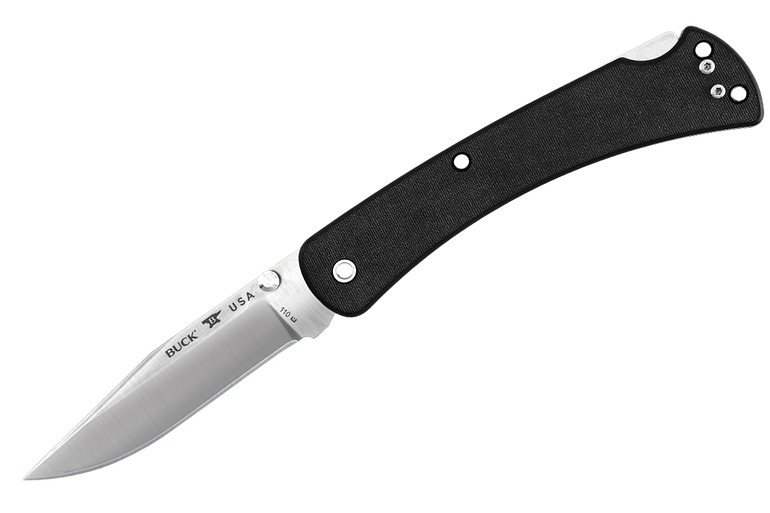 The 110 Slim Pro is the thinner version of their popular 110 series of folding knives and updated for the modern market.
The 110 Slim Pro uses the S30V steel instead of the 420HC stainless steel found in the Spitfire. The blade itself is only slightly longer than the Spitfire, coming in at about a quarter of an inch long, and is also a drop point tip design.
Instead of the Spitfire's aluminum alloy for the handle, the 110 Slim Pro opts for a hardened Micarta handle, which uses a composite of resin and layers of fiber and other materials to make up the handle.
What does this mean for you, ultimately? Well, the Slim Pro is, by definition, a slimmer profile than the Spitfire, but they do have similar blades in that they are both drop points.
They both also use similar heat-treated stainless steel in the same Buck signature style.
From a subjective perspective, the thumb studs found on the knife don't hold up to the ease of using the thumb holes found on the Spitfire knife. So if you prefer the idea of thumb holes in your knife blade for a more streamlined look, you may want to go with the 722 Spitfire.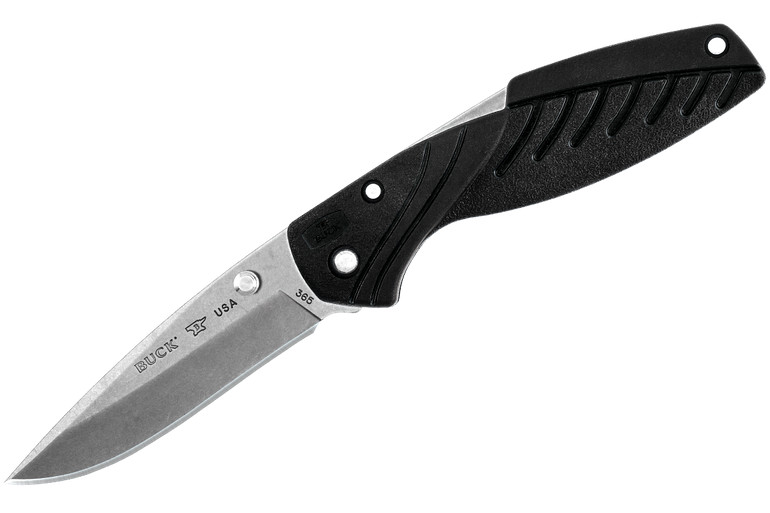 One of Buck's most affordable knives, the 365 Rival II seems apt to rival the Spitfire knife in terms of features. Both feature a roughly 3-inch knife body with the same 420HC stainless steel, use anodized aluminum, and have removable clips on the knife.
For us, we think the Buck Spitfire edges out a win in terms of the ability to reposition the knife clip in 4 different areas around the knife body. We also prefer the thumb holes on the Buck Spitfire knife spine compared to the thumb knobs found on the 365 Rival II.
Many of these choices do boil down to personal preference, but the fit and finish of the 722 Spitfire are just too good to ignore.
Conclusion
If you've never owned one before, the EDC knife is something that you'll be surprised you had gone long without.
Gone are those pesky toothpicks you find in common multi-tools, as with a sturdy knife like the Buck Spitfire, you can almost guarantee it can handle any random daily cutting task you throw at it.
Start investing in better quality tools, and you'll begin to see why a Buck knife is one of the most popular items to have with you when expecting some work.