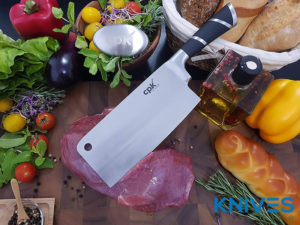 The versatility of a Chinese cleaver makes it a great knife to include as part of your kitchen equipment for both enthusiastic home cooks and professional chefs. There are many of these available to buy and each has its own features. It is essential that you compare the different products and features to make sure you get the right one for you.
First, we'll get into our product recommendations. Then at the end, if you're still reading, there'll be a buying guide & some FAQs & resources. Enjoy!
Best Chinese Cleavers To Buy in 2020
With so many different options available, you should compare some of the products before making your choice.
Here's our top 15 picks for Chinese cleavers to buy in 2020.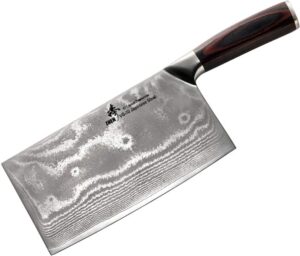 If you're looking for something good that's going to last for years and be a pleasure to use, look no further than this Zhen VG-10 steel cleaver. This is one of the best Chinese cleavers as it is capable of most tasks, from chopping through bones to fine precision cutting. The 8-inch VG-10 steel blade is heavy, sharp, and rust-resistant. It undergoes a unique forging process that gives the knife its hardness and sharpness. The full tang makes this knife feel robust and increases the safety/accuracy. This knife boasts a beautiful brown pakkawood handle that is shaped for both comfort and control. Zhen are a reputable brand, manufacturing high quality knives. The knife comes in an elegant gift box that you can use for safe storage.
Key Features:
Quality VG-10 steel
Exceptional hardness & edge retention
Full tang
Nice pakkawood handle
Easy to sharpen

For those with a limited budget, this is one of the cheapest Chinese cleavers on the market. Despite the low price, this is still a good quality item that can complete many tasks. Both the blade and the handle are made from a durable and rust-resistant stainless steel. The blade measures 8.3-inches and this knife has a handle measuring four inches. The handle is notched so that your fingers can fit comfortably into the grooves. This means that you will have a comfortable and secure grip, and this gives you more control and increased safety when using the knife. It is easy to maintain as it is dishwasher friendly.
Key Features:
Stainless steel
Rust-resistant
Large blade
Notched handle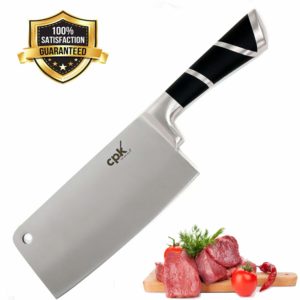 The super sharp seven-inch blade of this knife has multiple uses as you can use it for chopping, dicing, mincing, cutting, slicing, and crushing. This knife's blade is made from stainless steel, which is a durable material that retains sharpness and is resistant to corrosion. The handle has an ergonomic non-slip design. You will have a comfortable grip of this handle and the unique design prevents hand cramps. The no-slip feature means that this is a safe chef's knife to use. There is a good balance between the handle and the blade thanks to the full tang, so it is easy to use and control. The blade has a hole so that you can easily hang the knife on a kitchen hook when not in use.
Key Features:
Full tang
Stainless steel blade
Unique handle design
Hook for hanging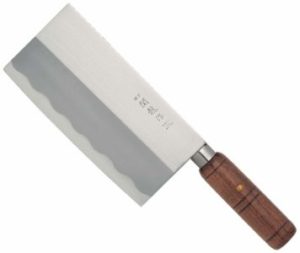 A Chinese-style Japanese meat cleaver, this knife is a multifunctional piece of equipment for the kitchen.  A sturdy item, the overall length of the blade is 11-inches, with a blade measuring 7-inches long and 3.5-inches high. The blade is made from a Japanese high carbon stainless, which is corrosion resistant, sharp, retains its edge, and is durable. The knife's smart-looking handle is made from Japanese oak wood. The same material is used for the protective sheath that comes with this product.
Key Features:
Japanese oak wood handles
High carbon stainless steel blade
Sharp blade
Protective sheath included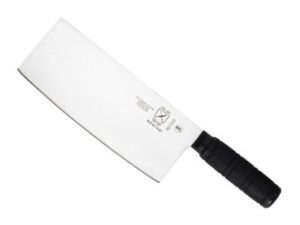 The blade of this knife is made from a German high-carbon, stainless steel that is rust-resistant and will not discolor.It has a taper ground edge for superior sharpness and a full tang that runs the length of the handle for better balance. The knife is used with a one-piece forged construction that increases its stability and efficiency. The ergonomically designed Delrin handle is triple-riveted and has a shortened bolster to expose the full blade edge. As the handle is made from a textured Santoprene, it has excellent grip for safety and control. The handle is sanitation sealed, so it is a hygienic option.
Key Features:
Quality materials
Textured and sealed handles
Full tang
Triple-riveted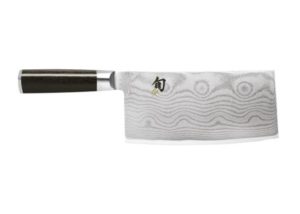 A seven-inch Chinese chef's knife, this option is suitable for slicing both meat and vegetables. Therefore, it is a versatile addition to your kitchen equipment. It is handcrafted in Seki City in Japan. The patterned blade of this knife is Damascus steel clad with 34 layers of stainless steel on each side of the blade. The edge of the knife blade is slightly curved for smooth slicing. Its handle is made from top quality ebony pakka wood that is cylindrical in shape. This means it is both smart-looking and gives a comfortable grip. The knife has a full tang for good balance.
Key Features:
Handcrafted in Japan
Stainless steel coated Damascus steel
Quality handle
Full tang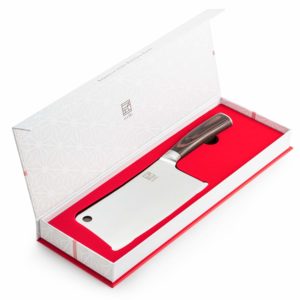 This knife is designed for professional use, even though it is a low-budget option, and it is inspired by Japanese culture. The seven-inch blade is an example of premium craftsmanship and is made from stainless steel. Its blade has a hole for hanging from a kitchen hook and is stamped with symbols. The edge of this knife will retain its sharpness for a long time, and it is sharp enough to easily slice through fish, meat, and vegetables. This knife's ergonomic handle is made from luxurious looking pakka wood that is slightly curved for a comfortable grip. The knife comes in a smart presentation box that is perfect for storage when not in use.
Key Features:
Quality materials
Attractive design
Hole for hanging
Storage box
Good edge retention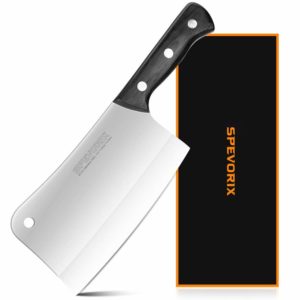 An affordable option, this is one of the best vegetable cleavers on the market now and comes from a reputable brand that is known for producing quality equipment. Its seven-inch blade is made from durable and corrosion-resistant stainless steel and the knife edge is sharp enough for most tasks in the kitchen. These include chopping, slicing, deboning, mincing, cutting through small bones,and preparing vegetables. The black handle is made from pakka wood and has a curved design for a comfortable grip. This gives you greater control when using the knife and improves safety. This knife has a full tang, which gives it a good balance.
Key Features:
Smart and comfortable handle
Sharp blade
Versatile
Full tang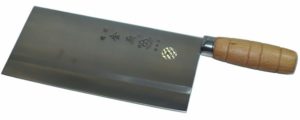 If the visual appeal of a knife is almost as important as the practical aspects of your kitchen equipment, then this is one of the best Chinese cleavers. It is a stunning looking item with an attractive handle and symbols stamped on the blade. Despite its aesthetic qualities, this is a versatile and affordable option that has an 8.75-inch stainless steel blade that has an individually ground edge. The curved and grooved wooden handle is comfortable to hold and will give you a secure grip for safe use and greater control.You can use this knife for preparing fish, meat, and vegetables.
Key Features:
Attractive design
Quality materials
Versatile knife
Comfortable grip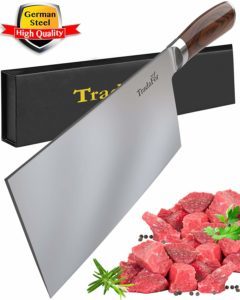 Made from German high-carbon stainless steel, this 7.2-inch blade is strong, corrosion-resistant, and it retains its edge well. It is perfect for precision slicing, preparing meat, fish, or vegetables, mincing, and for chopping through cutlery bones. You can also use the flat side of this versatile blade for many tasks. The solid balance of this knife makes it easy and enjoyable to use. It pakka wood handle has an ergonomic design and looks stylish. The handle is durable and has moisture protection, so it stays hygienic even after long-term use. It comes in a smart gift box that is ideal for storing your knife when not in use.
Key Features:
High carbon stainless steel
Multifunctional
Good balance
Moisture protected handle

Wusthof Gourmet is a multifunctional item that has an extremely stylish appearance. The high carbon steel blade measures eight inches and has an extra sharp edge that is ideal for cutting most ingredients, including fruit, vegetables, meat, fish, and herbs. It is also stain-resistant, rust-resistant and durable. The ergonomic black plastic handle is both durable and hygienic. It has a full tang and is triple riveted, so it is sturdy and has good balance. The handle is shaped to give you a good grip for improved control and safety when using this one.
Key Features:
Carbon steel
Ergonomic design
Full tang
Triple riveted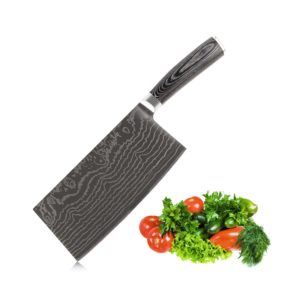 The seven-inch-long and three-inch wide blade of this Chinese cleaver is made from German high carbon stainless steel that is durable, rust-resistant, and has excellent edge retention. It has a stunning design as the blade has laser tattoo polishing to create an intricate design. The knife edge is sharpened to between 13 and 15-degrees on each side. Therefore, it is sharp enough to cut most ingredients. This knife's attractive handle is made from a high-quality pakka wood that is comfortable to hold and is antibacterial. The ergonomic design of the handle means it is lightweight, easy to control, very maneuvrable, and well balanced.
Key Features:
Attractive design
Well balanced
Quality materials
Extra sharp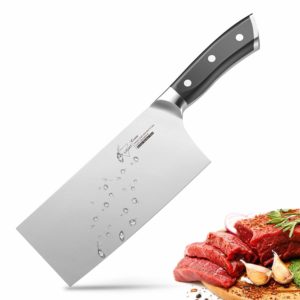 Suitable for both enthusiastic home cooks and for professional chefs, this seven-inch knife is ideal for preparing most ingredients. The blade is made from a German high-carbon stainless steel and the edge is sharpened to 17-degrees on each side. It is also nitrogen cooled to achieve a hardness of 58 on the Rockwell scale. This means that the knife is super sharp, strong, durable, and rust-resistant.The handle is made from a military grade high polymer that can withstand both hot and cold temperatures and is moisture-resistant. Its design gives you superior control and is very comfortable to use. This knife is heavier than many other chef's knives, so it delivers superior performance.
Key Features:
Quality materials
Durable handle
Sharp blade edge
Comfortable to use
This affordable Chinese vegetable cleaver is a multifunctional piece of kitchen equipment that you can use for the preparation of most ingredients to create stunning and delicious dishes. The seven-inch German molybdenum vanadium steel blade is made using a cold forging process that gives the blade a higher carbon level than many other knives. This means it is harder and more durable than many of its competitors. The handle is of an equally high quality and is both balanced and comfortable. There are no gaps between the handle and the blade, so this knife will not breed bacteria. It comes in a smart presentation box that you can use for storage.
Key Features:
High carbon steel blade
Hard and durable
No gaps in construction
Storage box
Well balanced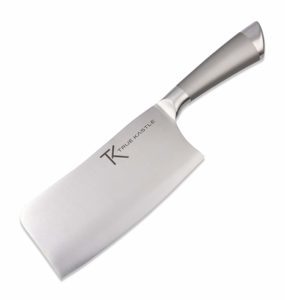 Both the handle and the blade of this knife are crafted from a single piece of high-quality stainless steel. This means the knives will provide a lasting performance as they are hard, durable, exceptionally sharp, and rust-resistant. The shaped handle is easy to grip and comfortable to use. Its design also gives maximum agility, so you can use the knife in a variety of ways. As a single piece of steel is used to create this knife, it is seamless and hygienic to use. This is one of the sharpest blades and it has excellent edge retention. The blade of this knife measures seven inches.
Key Features:
7-inch blade
One-piece blade and handle
Stainless steel
Exceptional sharpness
Chinese Cleavers Buying Guide
Each of the options available have different features that will appeal to different people. Here are some of the factors you should consider when making your purchase.
Blade Size and Materials
The blade is the most important element of your Chinese cleaver and these can vary significantly. Consider the following points:
The thickness and size of the blade depend on its intended purpose. Thicker blades are intended for butchery and thinner blades are designed for precise cooking.
The most versatile option is to choose a medium thickness blade as you can use these for most cooking tasks.
Traditionally, Chinese knives are made from carbon steel. This material is still used in many modern knives. Carbon steel sharpens easily and holds a sharp edge. The downside of a carbon steel cleaver is that they tend to rust.
Modern knives are most commonly made from stainless steel and stamped with Chinese symbols. The advantage that this material has over carbon steel is that it is rust-resistant.
Another material used is high carbon stainless steel as this has the best features of carbon steel and stainless steel.
Handles
The blades, the handles are the next most important component of a knife. When comparing the handles of different products, think about the following:
Materials- The biggest difference between the handles of the various cleavers available is the materials from which they are made. Traditionally, Chinese cleavers have a wooden handle and this remains a popular material. Other materials used include plastics, G10, stainless steel, and other metals.
Comfort- It is important that a handle feels comfortable when you are chopping and slicing. The shape and design of the handle play a big role in this. Usually, a curved or shaped handle is more comfortable than a straight handle.
Grip- The grip on an Asian cleaver handle is important as this gives you more control over your chopping or slicing and increases safety. Handles that are shaped or textured usually have a better grip.
Price
Price is a big consideration for many people when buying a product. There are options to suit all budgets, so think about the following points in relation to the price:
Factors that affect the price include the brand, the materials, and the size.
Often, the best Chinese cleaver brand is more expensive.
It is possible to get a cheaper cleaver that is just as good as the more expensive knives.
If you only intend to use it occasionally at home, then it makes sense to choose one of the cheaper Chinese cleavers.
On the other hand, if you are a professional chef or you intend to use it daily, then you may prefer to pay a little more.
Frequently Asked Questions
What is a Chinese Cleaver?
A cleaver is a large, heavy knife that usually has a rectangular blade. These have been used since the Acheulean times and were originally intended as a butchery tool for chopping meat and bones. Therefore, the Chinese cleaver is not strictly speaking a cleaver at all as it is not intended for butchery. Its purpose is for slicing boneless meat and chopping vegetables.
This versatile tool is used by professional Chinese chefs and home cooks for preparing a variety of cuisine. Its appearance is like that of the Japanese cleaver, although there are some variations in their design. Officially, the Chinese cleaver is called the Chinese chef's knife. It is also known as a chopper knife or as a Caidao, which translates as 'vegetable chopper'.
Different Types of Chinese Cleaver and How They Are Used
Chinese cleavers are categorized into three different types and this relates to the thickness of their blade and how they are used. The three types are:
Caidao- These are the thinnest cleavers and they have the sharpest blades. They are used for precision tasks, such as thinly slicing vegetables, meat, or fish.
Choppers- This type is the most commonly used knife and have a medium-thickness blade. They are a versatile tool as you can use them for almost any task. These include chopping vegetables, preparing meat or fish, crushing ginger or garlic, and using the handle as a pestle.
Gudao- These have the thickest and heaviest blades. They are a Chinese meat cleaver, so they are used for butchery as they can chop through bones.
Benefits of a Chinese Cleaver
There are many benefits to having a Chinese cleaver in your kitchen as this is one of the most versatile knives available. Some of the benefits include:
Impressive appearance- There is something rather impressive about the appearance that many people admire.
Meat preparation- They are fantastic for chopping, slicing, and mincing meat.
Vegetable chopping- No matter whether you are roughly chopping or finely dicing vegetables, a Chinese cleaver knife can do the job.
Alternative to a pestle- If you don't have a pestle and mortar, you can use the handle of a Chinese chef's knife as an alternative.
Crushing- Using the flat side of the knife is good for crushing pieces of ginger and cloves of garlic.
Full meal preparation- One of the best advantages of having a Chinese cleaver as that you can use them to prepare almost every aspect of a dish with many ingredients.
How to Use a Chinese Cleaver
Learning how to use a cleaver properly can take some practice, but once you have mastered the right skills, you can use it in many ways. First, you can use it to slice and chop meat and vegetables using the following steps:
Lie the meat or vegetable flat on a chopping board.
Hold the edge of the food furthest away from your chopping hand with the fingertips on your non-dominant hand.
Next, curve your hand over to create a paw and this means that you can use the knuckles on this hand to guide the blade.
Hold it in your dominant hand.
Put the tip of the knife on top of the meat or vegetables.
Slice in a downwards motion away from yourself.
As you finish the slice, draw the blade back upwards and towards yourself.
Continue this step to create even slices using the knuckles of your non-dominant hand to guide the knife each time.
You can also use these knives for crushing ingredients, such as ginger or garlic. To do this, you should:
Lie garlic cloves or a piece of peeled ginger onto the chopping board.
Use your dominant hand to turn the Chinese cleaver so the flat of the blade is horizontal to the chopping board.
Lie the flat of the blade on top of the garlic or ginger.
With the heel of your non-dominant hand, push down hard and fast on the flat of the knife several times until the garlic cloves or ginger are crushed.
You can then use the sharp edge of the knife to quickly chop the crushed ginger or garlic into smaller pieces.
Another way of using these Chinese knives is as a replacement for a pestle and mortar. The following is how you do this:
Put your herbs and spices into a small bowl.
Up turn the knife so that the tip of the blade is pointing downward and the tip is pointing upwards.
Hold the side of the bowl with your non-dominant hand and the handle of the cleaver in your dominant hand.
Press the handle of the cleaver down onto the contents of the bowl firmly.
Grind the handle into the herbs and spices using a circular motion.
Repeat until the herbs and spices are ground to the consistency you desire.
For more tips, watch the following video:
Final Verdict
A Chinese cleaver is one of the most versatile pieces of equipment to keep in your kitchen as it can complete so many tasks. If you decide to buy one, you will find a huge choice of excellent products available and each of these has its own features.
The best Chinese cleaver available now is the LedgeON Seven-Inch Professional Cleaver as this is made from high-quality materials and has a sharp, tapered blade. It has a full tang and the shaped handle give a comfortable and safe grip.
Another of the best options is the CPK Elite Seven-Inch Professional Cleaver Knife. This stainless steel cleaver has a unique handle design and is extremely versatile. It has a full tang and a hole for hanging on a kitchen hook.
For those with a limited budget, one of the cheapest Chinese cleavers available is the WINCO. Despite the low price of these knives, they have a large blade that performs well and a notched handle for a comfortable and secure grip.