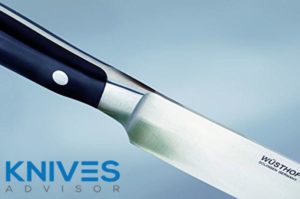 Wusthof is a trusted and proven brand, but with so many lines, it's hard to know which knife is the best. The most popular choices are the classic, the gourmet and the ikon. All are high quality lines but each is a little different.
This guide is made to point out the features, pros and cons of each, so you'll have the information you need to decide which Wusthof knife set is the most suitable.
We also provided a thorough review of the three top block sets to show you what's available in these impressive collections.
Background of Wusthof & Different Knife Lines
The Wusthof knife company was established in 1814. They began manufacturing their German made knives over 100 years ago.
They earned a solid reputation for producing knives that have a precision balance, and that feel comfortable to hold in the hand. This makes them easier to handle and to maneuver for precision cutting in all types of food products.
Through the years, they've expanded their product lines and offer several different choices to meet the needs and preferences of their customers.
The Classic Line: The Wusthof classic is a knife line that features a rust resistant blade of high carbon metal. What makes it unique is the 14 inch angle per side with a PEtec Edge.
The Gourmet Line: The gourmet line is much like the classic, but instead of a 14 inch angle per side, its distinguishing feature is an 18 edge angle per side. Unlike the classic, it does not have a hand guard and bolster.
The Classic Ikon Line: Ikon is the Wusthof knife line that was made after the Classic. The difference between the two is that the Ikon has ergonomic handles that fit in the hand better and are more comfortable.
Comparison Between The Series
Wusthof Classic vs Gourmet
The Classic: We begin with the classic, which is the brand's best selling line. The Wusthof classic knives are forged through a unique process that makes them extremely durable and reliable. This makes them popular with consumers.
The knives in the classic line have something that the gourmet knives do not. They have an exposed tang with a bolster and a hand guard. The classics are forged with a full length tang.
The Gourmet: The gourmet line is a stamped knife that is less expensive, but it's still a high quality knife that holds up well enough under frequent use, but there are differences that set it apart from the classic.
It doesn't have a full tang design and it isn't as strong as the classic. This means that the knife is more vulnerable to damage when cutting near a bone or other hard material. There is a higher potential for the blade to break off the handle or to separate.
Wusthof Classic vs Classic Ikon
The Classic Ikon: The Ikon line, like the gourmet came out after the classic and it soared to popularity. It's been a featured line that receives the approval of chef Gordon Ramsey. The Classic Ikon line is made of thee same materials as the Classic and it is every bit as durable.
The main difference between the two lines is that the Ikon features an ergonomic handle and the classic does not. This gives the Ikon a better grip with greater control for more precise cutting and slicing. It fits well in the hand and is very comfortable to hold, reducing hand fatigue for bigger jobs.
The handles are made of African blackwood, which is attractive and makes the knife heavier for better balance.
Wusthof Classic Ikon vs Gourmet
With the information that we have about each line, the Ikon is a stronger and more durable knife than the lower end gourmet. While the gourmet is still a good line, it is more vulnerable to damage, it is not as well balanced as the Ikon and it is stamped instead of forged.
The one benefit that the gourmet has is that it is very affordable.
How to Choose The Best One?
If you're on a tight budget and you want a good quality knife, then the gourmet line is an excellent choice.
The classic, which is the best selling line offers strength, durability, razor sharpness and excellent balance, Although it's higher in price, it's a premium product with extra features including the exposed tang, the bolster and finger guard.
If hand fatigue is an issue, the Ikon Line is more comfortable to use and the ergonomic handle reduces hand fatigue.
It's a matter of need and personal preference. The line that best fits within your budget and meets your needs and preferences is the best option.
Wusthof Knife Block Set Reviews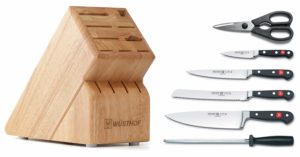 The Wusthof Classic 7 piece Starter Knife block set gives you everything you need for food preparation for an affordable price and includes a handy storage block to keep knives protected and organized.
Forged full tang blade
The full tang blade offers additional knife strength and durability to make this the last knife you'll ever need to buy. The full tang adds to the weight and provides excellent balance for precision cutting and slicing.
Versatile
The seven piece set is the perfect starter set that includes a 3.5 inch paring knife, an 8 inch bread knife, an 8 inch cook's knife, a 6 inch utility knife and kitchen shears.
9 inch honing steel
The included honing steel is useful for maintaining the knife blades in this set and keeping them razor sharp and ready to use at all times.
High carbon stainless steel
The material used to forge the blade is high quality and is resistant to rust, corrosion and nicking. This material takes and holds a sharp edge easily.
Triple riveted handle
The handles are secured with triple riveting for extra strength and durability. The handles are crafted of synthetic materials that are designed for strength and to add balance.
Quality guarantee
This set comes with a limited lifetime warranty against defects from the manufacturer.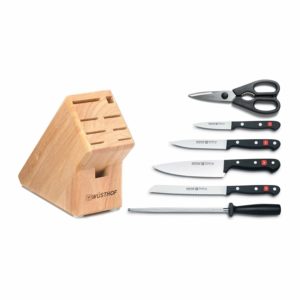 The Wusthof Gourmet 7 piece starter set is a budget conscious set of high quality knives, perfect for people just starting out.
Stainless steel blades
The stamped blades are made of stainless steel, which is a durable material that is resistant to rust and corrosion.
Balanced
These knives are designed with a weight distribution that ensures a perfect balance for effortless cutting.
Comfortable grip
The handles are made of durable synthetic materials and designed for a comfortable grip.
Multi-use set
This set has everything you need for food preparation including a parer, utility knife, serrated utility knife, cooks knife and kitchen shears.
Honing steel
Keep your blades sharp and ready for the next use with the included honing steel.
The 9 slot block helps keep your knives well organized and protected when not in use. It also keeps them in one convenient location for fast and easy access.
Quality guarantee
This set is backed against defects in materials and workmanship with a lifetime manufacturer's warranty.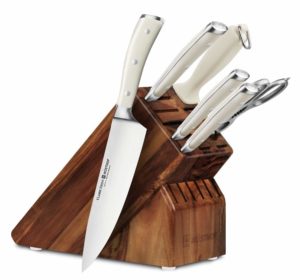 The Classic ikon offers a more comfortable grip for precision cutting in each of the knives included in this high quality collection.
Full tang high carbon stainless steel blade
High carbon stainless steel is used in this forged knife blade adds strength and durability. It is easy to sharpen and holds an edge for longer than many other knife blades.
Ergonomic handles
The handles are made of synthetic material which adds to the weight and perfect balance of this line.
In addition, the handles fit in the hand perfectly for greater control in precision cutting and less hand fatigue in extended use.
Versatile
This set includes everything you need for everyday food preparation. In the set you'll find a 3.5-inch paring knife, 6-inch utility knife, 8-inch bread knife, 8-inch chef's knife, 9-inch sharpening steel and stainless steel come-apart shears.
Honing steel
The included honing steel is used to keep your knives their sharpest at all times with a few easy passes.
17 slot Acacia wood block
The 17 slot block helps keep your knives well organized and protected when not in use. It also keeps them in one convenient location for fast and easy access.
Quality guarantee
This product is backed with a quality guarantee against any defects in materials or workmanship with a manufacturer's lifetime warranty.
Final Verdict
Wusthof has consistently delivered high quality knives and now offers many distinct lines to give their customers a variety of choices. Although each line is different, not everyone wants the same type of knife.
The classic is the top seller because of its durability and additional safety features, the Ikon is a premium knife that features an ultra comfortable handle and stays sharper longer, and the gourmet is the budget conscious version with fewer premium features, but consistent quality.
We hope this guide has been useful in helping you decide which Wusthof line is the best choice for you.