Wondering whether you should be buying a Dalstrong vs Wusthof knife? Let me give you a short & sweet answer.
If you're looking for a good knife at a good price that'll do the job and last a long time, go for Dalstrong. If you're looking for a better knife that is sharper, harder, lighter, etc., but you aren't price sensitive, buy Wusthof.
Still interested? Keep reading, let's dig in!
When it comes to curating essentials for the kitchen, people tend to stay conscious of the brands that they are most fond of. So, granted, it can be very hard for new manufacturers and brands to penetrate a market that is dominated by so many giants who have been there for centuries. This is why the topic of this article is a particularly compelling one. It's pitting one up-and-coming knife manufacturing brand against one of the most widely respected companies in the industry.
Skip down to read about the Dalstrong Gladiator vs Wusthof Classic 👇
On the one corner, there is Dalstrong. This is the new kid on the block with a solid value proposition. They make some great quality knives and they know how to market their products well. This is a company that has been really making waves in a lot of culinary circles with their strongly appealing aesthetics and incredible build quality. They know how to build a good product and they are very good at selling them too.
On the other corner, you have one of the most prestigious names in the game, Wusthof. Now this is a company that has literally been manufacturing knives for over two centuries. That's a lot of experience in an industry that is so rooted in tradition. That is definitely a lot of time to really practice and perfect the craft of knife manufacturing. They have been able to build a reputable brand name and are known worldwide as one of the leaders in the industry.
Now, the question to ask is if the new kid on the block actually has what it takes to overcome this industry behemoth. It's a battle between classic practicality and new-age modernity. Who is going to come out on top?
At A Glance: Dalstrong Gladiator vs Wusthof Classic
Before we take a look at the brands, here's an at-a-glance overview of two of their most popular, classic offerings: the Dalstrong Gladiator vs the Wusthof Classic.
Full-tang high-carbon German steel. Hand-polished edges at 14-16 degrees. Stain-resistant. 56+ hardness. Manufactured in China.
Full-tang high-carbon Stainless German steel. Triple-riveted Polyoxymethylen handle. +20% sharpness over previous models. 58+ hardness. Manufactured in Germany.
Full-tang high-carbon German steel. Hand-polished edges at 14-16 degrees. Stain-resistant. 56+ hardness. Manufactured in China.
Full-tang high-carbon Stainless German steel. Triple-riveted Polyoxymethylen handle. +20% sharpness over previous models. 58+ hardness. Manufactured in Germany.
A Historical Perspective

And next, before we dig more into the actual knives themselves, it'll be good to look into the history of the brands. Sometimes, in order to fully appreciate a company's products, you must also take a look into their deeper narrative.
Dalstrong
When it comes to knife manufacturing, you wouldn't think it common for a company that's barely a decade old to be able to compete with those that have been operating for hundreds of years. But that's exactly what is taking place here.
Dalstrong was originally founded in 2012 and it hit the ground running almost immediately. It banked on a strong marketing campaign centering on innovation in cutlery. While most knife brands are steeped in tradition, Dalstrong chose to go the opposite route and push for a more modern and innovative approach to branding itself. And it worked.

The company heavily advertised its use of modern tools and innovative manufacturing methods in order to provide high-grade kitchen knives to all households at relatively lower prices as compared to other more traditional brands. Although, the company did more than just market themselves well. They backed up their bold marketing campaigns by producing knives that were well-designed and properly manufactured.
On top of that, they offered 100% customer satisfaction guarantees on their products to really showcase how confident they were in their manufacturing capabilities. This resulted in them skyrocketing to fame in such a competitive industry within a relatively short period of time.
Read More >>> Dalstrong Knives Review: 7 of Their Best Knives
Wusthof
On the other side of the coin, there is Wusthof. This is a company that has proven the worth of its name for over two centuries. This is a family-owned business that prides itself in the strong tradition of high-quality knife manufacturing. It's primarily known as a manufacturer of Western-style knives. The Germany-based company is based in the city of Solingen, also known as the "city of blades"
German steel has had a strong reputation for being one of the best in the business for manufacturing knives. Wusthof serves as the gold-standard for creating knives that are designed to stand the test of time.
With a state-of-the-art facility paired with time-trusted manufacturing methodologies, it can be really hard to go wrong buying a knife from this reputable institution. They also put their money where their knives are by offering lifetime warranties on their products.
The Battle of Classics (An Overview)
When comparing Dalstrong vs Wusthof brands, it's important to start with the classic offerings. The classic 8-inch chef's knife is always a good place to start with. Both of these brands offer some strong contenders in this field.
The major difference that you will see right off the bat is that the Wusthof knife costs nearly thrice as much as the Dalstrong one. Is there any way to justify such a huge difference in price? Let's find out.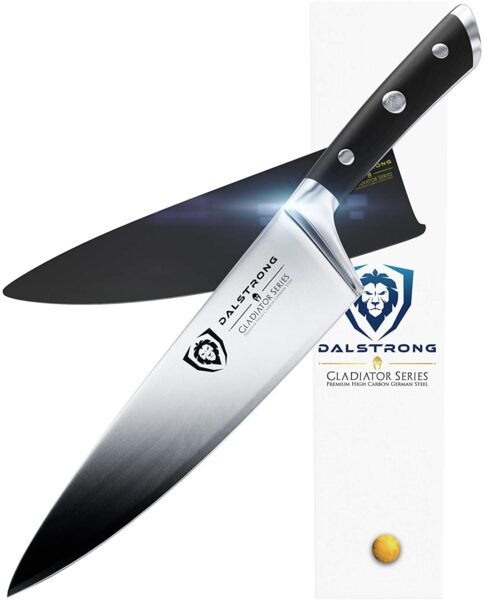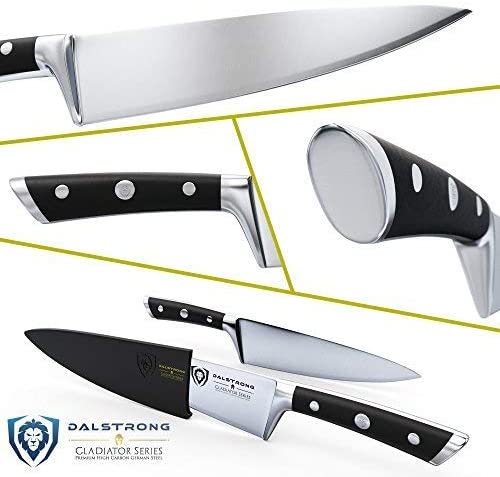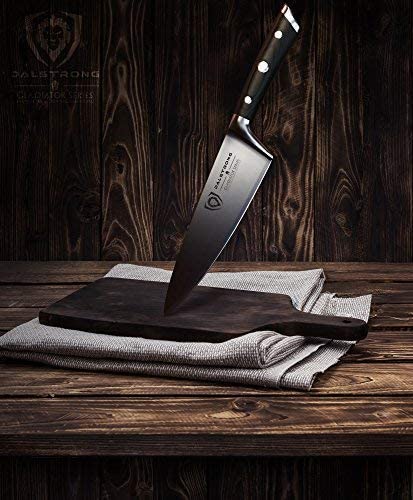 The most popular product line that Dalstrong makes is its Gladiator series of knives. It's not the most expensive or luxurious knives that they make. They fall within the mid-range as far as price is concerned. The Dalstrong Gladiator series is known for its simple and sleek design with a slight modernist flare. In the entire collection, the 8" chef knife serves as the flagship model. It's the one that serves as the most versatile knife in the line.
With a generously spaced 8" blade that boasts a hardness of 56+ HRC, this is a knife that can just about get the job done on practically anything. While the knife is marketed as having German steel, it's important to note that Dalstrong products are manufactured in China. It also has a beautifully crafted Pakkawood handle that provides great handling and comfort. Whether you're slicing meats or chopping up onions, you can always count on this knife to deliver.
Note: upon the most recent check/update, the 8-inch chef's knife was not available on Amazon US. You can find 6″, 7″, 10″, and some other variants by following the link below. 8-inch is available on Amazon UK. Other regions not checked.
Feature Checklist:
Full-tang high-carbon German steel
Hand-polished edges at 14-16 degrees per side
Stain-resistant
56+ Rockwell hardness
Manufactured in China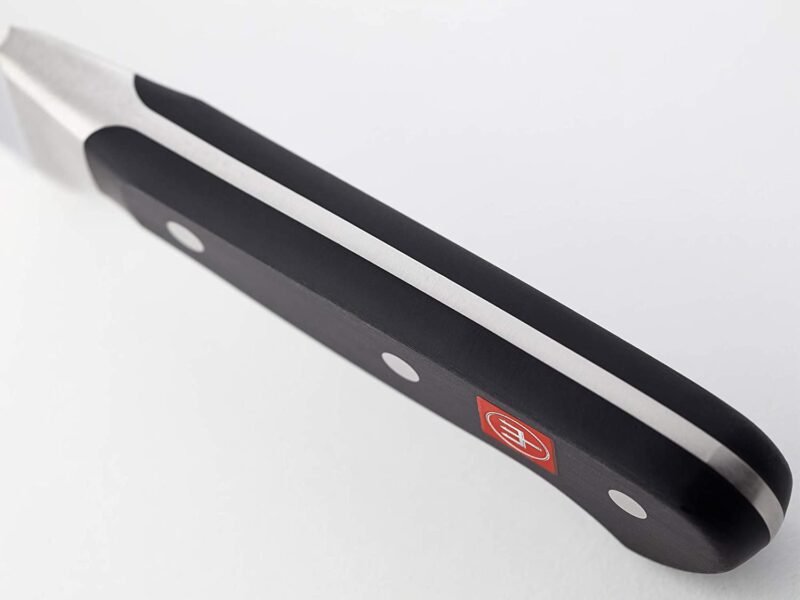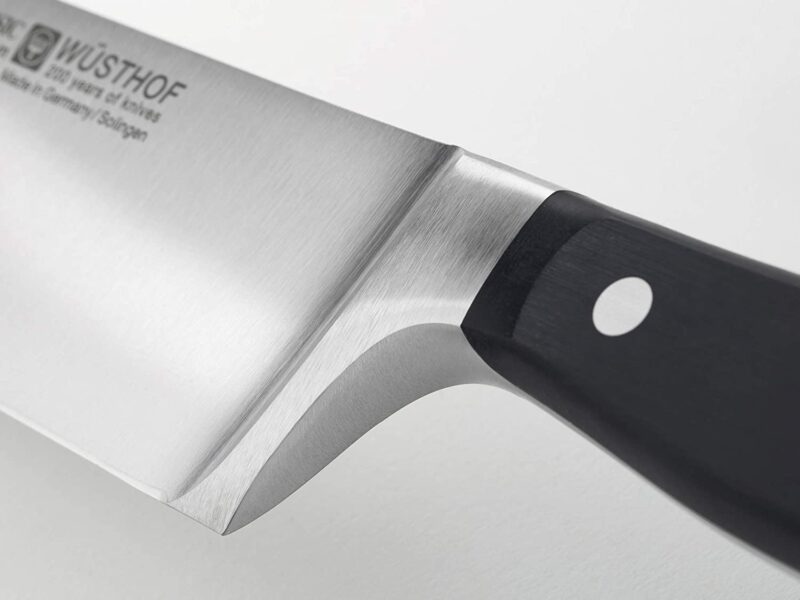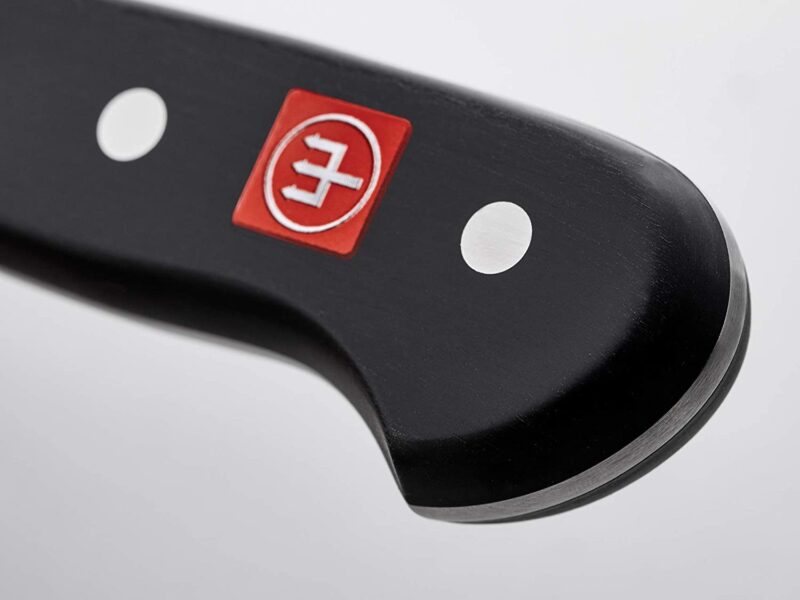 If you're looking for that one knife that you can use for the rest of your life, the Wusthof Classic 8" knife can definitely do that job for you. It's dubbed as a workhorse of a knife that's capable of standing up to whatever task is required of it. It's a precisely manufactured knife that is tempered to 58⁰ Rockwell.
It also has a well-designed contoured handle that is designed to fit comfortably and optimally in your hand. Much emphasis and attention was also placed into the balance of weight distribution on the knife to make sure that proper ergonomics are fulfilled regardless of the kitchen task. It's an all-purpose classic that can handle chopping, slicing, dicing, and mincing jobs easily. The Wusthof Classic Chef Knife is also strong enough to handle even the largest vegetables and toughest meats.
Reduced
WÜSTHOF Classic 8 Inch Chef's Knife,Black,8-Inch
KITCHEN WORKHORSE – The WÜSTHOF 8" Classic Chef's Knife is essential for preparing any meal....
WÜSTHOF CLASSIC SERIES – The full Tang, Triple Riveted handles of the classic line offer the...
CHEF'S KNIFE – Features an 8" long blade, 4.5" long handle and weighs 8.5 ounce Full Bolster...
Feature Checklist:
Full-tang high-carbon Stainless German steel
Triple-riveted Polyoxymethylen handle
Made with Precision Edge Technology (PEtec) that yields additional 20% sharpness than previous models
58+ Rockwell hardness
Manufactured in Germany
Other Popular Knives By Dalstrong & Wusthof
Of course, the Gladiator & Classic aren't the only products these brands are known for. Here are a handful of extra products that are well-known. Feel free to click through to learn more & see their reviews on Amazon before we wrap up.
Wusthof Epicure Cook's Knife, 8 Inch
Translucent ceramic coating on blade surface to incease hardness
Handle made of same wood composite found in Epicurean cutting boards
Precision forged
Wusthof Classic Paring Knife, One Size, Black, Stainless Steel
Precision forged from a single blank of High Carbon Stainless Steel Tempered to 58⁰ Rockwell
Full bolster and finger guard Full tang that is triple riveted to the handle for precise control
Precision Edge Technology (PEtec) yields a blade that is 20% sharper with twice the edge retention
Warranties
Dalstrong Gladiator
Dalstrong is so confident in their products that they offer a 100% money-back guarantee and lifetime warranty against defects. This is a testament to their commitment to providing quality products that live up to high quality standards.
Wusthof Classic
The Wusthof brand also prides itself in the quality craftsmanship of its products. As such, it also provides a lifetime warranty for its products against any factory defects. It's important to note that the warranty for both companies does not apply to the natural wear and tear that occurs from regular use.
So… What's The Difference?
Well, on paper, some of the knives do look fairly similar, although Dalstrong have a tendency to consider aesthetics more. They both offer really sharp knives that register high scores on hardness scales. They're well-designed and easy to handle. Both knives also have a fully forged full-tang blade. So, what's the difference?
Well, the first major difference is where the knives are manufactured. If you're a knife enthusiast you would know that having a knife manufactured in Solingen, Germany is a big deal. With that, you know that you're assured of a premium knife when you buy the Wusthof. However, that premium quality also comes with a premium price tag.
The reason that the Dalstrong is able to sell their knives at a more affordable rate is because they are manufactured in China where labor is cheaper. So, you don't get that same kind of premium assurance that you get from Solingen artisans. But you're definitely getting a huge discount.
Handles
Both Wusthof and Dalstrong use various materials to create their knife handles. Wusthof handles are made from either synthetic materials or African blackwood, while Dalstrong handles are made from various synthetic materials. Black pakkawood, or red rosewood.
Wusthof handles have a full tang and a bolster for protection. Noticeable differences between the handles of the two brands are the weight and feel of the knives during use. Dalstrong handles feel heavy and bulky in comparison to Wusthof knives, so they are not ideal for people with small hands.
Pricing
There is a big difference between the prices of Wusthof and Dalstrong knives. Wusthof are a brand that is known for the quality of their knives and this is reflected in the prices, which are aimed at the mid-to-upper end of the knife market. On the other hand, Dalstrong knives are a more affordable option as this company tries to produce knives at a lower cost so that they are accessible to more people. Therefore, Dalstrong is of course the better option if you have a limited budget.
Final Verdict
Unfortunately, the final verdict here on Dalstrong vs Wusthof may seem like a big cop out for a lot of people. But the truth is that these are two fairly strong and formidable knife brands. For Dalstrong, you get a really great-performing knife that is going to get the job done for you at an accessible price. It's a reasonable investment that you can make in a knife which you are unlikely to end up regretting.
However, if you're the kind of person who will appreciate a premium product made by artisans who have more experience than anyone else in the industry, go for the Wusthof. At the end of the day, when you purchase this product, you know that you are also potentially purchasing an heirloom that even your next generation of family might be able to use.