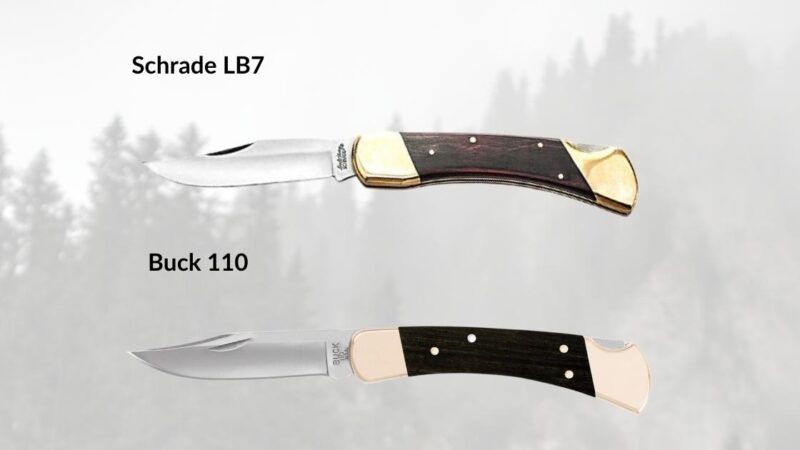 Thinking about buying the Schrade LB7 or the Buck 110? This article will help you with a concise explanation of the differences & similarities of the Schrade LB7 vs Buck 110 to help you make the right buying decision.
Here's the short version if you're looking for a tl;dr.
The Buck 110 is a better knife overall. It's steel is harder & has better corrosion resistance, it will last longer, it's made in the USA, and comes with a lifetime guarantee.
The Schrade LB7 comes in significantly cheaper, being made in China. Although it doesn't quite stack up overall, it's still good value for the price point.
Let's get into the details.
What's the difference between the Schrade LB7 vs Buck 110?
The biggest difference between these knives are:
The 110 is made in the USA, the LB7 is made in China
The Buck 110 uses better, harder steel
The LB7 is priced lower
The 110 has a longer overall length (but similar blade length)
The 110 has a slightly thicker blade.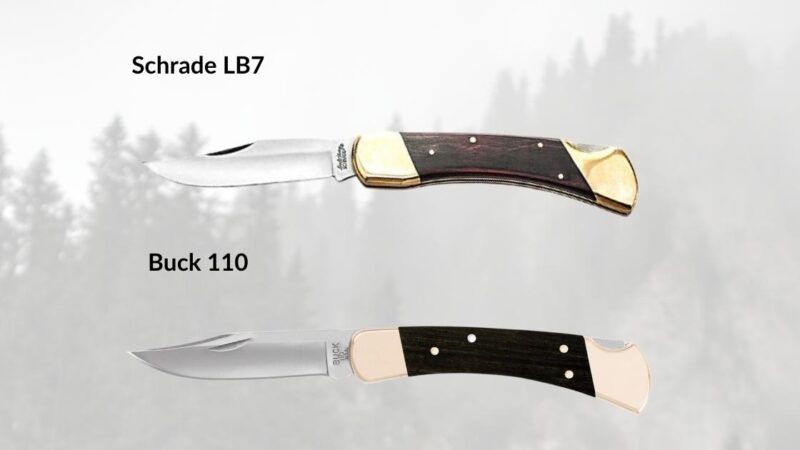 Please note: there are a lot of variants of these knives made over the years. In this article, we're directly comparing the models you can buy (new) right now today.
Overall, these knives effectively serve the same purpose. As we'll see later in the similarities, they're both quite heavy as far as pocket knives go. They're probably about as heavy as you'd want in a folding pocket knife, but still viable as an EDC for most.
If you can afford the extra $30 or so, I'd go for the 110 as a longer-lasting sharper knife, made in the USA. You can also get custom engraving with Buck, to make a great gift, or family heirloom.
Differences in steel
The Schrade LB7 uses 7Cr17MoV steel. For those who aren't familiar with 7Cr17MoV, it is effectively the Chinese-made equivalent of 440a.
It has a slightly lower carbon content, and is therefore softer, cheaper, and regularly found in inexpensive knives. One upside is that it's easy to sharpen, but you'll find it lower quality overall.
420HC doesn't innately have a huge disadvantage over 440a. But in this case, Buck's heat treatment makes a huge difference. Buck are responsible for giving 420HC a great reputation thanks to their heat treatment process which makes a relatively accessible/affordable steel very effective.
Buck 110 vs Schrade LB7: Specs Side-By-Side
| | | |
| --- | --- | --- |
| | Buck 110 | Schrade LB7 |
| | | |
| Overall Length (") | 10 1/2″ | 8.7″ |
| Blade Length (") | 3.75″ | 3.7″ |
| Weight (Oz) | 7.2oz | 7.6oz |
| Blade Thickness (") | 0.120″ | 0.110" |
| Blade shape | Clip point | Clip point |
| Steel | 420HC | 7Cr17MoV |
| Made in | USA | China |
Here are the things that you'll find similar between the Buck 110 and Schrade / Uncle Henry LB7.
Both use the same lockback mechanism
They are a similar weight and blade length
They both use a clip point blade shape
The sheaths are very similar (leather)
It really does just boil down to price, size, and weight.
More about the Buck 110
As mentioned, the 110 is Buck's most popular knife ever.
In fact, it may just be the most popular pocket knives ever, period.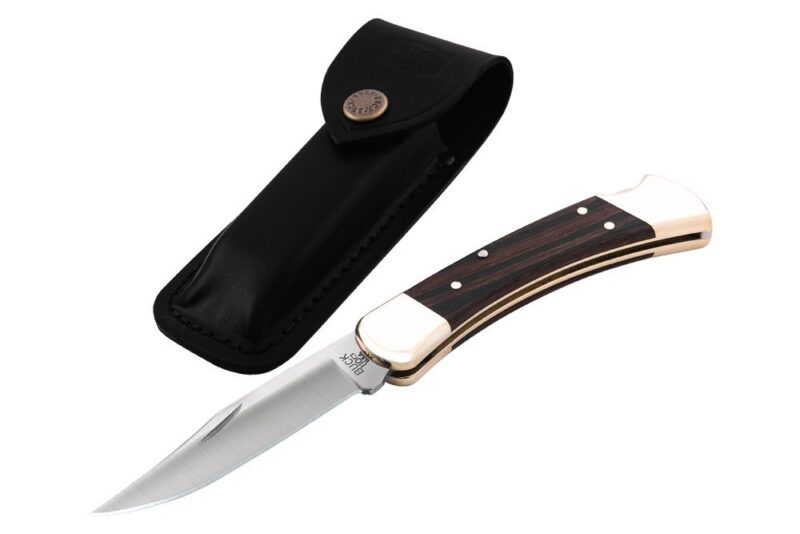 It comes with a leather sheath, just like the LB7. This one is black, and the LB7's is brown leather.
The lockback mechanism is very strong. The strongest locking mechanism for a folding knife — tougher than frame locks or liner locks for example.
The downside is that it takes an extra second or two to open the knife, but it's up to you whether that matters.
You can also get a version of the 110 with finger grooves for a little extra $$$: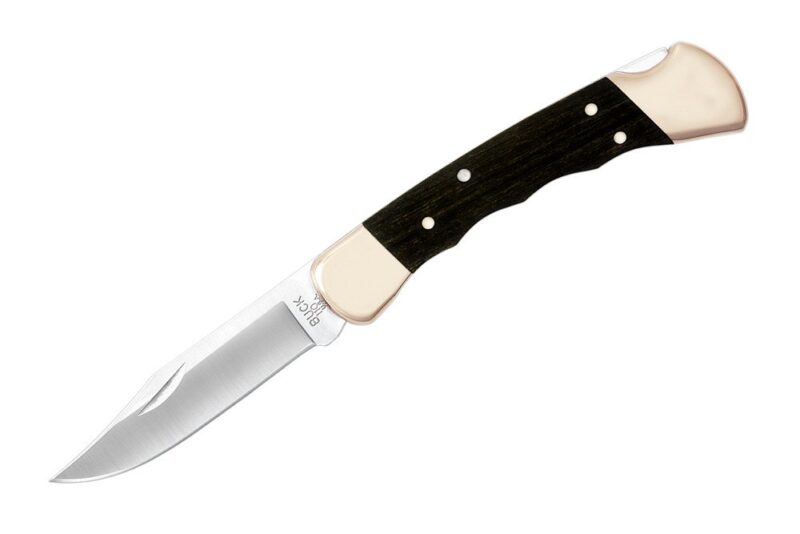 More about the Schrade LB7
Not quite an American icon like the Buck 110, though the LB7 has achieved some level of popularity as a budget pocket knife.
Some say it is just a copy of the 110.
It's clearly inspired by the 110, and it serves a part of the market that simply want something that does the job, without having to spend more than $30.
The LB7 will do a fine job on most of the day-to-day tasks you ask of it, and the rosewood handle looks great.
The sheath is very similar to the 110's too; good value for money there.
It doesn't carry the prestige of the Buck name, and isn't USA-made, but you can't argue that it's good value for money at least.
Can't decide? Here's one other alternative: Buck 110 LT
So this may be kind of a cop out, since the LT is clearly just a variation of the 110. But bear with me.
I'd say the only reason to consider buying the LB7 would be for the price difference. If that's you, on a budget, check out the Buck 110 LT as another alternative to the Schrade LB7.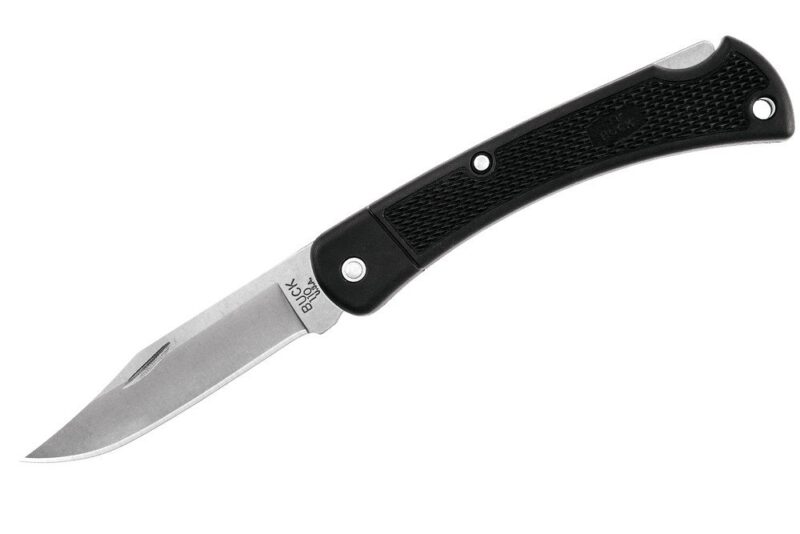 Summary
Overall, these knives do perform the same function.
You can expect slightly better performance overall from Buck's 110, but much more durability too. There are plenty of folks who've hade 110's passed down through generations over 30-40+ years and still going strong.
If you're on a budget, the LB7 will do a fine job.
But if you value longevity, and buying a USA-made knife, pick up a 110. You won't be disappointed.
Either way, I hope you find what you're looking for!