If properly cared for, knives can last a generation. But even the best quality knives can bend, loose a tip or get too rusty to use. In these cases, purchasing a new set of knives may be your best option. But how should you dispose of your old knives? Can knives be recycled? And can I donate my used knives?
In this article, we answer these questions and discuss how to properly and safely dispose of your old knifes.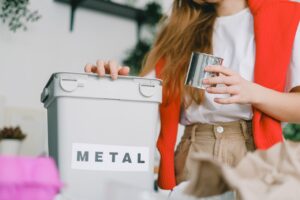 Donate Your Old Knives
Before you decide to throw away your kitchen knives, ask yourself if they could still be useable by someone else. Old kitchen knives, for example, can usually be restored and re-sharpened.
There are many charitable organizations that will gladly take second-hand kitchen knives even if imperfect. These include donation centers that provide gently used furniture, appliances, and household items (such as used knives) to those in need at a very lost cost and, in many cases, for free.
Some of these organizations include:
In California, HOPE Services operates businesses to provide employment for people with developmental disabilities, including a recycle/reuse business for clothing and household item and HopeTHRIFT stores.
In New England, Household Goods Recycling will accept most any donated furniture and household items for free to help people in need build a home for themselves.
You may also consider other online classified services such as Craigslist or Freecycle. As the old saying goes, "one person's trash is another person's treasure."
Before you donate used household items, such as kitchen knives or other culinary items, it's a good idea to clean them and remove any rust spots if possible – both to be courteous and sanitary. If you have a knife sharpener, consider sharpening the knives as well. It will be quite appreciated!
Read more >>> How to Avoid Rust Formation on Kitchen Knives
Once the knives are cleaned and sharpened, simply wrap them in newspaper or cardboard to prevent injury, place them in a box or other container, and donate. Looking for a tax deduction for your donated items? When donating your knives, don't forget to request a tax receipt if you'd like to take a deduction when filing your taxes.
Before disposing of old knives, we always recommend trying to donate them first.
Can You Recycle Old Knives?
Besides donating your old knives, another option is to recycle them. Unfortunately you cannot put old knives in your recycling bin that you put out on your curb. You can, however, drop them off at a scrap metal recycling center.
Not sure where to find a local metal recycling facility? Start by contacting your town or city to see if there are any scrap metal recycling facilities in your area. You can also do a simple search online for "scrap metal recycling near me."
How to Dispose of Old Knives?
In some cases, your old knives may simply no longer be usable and/or restorable. Or you may live far away from any scrap metal recycling center. For these situations, disposal may be the best option.
If you do decide to dispose of your old knives, keep in mind that all knives can be a safety hazard if not disposed of properly. Exposed blades can not only cut through trash bags, but they can also injure trash collectors and disposal facility workers – not to mention yourself.
To reduce the threat of injury to yourself or anyone else, we recommend the following steps when disposing of old knives.
Find newspaper or other large piece of scrap paper, and wrap each blade individually in several layers. Then, tape the wrap securely around each blade.
Find a cardboard box, and cut out a flat section that is at least double the length of the blade. Fold the cardboard over the blade and wrap heavy-duty tape around the blade several times to ensure it falling off. Packing tape or duct tape works well.
Once complete, find a cardboard box big enough to hold each individually wrapped knife. Put each wrapped knife inside the box and securely close it with tape.
The entire box can now be safely disposed of in the trash without putting you, a trash collector, or trash facility operator at risk.
Look to replace your old set of kitchen knives? There are many quality options available. Our article on the 10 most common kitchen knives can help get you pointed in the right direction.
Read more >>> 10 Most Common Kitchen Knives
Read more >>> The Best Way to Store Your Kitchen Knives
Final Words
Quality knives that are properly cared for can last a long time. But over time, knives can get chipped, bend, or rust with constant use. When looking to dispose of old knives, you have many options.
First, we recommend donating whenever possible. There are many charitable organizations that will accept used household items that are in good working condition.
Second, we recommend recycling your old knives if the knives are beyond repair and/or restoration. Local scrap metal recycling facilities should be able to accept used knives. Just be aware that you cannot simply toss your used knives in the curbside recycling bin.
Finally, if you need to dispose of your knives in the trash, we recommend doing so properly to avoid injury – both to yourself and to the trash collector. Securely wrapping each blades in newspaper and/or carboard and then placing in a box is recommended before throwing in the trash.
We hope you found this article useful. Looking to replace your old set of kitchen knives? If so, check out our article on some of the most common kitchen knives