Liner locks & frame locks are two of the most popular locking mechanisms for pocket knives. Each has pros & cons, similarities and differences. In this article, we discuss the frame lock vs. liner lock for pocket knives.
You'll learn the differences, and understand how each locking mechanism might (or might not) affect your buying decision for your next knife.
Screenshot credit: Carter Thomas
Let's start off with a quick definition.
What's the difference between a frame lock and a liner lock?
These two locking mechanisms use the same fundamental approach to opening & locking a folding knife in place.
A piece of metal is tensioned inwards towards the blade, so that once it's opened, it engages the blade, and locks it into place.
The difference is that with a frame lock, that piece of metal is actually physically part of the frame / handle, whereas with a liner lock, it's a separate piece of metal inside the frame.
Here's how a frame lock looks: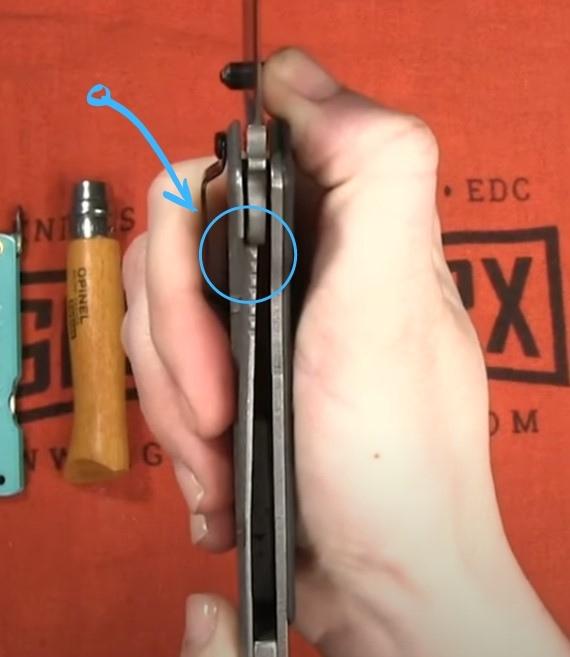 Screenshot credit: Grindworx
And here's how a liner lock looks: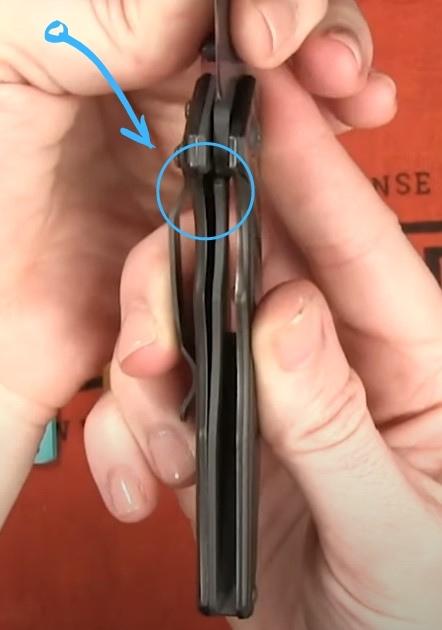 Screenshot credit: Grindworx
In order to close both of these mechanisms, you apply pressure with your thumb so that the metal clears the blade path, then the blade folds down.
Which is better?
That's a tricky question to answer, and in reality, you'll be fine with either in 99% of circumstances.
There are differences in strength, but unless you're planning some seriously heavy duty usage, comfort and convenience is more likely to be a bigger factor.
Let's go through and explore some specific questions you might have.
Which is stronger: a liner lock, or a frame lock?
The answer to every comparison question here really is going to be 'it depends on the knife'.
In general, the answer is a frame lock. But there are some liner locks that are stronger than some frame locks. It all depends on the build, thickness of the steel, and so on.
In 2014, BladeHQ conducted a lock strength test, comparing liner locks, frame locks, and lockbacks.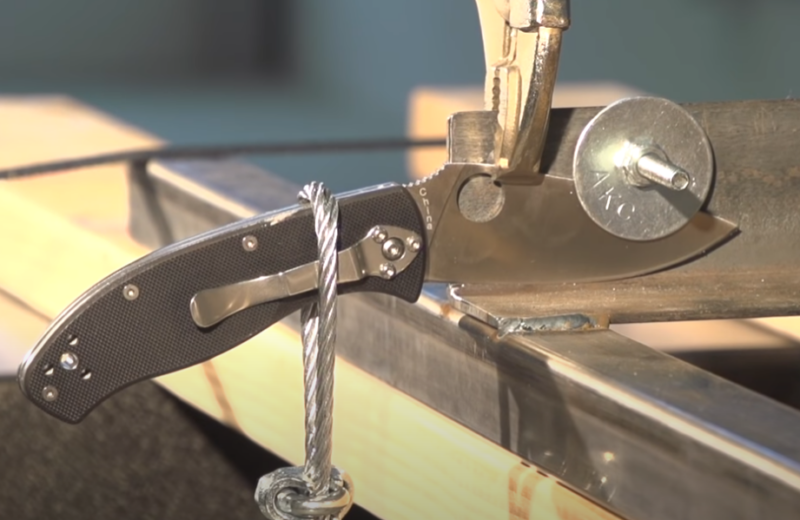 You can watch that video here, but to save you a click, they tested 3 knives of each lock type, and the results showed that frame locks are indeed tougher than liner locks. Here were the results:
| Mechanism | Average Strength |
| --- | --- |
| Liner locks | 243lbs |
| Frame locks | 277lbs |
| Lockbacks | 370lbs |
It's worth noting here that, although the average for liner locks was much lower, their Spyderco Tenacious actually maxed out their weight (380lbs). That just goes to show again that it depends more on the specific knife than the lock type.
The Kershaw Cryo II frame lock took their full 380lbs too, though wasn't usable afterwards.
Which is easier to open in one hand: a frame lock, or a liner lock?
When it comes to frame lock vs. liner lock, both of these locking mechanisms are designed to be one-hand opening & closing. And they're both easier to manage than a lockback.
And, once again, it depends on the exact knife. That being said, on the whole, liner locks are typically slightly smoother to open in one hand.
Frame locks usually being tougher & thicker also means they tend to be a bit stiffer out of the box, but they can loosen up over time with use.
One last point to consider is that liner locks are usually thinner. The potential disadvantages there is that the spring bar can feel quite sharp on your thumb. The thicker bar in a frame lock may feel more comfortable on your thumb when closing.
Which lock type is safer, a liner lock or a frame lock?
I don't think there's a major difference in safety between a frame lock vs liner lock.
That being said, if you want to be really picky, I think a frame lock is marginally safer, and has less chance to 'fail' in a real world situation.
Why?
Well, when you hold a frame lock knife, you can apply pressure directly with your hand to hold the lock in place. With a liner lock, any pressure you apply to the frame won't be transferred to the spring bar.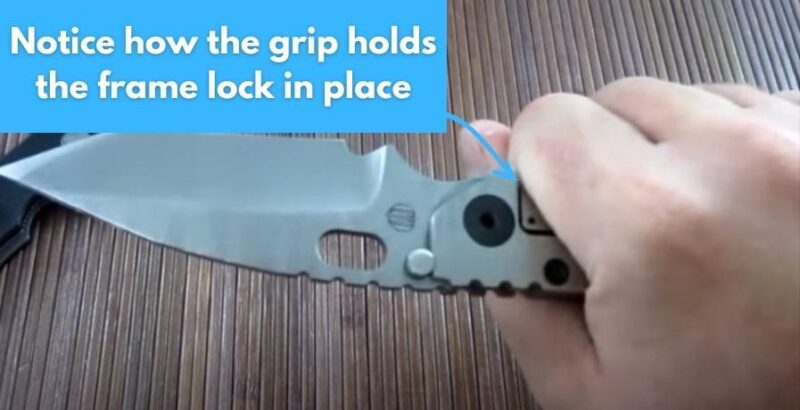 Screenshot credit: Carter Thomas
So there's a very slight less chance for the lock to fail and the blade to snap shut unintentionally with a liner.
Is this going to matter in a real world scenario? Probably not, but there you go.
Lastly, when closing the knife, both lock types require your fingers to be slightly in the way, which isn't ideal. An axis lock for example could be better if you really want to keep your fingers well clear of the blade's closing path.
Popular frame lock knives
Frame locks and liner locks are both very popular, so there's a countless number on the internet for you to browse.
Here's a few of each, roughly in price order to cater for different budgets, that I like & are popular choices.
Starting out at <$40, you get a lot of bang for your Buck here.
Although Buck are better known for their lockbacks (e.g. the 110), they do have some nice frame locks too.
This frame lock knife comes with Buck's forever warranty & heat treatment.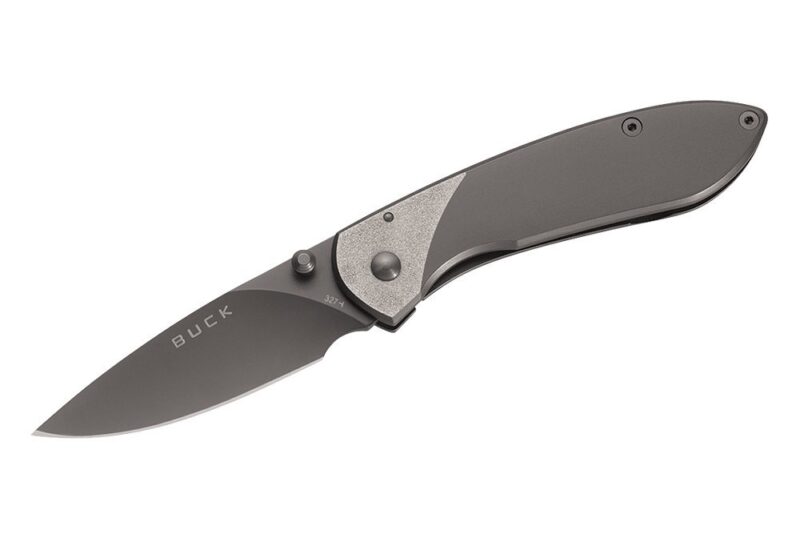 Some important specs to know at a glance:
Uses 420HC steel
Comes in 3 color options
Has a removable pocket clip
2 5/8″ blade length
2.6oz weight
Going up just a little in price, we have the ever-popular Leek by Kershaw.
This knife is slightly longer, and slightly heavier vs. the previous Buck 327.

Some important specs to know at a glance:
Uses Sandvik 14C28N Steel (stainless)
Kershaw's 'SpeedSafe' assisted opening makes it quick & smooth to open
Has a reversible pocket clip
3″ blade length
3oz weight
Let's end on another ZT model for those who can afford to go up in budget ($150 ballpark).
This knife is very recognizable, and it's super nice hard-use knife that looks great.

Some important specs to know at a glance:
Uses premium S350V stainless steel
Multiple opening options (flipper tab included)
4-position pocket clip
3.25″ blade length
6.28oz weight
Popular liner lock knives
Once again, here's 3 popular knives that use liner locks. In price order. See if there's anything that floats your boat!
To start off with, this Smith & Wesson is crazily cheap at <$15.
It's not nearly as durable and sharp as the subsequent options I'll list, but you can't argue with the value for money here.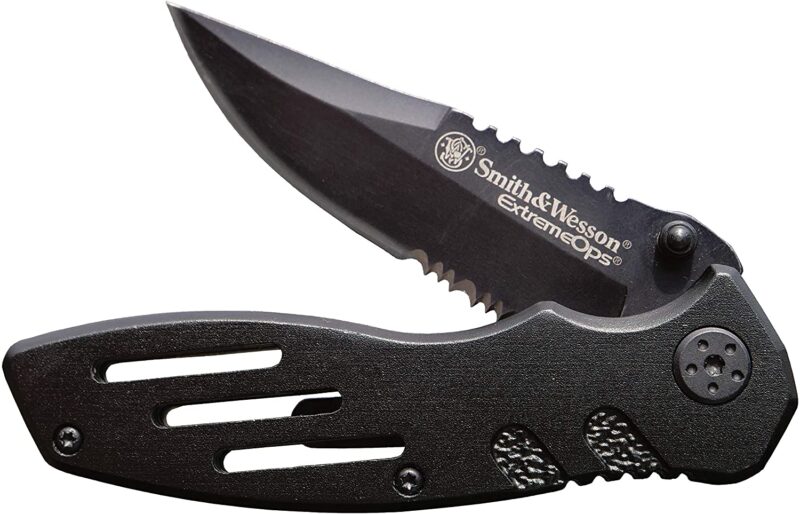 Some useful specs at a glance:
Uses 7Cr17MoV Black Oxide High Carbon Stainless Steel
Has an aluminium handle
Blade length 3.1″
Weight 3.5oz
Has a pocket clip
I had to include this one, just because of it's impressive display of strength in BladeHQ's testing.
You get great bang for your buck again here in the region of $50, and this is relatively a heavier & tougher knife than others in the list. A big step up from the Smith & Wesson, if you don't mind going heavier.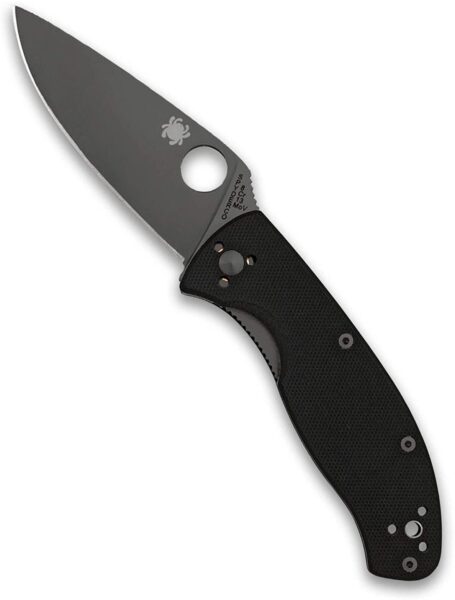 Some useful specs at a glance:
Uses 8Cr13MoV stainless steel with a black coating
G10 laminate handle
Pocket clip included
3.39″ blade
8oz weight
Other variants of the tenacious available
Lastly for our frame lock picks, another choice for those with a little higher budget, this ZT comes in at just over $200.
Designed by Dmitry Sinkevich, this knife uses ball bearings for a fast & slick one-hand opening. The materials used are a big step up in quality from the previous two. Zero Tolerance also makes ultra compact folding knives such as the Bugout alternative ZT0022.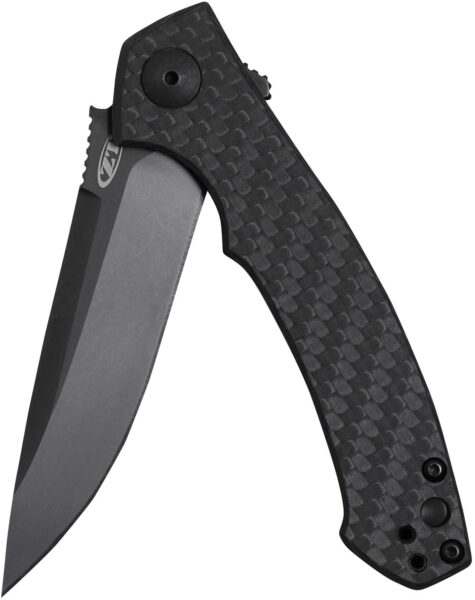 Some useful specs at a glance:
Uses premium S35VN stainless steel
Excellent edge retention & sharpness
Titanium scaled handle
3.25″ blade length
2.56oz — great strength to weight ratio