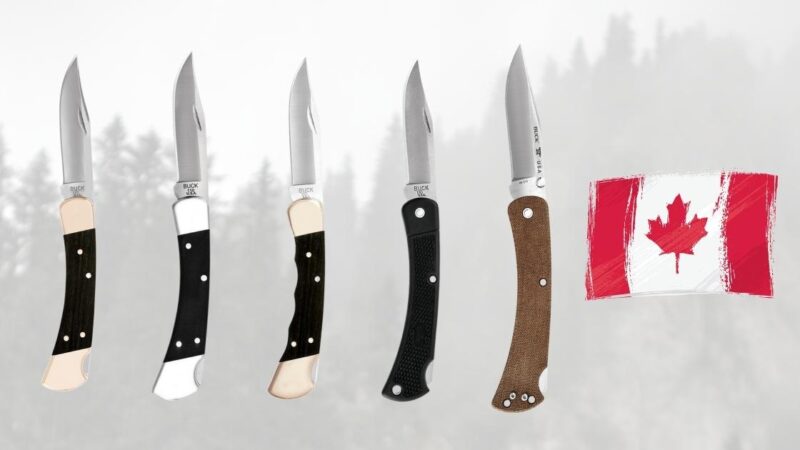 The Buck 110 is about as legendary as a pocket knife can be.
It's not only Buck's most popular knife, but one of the most popular knives ever made, period.
So if you're looking to buy yourself one in Canada, then firstly, good choice! It's a solid bet that will last you a lifetime.
In this article, we'll check out:
Where you can buy Buck Knives in Canada
Which models are available, and unavailable
Whether or not the Buck 110 is right for you
3 places to buy Buck Knives in Canada
Let's start with where you can order 110s from in Canada, before checking out which models are available / unavailable.
1. Direct from Buck Knives
Starting out with the most obvious, and the recommended choice, you can buy (almost) all Buck 110 models for shipping to Canada, straight from Buck's site.
As we'll see later, the only exception is that the automatic models won't be available. You'll find, for example:
Along with several other available options.
I'd also seriously consider checking out the customizable 110s which are also available to ship to Canada: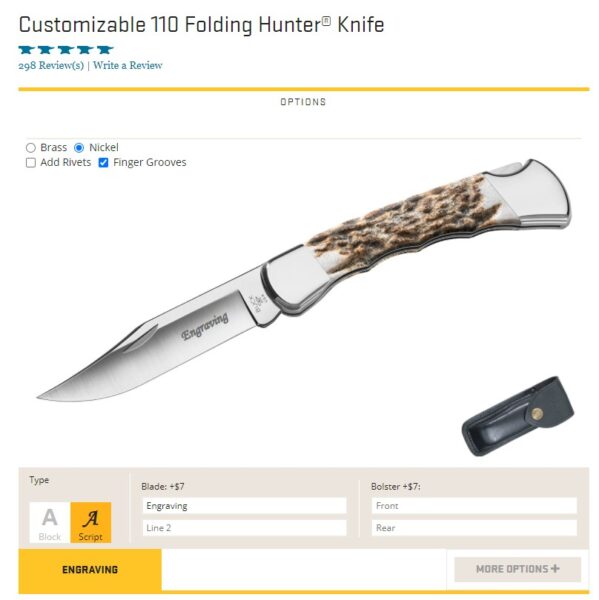 Any retailer you buy from in Canada has had to buy from Buck originally anyway, so you're likely to get the best deal by going direct.
You can see details on shipping to Canada at the bottom of Buck's shipping policy page.
2. Canadian Tire
If you prefer not to buy direct from the manufacturer, or simply wish to support a Canadian retailer, you can consider Canadian Tire.
They retail 110s online and in some stores.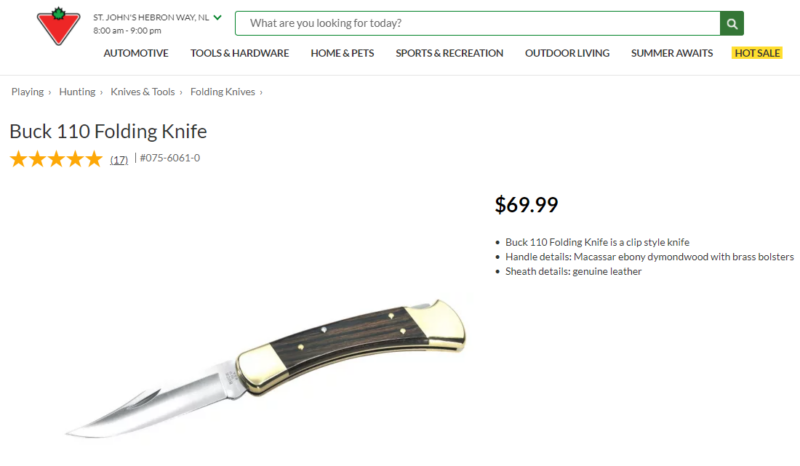 Click here to view the 110 at Canadian Tire.
3. Cabela's
Lastly, for another option to buy a Buck 110 at a Canadian retailer, try Cabela's. They too stock them online & in some stores.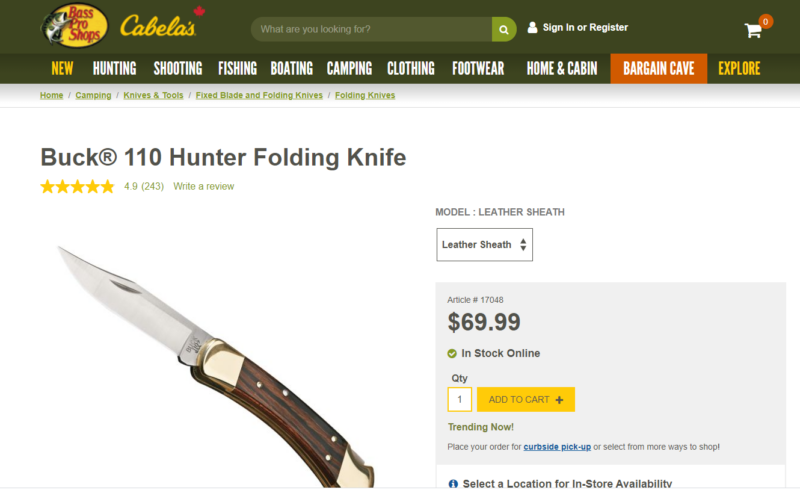 Click here to view the Buck 110 on Cabela's website.
Which Buck 110 models are available in Canada?
Most 110s are available in Canada.
There's a few exceptions due to legistlation.
Under this definition in the Criminal Code of Canada, some knives are illegal, considered a 'prohibited weapon':
Basically, that means automatic knives can't be shipped to Canada.
So the 110s available in Canada, direct from Buck's website, include (but aren't limited to)
Is the Buck 110 right for you?
There's no question that the Buck 110 is a good knife, but that doesn't mean it's for everybody.
Some concerns you might have:
It's quite large
It's quite heavy (too heavy for pocket carry)
Lockbacks can't easily be opened & closed in one hand
If that's the case, I'd urge you to first check out Buck's variants. They're well aware of these concerns, and the Slim Pro is an amazing pocket knife that comes in lighter than the 110, with a great built quality.
On the other end, the 110 LT is a great choice for those looking for a lower price point.
Other than that, I've listed some Buck 110 alternatives previously that covers some different price points, weights, and locking mechanisms which you may find useful.
See here to compare the Buck 110 to the Buck 112, also.