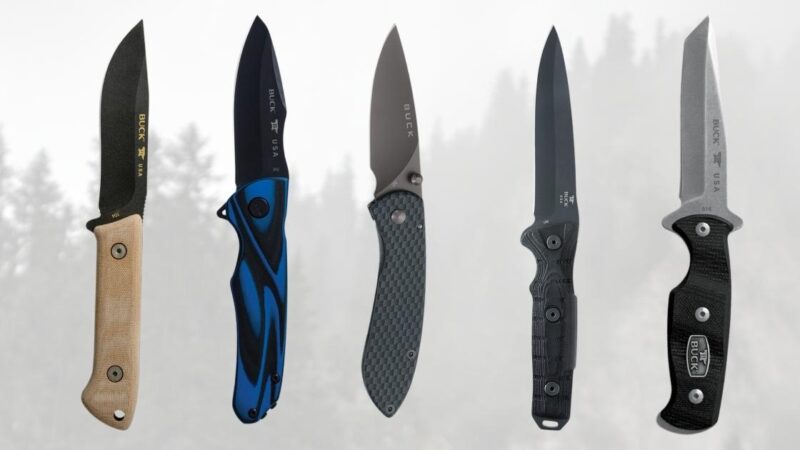 If you're in the market for a knife, there aren't many brands out there than Buck. The Buck family have been making knives since 1902 but the well known American brand began manufacturing at scale in the 1960s. While black buck knives weren't particularly popular then, they're making a comeback today.
It's this history that makes Buck one of the most reputable and well-respected knife manufacturers on the market specializing in both fixed and folding models.
Buck Knives With Cerakote Finish and/or Black Handles
If you love your traditional knives, you'll know most knives originated with a black handle, rather than the fancy coloured handles we see in the market today.
In the past couple of decades, we've also started seeing many modern knives feature a black blade that's becoming increasingly more popular too.
Unfortunately for those of us who enjoy the appearance, we aren't blessed with too many choices from Buck that have a black knife blade. That being said, there's 5 knives in this list that use the Cerakote coating for a beautiful black finish.
Otherwise, you'll also find a bunch of nice traditional Buck knives using a black handle.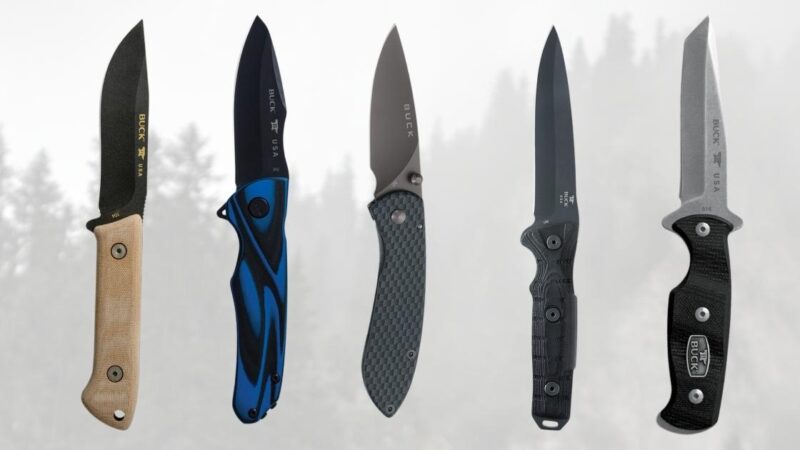 Advantages of a black coated knife blade
If it's a black knife blade you're looking for (rather than a black handle), there are a few advantages to that. It typically boils down to one of these, though:
It doesn't reflect light
They're inconspicuous, especially in dark / low-light situations
The extra coating can protect the steel from rust & corrosion
Style – it looks cool 🙂
If you're looking for a Buck with a black blade, or a traditional-looking black handled Buck knife, you're in the right place. I've got 12 of Buck's best black knife models which you can get your hands on right now.
5 Buck knives with a black cerakote blade
Light, nimble, good blade, lovely handle and a modern design. The Buck 327 takes our pick as the best EDC for smaller budgets.
Price Range: <$50
Ask 100 people what the best EDC is and you'll get 100 different answers. Well, we've taken a punt and picked the Buck 327 as our favorite (at this price point) of the black Buck knives as it ticks so many boxes of a great EDC.
A 2 5/8″ blade, comprised of strong 420HC heat-treated steel, companies a rubberized carbon fibre handle and a pocket clip attachment. Thanks to the tiny 2.8oz weight, it's a joy to carry around day-to-day whilst being strong enough to face most tasks.
It also looks great whilst it's doing it thanks to the checked handle design that's modern and fresh compared to other Buck knives.
Something for those looking for a black EDC with higher quality steel (S30V), better handle & locking, and made in the USA.
Price Range: <$150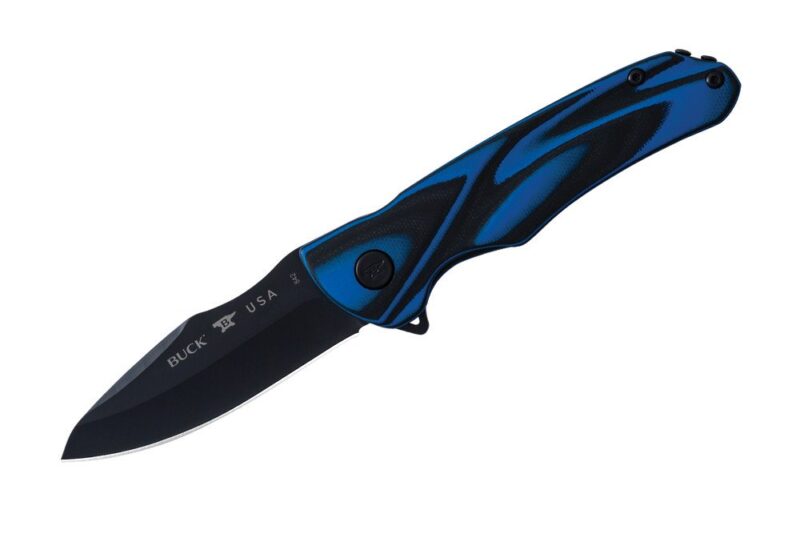 An upgrade from the 327 Nobleman, the Buck 842 is a beautiful premium EDC to consider.
Other than the steel upgrade (S30V is harder & retains an edge longer than 420HC), the next thing you'll notice is the locking mechanism.
The 842 uses a liner lock with ball bearings, vs the frame lock found on the 327. In practice, that means a very smooth, very quick (and satisfying) opening. It'll likely also feel easier to open with one hand.
This blade is thicker and stronger than the 842, with a blade thickness of 0.120″ (vs. 0.095″), and has a longer blade length of 3 1/8″ (vs. 2 5/8″).
Lastly, the handle is an upgrade too, which real nice sculpted g10 scales in blue and black. This is stronger and grippier than the carbon fiber on the Nobleman.
The perfect camping companion that's great for everything from chopping wood to prepping your meal.
Price Range: <$125
Heading out for a weekend of wilding camping? You need a specialized knife by your side to handle off the tasks thrown at you.
And the Buck 104 Compadre is the perfect knife for just that. At 9 /12″ overall and weighing 7.1oz, this knife has some bulk behind it to help you with chopping and batoning wood. To help, the 5160 carbon spring steel has shock absorbing properties to ensure you comfort whilst doing it.
The micarta handle feels great in the hand and comes equipped with a leather sheath to store the knife on your belt when not in use. That Buck Forever Warranty is also on hand to give you peace of mind that the 104 can handle all the camping tasks you need.
A highly specialized knife for chopping, splitting and batoning wood – including a cool, black blade.
Price Range: $150+
If you're looking for the best froe knife for clearing the undergrowth, chopping wood, batoning, splitting or just anything to do with wood, the Buck 108 is the perfect knife.
The 5160 carbon is great for absorbing heavy shocks with the additional Cerakote finish providing additional abrasion and corrosion protection for those undertaking heavy woodwork.
The knife comes with an ergonomic micarta handle and comes equipped with a specially adapted leather sheath. If you're looking for a unique knife that's tailor-made for woodwork, look no further than the 108.
5. Spear-Point Survival / Camping Knife: Buck 891 Spear Point
A highly specialized knife for chopping, splitting and batoning wood – including a cool, black blade.
Price Range: <150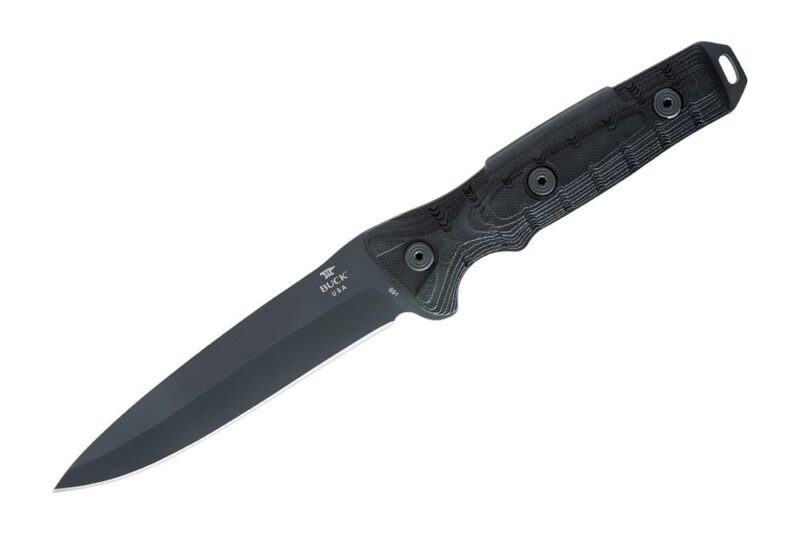 As you might tell by the appearance, this blade was designed for military / survival purposes. That being said, it works well for camping, DIY, and various other outdoor uses too. Along with looking super cool.
This is a pretty big & tough full tang blade. It boasts:
0.200″ blade thickness
5 1/2″ blade length
9.9oz weight
Making it perfect for heavy duty tasks.
The 5160 carbon gets deadly sharp. Compared to 420HC (a more popular steel), 5160 steel is harder, holds an edge longer, but is therefore a little harder to sharpen.
With a spear point blade, obviously the biggest strength this shape offers is stabbing. It's versatile enough to do a great job for slicing and other general EDC/camping type tasks too, though.
This knife is made in the USA, with an imported sheath.
9 Black Handled Buck Knives
Ask most hunters for their top 5 hunting knives and I'd bet the 124 would be in there. Strong and sturdy with a premium blade.
Price Range: $150+
A 6 1/4″ blade, inside an 11 3/4″ package with a weight of 13/3oz, it can only be the Buck 124. It's easily one of the best fixed blade hunting knives ever created and remains a fan favourite to this day.
420HC steel, a full tang Micarta handle and an aluminium pommel combine to create a knife that's perfect for all your smashing, chopping and batoning needs and we can guarantee it will be a match for any task that's thrown at you.
Just be aware that a premium knife comes at a premium price. You'll be paying north of $150 for this piece but it's well worth it for serious hunters that need a strong and durable companion.
The Buck 110 is an all-around great folding knife that's perfect for those who need a dependable, strong knife on a long hunt.
Price Range: <$125
The legacy of this knife talks for itself. First released in the 1960s, the 110 Hunter Pro has stood the test of time and remains one of the most versatile, strong hunting knives on the market.
A 3 3/4″ clip point blade is supported by a lockback mechanism and a premium G10 handle, delivering the perfect combination for slicing, skinning and fleshing tasks when out in the wild.
Given its size, it's probably not one you're going to want in the pocket, but luckily it comes equipped with a leather sheath to help you carry the 7.7oz weight. At just over $100, this is one of the best folding knives anywhere (not just from Buck) and is well worth the increased price tag.
A super versatile multi-tool knife that's compact in size and stylish in looks.
Price Range: <$50
The Cadet is one of Buck's smallest knives and it's perfect for carrying around in your pocket. Combining a clip, sheepsfoot and spey blade, the Cadet's versatility will see you good in a number of day-to-day cutting and slicing tasks.
At 19oz and a closed length of just 3 1/4″ we see this as the best compact multi-tool you can get from Buck and of course, it comes with that all-important black handle.
The best black multi-tool knife Buck do that's just big enough to handle some more meatier tasks.
Price Range: ≤$50
If you liked the look of the Cadet but want something a little more robust, we think you should consider the Stockman. The configuration is exactly the same, but the blades are around 50% bigger. This makes it a great knife for slightly toucher tasks.
At just under 3oz, it's still more than compact enough to carry in your pocket though with 420HC steel blades all treated in Buck's Paul Bros signature treatment. Like many Buck's it also comes with their forever warranty and is made in the USA.
Looking for a black handle folding knife on a super tight budget? Look no further than the Rival III.
Price Range: <$30
This is just the first folding knife we'll cover in this article, but it's by far the cheapest. If you're on a super tight budget, for around $30 the Rival III deliver a 3 5/8″ 420HC steel blade in a tiny 3oz package.
The knife features a one-hand opening lockback mechanism which alongside the moulded nylon handle makes it super easy to use as an everyday carry.
The reason this made our list though is mainly based on price. A solid, black-handled folding knife from Buck for only $30? What's not to like, right?
Modern knife with a unique frame lock that delivers one-handed opening and closing.
Price Range: <$100
The 417 Budgie is a really interesting knife that's new for 2023. Its tiny 2″ blade is supplemented by a range of great features. A lanyard loop and pocket clip offer two great carry options with the S35VN steel delivering great cutting and slicing performance.
The real MVP of this knife though is the locking mechanism. The frame lock delivers a strong and sturdy foundation whilst being easy to operate with one hand when opening and closing.
This knife stands out for its modern look and feel and would look as great on a keyring as it would lashed on your backpack.
A lightweight but sturdy skeleton knife that's cheap whilst delivering great performance.
Price Range: <$30
If you're a fan of skeleton knives, luckily Buck had a black model just for you with the Buck 135 Paklite. At just over 1oz, it's the perfect knife for keeping the weight down with the 420HC steel blase still offering great slicing performance thanks to the caping blade style.
The Carekote coating offers additional corrosion and abrasion resistance for the whole frame with the bundled-in polyester sheath providing a range of different carry options for the 6 3/4″ piece.
At just under $20, it's also an absolute steal making it the perfect companion for light game hunting, fishing or detailed woodwork.
If you're on your feet during a long hunt, you need to keep your loadout light. The Buck 684 is the perfect companion for just that.
Price Range: <$30
Our first fixed blade knife of the article is the perfect lightweight companion for an endurance huntsman. A 3 1/4″ blade fits into an overall 7 1/2″ package that's feather-light at just 2.8oz.
Whilst this knife is all about weight, it's performance pretty well all around. 420HC steel blade (inc Edge2x sharpness) combines with a Dynaflex rubber handle and comes equipped with a heavy-duty sheath.
The full tang construction also contributes to a level of durability you wouldn't expect from a knife this light and, of course, it's all covered by Buck's Forever Warranty.
A traditional boot knife that's easy to carry on the belt, in the pocket and of course, in or on the boot.
Price Range: <$125
Our next knife is a little bit different, but the Buck 616 Boot Knife delivers a lot of flexibility. As a traditional boot knife, it offers a range of different carry options thanks to its compact size and versatile sheath.
The knife itself is comprised of a 3″, 154CM Tanto style blade that's great for long-lasting edge retention and specialized cutting tasks. The equipped G10 handle is strong and durable, perfect for a range of different conditions.
But of course, the main selling point here is the carry. The black polyester sheath can be adapted to fit on the belt, around the neck and around or in the boot meaning you can match it to your loadout in every way possible.
Summary
There's no denying that a black knife, either in the handle or the blade, is a sight to behold. Luckily one of the world's best knife manufacturers, Buck, create a wide range of great knives for all needs.
We've just picked out some of our favorites today, but be sure to shop around to find the black Buck knife that's right for you.