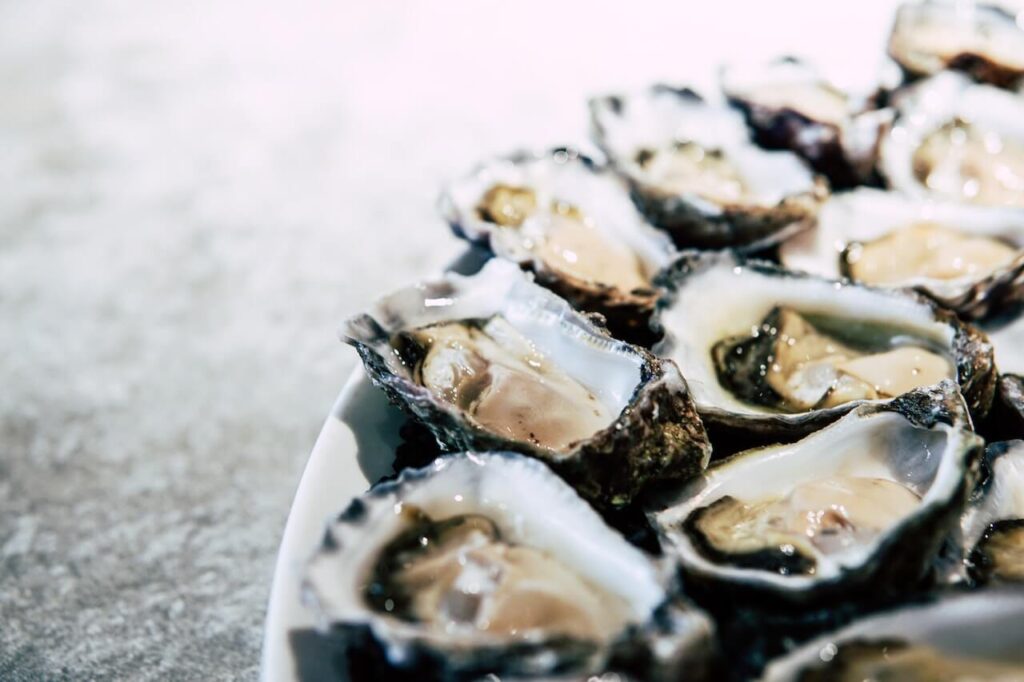 Eating raw oysters is a treat. But to properly open (or "shuck") them, you need a quality, reliable oyster knife. In this article, we review some of the best oyster knives available online today.
Unlike chef knives which are used to prepare a variety of foods, oyster knives are designed for a single purpose.
Instead of having a long, sharp blade, oyster knifes are typically shorter, duller, and less flexible. They are specifically designed to quickly and efficiently open oysters. The short blade allows you to gently loosen the hinge, so you can remove the top shell without breaking.
There are many different kinds of oyster knives on the market, with a variety of sizes and shapes. Key features to look for include a comfortable, non-slip grip, blade material, blade length, and ability to add to a dishwasher.
Let's take a look a some of our top picks.
Best Oyster Knives at a Glance
Our top choices right now:
Blade: stainless steel | Handle: polypropylene plastic | Length: 2.125 inches
The R. Murphy UJ Ramelson Duxbury Oyster Knife is a New Haven-style oyster knife, and a favorite among professional cooks and oyster farmers. It tops our list as the best oyster knife overall.
This knife has a short but strong 2-inch stainless steel blade, which can penetrate your most stubborn oyster hinges. Unlike longer blades, shorter blades are less prone to breaking or bending and allow you to shuck oysters more efficiently.
The blade tip of this knife is also pointed. This allows the user to gently pry the oyster hinge open, removing the upper shell while keeping the lower shell intact. The handle is made of durable polypropylene plastic, and is shaped to provide a comfortable non-slip grip.
Pros
Durable short, pointed blade
Handle that is both comfortable and easy-to-grip
Trusted quality
Many positive reviews
Cons
The 2-inch blade is not ideal for large oysters
Blade: stainless steel | Handle: polypropylene plastic | Length: 3 inches
The Mercer Culinary Boston-Style Oyster Knife is a great option as a simple, starter oyster shucking knife. At around 10 bucks, this Boston-style oyster knife comes with a 3-inch stainless steel blade which makes it quick and efficient to gently pry open oysters. The handle is constructed of durable polypropylene plastic, and also provides a comfortable grip. A crowd favorite, the Mercer Culinary offers excellent value for the price.
Unlike some oyster knives, this knife also comes with a rounded blade tip. This is a nice safety feature for those new to oyster shucking and helps prevent accidents. Despite this, many reviewers comment that this feature does not affect the ability to open oysters as compared to knives with pointed tips.
When it comes to the best oyster knives that are durable and affordable, this takes top billings.
Pros
Durable 3-inch blade
Well-designed, comfortable handle
Excellent value at around 10 bucks
Cons
Blade may flex more than shorter blades
Not recommended for dishwashers
Blade: stainless steel | Handle: plastic | Length: 3 inches
The Oxo Good Grips oyster knife is another excellent option for your shucking needs. Designed with safety in mind, this knife comes with a comfortable handle with a non-slip grip. Whether your hands or wet or oily, you'll have peace of mind knowing that the knife won't slip when working with stubborn oyster hinges.
The blade is made of stainless steel and comes with a slightly bent tip, helpful for prying open shells efficiently. The knife is also safe for dishwashers, making cleanup a snap.
Despite its 3-inch knife, some reviewers commented that the blade had a bit more flex than expected. Nonetheless, the good price point and excellent reviews overall make this knife worth considering. In terms of shuckers with non-slip handles, it's one of the best oyster knives we've reviewed.
Pros
Well-made and comfortable
Good price point
Slightly bent tip helps with shucking
Many positive reviews
Cons
Blade has some flex not found in other 3-inch knives
Some reviewer comment the blade isn't as sturdy
Blade: carbon steel | Handle: plastic | Length: 4 inches
The Dexter-Russell 4-inch Galveston-Style Oyster Knife is an excellent choice when dealing with larger oysters, which can sometimes be difficult to open.
At twice the length of the New-Haven style R. Murphy UJ Ramelson Duxbury Oyster Knife, this knife allows users to easily penetrate large hinges. The carbon steel blade is strong enough that it won't break or bend. At the same time, it's thin enough to gently penetrate the hinge and open the shell without it breaking.
Dexter-Russell is known in the knife industry for quality, and many reviewers comment that this knife has lasted them a long-time. The manufacturer recommends hand-washing the knife after using to promote long life. Overall, an excellent knife for efficiently shucking large oysters, that's made to last.
Pros
Strong, durable blade
Excellent Dexter-Russell quality
Many positive reviews
Cons
Expect some blade flex given its length
Not recommended for dishwashers
What to Look for in an Oyster Knife?
Type of Knife
Generally speaking there are 5 types of oyster knives, each of which has some minor variation on the blade. Different oyster knife blades were initially favored by different regions in the Northeast United States, but are now used regardless of location.
For example, New Haven blades are generally wider and shorter and have a slight curve. They trace their roots back to New Haven, Connecticut.
Providence blades are similar to New Haven blades, but lack a curve. They trace their roots back to Providence, Rhode Island.
The Boston and Galveston blades are much longer with more narrow blades. Finally, Frenchman oyster knives have short and wide blades, although their sides are typically sharper. This helps make it easier to find the weakest part of the oyster for opening. While there are some exceptions, however, oyster knives generally do not have sharp blades.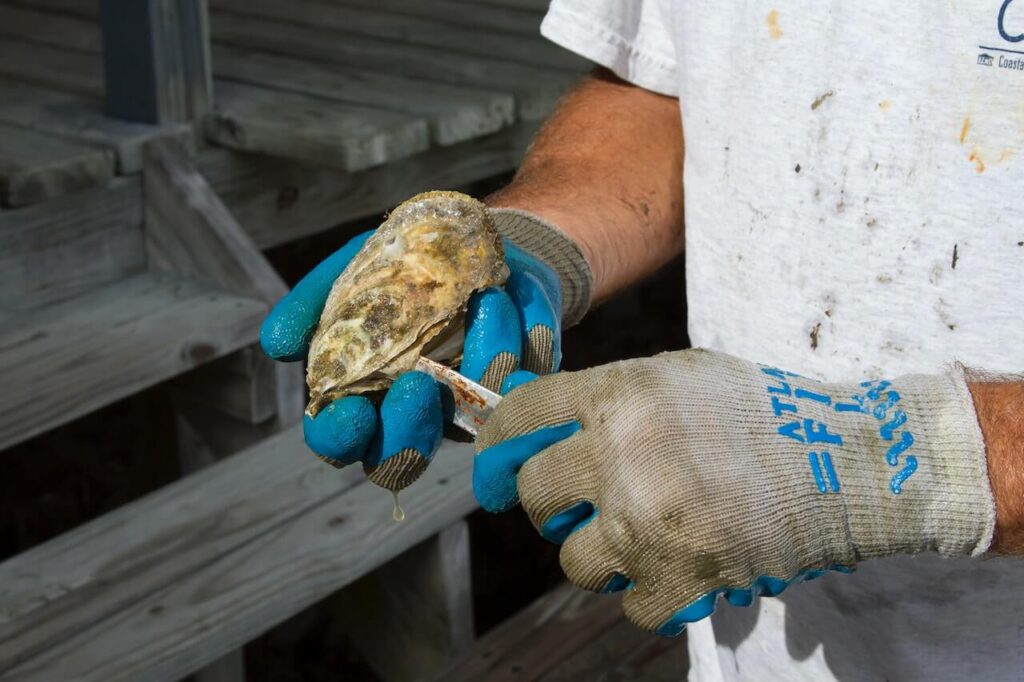 Type of Blade
The quality of the blade is an important factor for any oyster knife. Most blades today are constructed from stainless steel, although some have carbon added which increases strength and durability.
Blade length is a key differentiating factor across all styles of oyster knives, and can range from around 2 inches long (i.e., for the New Havens) to up to 4 inches long (i.e., for the Bostons). While some have rounded or tapered ends, others do not.
Oyster knives typically do not have sharp blades. They also do not need to be sharpened or maintained. In fact, a dull blade is often advantageous for safely and for easily opening an oyster.
Type of Handle
The grip is as important as blade type, as this is where you apply force to open the oyster. It needs to be comfortable, but ergonomically designed to make shucking efficient.
Traditionally, oyster knife handles are made of wood, although hard plastic is a common option today. The handle should feel comfortable in your hands, and have enough heft to provide leverage.
A non-slip grip is key to avoid slipping when shucking, particularly important for the sharper Frenchman knives and for wet conditions.
Finally, it's generally safe to put oyster knives in the dishwasher, unlike most large kitchen knives. Because the blades are usually not sharp, dulling them will not be a concern.
How to Shuck Oysters with an Oyster Knife
First, lay down a clean dish towel on your work surface. This minimizes slippage when working with the oyster, and absorbs any residual liquid. Next, put the oyster on the towel flat side up.
At this point, fold the towel over the oyster to only exposure the hinge of the oyster. With your non-dominant hand, hold the oyster in place from the top.
Now with your dominant hand, gently wiggle the blade into the hinge and lightly twist. After a few moments, the seal on the shell should snap. Now run the oyster knife along the top of the oyster so that the entire top shell comes off.
Scrape the knife gently along the inside of the top shell to loosen the muscle and clean the oyster if necessary. The oyster is now ready to be enjoyed.
The below video describes this process in more detail.
Can You Use the Same Oyster Knife for All Types of Oysters?
Yes! We have found that oyster knives can be used to shuck any type of oyster. There are generally 5 different types of oysters commonly available in the market. While they are all similar, each has its own distinct differences.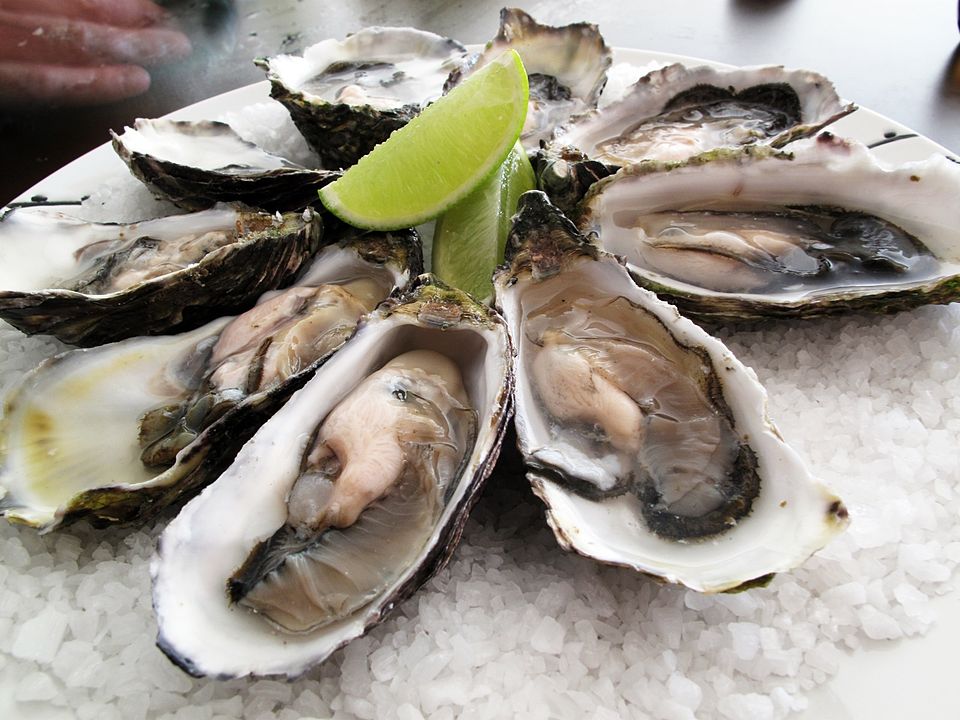 Pacific Oysters
These are the most commonly cultivated oysters on the Pacific coast, and currently the world's most commonly cultivated oyster. They were introduced to the United States from Asia in the early 1900s, and to France in the 1970s. Their shells have naturally ruffled edges and can range in color from purple, gold, to light green. They generally have a sweeter, less briny taste than their Atlantic cousins.
Kumamoto Oysters
Primarily cultivated in California, "Kumos" are much smaller than Pacific oysters and are known for their creamy, buttery texture. They have a mild, sometimes nutty, flavor and are perfect for beginners.
Like Pacific oysters, the shells are also fluted but tend to have a deeper bowl-like shape. Because these types of oysters are slow growing, not many farmers cultivate this variety.
Atlantic Oysters
Atlantic oysters are the only oysters indigenous to the United States, and can be found long the North American coast from the Gulf of Mexico to Canada. Their shape is quite different than that of Pacific oysters, in that the shell tends to be larger with a smooth, teardrop shape.
Atlantic oysters tend to be brinier than other types of oysters with a crisp, mineral taste.
European Flat Oysters
These oysters have a smooth, round shell with a shallow cup and are typically the color of seaweed. Sometimes called "Belons", European Flat oysters have what many refer to as the boldest flavor of all oysters.
They are firm with a meaty texture, and an intense seaweed flavor and slightly gamey aftertaste. Not many farmers are cultivating this variety relative to the milder Pacifics and Atlantics.
Olympia Oysters
Olympia Oysters have recently come back from the brink of extinction due to their popularity during the Gold Rush. They are the only species native to the US Pacific coast. Olympias are the smallest of all the commercially available oysters, about the size of nickel or quarter.
They can be hard to cultivate, sometimes taking up to 4 years. Despite this, they are delicious with a creamy texture and strong flavors of celery.
Can You Open Oysters Without an Oyster Knife?
In general, most knives with a point can be used to open an oyster. However, an oyster knife is specifically designed for shucking and makes the process much safer and more efficient. Trying to shuck an oyster with a kitchen knife can be extremely dangerous – particular if the blade is long, flexible, and sharp.
Don't have an oyster knife? Try grilling or baking your oysters, which will naturally open the shells. However, to eat a raw oyster you will need a knife to shuck it.
Conclusion
We hope this review helped you choose the best oyster knife for your needs. A simple, quality shucking knife is all you need – there is no need to get fancy here. All of the knives reviewed above are highly- ranked, and will get the job done reliably and safely.
Interested in hunting? If so, check out our review of some of the best hunting knives.