Knives are some of the most used pieces of equipment in both home and professional kitchens. Therefore, you should take your time when deciding which knives to buy. There are many brands available and each of these manufacture kitchen knives with different features that will appeal to different people. Two well-known brands are Wusthof and Cutco and the following is a comparison of various aspects of the knives each of these brands produces. Here we provide a quick face-off between Wusthof vs Cutco kitchen knives.
About Cutco
Cutco is an American company that is based in the United States. Compared to many other knife manufacturers, this is a relatively new company as they were established in 1949 and they were originally called Alcas. They are a direct sales company that sells their products predominantly through multi-level marketing. Ka-Bar Knives is a subsidiary of Cutco, so they sell both kitchen knives and knives intended for use as weapons.
About Wusthof
Wusthof is one of Europe's leading knife manufacturers and they are based in Solingen, Germany. The company was founded in 1814, so they are well established and have built a reputation for producing quality knives. They have even won awards for the quality of their knives.
Although manufacturing kitchen knives is the main part of the business, they also produce pocket knives, a range of cooking accessories, and kitchen shears.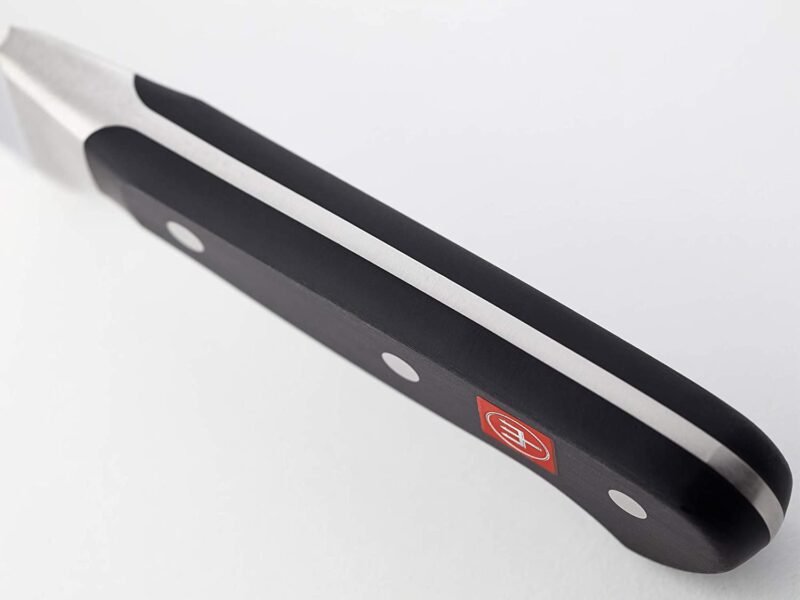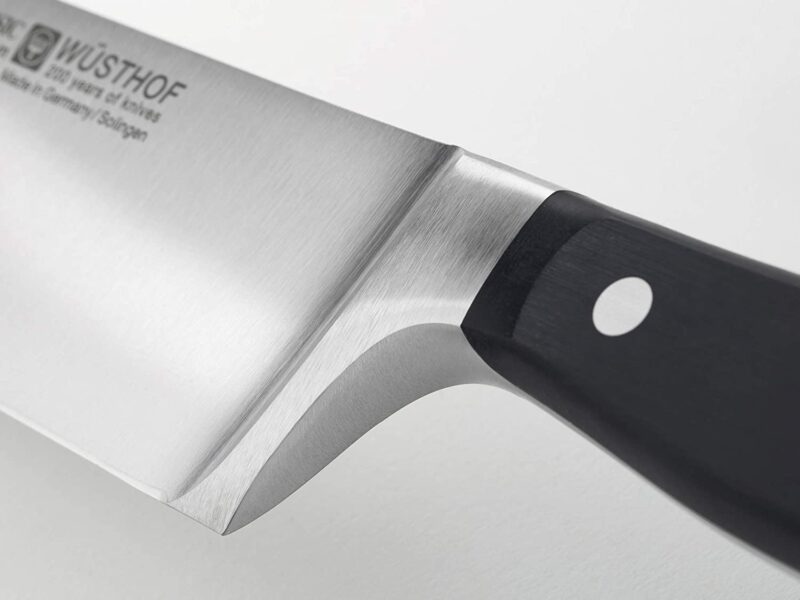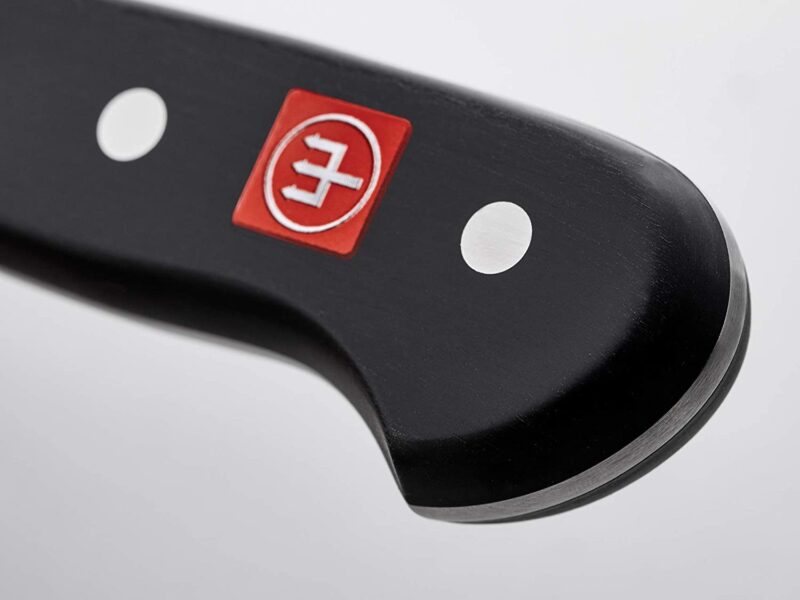 If you're looking for that one knife that you can use for the rest of your life, the Wusthof Classic 8" knife can definitely do that job for you. It's dubbed as a workhorse of a knife that's capable of standing up to whatever task is required of it. It's a precisely manufactured knife that is tempered to 58⁰ Rockwell. It also has a well-designed contoured handle that is designed to fit comfortably and optimally in your hand.
Much emphasis and attention was also placed into the balance of weight distribution on the knife to make sure that proper ergonomics are fulfilled regardless of the kitchen task. It's an all-purpose classic that can handle chopping, slicing, dicing, and mincing jobs easily.
The Wusthof Classic Chef Knife is also strong enough to handle even the largest vegetables and toughest meats.
Manufacturing
In terms of Wusthof vs Cutco, the manufacturing processes used to make these knives differ greatly. While Wusthof knives are forged, Cutco knives are stamped. This means that Wusthof knives are better quality than the knives manufactured by Cutco.
Blades
Most of the knives manufactured by Cutco have serrated blades, although there are a few in their range with straight edges. This means that they are better-suited for food preparation activities that involve sawing.
On the other hand, Wusthof mostly has knives with straight blade edges that will cut clean slices. They are known for the sharpness of their blades and for their knives having excellent edge retention. The blades of both brands are made from stainless steel and both are corrosion-resistant.
Handles
Some Wustof knives have wooden handles while others are made from a range of synthetic materials. Regardless of the type of material, they are designed for a comfortable grip. They have a full tang for better balance and a bolster to prevent your fingers from sliding onto the blade.
Wusthof handles feel a little heavier to use than Cutco knife handles and this is something that some people will prefer and others will dislike. Cutco does not produce knives with wooden handles. All their knives have synthetic handles made from highly engineered thermo-resin handles that are non-absorbent and highly durable. Most Cutco knives are available with a choice of either black or white handles.
Knife Care
The two main aspects of knife care are cleaning and sharpening. In terms of cleaning the knives, Custco gives their customers more options because their knives are dishwasher safe while Wusthof knives are hand wash only. As Wusthof knives have good edge retention, they do not need sharpening often and are easy to sharpen if the blades do become dull.
Cutco knives with serrated edges are very hard to sharpen. However, Cutco offers a warranty with their knives which includes free knife sharpening for life.
Price
The pricing of these brands is somewhat surprising. Cutco knives are actually some of the most expensive knives to buy, which is surprising as they are stamped rather than forged and the quality of the materials used is not as good as many of their competitors. Wusthof has a longer history, a better reputation, and they produce better quality knives.
Despite these facts, they are not as expensive as Cutco knives. However, they are still in the higher price ranges of knives available. Therefore, if you have the money to buy knives in a higher price bracket, Wusthof will offer you better value for the money.
Wusthof vs Cutco: The Final Verdict
Taking everything into account, both knife brands have different features, pros, and cons. However, in terms of the Wusthof vs Cutco showdown, our opinion is that the overall better option is Wusthof. Both brands are in the same price bracket, but Wusthof likely offers you more for your money.
Interested in another classic showdown? Check out our discussion on the Dalstrong vs. the Wusthof.